Katee Robert | How A Cover Gets Made

April 26, 2016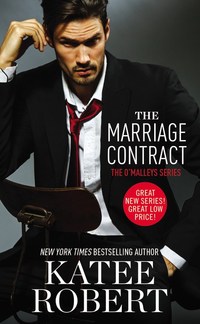 Here's a secret: That MARRIAGE CONTRACT cover that everyone loves so much? Total accident. Well, not really an accident. But not exactly what we planned either. Initially, we were going to do a steamy couple. But they decided to get a few shots just of the guy while the female model was changing—you know, just in case.  And whoa!
The challenge with THE WEDDING PACT was how to get something just as smoldering and amazing.
It starts with a description:
James Halloran is a big dude with dirty blond hair who looks like he'd be at home on the back of a motorcycle. Hair is about shoulder-length. Icy blue eyes. Usually wearing faded jeans and either a black or white T-shirt (though he does have a leather jacket). Has scars layered across both his chest and back (from a whip). Lots of swagger!
And then some inspiration photos for character tone and poses (talk about fun research!):
At last comes the day of the photo shoot. When my editor first emailed me some pics as things were in progress, I screamed so loud that my kids thought the house was on fire.
How come I never get to help the model get undressed?
And here's the photographer getting everything lined up, among the equipment, lights and props.
And this is what he sees through the lens:
My editor and art director having waaaaay too much fun, proving there's nothing Photoshopped about those muscles:
And finally, the final cover: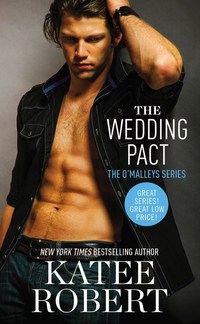 My question for you: What actors/celebs would be your inspiration if you wrote a book?  One commenter below will get a copy of THE MARRIAGE CONTRACT, THE WEDDING PACT, and an advance copy of INDECENT PROPOSAL, which will be out on August 30th.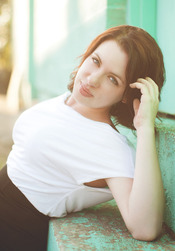 Katee Robert learned to tell stories at her Grandpa's knee. Her favorites then were the rather epic adventures of The Three Bears, but at age twelve she discovered romance novels and never looked back. Now living in Eastern Washington, she spends her time--in between ogling men and planning for the inevitable zombie apocalypse--writing speculative romance novels.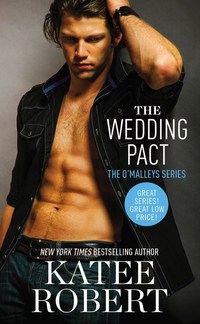 New York Times and USA Today bestselling author Katee Robert continues her smoking-hot series about the O'Malleys-wealthy, powerful, and full of scandalous family secrets.
Carrigan O'Malley has always known her arranged marriage would be more about power and prestige than passion. But after one taste of the hard-bodied, whiskey-voiced James Halloran, she's ruined for anyone else. Too bad James and his family are enemy number 1.
Hallorans vs. O'Malleys-that's how it's always been. James should be thinking more about how to expand his family's empire instead of how silky Carrigan's skin is against his and how he can next get her into his bed. Those are dangerous thoughts. But not nearly as dangerous as he'll be if he can't get what he wants: Carrigan by his side for the rest of their lives.
Comments
47 comments posted.
Re: Katee Robert | How A Cover Gets Made

I would be most likely to write a Regency, so probably someone like Pierce Brosnan would be a role model for the hero.
(Carol Gowett 2:42pm April 26, 2016)
I prefer to make up an image of the characters, so I wouldn't want to think about actors for inspiration for characters.
(Leni Kaye 6:28pm April 26, 2016)
Any of the dudes on General Hospital.
(Richard Burr 9:34pm April 26, 2016)
I would love to do a Regency with Antonio Banderos.
(Bonnie Capuano 10:23am April 27, 2016)
Nathan Filion would be great.
(Sharon Berger 10:38am April 27, 2016)
Honestly I like to use my imagination. I don't write, but even
when I read, the guys end up looking however my mind sees him
as being. Not necessarily how he is written.
(Tanya Guthrie 2:03pm April 27, 2016)
Charlie Hunnam all the way!!!
can't wait to read books have them on TBR!!!
(Jennifer Beck 2:22pm April 27, 2016)
Chris Hemsworth
(Angela Parrish 3:44pm April 27, 2016)
I agree with the poster above in regards to the Hemsworth brothers, and to
add to that maybe Channing Tatum, Michael B. Jordan, Robert Pattinson,
Taylor Lautner....so many choices!
(Lily Shah 6:08pm April 27, 2016)
Oh there are so many hot men I can picture while reading.
However, Tom Hardy seems to develop in my mind for than 50%
of the time! I just adjust the specific details the author
describes on to Tom 😍
(e S 7:29pm April 27, 2016)
Chris Hemsworth, Henry Cavill, and Ian Somerhalder
(Bonnie H 9:14pm April 27, 2016)
I just recently watched Sherlock and have to admit that if
I ever wrote a book, it would be inspired by Benedict
Cumberbatch :)
(Hylla Jackson 9:51pm April 27, 2016)
If I were to write a book, my inspiration would be Alfred
Hitchcock, since I'm an enormous fan of the Nero Wolf series.
Another would be on of the Hemsworths to be John D MacDonald'
s books. Don't know why mystery stories sprang to mind, esp
vintage mysteries, but there you are. These authors books
stand the span of time-bonus!
(Kathleen Bylsma 11:18pm April 27, 2016)
Too many to name.Also some of the older guys.
(Debby Creager 1:25am April 28, 2016)
Definitely Chris Hemsworth!
(Heather Neal 1:45pm April 28, 2016)
I think maybe a young Harrison Ford would be a good start for a hero model!
(Cathy Burkhead 3:58pm April 28, 2016)
If I were to use an actor for inspiration just on looks and feel, I'd have to say I've always enjoyed Steven Strait from 10,000 BC and The Covenant. I love his dark good looks and he semms to portray an inner kindness that I really appreciate.
(Amy Petty 4:52pm April 28, 2016)
For a Regency story, I know Cary Grant would be great. Also for a paranormal romance(shifter) James Dean would be terrific.
(Therese Abdali 4:56pm April 28, 2016)
I would write a regency with Harrison Ford.
(Charline Bonham 5:03pm April 28, 2016)
Hands down Joshua Holloway. Love those dimples! He actually
is the inspiration for a published character. Though, I
wouldn't mind being a photographer's assistant after seeing
the additional pictures you posted.
(Angela Cramer 5:31pm April 28, 2016)
I would use Joe Mangelleno(not sure about spelling). He was so hot in True Blood.
(Senona Macias 5:31pm April 28, 2016)
Another thought: the author creates my visual of the
characters so I've never imagined anyone in real life as the
character.
(Kathleen Bylsma 6:41pm April 28, 2016)
I went to my celeb's downloads file and found: Stephen Amell-Arrow, David Borenaz-Buffy &
Bones, Chris Pine and Tom Ellis-Lucifer. Oh some of those men are drool worthy ;-) Thanks
for the giveaway and best wishes with the releases!
(Lenna Hendershott 7:31pm April 28, 2016)
I don't know his name but the guy who played "4" in the Divergent movie
(Valerie Miller 9:10pm April 28, 2016)
Vampire Diaries Ian Somerhalder would be someone to write about for his
looks and onscreen personality.
(Sue Carter 10:06pm April 28, 2016)
Nathan Fillion would be good or Bradley Cooper both hunks!!
(Debbie Rice 10:13pm April 28, 2016)
hi
(Brenda Hook 11:47pm April 28, 2016)
Would love to read your work.
(Michael Kutan 11:50pm April 28, 2016)
I am a bookaholic and I love, love to read. I would love
to win your books. Pick me!
(Jane Kahikina 12:16pm April 29, 2016)
There's nothing wrong with those three guys that are pictured above, and throw Charlie Hunnam!
(Nikki Hilton 9:07am April 29, 2016)
Gabriel Byrne, when he was younger. So sexy! Love that voice, and the dark hair, the beautiful eyes...or Jeffrey Dean Morgan.
(Cynthia Powers 10:09am April 29, 2016)
Nobody...my author writes my mind's eye of the character.
(Kathleen Bylsma 2:23pm April 29, 2016)
Henry Cavill
(Natasha Persaud 2:44pm April 29, 2016)
Hugh Jackman.
(Julie Touchstone 3:40pm April 29, 2016)
I always enjoy your books so much! Thanks for writing them!
(Jonella Moore 4:17pm April 29, 2016)
Colin O'Donoghue (Captain Hook) from Once Upon a Time!
(Lacey Burd 8:31am April 30, 2016)
Chris Hemsworth
(Lori Harvey 8:40am April 30, 2016)
New author can't wait to read!
(Kari Behune 9:13am April 30, 2016)
I'd have to think about this more . I do know that I would love to win these books . I thank you for this great giveaway .
(Joan Thrasher 9:36am April 30, 2016)
My inspiration would be Charlie Hunnam!!
(Jolene Allcock 2:09pm April 30, 2016)
I agree with those who say that their choice would be the one in their mind's eye. In other words, not necessarily a real person. Personally, I tend to "flesh out" an author's description of her heroes and/or villians. I don't know most of the names being tossed around in previous comments (except for Pierce Brosnan, Harrison Ford (always a winner in my book!), and Benedict Cumberbatch, as I don't go to many movies. I must admit, though, when I see a "Live from the Met" opera broadcast, some of the leads in those would also be appropriate!!
(Lynn Rettig 2:10pm April 30, 2016)
Sticking with my previous post that my author creates my
visual of the characters! :)
(Kathleen Bylsma 2:19pm April 30, 2016)
So many older & young hunks out there... Pierce, Harrison,
Jason, Chris, Sean, Idris, Brad, Wesley, Tom, etc.....
(Nancy Ludvik 6:11pm April 30, 2016)
Looks like great reads from a new author yo me
(Shelly Garnett 6:21pm April 30, 2016)
It would have to be Clint Eastwood. What a man!
(Lori Byrd 7:09pm April 30, 2016)
I seem to gravitate towards actors from when film still was made with silver.
(Laura Gullickson 8:34pm April 30, 2016)
I usually look at the cover while I am reading and decide then if it fits the image in my mind...
(Karen Dieffenbaugher 11:30pm May 2, 2016)
Registered users may leave comments.
Log in or register now!