Writing a character organically means coming up with a complete back-story and history on imaginary people. Motivation to drive the story forward and obstacles for drama must be overcome and the only way to do that is to flesh out a character's history. After all, how can a happy ever after be written if you don't know the journey to get there? I dreamed up Kaiya Hanazawa from MADNESS ENDS two books ago, at the end of my Red Wolves Motorcycle Club series, and I wrote one line that changed her forever.
"She's deaf."
As a writer, it's my job to bring stories to life, and sometimes those stories are incredibly difficult to tell. Never did I consider how hard it would be write such a complex character. Even the simplest things, like dialogue became a challenge because I could no longer use tags like "said" or "replied". I had to come up with different way to convey how Kaiya communicated.
It's important to get details correct. I hadn't realized until I researched this book that Japan has its own version of sign language (JSL). JSL is strongly influenced by the complex Japanese writing system and focuses attention to the written language. It includes elements specifically designed to express kanji in signs. Finger spelling is used, but less than in American Sign Language, and usually only for foreign words, last names, and place names.
Kaiya states in the book she doesn't like using JSL, and prefers the American version because it's easier. She was a character that made writing interesting, and I'm glad I had the chance to explore a concept that's not touched upon too much in romance writing. Kaiya lost her hearing at an early age, and researching the how and why made her a rich character to bring to life. I enjoy taking ordinary women and thrusting them into extraordinary situations, so I plopped Kaiya in the middle of a motorcycle club as the accountant. Almost immediately, she discovers a mystery of missing money that she wants to solve. I have to admit, Kaiya is a little different because of her background but she's still just a regular girl who happens across a bigger picture, and it was fun exploring that world with her.
As Marlee Matlin said, "The handicap of deafness is not in the ear; it is in the mind." I hope I've managed to bring that aspect through of Kaiya's attitude and zest for life.
I like writing about the very ordinary girl thrust into extraordinary circumstances, so my heroines will probably never be lawyers, doctors or corporate highrollers. I try to write characters who aren't cookie cutters and push myself to write complicated situations that I have no idea how to resolve, forcing me to think outside the box. I love writing characters who are real, complex and full of flaws, heroes and heroines who find redemption through love.
I've been pretty fortunate in life to experience some amazing things. I've lived in France, traveled throughout Europe, Australia and New Zealand. I am a mom to an amazing little boy. I live in Los Angeles, surrounded by friends and family. I hate washing dishes but I love cooking. I hate washing clothes but I love wearing them. Writing my bio is difficult because I never know what to say so I hope you like this one. My favorite color is red but I look best in black (it's slimming). I hate people who don't pick up their dog's crap in public places, people who don't use turn signals, and I really hate people who are rude and condescending. I especially hate discrimination in all and every form. And although I love holding a book in my hand, I absolutely adore my ereader, whom I've named Ruby.
Website | Facebook | Twitter | Blog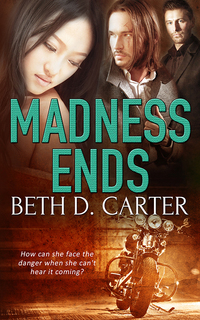 How can she face the danger when she can't hear it coming?
Kaiya Hanazawa lost her hearing as a child and her family cocooned her in protection. As an adult, she was saved from a human trafficking ring, and her grandfather put her behind walls so high they became her prison. Now she's free and ready to prove that she isn't as innocent as she looks.
Gordon 'Gabby' Dixon doesn't say a word—until he meets Kaiya. His knowledge of sign language helps bridge the attraction between them, but he'd never have Kaiya without his best friend Boone Tempest there to keep Gabby's nightmares at bay.
Kaiya travels with Boone and Gabby to uncover a mystery left by the Men of Hell's previous club accountant. Little do the three of them realize that a man bent on revenge is following them. At night, passion flares between the threesome, but just before they're able to reach for the happily ever after, a hailstorm of violence threatens to sweep them away.
No comments posted.