Liz Crowe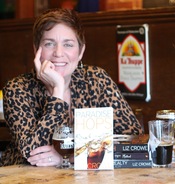 Blogging at Fresh Fiction
Liz Crowe | A Lighter Touch
July 25, 2017
We all know the trends in romance fiction wax and wane, seemingly without logic or pattern. One day it's all about the sexy vampires Read More...
Liz Crowe | Time to get TAPPED
February 14, 2017
You can craft a novel about a second chance at love, a young/first love, a May-December love, an older man meets young virgin Read More...
Liz Crowe | The Genre Bender
September 2, 2015
Hi, I'm Liz. I have 29 books to my name, all published, some with small houses and some self-pubbed. When I first put Read More...
Liz Crowe is a Kentucky native and graduate of the University of Louisville living in Central Illinois. She's spent her time as a three-continent expat trailing spouse, mom of three, real estate agent, brewery owner and bar manager, and is currently a social media consultant and humane society development director, in addition to being an award-winning author. With stories set in the not-so-common worlds of breweries, on the soccer pitch, inside fictional television stations and successful real estate offices, and even in exotic locales like Istanbul, Turkey, her books are compelling and told with a fresh voice.
The Liz Crowe backlist has something for any reader seeking complex storylines with humor and complete casts of characters that will delight, at times frustrate, and always linger in the imagination long after the book is finished.
Log In to see more information about Liz Crowe
Log in or register now!
Series
Stewart Realty | Love Brothers | Brewing Passion
Books:
Numbers Game, April 2021
Paperback / e-Book
Conditioned, July 2017
Brewing Passion #3
e-Book
Tapped, February 2017
Brewing Passion #1
e-Book
Family Love, September 2015
Love Brothers #4
e-Book
Safe Love, March 2015
Love Brothers Companion Novella
e-Book
Love Brewing, January 2015
Love Brothers #3
e-Book
Coach Love, January 2015
Love Brothers #2
e-Book
Love Garage, January 2015
Love Brothers #1
e-Book
Good Faith, November 2013
Stewart Realty #5
Paperback / e-Book
Shut Out, September 2013
Black Jack Gentlemen #3
e-Book
Essence of Time, June 2013
Stewart Realty #4
e-Book
House Rules, June 2013
Stewart Realty #0
Hardcover / e-Book
Mutual Release, April 2013
Stewart Realty #7
e-Book
Honey Red, January 2013
e-Book
Escalation Clause, November 2012
Stewart Realty #6
e-Book
Paradise Hops, October 2012
e-Book
Conditional Offer, September 2012
Stewart Realty #5
e-Book
Vegas Miracle, May 2012
e-Book
Closing Costs, April 2012
Stewart Realty #3
Paperback / e-Book
Sweat Equity, February 2012
Stewart Realty #2
Paperback / e-Book
Floor Time, February 2012
Stewart Realty #1
Paperback / e-Book