When zombies are spotted at the final resting places of J.M. Barrie, L. Frank Baum, and other famed writers, a thrilling adventure begins—one to keep you up way past your bedtime. As the book jacket states, ONCE UPON A ZOMBIE: THE COLOR OF FEAR is "not your grandma's fairy tale." Witty, wicked twists on our favorite fables abound in this story, and author Billy Phillips has joined us for a look behind the magic—and the mayhem.
Patricia: Thanks for joining us today, Billy. You had me at the title, so I must know it all from the start: How did you first begin working on this project with co-author Jenny Nissenson?
Billy: My oldest son asked me to write a book about zombies. My company also owns intellectual property relating to some of the classic fairy tales like Snow White, Cinderella and Sleeping Beauty. In a flash the idea came to me – fuse fairy tales with zombies. Jenny was already working on a project with me so I gave her an outline of the story I wanted to tell. Then we began exchanging drafts and revisions, back and forth.
Patricia: Though zombies run rampant through our world and the fairy tale lands, the living dead are not the protagonist's only enemies. Much conflict also comes from Caitlin's anxiety and the panic attacks that have plagued her since her mother's disappearance. Why did you choose to craft Caitlin with this particular inner struggle?
Billy: All the zombie films and TV shows and books portray zombies pretty much the same way. They are always frighteningly ugly and robotic in their incessant impulses to consume flesh, brains and blood. I wanted to make an attractive zombie. I wanted a zombie that has some measure of free will to resist their insatiable appetites. Traditional zombies do not ever exercise free will. And so my idea was to use the iconic zombie character as a metaphor. A human being has no free will when we just listen and react blindly to our impulses that generate our anxiety, fears and phobias. We find our humanity when we resist those impulses and overcome them. Second, when we are in the grips of fear, we are only concerned with one person – the Me. We find our humanity when we are able to think about and care for others. That is true free will.
And so, afflicting Caitlin with various anxiety issues and fears gives her an opportunity to stop thinking about herself and start thinking about others, which happens to be the way to cure oneself of fears. We are all mindless zombies, enslaved to our negative thoughts when we allow them to rule our lives. Some fears are positive – a fear of fire and burning down the house, which reminds us to turn off the oven. Some fears are useless – the fear of a fire-breathing dragon under our bed. The positive fears are the Zombie Princesses, beautiful, attractive and striving to be noble and rise above their ferocious appetites for flesh. The useless fears are the blood-eyed zombies in the book, the traditional scary, mindless, flesh-eating creatures.
Patricia: Of the fairy tale characters featured in the book, which is your personal favorite?
Billy: I'm partial to Cinderella and Alice, myself. Cinderella and Amethyst, the Caterpillar from Wonderland
Patricia: When I paid a visit to onceuponazombie.com, I was curious to see all the goodies that go with the book. What is it like to see your characters come to life and appear in our world as dolls and Halloween costumes?
Billy: It's gratifying when it has an impact on the lives of others. If the book and dolls are bringing a small measure of happiness to others, that is great. Most important, if the book and the world we are building can help empower others, even better.
Patricia: Now that the first Once Upon a Zombie book has been released, what should we be watching for next?
Billy: I am currently writing the sequel. The series is a trilogy and in book two things really heat up and go to a whole new level.
Patricia: Thank you for joining us, and there's one more question. Fresh Fiction readers want to know: What's on your to-read list?
Billy: The books -- both fiction and non-fiction -- that are sitting on my desk waiting for me to either finish reading or begin reading are:
THE KILLING LESSONS, by Saul Black, MAKE ME by Lee Childs, THE MASTER ALGORITHM by Pedro Domingos, THE DEVIL'S CHESSBOARD, by David Talbot, SHYLOCK by Bertram Fields.
Billy Phillips was born in Toronto, Canada and moved his wife and four children to Los Angeles in 1994.
In addition to being the principle shareholder in Toon Studio Licensing, he has been ghostwriting for the last fifteen years. ONCE UPON A ZOMBIE is his fiction debut under his own name. Phillips owns a prolific vintage catalogue of classic fairy tale books, which is part of the intellectual property Toon Studio licenses around the world. When his son suggested he write a Zombie book under his own name, Phillips conceived the idea of merging the iconic fairy tale characters with the zombie phenomena. Zombie Cinderella and friends were born!
Phillips had the privilege of lecturing at NASA's Kennedy Space Center on the subject of science and spirituality, sharing compelling ideas which he interweaves in his novels.
Website | Facebook | Twitter | YouTube | Goodreads | Blog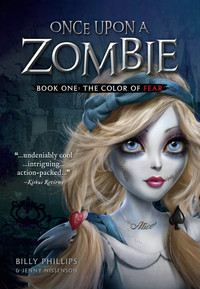 Meet Caitlin Fletcher, age fourteen. When Caitlin's mom disappeared (or left? ) four years ago, so did all the oxygen on earth-or so it seemed to Caitlin. She's been suffering from breathless bouts of anxiety ever since her mom vanished.
Caitlin's recent move to London, with her Dad and her brainiac sister, threatens to lead to more situations that will trigger sudden panic. Now, she's having anxiety over the possibility of having anxiety! Caitlin's life takes a sharp turn for the worse when she's tricked into climbing down a proverbial "rabbit hole," landing in a wondrous fairy tale universe-except it's crawling with savage, blood- eyed zombies.
All the timeless fairy tale characters who once lived forever are now living dead! Even worse, they're famished. It is not an ideal situation for a vulnerable young girl prone to panic attacks. Caitlin, however, discovers that the truth is often scarier than blood-eyed zombies!
No comments posted.