Lea Nolan | Proof of the Supernatural

October 22, 2015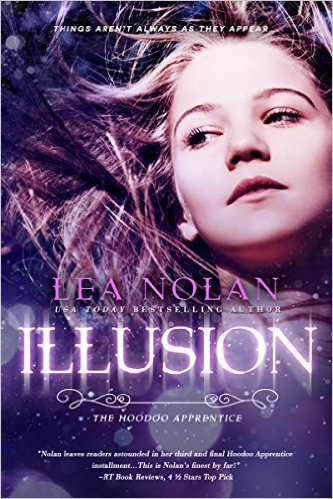 AVAILABLE
Hoodoo Apprentice #3

October 2015
On Sale: October 9, 2015
Featuring: Emma Guthrie; Cooper Beaumont
298 pages
ISBN: 1622664035
EAN: 9781622664030
Kindle: B015CLB6X6
e-Book
Add to Wish List

Also by Lea Nolan:
Illusion, October 2015
His Billion Dollar Baby, May 2014
Allure, October 2013
Conjure, October 2012

The supernatural is defined as phenomenon that are not subject to the laws of physics or which exist above and beyond nature. Ghosts, angels, demons, and other preternatural entities are considered supernatural, as are magical powers and miracles. Some discount these phenomena as the stuff of spooky ghost stories, but others--like my family and me-- believe in their possibility. This is because we've lived among the supernatural and know it's real.
Let me recall an evening in early 1971….
"Ray, I don't think we're alone in this house." My mother held her breath, waiting for my father's response. They'd just moved into the old cottage that faced the highway. Finding another place to live was probably out of the question.
"Of course not, Alice. The baby's here, too."
"That's not what I mean. We, the three of us, aren't alone. Someone else is here too."
My father's shoulders stiffened. "Like an intruder?" His voice filled with a fierce mixture of testosterone and the urge to protect his own.
"No," she shook her head, trying to explain the recent events to her no-nonsense spouse. "It's a…presence. And it's here all the time."
His brow furrowed. "A ghost?"
She nodded. "I think so. I'm pretty sure it's a child."
He narrowed his eyes. "And how would you know that?
"During the day, when you're at work and I'm here with Lea, it plays with me. When I'm in the kitchen with the baby, I'll hear something moving or jingling in the living room. As soon as I go in there to see what it is, the pots and pans start rattling in the pantry. This happens all day long, no matter where I am." She gazed into my father's pale blue eyes. "It's happening so often, I've started talking to it, telling it I know it's there. I think it believes we're playing a game. And…I can almost see it. Not if I look at it straight on, but once in a while, I'll catch a glimpse of something that looks like a wisp of smoke from the corner of eye."
My father stared hard at my mother as he worked to make sense of all he'd just heard. Yes, it was far-fetched, and sounded completely crazy, but he also sensed it was the truth.
He rubbed his chin. "Are you afraid?"
"No. It hasn't done anything to hurt me or Lea, so I think we're safe."
Sometime later as my parents were watching television one evening, they heard me babbling in my bed.
My mother sighed. "I don't know why she won't go down. Would you go in there and see what she's up to?"
Dutifully, my father headed to my room and found me sitting up in bed speaking to no one he could see.
"What are you doing?" he asked, scanning the room.
I turned my head toward the doorway. "Talking to my friend."
"Your friend?" he asked.
"Yes." I smiled and glanced back at the empty space before me.
"Is your friend here?"
Nodding, I pointed directly in front of me. "Right there."
He drew a deep breath. "Well, it's time to go to sleep, so tell your friend you can see him in the morning."
"Okay," I answered as I lay down.
Over the next few months, the ghostly presence became a part of our little family. Eventually my father began to see it too, hovering in a corner between the living and dining rooms, its diaphanous appearance vanishing whenever he attempted to look at it straight on. If he had any doubts of the ghost's existence, they evaporated the night he heard my Fisher Price toy xylophone tinkling out a distinct tune. Sure I'd gotten out of bed to strike the multi-colored keys with my wooden mallet, he charged into my room and found me sound asleep. The xylophone was deep in my toy box, well out of reach.
Not long after, as my nearly six-month pregnant mother reclined on the couch one evening, both she and my father saw the apparition hovering in the corner, but this time it appeared to linger longer than usual. It disappeared and a few seconds later, an eerie, cold sensation crawled across my mother's body and the icy impression of a small hand clutched her foot. It was the last time they ever saw or heard from the ghost again.
Given that history, it's no surprise I write stories filled with magic, ghosts and demons. In ILLUSION, the third and final installment in the Hoodoo Apprentice series, my heroine, Emma Guthrie learns to conjure hoodoo magic to battle ancient curses, demonic monsters, power-hungry conjurers, and a supernatural nemesis and save those she loves. I doubt I could have written the trilogy if I wasn't open to the possibility of the supernatural and all that comes with it.
And here are the gorgeous new covers for the previous books in the series, CONJURE and ALLURE. Aren't they a perfect match to ILLUSION?
Thanks so much for having me here at Fresh Fiction! I hope you enjoyed my real life ghost story and proof of the supernatural!
~Lea
GIVEAWAY
And now for the giveaway. One lucky Fresh Fiction reader will win their choice of a digital copy of one of the books in the Hoodoo Apprentice series: CONJURE, ALLURE, or ILLUSION. Leave a comment below about your supernatural experiences and be entered to win!
Best of luck to those who enter!
Lea Nolan is a USA Today bestselling author of Contemporary Romance and YA. Her books for young adults feature bright heroines, crazy-hot heroes, diabolical plot twists, plus a dose of magic, a draft of romance, and a sprinkle of history. She also pens smart, witty contemporary stories for adults filled with head-swooning, heart-throbbing, sweep- you-off your feet romance. Born and raised on Long Island, New York, she loves the water far too much to live inland. With her heroically supportive husband and three clever children, she resides in Maryland where she scarfs down crab cakes whenever she gets the chance. Learn more at her website, or follow her on Facebook, Twitter, Instagram or Goodreads
Website | Facebook | Twitter | Instagram | Goodreads | Blog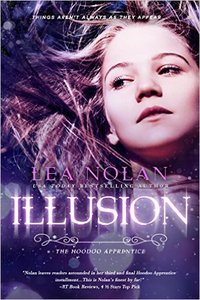 Things aren't always as they appear…
New school. Cross-country move. Broken heart. If only these were Emma Guthrie's worst problems. Instead, she must battle a trio of enemies--human and spectral--who may or may not have joined forces against her and everyone she loves. All while pretending to be over Cooper Beaumont, her ex-boyfriend and true love, to shield him from her arch-nemesis's revenge.
Worse, when the fight escalates, Emma is tempted to use black magic, which will endanger her soul. As her enemies close in, join forces, and fight with new and dark magic she's never seen before, Emma must harness the power within her to fulfill an ancient prophecy, defeat a centuries-old evil, save her family, and reclaim the only boy she's ever loved.
Comments
27 comments posted.
Re: Lea Nolan | Proof of the Supernatural

I have never had a supernatural experience, but I do enjoy reading about them.
(Bonnie H 11:07am October 21, 2015)
No supernatural experience either.
(Marissa Yip-Young 5:50am October 22, 2015)
I was sleeping alone in a haunted hotel. I woke up several
times in the night. Two of the times I woke up I smelled a
beer breath smell. I don't drink. The rest of the time the
smell was gone.
(Kathy Grega 12:36pm October 22, 2015)
i saw a dark tall shape with what looked like a cowboy hat on standing my doorway looking in my room. i am sure it was my father that past away when i was 7 because i was taking to him and i felt like it was my fault. my dad was tall and always had his cowboy hat on.
(Jennifer Beck 1:27pm October 22, 2015)
I have never experienced a supernatural event firsthand - but certainly enjoy reading about other's experiences!
(Felicia Ciaudelli 2:14pm October 22, 2015)
I won't lie, that's pretty spooky. Who knows what such
apparitions mean? Do some places just retain memories of
who's lived before?
(Richard Brandt 2:36pm October 22, 2015)
I haven't really had a supernatural event but I do remember visiting the Colleiseum in Rome and feeling incredibly uncomfortable and oppressed - maybe an overactive imagination?
(Lesley Walsh 5:22pm October 22, 2015)
Your book looks like a great read love the cover.
(Patricia Burleson 5:42pm October 22, 2015)
Most of my family on my father's side (including my brother and I) have had
paranormal experiences. The night before my grandpa's funeral, he visited
me - to say goodbye. He had part of one leg amputated and I remember
being surprised to see that he stood before me on two healthy legs! It
made me happy to see him like that. After the services, the family went
back to the house and my aunt told everyone that she too, had been visited
by her dad.
(Peg Barker 7:11pm October 22, 2015)
When I was a teenager, I was home alone reading. My
grandfather had passed away 8 years before and we were
living in the same house he owned. No, he didn't die at
home, but in the hospital. While reading, I heard the
wooden desk chair squeak, which only happened if someone
was sitting in it. I looked over, and my grandfather was
sitting there in a t-shirt and boxers looking at bills. I
screamed and ran to the front door. I couldn't get the
door to open, and I was crying. Finally, the door swung
open and hit me in the nose. My nose bled profusely down
the front of my brand new white sweater! My grandfather
was standing in front of me, and I felt the cold sweep of
his hand in front of my face, and the bleeding stopped
immediately. Then he vanished. I ran outside to my
mother, whom had just driven up from work. She grabbed me
and asked me what happened. After telling her, she looked
at me like I had lost my mind, but the blood was evident
on my shirt, but my nose was not bleeding anymore. I wish
now I hadn't panicked and had been able to talk to him.
(Terry Trahan 8:00pm October 22, 2015)
I miss Alice and her butterflies. :(
(Freddy Cellophane 3:26am October 23, 2015)
I am usually visited during my sleep. My grandparents and my dad visit regularly. I have had one while I was awake. I attend Camp Chesterfield and one weekend while I was there, I was reading a book in the cafeteria and I looked up for a second and out of the corner of my eye I saw a white figure walk behind the counter and through a door. There is a picture that hangs in the cafeteria of a gentleman who ran the cafe decades ago. I saw enough to tell that it was him. It was so cool.
(Kelly Ballenger 9:49am October 23, 2015)
I must be one of those head-blind people because I've never had a supernatural experience.
(Lisa L. 3:42pm October 23, 2015)
I haven't seen a ghost but I have felt their sprits and know someone is with me .Things have happened at unexpected places and times that makes me believe this .I usually know who it is because of the situation and what has just happened . I will then tell them thanks for being with me and that I miss them much . I haven't told anyone about this except for an older sister that has experienced the same as me . It is a very strange feeling .
(Joan Thrasher 4:27pm October 23, 2015)
I don't really have a supernatural experience.
(Pam Howell 10:16am October 24, 2015)
I bought a kerosene lamp at an antique store for my mom. Brought it home so I could give it to her. Woke up in the middle of the night with such an intense smell. It was so strong it woke me. I could taste it and it was making me gag. Woke my husband up who couldn't smell a thing and I was running around freaking out and yelling thinking our house was on fire and thinking someone spilled kerosene and it was going to catch fire. It was a confusing night. I don't remember ever smelling kerosene before but I was 100 percent sure that was what woke me up and it was so strong I could taste it. I called my mom the next morning and told her to come pick her lamp up asap. I moved it to the garage till she got it.
(Jolene Allcock 12:24pm October 24, 2015)
I have never had one, do enjoy reading about them
(Jean Patton 4:20pm October 24, 2015)
I've never had one! but i love reading about others experiences
(Nicole Bouchey 8:37pm October 24, 2015)
I have felt a presence but that's all.
(Suzie Johnson 9:09pm October 24, 2015)
I've never had one but enjoy reading about them!
(Gail Rasmussen 9:16pm October 24, 2015)
Ceiling fan turned on by itself. Not sure what caused it,
but it seemed supernatural.
(Fred Holmes 10:15pm October 24, 2015)
My paternal grandmother was a clairvoyant. I've had numerous experiences through the years, but I'll just mention the most recent a few weeks ago: My parents had given me my maternal grandmother's ruby ring for Christmas. I've never worn much jewellery, but there was a tight bond between the two of us from as far back as WWII and a few years prior to her passing. She had lived in the Yukon 1900-1908 (born 1892), spending the winter of 1900/1901 on a sternwheeler up on the ways, her father was steam engineer on the paddlewheelers and they lived on this one for that winter, she was 8 yrs. old. Already suffering from Alzheimers, I drove her up to the Yukon and Alaska in 1979 and learned her history first-hand. So, this ring was very special to me, but I only started wearing it a couple of months ago. As soon as I put it on, the piano struck a chord! This was originally her piano, and at that particular time I happened to have the cover down on the keys, so it certainly wasn't something falling on them & was definitely a chord. I immediately went to the living room and said "Grandma?" and had the overwhelming feeling of comfort. So, yes, I believe.
(Betty Gelean 10:18pm October 24, 2015)
sounds like a good read for a Halloween night
(Jane Chizmar 10:36am October 25, 2015)
After my father died and I was on a trip, I was having a fight with my
husband of that time. I looked out the window of the car and saw my
father riding on a horse alongside the car and he whispered to me that
everything would be fine.
(Judy van Ryn 6:55pm October 25, 2015)
I grew up in a house with a lot of supernatural experiences. You could hear
people walking when no one was there, a woman in white walked down the
staircase, the lights would go on and doors open, and it scared me to
death!
(Vicki Hancock 9:21pm October 25, 2015)
I stayed in a haunted plantation home in Louisiana
many years ago. I knew things were missing from the
rooms, how to get around without a guide and knew they
had moved a small out building - I was 13 and had
never been there before or seem anything about the
Olive prior top visiting it. My 11 year old cousin and
I were covered up at night even though no one had
extra blankets. Oh, and I saw 2 small children playing
ball in a grassy area near the plantation's main
house...turns out they'd been dead a couple hundred
years.
(Kim Keegan 9:21pm October 25, 2015)
No supernatural experience for me but I do like books on the
subject! thanks!
(Tracy Simms 11:40pm October 25, 2015)
Registered users may leave comments.
Log in or register now!