Read an Excerpt from FIRST SEASON by Jane Ashford

October 6, 2015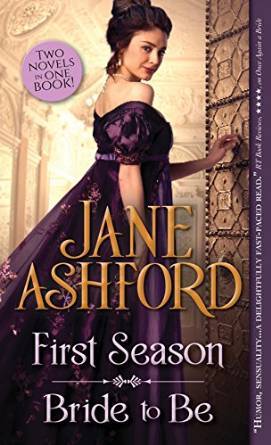 First Season / Bride to Be
Jane Ashford
AVAILABLE
Two classic Regency romances in One!

October 2015
On Sale: October 6, 2015
ISBN: 1492630942
EAN: 9781492630944
Kindle: B00XWMC7AO
Paperback / e-Book
Add to Wish List

Also by Jane Ashford:
Earl on the Run, March 2022
The Duke Who Loved Me, September 2021
Add to review list
When You Give a Rogue a Rebel, April 2021
Earl's Well That Ends Well, January 2021
Add to review list

Two classic Regency romances by beloved bestselling author Jane Ashford celebrate the adventures of a London Season

FIRST SEASON
Widowed Lady Anabel Wyndham was married right out of the schoolroom and has never before experienced the delights of a London Season. She's dazzled by the attention of the fascinating Sir Charles Norbury, a man whose touch seems to melt her very soul, but a notorious rake. She's drawn to handsome friend-of-the-family Christopher Hanford and the comfort and serenity he offers. But how does one choose between two such charming suitors? Anabel is finding that love is so much more dangerous the second time around.

BRIDE TO BE
Emily Crane is the toast of the ton-and she couldn't find it more tedious. Until she encounters the darkly sensual stranger whose life she once saved and the London Season becomes infinitely more exciting. Recently returned from the wilds of South America, Lord Richard Sheldon has only contempt for tiresome London chits, but he finds himself stunningly intrigued by the dauntless Emily Crane. When the two become embroiled in a budding scandal and are forced into an engagement, they discover a passion more dangerous than any killer...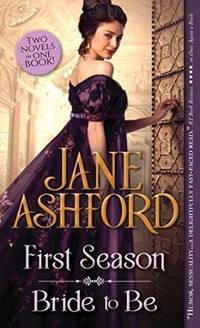 Read an Excerpt of FIRST SEASON
Anabel enjoyed herself hugely at the ball, and as a consequence slept luxuriously late the following morning, waking barely in time to dress for her appointment with Sir Charles Norbury. Thus, she was not downstairs to receive a morning caller who asked for her with some impatience. Indeed, no one was about, and the footman left the gentleman in the drawing room to go in search of Lady Goring.
The man paced the elegant room in long, swift strides, obviously preoccupied. Once, thinking he heard a sound, he stopped and turned quickly. But no one was there. He was dressed in well- tailored traveling clothes, though not in the height of fashion, and there was something very appealing in his ruddy blond complexion and alert blue eyes. He was just above medium height and just past thirty years of age, and his handsome face fell naturally into lines that suggested laughter.
Still pacing, this time he did not hear the faint noise from the doorway. But it was followed almost immediately by a shriek that brought him swinging around.
"Uncle Christopher!" A diminutive figure hurled itself across the carpet and onto his chest, nearly knocking the breath out of him. "You're back, you're back!"
"Hello, Susan," he replied, hugging her like a man accustomed to such assaults. "I am. I arrived this morning."
"How did you know where we were?" Susan had drawn back a little and was pulling him toward the sofa, where she settled herself on his knee.
"I saw it in the newspaper."
The child's green eyes went wide. "Are we in the newspaper?"
"Your mother is. It says she attended a ball last night." His tone in imparting this information was ambiguous.
"Oh. That." Susan's interest vanished. "I am so glad to see you, Uncle Christopher. You must take us all home at once."
Christopher Hanford eyed the small girl meditatively. He was not really her uncle. The Wyndhams and the Hanfords had been neighbors in Hertfordshire for generations, and he had grown up with Ralph Wyndham and remained his closest friend even after the latter's marriage. Upon his untimely death, Hanford had naturally become the mainstay of Wyndham's bereft young family, and all of the children called him "uncle." Anabel, too, relied on him. He had always been happy to oblige. But in the last six months or so he had gradually realized that his happiness was not simply that of a faithful friend. The Wyndhams had less and less need of him as the grief for Ralph faded and Anabel learned about running an estate and managing alone. Yet he called as often and found himself resenting the change. Finally the truth had struck him. He had, in the past three years, fallen deeply in love with his charming neighbor, and he could no longer be content without her.
This knowledge had unsettled him, chiefly because Anabel herself showed no signs of returning his regard. She was always glad to see him and treated him with the relaxed informality of long-standing friendship; she seemed delighted by his love for her children. But on the few occasions when he had tried to express more profound feelings, she had not understood, or perhaps, as he sometimes thought, she had pretended not to, thinking he would see that she could offer him nothing more.
This conclusion had so cast him down that he embarked on a sudden voyage abroad, resolving to stay away until he had conquered his unrequited passion. He told the Wyndhams only that he was leaving, and he did not write. But this accomplished no more than to keep him wondering how they were through the entire trip. Last week he had given it up and turned homeward, determined to confront Anabel and find out his chances. But almost the first thing that greeted him in England was the announcement that she had brought her family to town. He was irrationally angry that she should have taken this step without consulting him, and uneasy about its consequences.
"Have you seen her?" asked Susan, tugging at his lapel to get his attention. "Uncle Christopher!"
"What? Seen whom?"
"Daisy. My cat. I'm looking for her. She comes down here all the time, and the servants get angry."
"I haven't seen her, Susan. I'm sorry."
Susan shrugged and smiled angelically up at him. Not for the first time, Hanford marveled at the strange combination of seraphic face and hellish temper.
The drawing-room door opened again, and Nicholas peered around it. When he saw Hanford, he looked first astonished, then delighted. "William!" he called over his shoulder. "Here." Then he in his turn ran forward and embraced the man, to be followed quickly by the elder male Wyndham. "How good that you are back," said Nicholas when their greetings were over. "You can speak to Mama."
Hanford smiled at his assurance. "About what?"
"Going home, of course. I daresay she will be more willing to go now that you will be there."
"What makes you think so?" he replied rather sharply.
"Oh, things were dreadfully flat after you went. We all said so."
"Your mother, too?"
This time Nicholas glanced up at his eagerness, slightly puzzled. "Oh, yes. Will you tell her? We dislike London so." William and Susan nodded vigorously.
"We shall see." He felt a rising hope. Was it possible that Anabel had come to London because she missed his company?
GIVEAWAY
Do the best matchmakers come in small sizes? Leave a comment below and be entered for a chance to win a copy of FIRST SEASON / BRIDE TO BE.
Jane Ashford discovered Georgette Heyer in junior high school and was entranced by the glittering world and witty language of Regency England. That delight was part of what led her to study English literature and travel widely in Britain and Europe. Born in Ohio, she has lived in New York, Boston and LA, her writing life punctuated by breaks where the fates intervened and swept her off in different directions.
Jane has written historical and contemporary romances. Her books have been published in Sweden, Italy, England, Denmark, France, Russia, Latvia and Spain, as well as the U.S. She has been nominated for a Career Achievement Award by Romantic Times Magazine.
Comments
23 comments posted.
Re: Read an Excerpt from FIRST SEASON by Jane Ashford

Indeed
(Marissa Yip-Young 5:57am October 6, 2015)
Often they do
(Mary Smith 9:02am October 6, 2015)
They come in ALL shapes and sizes.
(Nancy Reynolds 9:46am October 6, 2015)
They can be, but matchmakers come in all shapes, sizes and
other ways as well.
(Edward Washington 10:58am October 6, 2015)
Lisa M
celticmajic@hotmail.com

matchmakers come in all sizes ;)
Oct 06 2015
(Lisa Miller 12:16pm October 6, 2015)
Matchmakers come in all sizes,size does not matter.
Marilyn
(Marilyn Collins 5:27pm October 6, 2015)
no but out of the mouths of babes.....
(Debbi Shaw 9:46pm October 6, 2015)
Yes , probably so . It is amazing what children can do when they are wanting something , like a home with a Mom and a Dad. Children may know more than we give them credit for .I hope to read this book soon , it sounds like a very exciting story .Thanks for this chance to win .
(Joan Thrasher 5:51pm October 7, 2015)
I feel like they often come in the form of the elderly.
(Lily Shah 7:29pm October 7, 2015)
Matchmakers come in all sizes.
(Catherine Maguire 9:43pm October 7, 2015)
First of all thank you for the chance to win your amazing book with the wonderful stories. Yes, I would definitely say that size does not matter
(Holly Loch 3:32am October 8, 2015)
They come in all sizes but they can work miracles!
(Bonnie Capuano 12:22pm October 8, 2015)
Yes, since I am petite.
(Sharon Berger 12:23pm October 8, 2015)
They certainly do - you never know when/how a matchmaker will come into your life!
(Felicia Ciaudelli 1:28pm October 8, 2015)
I agree that size doesn't matter in this.
(Mary Hay 4:20pm October 8, 2015)
They come in all shapes and sizes.
(Carol Woodruff 7:13pm October 8, 2015)
Looking forward to reading your books.
(Diane Lambusta 10:56pm October 8, 2015)
I wouldn't say they necessarily make the best, but in
certain circumstances, they sure don't hurt matters any!!
Looking forward to reading your latest book. Sounds like
another hit!! Love the cover. Congratulations!!
(Peggy Roberson 5:58am October 9, 2015)
Can't wait to read this book.
(Kari Behune 5:08pm October 9, 2015)
Yes, usually they do cuz the small ones are the ones that
are always overlooked and them are the best ones of all!
(Renae Kelly 6:24pm October 9, 2015)
sometimes - they can often see things that others don't
(Diane Sallans 6:32pm October 9, 2015)
no. bigger is better
(Lynn Anderson 8:56pm October 9, 2015)
I have read true stories about kids finding the perfect
match for their teachers, so maybe it is. They do not see
all of the other drama going on, just the stand-out
qualities of adults and match them up that way.
(LaCinda Jameson 9:40pm October 9, 2015)
Registered users may leave comments.
Log in or register now!