Leslie Budewitz | Rural or Urban: The Two Lives of a Cozy Setting

March 2, 2015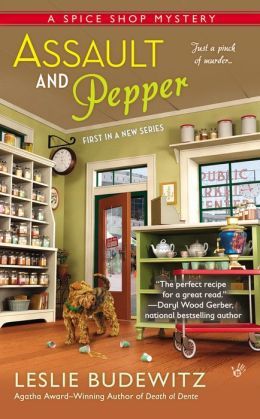 Assault And Pepper
Leslie Budewitz
AVAILABLE
Seattle Spice Shop Mysteries #1

March 2015
On Sale: March 3, 2015
304 pages
ISBN: 0425271781
EAN: 9780425271780
Kindle: B00LMGK51A
Paperback / e-Book
Add to Wish List

Also by Leslie Budewitz:
Chai Another Day, June 2019
As the Christmas Cookie Crumbles, June 2018
Treble at the Jam Fest, June 2017
Killing Thyme, October 2016

For most readers, the term "cozy mystery"—the light-hearted side of the genre—evokes a rural image. That's certainly true of my Food Lovers' Village Mysteries, set in Jewel Bay, Montana—a lakeside resort community on the road to Glacier National Park that calls itself "the food lovers' village." Fictional, like many cozy towns, but pieced together from towns and villages across the continent.
In my new Spice Shop Mysteries, debuting this week with ASSAULT AND PEPPER, I decided to explore the urban cozy. To me, the core of a cozy mystery is the community. Murder disrupts the social order of the community. The amateur sleuth investigates because she has a personal stake in the crime and in making sure the right people are brought to justice. She may think law enforcement officers are on the wrong track, or her role in village life may give her insight and information they lack. The professionals' job is to restore the external order by making an arrest and prosecuting. Hers is to restore internal order within the community.
The sleuth often runs a key local business—she may be the librarian or bookseller, the baker or café owner. She may be a native or a newcomer. In the Food Lovers' Village series, Erin Murphy is a bit of all those—a native who returns home and runs a market specializing in regional foods in her family's hundred-year-old grocery. It's work she loves, and it involves her deeply in local life.
In an urban cozy, the community is a subset of the city, and the protagonist is a major player in that world. In Cleo Coyle's Coffeehouse Mysteries, Clare Cosi runs a coffeehouse in New York City's Greenwich Village. Clare's employees, customers, and neighbors loom large, and many stories follow characters she meets through the coffee business—a customer and father of an erst-while employee who plays a charity Santa, a killer with a grudge against small roasters.
Sheila Connolly chose Philadelphia's many niche museums for her Museum Mystery series, featuring a professional fundraiser, while Laura Childs' Scrapbooking Mysteries plunge her cast into the craft-and-costume loving scene in New Orleans. And Julie Hyzy's White House Chef series may involve the most closely-guarded community-within-a-community of all: the White House and the hundreds of aides, legislators, tourists, and international guests in and out its doors every week.
My Spice Shop Mysteries are based in Seattle's Pike Place Market. It's the perfect city-within-a-city. The property is owned by the city but managed by a public development authority. Founded in 1907 and placed on the National Historic Register in the 1970s after a citizen's initiative, it's also overseen by a Historic Commission. Three hundred shops and restaurants, two hundred daystall tenants (farmers, small food producers, artists and craftspeople), and a cadre of street musicians cater to ten million visitors a year—both locals and tourists—all on nine acres. The Market is also home to three hundred residents.
Put that many people in close quarters, smack between a busy waterfront and a hustling downtown, and stuff happens.
When her life fell apart right after she turned forty, Pepper Reece bought the Seattle Spice Shop. With it came a spicy variety of employees, customers—from brand-new cooks to professional chefs, suppliers, and Market neighbors. It's the perfect crucible for human conflict. (Not to mention the bike cop on the Market beat, the ex-husband she left after stumbling over him and a meter maid—she still can't say "parking enforcement officer"—practically plugging each other's meters in a back booth in a posh new restaurant, on an evening he was supposed to be working an extra shift.) Employees and customers look to Pepper for her expertise in food and spice, and because of her thirteen years working HR in a major law firm, her people skills. A Seattle native, she knows the city inside out, but still finds herself surprised nearly every day.
Urban geography can be a challenge. Seattle's neighborhoods cover half a dozen hills, joined—or separated—by two major lakes, a ship canal, and oodles of bridges. And of course, there is that waterfront. Directions are iffy. Characters live all over the city and its suburbs. Introducing the readers to a place I love, without losing them on the biways, takes some focus.
In Jewel Bay, as in my own small town, characters run into friends—and enemies—all over. Even killers need groceries. When I lived and practiced law in Seattle, I got to know my regular bank tellers, produce sellers, and Nordstrom clerks, of course, but I rarely ran into a client, a witness, or even another lawyer while strolling through the Market or walking around Green Lake with a friend. Putting Pepper in the center of a close, well-defined community gives her the contacts she needs to ask questions and probe relationships. And she regularly calls on a former legal assistant (now a mystery bookseller!) and a law librarian for research assistance.
The best part about this setting, though, is that I get to spend hours every day in Seattle, while sitting in my woodland home in Montana. No—call that second-best. Because what I love most is taking my readers on a virtual tour of the places I know and love and have, at different times, called home.
So pour a cup of coffee or spice tea, and come with me to Seattle. I hope you enjoy the trip as much as I have.
About ASSAULT AND PEPPER
Pepper Reece, owner of the Seattle Spice Shop, thinks she can handle any kind of salty customer—until a murderer ends up in the mix…
After leaving a dicey marriage and losing a beloved job in a corporate crash, Pepper Reece has found a new zest for life running a busy spice and tea shop in Seattle's Pike Place Market. Her aromatic creations are the talk of the town, and everyone stops by for a cup of her refreshing spice tea, even other shopkeepers and Market regulars.
But when a panhandler named Doc shows up dead on her doorstep, a Seattle Spice Shop cup in his hand, the local gossip gets too hot for Pepper to handle—especially after the police arrest Tory Finch, one of Pepper's staffers, for murder.
Tory seems to know why she's a suspect, but she refuses to do anything to curry favor with the cops. Convinced her reticent employee is innocent, Pepper takes it on herself to sniff out some clues. Only, if she's not careful, Pepper's nosy ways might make her next on the killer's list…
INCLUDES DELICIOUS RECIPES!
About Leslie Budewitz
Leslie Budewitz is the only author to win Agatha Awards for both fiction and nonfiction—the 2013 Agatha Award for Best First Novel, for DEATH AL DENTE (Berkley Prime Crime), first in the Food Lovers' Village Mysteries, and the 2011 Agatha Award for Best Nonfiction, for Books, Crooks & Counselors: How to Write Accurately About Criminal Law & Courtroom Procedure (Quill Driver Books). She lives in northwest Montana with her husband, a musician and doctor of natural medicine, and their cat Ruff, a cover model and avid bird-watcher.
Coming in July 2015: for BUTTER OFF DEAD, third in the Food Lovers' Village Mysteries!
Giveaway
Readers, what's your favorite cozy spot? Leave a comment below for your chance to win a copy of ASSAULT AND PEPPER.
Comments
43 comments posted.
Re: Leslie Budewitz | Rural or Urban: The Two Lives of a Cozy Setting

My favorite cozy spot is my sofa with my blanket, reading a
really good book.
(Kim Matlock 2:52am March 2, 2015)
My favorite cozy spot is snuggling in my hubby's arms.
(Jenny Ford 3:07am March 2, 2015)
I love cozy mysteries with recipes. Looking forward to reading your book.
(Pam Howell 7:51am March 2, 2015)
My favorite cozy spot is, like the first poster, on my
couch with a good book plus a nice hot drink or a glass of
wine, depending on the time of day.
(Deb Philippon 8:00am March 2, 2015)
My favorite cozy spot is a rocker that belonged to my
Parents, and I've sat in it, ever since I was a little
girl!! It's my favorite spot to not only sit in and read my
books and snuggle with my kitties, but I also work on my
computer on it, and do my knitting there!! This chair
brings me comfort and keeps me relaxed, since I can sit and
rock gently, looking out the window at the birdfeeders
whenever I need to get my thoughts together, or if my hands
need a short break from knitting. It's my favorite
hideaway, so to speak!! I love the cover of your latest
book, and can picture myself sitting in my rocker with your
book in my hands now!! Congratulations on what I know will
be a big hit!! Loved your posting, too!!
(Peggy Roberson 10:16am March 2, 2015)
I'd love to curl up in my big chair and a half with my
beagles and read this cozy.
(Sue Farrell 11:00am March 2, 2015)
Cute book cover. Sounds like a great book. My favorite spot is my comfy chair with a blanket and a good book.
(Sue Brandes 11:11am March 2, 2015)
i love to curl up in my chair and have the dogs on my lap.
Then when i look up i can see all the birds at the feeders
it is so relaxing!
(Peggy Clayton 11:17am March 2, 2015)
My cozy spot is on the sofa under a nice well worn quilt with a good book in hand :)
(Patty Degmtich 2:00pm March 2, 2015)
You all describe such sweet spots! Wish I could cozy up
with a good book today -- oh, wait, I am, but it's on my
computer screen as I work on the next installment!

Thanks to all of you for stopping by.
(Leslie Budewitz 2:12pm March 2, 2015)
My favorite Cozy spot is sitting inside in a comfy chair with a book...
Marilyn ewatvess@yahoo.com
(Marilyn Watson 2:56pm March 2, 2015)
There's a love seat in my kitchen that belonged to my mother. I can look out to the sunny back yard. I love to sit there and read, knit, or check out Facebook.
(Barb Wiesmann 3:00pm March 2, 2015)
My favorite cozy spot is anywhere with good lighting. In a small cramped apartment, everything is adaptable to being a cozy spot.
(Lisa L. 3:00pm March 2, 2015)
would love to read this first book in her new series My cozy spot is almost any place in my house chair, bed, yard and the bath tub.
(Ruth Nixon 3:23pm March 2, 2015)
My recliner with my feet up.
(MaryEllen Hanneman 4:03pm March 2, 2015)
My favorite cozy spot is right in the corner of my couch with my cat.
(Kristine Murphy 4:09pm March 2, 2015)
Love to curl up on my couch under an afghan. Or on the
screened-in porch in the summertime (it will get here
eventually, right???) thanks for the chance to win this,
sounds like a fun read.
(Sandy Haber 4:37pm March 2, 2015)
My cozy spot for reading or dreaming is an armchair by my living room window where I can take breaks by looking out at the mountain and glacier nearby and any wildlife that happens along. Then quickly back to my reading (unless I feel the need to grab my camera quickly!) I love words and especially love the fun most cozy writers have with them. I've lived urban and I've lived rural (and I love Pike Place even though I'm Canadian!) Currently we still have snow up here in northern BC so a great time to read cozies. Thanks for the opportunity to win this book (I also like to review the books I read)
(Betty Gelean 4:53pm March 2, 2015)
At the end of the day with everything done ,my cozy spot is my bed . In the winter my bed is warm and cozy , I prop up all the pillows and read till I can no longer keep my eyes open. I sometimes awaken myself nodding . LOL Then I put my book down and fall asleep quickly .
(Joan Thrasher 6:42pm March 2, 2015)
My favorite cozy spot is anywhere I have a book. Currently it is outside by our
fish pond (and in CA so good weather!).
(Sally Schmidt 7:04pm March 2, 2015)
Cozy is as cozy does! Thanks to you all for stopping by!
(Leslie Budewitz 7:09pm March 2, 2015)
My favorite cozy spot at the moment is my bed.
(Mary C 8:39pm March 2, 2015)
Current favorite cozy spot is my bed with at least two or more
cats. Would love to read this book!!
(Jeanie Dannheim 8:51pm March 2, 2015)
My favorite cozy spot is snuggled up under my heated throw in a recliner with a great book to read.
(Joni G-L 10:22pm March 2, 2015)
Wishing you all a peaceful evening in your own favorite
cozy spot! Thanks so much for taking a peek at ASSAULT AND
PEPPER!
(Leslie Budewitz 11:32pm March 2, 2015)
My cozy spot is on the soft couch my husband found for me at
a thrift store for $15.00. It is short, like me, and I cover
with the soft blanklet he bought me.
Love these books.
Great title for a book.
(Leona Olson 7:12am March 3, 2015)
Great find, Leona!Perfectly cozy!
(Leslie Budewitz 11:30am March 3, 2015)
Feet up on my corner couch, close to the window for extra natural light for reading and a convenient windowsill for whatever I'm sipping at the time.
(Sally Lincoln 3:00pm March 3, 2015)
I snuggle right down into the corner of my sofa, put my feet
up and have my coffee right at my hand. sigh. Then travel
wherever the author leads me.
(Vikki Wright 3:32pm March 3, 2015)
My favorite spot is snuggled into my lazy boy recliner with a nice fuzzy blanket.
(Janis Milford 5:23pm March 3, 2015)
On the sectional, feet propped up, with my two cats snuggled by me.
(Bonnie Davis 5:28pm March 3, 2015)
During the winter I love to read beside the fireplace and in the summer I relax in my comfy recliner.
(Andrea Abel 6:48pm March 3, 2015)
I like to read cozy mysteries in bed with a couple of my
kitties.
(Helen Kotowske 12:49pm March 4, 2015)
I love to read cozy mysteries in bed.
Marilyn Collins
(Marilyn Collins 6:33pm March 4, 2015)
You've all got the cozy spirit! Thanks so much for joining
me here at Fresh Fiction!
(Leslie Budewitz 10:41pm March 4, 2015)
I like to watch television while in my husband's old chair, but whenever I want to read a book, regardless of whether it's afternoon or night, I crawl into my bed.
(Anna Speed 12:13pm March 5, 2015)
My favorite cozy spot is my recliner. With a blanket, a book,
and a big cup of tea.
(Rachel Collings 12:14pm March 5, 2015)
I love reading in my bed and I love the title of this book. I
can't wait to get my hands on this book.
(Denise Austin 12:15pm March 5, 2015)
I love to sit on the sofa with my favorite soft blanket, one or both cats snuggled next to me, a cup of tea and an engrossing cozy mystery! If I didn't work I could just hibernate all winter/all year like this!!
(Nancy Mejia 3:40pm March 5, 2015)
My favorite cozy spot is on our sectional sofa with lots of pillow in front of
the fireplace , this room has floor to ceiling glass that exposes the outdoors
such a great place for reading !
(Lori Barnes 3:53pm March 5, 2015)
My favorite cozy place to read is in my sunroom/library. The windows are open to let the warm breeze inside. =)
(Ashley B. 4:44pm March 5, 2015)
My cozy is a big chair with a quilt, cat and a good book!
(Rhonda Rogers 5:36pm March 5, 2015)
A cozy place to read is in bed with my kitties.
Tiny and Becka are their names plus they keep
me warm. I think your book will be fascinating
to read. Cat and mouse sort of. A must read!!!
(Sherry Cockerham 10:23pm March 31, 2015)
Registered users may leave comments.
Log in or register now!