Jennifer Ryan | Meet The Montana Men

February 25, 2015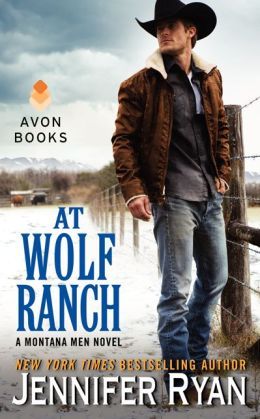 AVAILABLE
Montana Men #1

March 2015
On Sale: February 24, 2015
Featuring: Gabe Bowden; Ella Wolf
384 pages
ISBN: 0062334891
EAN: 9780062334893
Kindle: B00JJV4QDI
Paperback / e-Book
Add to Wish List

Also by Jennifer Ryan:
Max Wilde's Cowboy Heart, April 2023
Add to review list
Surrendering to Hunt, September 2022
Add to review list
The One You Want, July 2022
Add to review list
The Wedding Dress Sewing Circle, June 2022

I am so excited to introduce readers to my new series – The Montana Men.
When I think of the rough, rugged land in Montana, I think of the even tougher guys who live and work there. After all, there's something about a cowboy. Their strength of character. That rock solid guy who knows who he is and what he wants. Under all that grit lies a man who's got down-home charm and manners any mama would approve of. Their loyalty runs bone-deep, as deep as their love for home and family.
Cowboys are wild at heart. They work hard and play harder, that wild streak taking them from the ranch to the rodeo circuit where there's no fear or hesitation to get on a giant bull or ride a bucking bronco around an arena, chasing the thrill of the ride.
Let's not forget how damn good they look in those tight jeans. Or even better, sitting atop a horse. All it takes is one cocky half grin and a sexy as hell narrowed gaze from under their cowboy hat and any woman would melt in their strong arms. Oh yeah!
With such an iconic image and the beautiful Montana landscape to draw from, it wasn't hard to come up with my three gorgeous cowboys – Gabe, Blake and Dane. If you're looking for sexy cowboys with wild ways and big hearts, look no further than my Montana Men in AT WOLF RANCH, WHEN IT'S RIGHT, and HER LUCKY COWBOY.
About AT WOLF RANCH
Everything's bigger in Big Sky country, including the hearts of the Montana Men
After years on the rodeo circuit, Gabe Bowden wants nothing more than land of his own and a woman who will claim his heart for more than one night. When he has the chance to buy the enormous Wolf Ranch spread, he snaps up the incredible deal. Everything is set, until Gabe rescues a woman on the deserted, snowy road leading to the property, and the half-frozen beauty changes everything.
Ella Wolf rushes to her family's abandoned Montana ranch after her twin sister is murdered. She knows she's next…unless she can uncover a secret hidden somewhere at Wolf Ranch. The last thing Ella expects is to be rescued by a rugged rancher with his own agenda. A man who almost makes her forget how dangerous love can be…
As an unlikely partnership sparks into something so much more, and a killer closes in, can Ella and Gabe learn to trust one another before it's too late?
About Jennifer Ryan
Jennifer Ryan writes romantic suspense and contemporary small-town romances featuring strong men and equally resilient women. Her stories are filled with love, friendship, and the happily-ever-after we all hope to find. Jennifer lives in the San Francisco Bay Area with her husband, three children, dog (Bella), and cat (Shadow). When she isn't writing a book, she's reading one.
Giveaway
Readers, what do you love about a cowboy? Leave a comment below to be entered to win your own copy of AT WOLF RANCH!
Comments
31 comments posted.
Re: Jennifer Ryan | Meet The Montana Men

the strength of body, soul, and mind
(Cheryl Castings 11:36am February 25, 2015)
Their confidence, code of life, the way they look in jeans! ;)
(Colleen Conklin 12:17pm February 25, 2015)
the hat, the boots and the horse. what a man!!! Chaps too!!!
(Jennifer Beck 1:27pm February 25, 2015)
You know, I went to college with and it my first time meeting
cowboys. I'm a city girl, myself. All of the qualities you
list were present in them and that is what made them so
appealing.
(G. Bisbjerg 2:37pm February 25, 2015)
can't wait to read the book!!
(Quina B 2:50pm February 25, 2015)
They are the epitome of what I think of when it comes to
masculine- manly men that smell like hard work, leather,
horses, a little sweat. They aren't afraid of hard work
and aren't scared to get their hands dirty. I'm quite
enamored with the idea of the cowboy!
(Michelle Tweedy 4:15pm February 25, 2015)
I love stories about cowboys.
(Wilma Frana 9:09pm February 25, 2015)
whiskey for my men, beer for my horses.
(Anita Vivian 10:00pm February 25, 2015)
I love that they are strong, protective and honorable.
(Marcy Shuler 10:03pm February 25, 2015)
I want to read this book!
(Ashley B. 1:28am February 26, 2015)
They're such hard workers and physically strong to
withstand the rigors of the ranch.
(Ada H. 3:39am February 26, 2015)
I love their silent strength.
(Pam Howell 7:33am February 26, 2015)
I love that they're honest, strong, protective, caring and
yummy!!!!! Thanks for the giveaway!
(Linda Townsend 9:30am February 26, 2015)
Cowboys have principles, values and strength of character.
(Sharon Berger 10:56am February 26, 2015)
Sure and Steady
(Beth Elder 11:02am February 26, 2015)
I have a cowboy in my life and love him and his friends for they are hard workers and they keep their word, they would give their shirt to you no matter what!
(Carole Fiore 12:36pm February 26, 2015)
I love a Cowoboy's strength and focus. They also love and
defend their family, no matter the cost. They're hard
workers, and are talented - both in and out of the saddle!!
I'm looking forward to reading your latest book.
Congratulations on what I'm sure will be a big seller!! Who
doesn't love a cowboy, and Montana is a beautiful setting!!
(Peggy Roberson 12:37pm February 26, 2015)
Love the Cowboys hardworking and values . They know how to fix almost everything . Like the jeans ,hats and boots. Thanks for this great giveaway , I'm keeping my fingers crossed .
(Joan Thrasher 1:23pm February 26, 2015)
They are sexy, protective and loving.
(Yaritza Santana 6:09pm February 26, 2015)
Their sense of honor, the sway in their walk and how protected they make you feel. And the jangle of their spurs doesn't hurt either!
(Janis Milford 6:48pm February 26, 2015)
Happy almost Friday...
(Emily Stemp 9:06pm February 26, 2015)
Intellect, integrity, athleticism, love of the outdoors and animals, hard work ethic, compassion
(Laurie Gommermann 11:15am February 27, 2015)
Hard working and the love of the outdoors.
(Grace Bartlett 3:27pm February 27, 2015)
I've always liked cowboys because they aren't afraid of hard work, are good
hearted, love animals, and seem to know what is important in life. Thanks
for the giveaway!
(Meredith Hillenbrand 7:31pm February 27, 2015)
Not only does the book sound very interesting and to my liking - I really like the looks of the dude on the cover!
(Marilyn Stanley 6:08am February 28, 2015)
I love how genuine they are. Integrity, compassion, good work
ethic and kindness are also great qualities
(Denise Austin 11:46am February 28, 2015)
I like the ruggedness and self-sufficiency of a cowboy.
(Sue Farrell 3:59pm February 28, 2015)
love cowboys romance books
(Emily Stemp 7:52pm February 28, 2015)
The boots!
(Nancy Ludvik 9:06pm February 28, 2015)
They are honest and still have a work ethic.
(Cynthia Cook 9:54pm February 28, 2015)
Love the way a cowboy looks in faded jeans!
(Elizabeth Hyatt 11:36pm February 28, 2015)
Registered users may leave comments.
Log in or register now!