Susan Meier | Chasing the Runaway Bride

November 21, 2014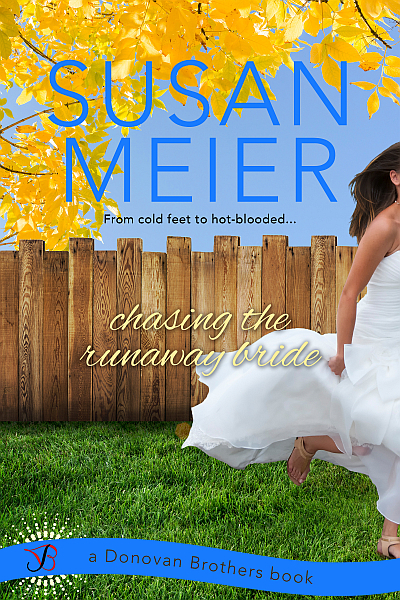 Chasing the Runaway Bride
Susan Meier
AVAILABLE
Donovan Brothers #2

November 2014
On Sale: November 17, 2014
Featuring: Cade Donovan
260 pages
ISBN: 1503016390
EAN: 9781503016392
Kindle: B00OXFURIS
e-Book
Add to Wish List

Also by Susan Meier:
Tuscan Summer with the Billionaire, June 2021
Add to review list
Hired by the Unexpected Billionaire, August 2020
Add to review list
The Bodyguard and the Heiress, April 2020
Cinderella's Billion-Dollar Christmas, November 2019

Happy Thanksgiving!
We always think of heroes and heroines in romance novels as being lucky, but most have to go through some trials before they reach their happily ever after. Cade Donovan and Piper O'Riley of CHASING THE RUNWAY BRIDE are no exception. In fact, Cade relentlessly pursues Piper until she just can't resist anymore. LOL
That's the fun part.
As soon as they give in to their attraction, real life intrudes. Neither Cade nor Piper had a happy childhood. Both have been the object of gossip and scorn. But it isn't the gossip that makes their happily ever after so difficult to reach. It's something inside of each of them. They've both trusted before and they've both been burned.
Piper was a two-time runaway bride. Cade was a no-show groom. When someone's hurt you enough that can't quite seal the deal, even though an entire town is waiting in the church…can you ever really love again?
That's the question Piper and Cade face. Even if CHASING THE RUNAWAY BRIDE is in a fun story, this hero and heroine face one of life's most difficult questions with just enough humility and truth that you root for them until the last page.
And that's what they're grateful for.
In this Thanksgiving week, I took a look at Piper and Cade and realized that they are the most thankful for is the newfound ability to really look before they leap. :O
How about you? Is there something you're especially grateful for this Thanksgiving?
One commenter will receive an ebook copy of HER SUMMER WITH THE MARINE, book 1 in the Donovan Brothers Novels series!
Comments
16 comments posted.
Re: Susan Meier | Chasing the Runaway Bride

Definitely my family!
(Colleen Conklin 7:43pm November 21, 2014)
hi I would love to read your work "HER SUMMER WITH THE MARINE" and "Chasing the Runaway Bride". Hope to win
(Asmaa Abdul Majeed 8:26am November 22, 2014)
I am happy to be alive and retired.
(Debra Guyette 10:06am November 22, 2014)
I would love to read this book.
(Wilma Frana 11:20am November 22, 2014)
Gotta love the military books. Can't wait to read Her
Summer With The Marine.
(Deb Diem 11:48am November 22, 2014)
Having a job and family. This sounds like a good book we'd enjoy reading, and a new author to get to know. Thanks!
(Rich Cook 3:27pm November 22, 2014)
Congratulations on your new release! I am thankful for my family and friends.
(Bonnie H 9:27pm November 22, 2014)
Besides the obvious family, I'm thankful for books and coffee! :)
(Barrie MacLauchlin 11:04pm November 22, 2014)
I am thankful I have a job after a way too long period of unemployment. I am also thankful for my family and that we are still alive and kicking.
(Rachel Barckhaus 11:37pm November 22, 2014)
Sounds like a fun book. I'd be happy to get your newsletter.
(Kantu Malhotra 12:51pm November 23, 2014)
New job with a shorter commute!
(Laura Gullickson 1:00am November 23, 2014)
I have 2 healthy children and they both have spouses that I like
and love. I have a wonderful husband who's been with me for 36
years. I am a lucky woman.
(Marcia Berbeza 3:21am November 23, 2014)
This year, I am blessed to have both my sons home for Thanksgiving. And Christmas.
We have a wonderful granddaughter. She lives near by so I get to see her often.
I am thankful we now live in the desert. No longer do I have to worry about the weather putting a kibosh on family things. I love that.
And so very thankful to live in the United State. God bless America.
(Lisa Hutson 9:56am November 23, 2014)
My family. Two of the kids at college will be home!
(Sue Galuska 8:19pm November 23, 2014)
I understand the part about the whole town watching and
judging, even without knowing the facts.

I am grateful I don't live in Buffalo with all that snow!
(Laura Dogsmom 9:57am November 25, 2014)
I am thankful for the time given to me to help my mother-
in-law recover from her stroke the past three months. It
wasn't easy, but it was worth it.
(Jennifer Ingman 11:20am November 30, 2014)
Registered users may leave comments.
Log in or register now!