Christine Bell | Reforming the Rock Star

September 30, 2014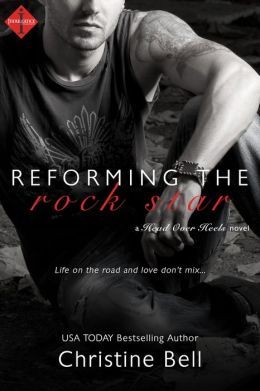 Reforming the Rock Star
Christine Bell
AVAILABLE
A Head Over Heels novel

October 2014
On Sale: September 29, 2014
ISBN: 1633750809
EAN: 9781633750807
Kindle: B00NE06U3O
e-Book
Add to Wish List

Also by Christine Bell:
Home for the Holidays, November 2016
Reforming the Rock Star, October 2014
Dirty Deal, September 2014
Fix You: Bash and Olivia Part 2, May 2014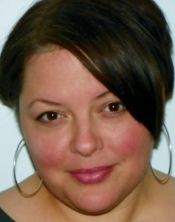 Hey there, Fresh Fiction readers! I'm thrilled to be here today to celebrate the release of my new Entangled Indulgence, REFORMING THE ROCK STAR. I'm running a little giveaway too, so stick around to comment for a chance to feed your book addiction!
When I was writing this particular book, it got me thinking about hot rock stars, the nature of people, and the crazy things we do to impress each other. ESPECIALLY members of the opposite sex. In REFORMING THE ROCK STAR, my hero Laz mistakes the heroine, Syd, for a stripper. And you can't really blame him. She's at a bachelor party, all buttoned up with her hair in a bun and her glasses on, and he thinks it's all part of her Sexy Librarian schtick when, in reality, she's actually the socially awkward and genuinely nerdy caterer. Syd goes through sort of a reverse-My Fair Lady makeover to try to show Laz how sexy she can really be, when in truth, Laz thought she was sexy the whole time.
That got me thinking about the time that I "pulled a Syd" in my own life. Despite the fact that this does not *necessarily* reflect well upon me >.< I'm going to share it with you now, mainly, because I have no shame. And, because it's funny.
So this one time (back in my 20's), a guy I was crushing on at work was SUPER into hiking and the outdoors. A veritable Bear Grylls, if you will. Rock-climbing, rappelling, spelunking (and, whilst I LOVE that word—it's so meaty in the mouth—the act sounds right on par with water-boarding, if you ask me). The whole nine yards. And, because I wanted him to ask me out on a date, I decided that I was going to re-invent myself and become the kind of girl he would want to do all his spelunking with. So I started eating kale (gag) and some weird, puck-like granola bars, and making sure that, whenever he came into the break-room, I was mid-"near miss with a mountain lion" story that I was sure would catch his ear.
I'm not proud of it. My older self cringes as the lack of self-confidence I had that I felt like that was what I needed to do to get this guy's attention. But I can't lie. It worked.
So, one day, *Granola Pete (*not his real name) came up to me and was like, "Hey, I heard you talking about hiking up to Webb Mountain the other day. Do you hike there a lot?"
And I was all, "A LOT? *snort* They practically wanted to name it Chris Mountain, cuz I'm there, like, ALL the time."
And he was all, "Really? I've never seen you there?"
And I was all, "Well, you just weren't looking hard enough." *past giggle* *current gag*
By the end of the conversation, we had plans to go on a four mile hike that weekend to another mountain, and I was GIDDY with excitement. In the days leading up, I bought this legit looking water bottle, some hiking boots that I scuffed up on the pavement outside my house, and a midriff-baring "Born to Hike" t-shirt. I was READY. TO. GO. No stone unturned.
Except the hiking part. I had never actually gone hiking before. Anywhere. Ever. I played in the woods as a kid, but it was flat. And this place…wasn't.
So on a eighty-five degree summer day, we started our climb. I was adorable. My ponytail bouncing as we walked. My little t-shirt crisp and smelling like fresh linens. My optimism through the roof. It took a solid half mile before reality hit. I was breathing so hard, I couldn't hear him talking, or the sounds of the forest around me. All I could hear was my own wheezing breath as I cursed Mother Nature and my own hubris in equal measure. My legs were on FIRE. My head was spinning. I literally wondered if I was going to die out there.
And the whole time, he talked, forcing me to use precious oxygen on yes and no responses. It was like a living nightmare as I tried to hide my condition from him.
About an hour in, I found the first tick on me and all hell broke loose, my friends. I'm not going to say I had a panic attack. But I didn't NOT have a panic attack. There was screaming. And flailing. And some weeping. LOTS of running. By the time we got to the bottom again, I was sweat-clicked, covered in dirt, and three seconds from vomiting from heat stroke.
But guess what? HE LIKED ME ANYWAY. In fact, we later joked about that day, and still look back and laugh on it. In fact, I later became Mrs. Granola Pete. We didn't stay married because we had nothing in common (HA!), but faking it that day turned out to be the most fortuitous misstep of my life. We had a son together, who, thankfully, takes after his father, and is the best kid a woman could ask for. I later found a man who hated hiking almost as much as I did, and we're very happy together.
So what about you, Fresh Fiction-ites? Has there ever been a time when you wanted to just start fresh and totally reinvent yourself? If so, tell me about it in comments. I'll be giving one commenter a $10 gift card to either Amazon or Barnes and Noble, winner's choice!
Comments
34 comments posted.
Re: Christine Bell | Reforming the Rock Star

I'd love to reinvent myself. LOL But at my age I don't think it would change anything. My hubby has stuck around for 23+ years with the me he has. ;)

But I loved your story, Christine. :)
(Marcy Shuler 12:12pm September 30, 2014)
What a fantastic story! :) I think I'm kind of at that
point right now in my life where I want a fresh start. I
need to worry less about what people around me think, and
just let my own true self come out more.
(Amanda P 12:25pm September 30, 2014)
I liked it very much and can't wait to read the rest.
(Toni Whitmire 12:40pm September 30, 2014)
That is a wonderful story - love the way you tell it! I re-invented my self to who I really am.. with 1st hub -yeah -I had not grown up then, and he was much older & done growing..new hub..younger!(My grandson says 4 years still makes me a 'cougar'- lol) We both just keep having fun still, and 17 years strong!
(Shirley Bennett 1:10am September 30, 2014)
what a great story! sometimes I wish I felt more confident
and just follow my dreams.
(Elena k 5:57am September 30, 2014)
I don't have the energy or will to re-invent myself. I just want to be true to
myself.
(Sue Ahn 6:31am September 30, 2014)
I have not read your books but am definantly interested. They sound
wonderful.
(Lola Riggs 7:23am September 30, 2014)
LOVED your story! I am constantly trying to reinvent myself
but I never have the self-control to stick to it. Only once
did I try to reinvent myself for a guy. He was a fitness
freak and by the end I was in the best shape of my life.
Too bad it didn't stick.
(Cathy Coffinger 8:42am September 30, 2014)
Don't think I've read any of your work yet but sounds interesting. This month has so many new books to read. Good luck with your new book.
(Laverne Taguchi 9:12am September 30, 2014)
I can totally see why people would want to reinvent themselves. And sometimes we do need to get outside our comfort zones and find we do have new interests.
(Pam Howell 10:40am September 30, 2014)
I got out of a marriage to someone who I really didn't feel
I had much in common with, and for one main reason - my
Doctor told me that I would have been dead, if I had stayed
married to him!! Not that he was abusive, but I had lost my
will to live!! I got back together with someone that I had
been carrying a torch for all of these years, through a
mutual friend. Did we have anything in common?? Looking
back now, I'm not sure, but he was a few years older, and
with me being a chameleon, I needed someone older to relate
to. We actually learned from each other, and after over 30
years of marriage, we continue to learn from each other. At
times the road gets a bit rocky, but somehow we manage to
get through it. I think it's partially because I have more
patience, and because I love him so much. We are both
committed, too!! I loved your posting today. It brought
back a lot of memories, and I think your book will do the
same.
(Peggy Roberson 10:42am September 30, 2014)
I wish I could be 11yrs old again and not keep trying to smoke. I'm 58yrs old now and can't quit.
(Susan King 10:48am September 30, 2014)
yes. the first time my brother went to prison I would have loved to move and reinvent myself. There is nothing like the looks and whispers in a small town.
(Angela Parrish 10:54am September 30, 2014)
I enjoy taking chances. When I met my partner 40 years ago I was a
office worker. When I found out she had an interest in security I
decided I had also. I went from a high paid job to minimum pay. We
got together 30 years ago and never looked back. I never realized
how much stress I had been under. Now at 70 I still work, although
she passed 2 years ago she gave me the ability to think out side the
box.
(Pat Freely 11:51am September 30, 2014)
The thought to make a change like that comes around quite a bit. Mainly it has to do with me getting out of the way and letting things happen naturally. Also, there are some areas of study that I want to venture into, but haven't done so. The training is a big one that I really want to try.
(Leni Kaye 1:25pm September 30, 2014)
There have been times when I wish things or something was different about myself... whether being more outgoing, go in a different direction, etc...
(Colleen Conklin 2:06pm September 30, 2014)
I will most definitely be reading Reforming the Rock Star! It looks like it will be
comical and hot at the same time and that's my kind of romance! As always, I
look forward to reading each and every one of your books!...Thank you!
(Shelly Ash 2:14pm September 30, 2014)
I can't say that I've totally re-invented myself for a guy, but I have considered it, and done a bit of re-invention, but part-way through the process, he up and married someone else, so .... So much for re-invention!!

Later,

Lynn
(Lynn Rettig 2:28pm September 30, 2014)
While I wanted to reinvent myself when I was a teenager, I
can't say that I ever actually tried to do so.
(Janie McGaugh 9:12pm September 30, 2014)
I wish I could reinvent myslef for the better, but it's easier
said than done.
(Bing Yuan 9:19pm September 30, 2014)
Awesome story Christine and I'm glad that you and your ex-husband had a good laugh :D Hmm, I'm not too sure if I ever wanted to reinvent myself or not. I grew up with strong woman (mom, grandmother's, Aunty's and 2 older sisters)I was never pressured into something I didn't want to do nor was I pressured into being something I didn't want to be. I know my weakness, strengths, passions, and I have my own story. Yes, I have made mistakes in my life and I still love to learn more isn't that what it's all about...As for the woman who say's she cannot stop smoking, YES you can. I smoked 2 packs (that's 50 cigarettes a day) and I quit. Don't use your age or your stubbornness as a reason for not quitting those are just excuses you can quit -- grab a good book instead of that disgusting cigarette don't let a li'l thing like a cigarette control you. YOU, yes You have control not that cigarette so butt it out dammit and grab a book instead :)
(Holly Loch 2:19am October 1, 2014)
Yes, all the time. I would love to be someone else.
(Susan Clickner 12:01pm October 1, 2014)
Absolutely! Everyone has those feelings at some point or
another (or at many points!).I have discovered that the
desire to change or start fresh is not a desire to be
denied, but it is also something that works best and most
successfully when done over time. When we understand the
gravity of the changes we are making, and implement them
slowly in order to give ourselves time to adjust, that
seems to be when the changes stick. Jumping in head first
and all at once can have its merits in certain
situations, but never works if you don't understand why--
or the consequences!
(Michelle Brown 1:19pm October 1, 2014)
I love the premise of this book and cannot wait to read it.
(Viki Lewis 6:38pm October 1, 2014)
You know, when I was a kid I sometimes thought about
occasions to reinvent myself, but I invariably got
distracted by things that interested me-- fortunately!
(Mary Ann Dimand 7:00pm October 1, 2014)
OMG that was hilarious I have tears in my eyes XD. My
reinvention story is a bit embarrassing, but I'll share
it since yours made me laugh so much! So, when I was in
eighth grade, all the cool kids used to do a sport of
some kind. I did not play sports (except for that
horrible time in fourth grade my father made me play
soccer and I scored more than four goals in the wrong
goal, trampled someone with my cleats so hard they laid
on the ground in shock holding their hand and sobbing,
all while keeping an eye on the drinks cooler like it was
my child because, if the didn't have kool-aid I don't
know what I would have done). So yeah, other than that, I
had no sports experience. Then, I had this amazingly
intelligent idea to join cross country! You know, where
they run eight miles in the rain for fun, "just to get
your heart moving". I am not a sports girl. I am a stay-
at-home-watch-kdramas-read-a-ton-of-books kind of girl. I
don't know what made me think that I was a run-around-
until-you-taste-blood kind of person. It's an admirable
thing, I promise. I salute all of you who find pleasure
in such activities,but I do not. I joined the cross
country team with the delusional thought that I could be
a cool kid. This was a disaster. First of all, I pretty
much wore pajamas as a running suite. I thought this was
completely okay. This is like, rainbow-plaid baggy pants
and a T-shirt about cookies and milk. I am cringing as I
write this. Secondly, I absolutely suck at running. At
this point of my life, I have barely even run a mile. On
the first day, the coach announced "okay everyone!
stretch and then a 3 mile warm up!" My brain was like
!#$@#% and my heart was like !#$#@%$ and my curly hair
was like \\//\/\/\/\/\//! As you can imagine, this season
did not go well. I was the last runner on every work out
and I did not even remotely enjoy it. The pizza party at
the end of the year wasn't even that great. There
(R H 10:13pm October 1, 2014)
There was a balanced lack of cheese and sauce so I felt
like I was eating flavored crust. And I hate crust. At
that moment, I realized that this wasn't my thing. I
stopped trying to be someone else so I could please other
people, and embraced my food-loving-book-reading-kdrama-
fangirling self. And you know what? I think I'm doing
pretty alright.I mean, now I am shamelessly sharing my
embarrassing stories online to random people! Thank you
Christine Bell for the laugh, together we shall embrace
our awkwardness. Oh, and I can't wait to get a hold of
your book !!:D
(R H 10:16pm October 1, 2014)
Looking forward to reading more!
(Becci Brooks 11:51pm October 1, 2014)
I did re-invent myself I moved to another country married a
man from there lost a lot of weight and tried to be someone
I wasn't it didn't work. I found out I love exactly who I
am.
(Denise Austin 12:46pm October 2, 2014)
I can't think of any time i would want to reinvent myself. I
like myself just the way I am.
(Sarah Bauman 2:39pm October 2, 2014)
I was a very naughty teenager and it lasted until I was 38yrs old. One day a friend asked me to go to the bar she just quit working at to pick up her last check. I wasn't known by anybody there and my friend and I sat and had a few drinks ( I was behaving that day ). This REALLY good looking guy came over and started talking to me. He was really nice ! I wasn't used to nice guys... Anyway he asked me out and I said yes. We had been dating for about 2 months and I decided I'd better come clean with my BAD GIRL reputation. I started telling him what I had been like before he came around and he told me that he's known and seen what I was like for YEARS !! I couldn't believe he knew and was still seeing me !! Now 21yrs later we are happily married, with 4 adult children ( 3 his 1 mine ) who have given us 7 grandkids, 6yrs and under with another due March 2015. I still can't believe it !!
(Susan King 9:22pm October 2, 2014)
My way of reinventing myself was to quit Pepsi and all pop in Apr/14. It's darn near killing me. Don't they say that the cure can sometimes be worse than the cause? Sure seems that way to me these days, but pop is a no-no with diabetes.
(Elaine Seymour 10:31pm October 2, 2014)
I'm too much stuck in my rut to change unless I medically have to. Cutting
dairy is such a pain.
(Laura Gullickson 11:36pm October 2, 2014)
I just have too much responsibilities and obligations to reinvent myself. Perhaps when I am done with them, I will like to do what I wanted to do in the first place.
(Kai Wong 4:27pm October 11, 2014)
Registered users may leave comments.
Log in or register now!