Cynthia D'Alba | Texas Tango

November 14, 2013
AVAILABLE

November 2013
On Sale: November 5, 2013
ISBN: 1619218887
EAN: 9781619222083
Kindle: B00EANAGS4
Trade Size / e-Book
Add to Wish List

Also by Cynthia D'Alba:
Hot SEAL, Girl Crush, September 2022
Rescued, May 2022
Cowboy Justice, April 2016
Texas Hustle, December 2015

Hi All! Cynthia D'Alba here. Thanks to the Fresh Fiction gang for having me here today to celebrate the release of the second book in the Texas Montgomery Mavericks series, TEXAS TANGO. For the first time in my writing, I put a teenager into my story. GULP. That did certainly stretch my imagination. I have no children. I haven't been around a teenager in a long time. Heck, I haven't been a teenager in a long time. However, I had a lot of fun with Noah, my fourteen-year-old.
TEXAS TANGO is the story of a widower Travis Montgomery (who has no children) and Caroline Graham, a transient doctor who moves around fulfilling short term contracts. Noah is her younger brother but she doesn't really know him. She was eighteen when he was born and off at college. Their parents are Christian missionaries who have spent the majority of their time in foreign lands. Caroline was raised by her grandmother, Mamie, as was Noah. Now their primary parent figure, their grandmother Mamie, is close to death. Noah is concerned about her and what's going to happen to him. In a nutshell, he is an angry teen. Here's the first introduction to Noah:
Caroline turned, expecting to see Travis standing in the door. He wasn't. Her heart skipped. Where was he?
"Over here, Judge Bridges," Travis's deep voice drawled from the corner.
Caroline shut her eyes briefly as the fear that he'd left crumbled. She drew in a quick breath and turned in the direction of Travis's voice. She'd been so nervous all day. She hadn't really looked at him. Dressed in a dark suit with his boot tips glistening under the room's florescent lights, he looked more handsome than she'd ever seen him. He smiled when she turned. "Be right back," she said to Mamie and crossed the room to where Travis stood talking with her brother, Noah.
"Hi, Noah. You have really grown."
"Yeah," he snarled. "People do that when you don't see them very often."
Travis's head snapped toward Noah. "Now, son, I'm sure you don't mean to speak to your sister on her wedding day in that tone of voice. I think you owe her an apology."
Caroline touched his arm. The muscles were tight with tension. "It's okay, Travis. I'm sure he didn't mean it." Travis had always had his parents, had known his parents loved and wanted him. He couldn't understand what it was like to be dumped on your grandmother's porch to be raised, whether she wanted the task or not. She understood though. Noah deserved a break. He sure hadn't had one in his short fourteen years.
Travis looked at her. "No. It's not." He turned back to Noah. "Don't you have something to say, son?"
I thought a lot about Noah. He's scared about his future. He hates that he'll be shuffled off to lived with his uncle and aunt. He doesn't really know his parents since he's been living with Mamie since he was five. The option to move to wherever his parents are currently preaching isn't even a option, as far as he's concerned. There's so much uncertainty. I decided that if I were in his shoes, I'd be mad and angry, a total jerk.
On the other hand, the adults in the story have to understand the emotional mess Noah is but they can't allow him too much rope. It's a delicate balancing act.
I loved Noah so much. I remember the teenage angst from the period of my life (and I wouldn't go back for anything!)
What to read the opening of Texas Tango? Click here.
Curious about the book blurb for TEXAS TANGO?
Texas Montgomery Mavericks, Book 2
Dr. Caroline Graham is happy with her nomadic lifestyle fulfilling short-term medical contracts. No emotional commitments, no disappointments. She's always the one to walk away, never the one left behind. But now her great-uncle is gone and her grandmother is on her deathbed, more concerned about Caroline's lack of a husband than her own demise. What's the harm in a little white lie? If a wedding will give her grandmother peace, then a wedding she shall have.
Travis Montgomery has one dream left—to build the ranch he and his wife planned before he lost her to cancer. There's just one thing standing between him and the last bit of acreage he needs—a last living heir who has one traveling foot out the door...and an unusual request that challenges his determination to never again place his heart at risk. The land he wants in exchange for a faux marriage. Everyone wins. Until things start to snowball...and the hearts they stand to lose are their own.
TEXAS TANGO is available at your favorite online bookstore Amazon | Samhain | Barnes & Noble | Kobo
First time you've met me? Here's a little more about Cynthia D'Alba: I was born and raised in a small Arkansas town. After being gone for a number of years, I'm thrilled to be making my home back in Arkansas living in a vine-covered cottage on the banks of an eight-thousand acre lake. I started writing on a challenge from my husband in 2006 and discovered having imaginary sex with lots of hunky men was fun.
My first book, TEXAS TWO STEP, released in 2012 to outstanding reviews, was a Samhain Publishing best seller. The second book in the Texas Montgomery Mavericks series, TEXAS TANGO, released November 5, 2013, again from Samhain Publishing. In February, 2014, Texas Fandango, a Novella in the Texas Montgomery Series will be released by Samhain Publishing. I am currently at work on book 3 of the Texas Montgomery Mavericks series (Texas Twist).
I love love love to hear from readers and there are lots of ways to find me. Online, you can find me most days at my website or my group blog.
Follow me at Facebook, Twitter, Google +, Goodreads or Pinterest. or email me at [email protected]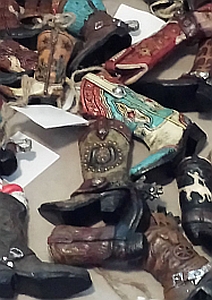 To send me snail mail, write to: Cynthia D'Alba PO Box 2116 Hot Springs, AR 71914
Tell me either about your teenage years or if you have a teenager in your life now, how's that going for you.
In the spirit of Christmas sneaking up on us, We'll pick among the comments for someone to take home a western-themed ornament. Here's just a sample...
Plus, I doing a jewelry-themed For my TEXAS TANGO Jewelry-Themed Rafflecopter Giveaway.
Also check out my personal blog for other places you can enter!
AND I have freebies for the asking! But when it's gone, it's gone. Pens, jar openers, postcards, bookmarks, trading cards...just go by my contact page and send me a note.
Thanks for coming by! Be sure to leave a comment for a chance to win one of the Christmas ornaments!
You can also go to Facebook for more giveaways from Cynthia.
Comments
59 comments posted.
Re: Cynthia D'Alba | Texas Tango

Sure wish I could win an ornament, especially since I am from Texas but I
am not on Facebook.

melback at cebridge dot net
(Melanie Backus 12:18pm November 14, 2013)
This sounds like a book I'd love to read...thanks so much for this great giveaway!!!
(Bonnie Capuano 7:40am November 14, 2013)
The book sounds interesting. Thanks for the exerpt.
(Pam Howell 8:31am November 14, 2013)
I have been wanting this book christmas is my favorite time
of the year thanks for the giveaway
(Denise Smith 8:37am November 14, 2013)
Well done on this book, and you look great in the bright hat!
I don't think being a teen in difficult circumstances necessarily equates with being a jerk, but then I'm a girl and a boy might find it harder to cope and to express himself.
I'd love a cowboy ornament for my tree!
(Clare O'Beara 8:52am November 14, 2013)
Hi Melanie Capuano! You don't have to have a Facebook account
to be entered in the drawing! Just leaving a comment will
enter you! :) Since you're from Texas, I hope you get a chance
to read Texas Tango or Texas Two Step and let me know what you
think!
(Cynthia D'Alba 10:25am November 14, 2013)
Hi Bonnie! I hope you give Texas Tango a chance! Tell you
what I'll do...(We'll see who reads these replies too! ha)
If you haven't had a chance to read anything by me, drop me
a line at cynthia @ cynthiadalba.com and ask me for a free
copy of Texas Two Step: The Prequel. That is a short story
that serves as an introduction to my first book. How's that?

ANYONE can request this freebie. Just email me.
(Cynthia D'Alba 10:27am November 14, 2013)
Hi Pam! Thanks for coming by. Glad you enjoyed the excerpt.
(Cynthia D'Alba 10:29am November 14, 2013)
Hi Denise. Remember...if you read and review Texas Tango
during the month of November, I am having a drawing for
reviewers! Gift card prize. :)

Good luck with the giveaway! And I agree...Christmas is a
great season.
(Cynthia D'Alba 10:30am November 14, 2013)
Great blog today I just started following you on face book. I love cowboy books and will be ordering your new one, it sounds great! Thanks for the blog today.
penney
(Penney Wilfort 10:39am November 14, 2013)
A happily ever after book which will leave me in a great state of mind.
(Gloria Muniz 10:44am November 14, 2013)
Oh those cowboys. Can't help but love them. Great blog. Thanks for the chance to win.
(Gayle Pace 10:48am November 14, 2013)
This sounds like such a great book and I would love to read it.
I've been blessed to be raising my three grandsons for the past 11 years (now age 12, 14, 15). Their mother (my daughter) had MS (Multiple Sclerosis) and after caring for her for 10 years she died 2 1/2 years ago. Each day is a new adventure and at times there is generation gap, but they are great boys and I love having them around.
grandmabkr at yahoo dot com
(Brenda Rumsey 10:54am November 14, 2013)
I, like you, have no children, but it was Doctor's orders. Due to the amount of medications I have to take because of my health problems, the Doctor said I wasn't allowed to get pregnant. My health problems would make it difficult to take care of a child anyway. As for my teenage years, before my health problems hit, they were fulfilling for me. I was the youngest of 3 girls, and raised by strict parents, so I had to find an outlet. I decided that I would take my passions, and invest them in music, so I took up the Cello. I was in the Orchestra in school, and was made 1st chair, which is no easy feat. My Parents paid for a tutor to come to the house and give me private lessons one day a week. When I was old enough, I got myself a job, so that I was able to put some in the bank, and purchase things that wouldn't make me look like such a geek ( I got a lot of hand-me-downs ). For the most part, I was a good kid, and didn't cause trouble. I was also the clown of the family, and still am to this day, although not everyone appreciates my jokes! lol Your book sounds like a great read, and I can't wait to get my hands on it!! It's definately on my TBR list, and will be one that I'll be reading one way or the other this Fall!! Congratulations on your book!!
(Peggy Roberson 11:47am November 14, 2013)
Just downloaded the book! Cant wait to read it!
(Karen Johnston 12:23pm November 14, 2013)
Hi Penny! I'm so glad you've discovered the tour! Glad to have
you along. It can get lonely talking to myself! LOL
(Cynthia D'Alba 12:27pm November 14, 2013)
Hi Gloria. Like you, I want a happy ending to a book. That's
one reason I write romance. I want to be smiling as I read the
last lines in a book!
(Cynthia D'Alba 12:28pm November 14, 2013)
Love the cover of "Texas Tango"
(Lisa Avila 12:28pm November 14, 2013)
Hi Gayle. You are so right! Oh those cowboys! :) They evoke
all sorts of feelings, don't they? :)
(Cynthia D'Alba 12:29pm November 14, 2013)
Hi Brenda! Great to see you on another stop! MS is a cruel
disease. I am so sorry for your loss.

WOW on those ages of your grandsons! Bet you have some
interesting days.
(Cynthia D'Alba 12:31pm November 14, 2013)
Hi Peggy. Lives can be full and rewarding with and without
children. My life has been truly everything I could ever
dream of. Sometimes I look back at the years and
think...WOW. You are one lucky lady. :)

I hope you enjoy Texas Tango. If you do get a chance to read
it, Please leave a review on Goodreads or Amazon or
wherever!
(Cynthia D'Alba 12:34pm November 14, 2013)
THANK YOU Karen Johnston! I hope you enjoy Travis and
Caroline's love story. Please drop me a line and let me know
what you thought.
(Cynthia D'Alba 12:35pm November 14, 2013)
Hi Lisa! Wait until you see the cover for Texas Fandango, my
next book. OMG! It's awesome too! I have been so lucky with
the covers I've gotten. Thanks for coming by and leaving a
message.
(Cynthia D'Alba 12:36pm November 14, 2013)
I'd love to have an ornament that would make me think about
books/reading! I like the plot of your book! I look forward to
reading it.
(Wasanaa Smith 12:55pm November 14, 2013)
I just finished Texas Two Step and loved it! I highly recommend it to all of y'all. I can't wait to get on to the next one.
(Tina Reiter 1:26pm November 14, 2013)
Recently moved to TX and would love to win this!
(Michelle Schafer 1:29pm November 14, 2013)
This book sounds like my kind of reading material! The ornament is cute too. Thanks for this giveaway!
(Carolyn Rhodes 1:39pm November 14, 2013)
What a great sounding book! The Texas ornament looks very fun. Thanks for the chance to win.
(Vennie Martinisi 2:21pm November 14, 2013)
I have never read any of your books. Hope I can win one to read.
(Judy Ferguson 2:43pm November 14, 2013)
Can't wait to read your book!
Would love the ornament!
(Diane Lesetmoe 3:24pm November 14, 2013)
Love the contest that you are running, thank you! Texas Tango sounds interesting.
(Carol Oddy 3:25pm November 14, 2013)
I am heading over to your blog and contact page RIGHT NOW to snag some swag!
(Susan Coster 5:22pm November 14, 2013)
Texas Tango sounds like a very intriguing book. One where I could just brew some coffee, find a quiet place to snuggle in and read away. Hope to win one of your cute ornaments...love swag and always think of being a winner at something. Thank you
(C Culp 6:20pm November 14, 2013)
Texas Tango sounds good! I love cowboy romance books and time travel, so this is sure to please me. I will have to check out your other books as well. I love anything Southwest whether it be jewelry, home decor, or ornaments, so I'll be keeping my fingers crossed for this great giveaway! Love your book covers too!
(Linda Luinstra 6:50pm November 14, 2013)
I have a 17-year old daughter in her senior year of high school. She's
preparing to go into college next year. It makes me weepy if I think about it
too much. My 14-year old son is a freshman in high school. I love that the
two of them are at the same school for one year. Every day with them is an
adventure! Your book sounds unique and interesting! Thanks for the
chance to win!!!
(Linda Brennan 7:38pm November 14, 2013)
Thank you for the opportunity to win!
(Malinda Chaney 8:40pm November 14, 2013)
Ah...teenaged angst. My daughter had always been such a
charmingly independant, level-headed child. One morning she
woke up a teen with all of the irreverent attitude, time
management challenges and back talk. We see glimpses of her
previous self and are assured that the day will come when
the more frustrating side to her will somewhat decrease. Am
so looking forward to that.
(G. Bisbjerg 9:23pm November 14, 2013)
I love the sound of this book series and am looking forward to reading it.
(Marcy Shuler 10:30pm November 14, 2013)
Would love to win a book!
(Jodine Poulin 10:54pm November 14, 2013)
It's true that encouragement is a balancing act. You don't want to destroy the teenagers' dreams but at the same time you want to encourage them and let them know that it requires hard work and what they need to do to achieve it. Thanks for the giveaway.
(Kai Wong 12:07pm November 15, 2013)
Thanx for the exerpt. The book sounds great.
(Christine Schultz 12:24pm November 15, 2013)
I remember my own teenage years and knowing what I put my parents through helps me have more patience with my own daughter. I think it is really important for the adults that are dealing with them have a lot of love and patience. Can't wait to read this story and see how it all works out for Noah.
(Denise Boyd 3:24am November 15, 2013)
This really sounds like a great read..Thanks for sharing
(Cate Sparks 12:51pm November 15, 2013)
I'm a transplanted Texan. My whole family... including grandparents were all born in Texas. I especially miss it during the holidays! I went through a really rebellious stage in my teenage years. I definitely sewed some wild oats. :) Thank Goodness I lived to tell about it.
(Sandy Fielder 2:38pm November 15, 2013)
Your book sounds like a great read. Looking forward to reading this book.
(Carol Woodruff 4:27pm November 15, 2013)
I love all things Texan, and would love to win this book!
Thanks for a chance to get an ornament!
(Tabitha Keener 6:24pm November 15, 2013)
Wow, Congrats on your new book: TEXAS TANGO. I like the book
cover too! Your new book sounds fascinating and we love
cowboys and westerns all the time. I grew up in Kansas close
to Boot Hill and Dodge City, KS off the Santa Fe Trail on a
huge farm. I have been living in Austin, TX since 1985 and
would really enjoy winning and reading your new book this
Fall. Thank You very much. Cecilia CECE
(Cecilia Dunbar Hernandez 8:36pm November 15, 2013)
Mavericks and cowboys, yep sign me up for a rodeo or a horse
ride.
(Alyson Widen 8:50pm November 15, 2013)
Book sounds great. Love the cover. Thanks for a chance to win. Love those cowboys.
(Linda Hall 12:58pm November 16, 2013)
Sounds like a great book! I work with elementary kids, teenagers drive me crazy! Too many hormones! They interfere with my own, you know! ;-) Congrats on the new book!
(Marcia Berbeza 1:47am November 16, 2013)
I love the title of this book! I don't know why, it just seemed to pop out at me. Anyway, the book sounds like a good one and I thank you for running this giveaway.
(Vennie Martinisi 11:25am November 16, 2013)
Sounds like a fun ride, I love cowboy stories and this sounds like a great way to spend a weekend relaxation day!
(Darci Paice 12:06pm November 16, 2013)
You got to love cowboys so strong and loyal.
(Callie Stuck 2:45pm November 16, 2013)
Texas Tango sounds like a fun cowboy story I'd enjoy! Looking forward to reading it. Would love one of those cowboy boot ornaments...thanks for a great giveaway!
(Rich Cook 4:51pm November 16, 2013)
I have just started reading cowboy books and LOVE them. Looks like another to add to my want list.
(Barbara Wells 5:35pm November 16, 2013)
Looks like a great read.
(Tina Lechuga 6:38pm November 16, 2013)
I was a quiet teenager. I did not come out of my shell until I was in my
twenties.
(Laura Gullickson 8:56pm November 16, 2013)
texas and tango what 2 better words go together.
(Lisa Fitzgibbons 9:27pm November 16, 2013)
Thank you everybody for your wonderful comments! I'm seriously
touched at all the comments! Good luck with the drawing
(Cynthia D'Alba 8:22pm November 17, 2013)
Registered users may leave comments.
Log in or register now!