Vicki Wilkerson | Inspired to Write

November 11, 2013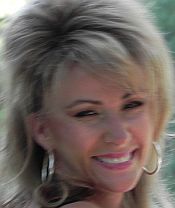 Readers are always interested in why writers write. What caused an author to pick up a pen (or a laptop) in the first place? How did they get hooked? From where did they get inspiration for their stories? How did they learn the craft of storytelling?
For as many writers as there are, there are answers to those questions. Reasons, inspirations and learning the skills vary tremendously from writer to writer. I can only answer for one author. Me.
My interest in storytelling began as a child. I remember sitting on my grandfather's porch, listening to him tell stories—not the kinds of stories that today's parents would approve of for their children. His were scary stories, ghost stories and stories of caution with dark messages.
My grandfather was ten feet tall to me when I was a child. He could do no wrong in my eyes, and his word was biblical truth to my ears. Grover Whaley Droze had a knack for telling tales—an innate ability to communicate them with sincerity and animation. And I believed every word he spoke.
In the evenings, when the sun went down, we'd sit on his front porch—he in the metal glider with a glass of my grandmother's sweet tea in one hand and me beside him. He was weary from work, and I from play. I would sit peacefully and tranquilly at his side and be content for hours, but he would invariably break the easy silence with one of his stories.
One of the first tales I heard was about a time when he said he took a shortcut to school through a patch of old trees, heavily laden with Spanish moss dripping from their crooked limbs. He emerged to make his way over a vast, swampy field on that early morning, mist obscuring his view. Then he became aware of a presence behind him, so he turned and saw a man. When my grandfather sped up, so did the man. When he slowed, so did the misty figure. However, the distance between them grew shorter and shorter as they passed over the acres of low land. When my grandfather reached his breaking point, he turned again. He found the fog nearly burned away and the man nowhere in sight—in the middle of this enormous field.
I was hooked. "Tell me more," I said. And he did. He peppered his tales with all sorts of Southern folklore, and then he would sing Southern folk songs that had messages embedded—if I listened well. I asked questions about the details in the stories, and he always had the answers. My bag of story ideas was becoming more and more full as my grandfather continued to entertain me. Even the way he told stories stuck with me—the rhythm and cadence and plot sequence. He knew how to do it all, and I was his pupil. I wanted to tell stories with colorful characters—like the ones he knew. I wanted to draw pictures with words, like the places he told me about. I wanted to offer messages and warnings in stories, just like the ones he educated me with on his front porch. By the time I was eight years old, there was no turning back. I was a storyteller.
Though he was not the only influence upon me as a writer, he was the foundation upon which all else was built. This old man, who probably thought he was merely amusing his very young granddaughter, prepared the foundation for my future—my career, my life and my passion. Thank you, Pappa.
Who said tempting a sweet Southern belle would be easy?
When rebel biker Bullworth Clayton gets tangled up with pastel-and-pearls-clad April Church, sparks fly. Sure, April would clearly rather work with anyone else, but if teaming up with Bull means a successful charity event for a sick little boy they both care about, then so be it.
April is baffled at how drawn she is to the leather-wearing, tattooed Bull—he just doesn't fit with her simple, safe, country-club life. And as much as the handsomely rugged man tempts her, she still can't shake the images of the tragic motorcycle accident from her past, which left her scarred and her father broken.
Bull tempts her to don a pair of leather pants and go for a ride with him, while April desperately tries to resist her attraction to the wild side and keep her exploits hidden from her small town. Will they be able to navigate their differences and find a middle road to love?
Comment to win a set of pearl earrings, what hooked you on your favorite passion?
Comments
46 comments posted.
Re: Vicki Wilkerson | Inspired to Write

My mother and father instilled in me the passion of
appreciation of books and reading. From very young they always
had books in the house, were reading and from their example I
enjoyed this wonderful pastime.
(Sharon Berger 10:32am November 11, 2013)
My parents always read to me and when I turned five I got my own library card. I love reading. But I don't think I could be a writer. But my nephews love making up stories together.
(Pam Howell 11:02am November 11, 2013)

(Cathy Thomas 11:32am November 11, 2013)
Reading my very first Historical got me hooked on reading... before that I really did not enjoy reading... after the historical, I spread out into different romance genres and have been hooked ever since.
(Colleen Conklin 12:09pm November 11, 2013)
my mother who read to me ever since i can remember...think i read every fairy tale ever written as a child..and truthfully waited for my prince to come along...and he did.
(Mal Kaplan 12:33pm November 11, 2013)
I have a lot of interests, but if I had to choose how to spend
my time it would be reading - probably about history - I find
it fascinating to read about how things were and compare it to
how things are today
(Diane Sallans 12:38pm November 11, 2013)
I remember the first book I ever read by myself...Fun with Dick and Jane. (dates me) I have had a love of reading every since. I remember going to the library and getting my very own library card and the smell of the books...it was pure Heaven!
(Sandie White 1:00pm November 11, 2013)
Wow, Congrats on your new book: BIKERS AND PEARLS. I love
the book cover too! Yes, my Mother was my inspiration
regarding books and reading when I was growing up on our
farm in Kansas. Mom used to sell World Book Encyclopedia
too. I had a great English teacher in high school that
helped me writing Poetry and I would love to write books
someday soon. Your new book sounds fascinating and I would
love to win and read it this Fall for sure. Thank You very
much. Cecilia CECE
(Cecilia Dunbar Hernandez 1:02pm November 11, 2013)
Reading is a favorite passion that began by the simple need
for a comfortable place to escape the summer heat. The library
was that place for me and there I discovered that I could go
anywhere and do practically anything vicariously through
reading books.
(G. Bisbjerg 1:33pm November 11, 2013)
Thanks for the comments. I love that some of you were inspired to read because people read to you. Sandie, Fun with Dick and Jane was the first book I read by myself, too! Thanks for the "congrats," Cecilia. I also had an English teacher who added inspiration to write poetry in later years. Thanks to you all for posting. And good luck in the contest!
(Vicki Wilkerson 2:29pm November 11, 2013)
Oh, one more thing. I don't believe that it's a coincidence that I wrote the article and it was scheduled to be posted on Veterans' Day. The subject of the article, my initial inspiration for writing, was/is my grandfather, a WWII veteran. Thank you, Grover Whaley Droze, for the stories, love and the inspiration! Though he passed long ago, he is still a giant in my eyes and heart.
(Vicki Wilkerson 2:32pm November 11, 2013)
My Aunt loved to take photos of the family and I liked that
idea.
(Deb Pelletier 5:09pm November 11, 2013)
My favorite passion would have to be reading that began when I was 4 yrs old. My mother bought a set of Child World Books from a salesman and read to me and my two younger sisters every night, from the one that had every nursery rhyme, fable and children's story in it. It was a huge, thick book with glossy, colorful pictures. We loved snuggling up and listening her, and we were mesmorized. She read it over and over to us. I had the entire book memorized, so I'd pick it up and start reading it to my sisters (even tho I couldn't read yet). My father would come home in the evenings and listen and couldn't believe it. He thought I knew how to read. He always talked about this with me as I grew up. Somehow, it helped me when I did learn to read, because I was the top reader in first grade when we started with the Dick and Jane books. I always loved reading to my three children. We'd get 30 books at a time from our library, so they got read to a lot. Loved your story about your Grandpa Grover!
(Linda Luinstra 5:17pm November 11, 2013)
When I was in 3rd grade, there was an incident in my Catholic elementary school that involved my sister. I was so traumatized by what happened and how others treated me, I forgot how to read. I had been a good reader up until then. My next door neighbor who was the principal of the local public school, offered to tutor me in the evening. She taught me using a phonetic approach. Well, it was as if she opened a new world for me. I started reading everything I could get my hands on in my school's small library, the public school's larger library, and the branch library in Niagara Falls. I loved science (especially botany) and folk tales. I read a book a day well into graduate school, stayed a copious reader all my life, and when I retired from teaching, went back to reading a book a day. It is my passion!
(Elaine Carlini-Davis 6:21pm November 11, 2013)
I think my 8th grade teacher, Miss McKenna, inspired a love of the classics. We had to read 50 pages a night, and, you could not cheat! I was called out because I put down I had read only 29 pages one night. Things were different back in 1963! But never will I forgot My Antonia, The Yearling, Oliver Twist and Little Women.
(Susan Coster 6:52pm November 11, 2013)
Readers and writers are inquisitive by nature. And so stories
naturally evolve over shared experiences and one sees life
enriched with another perspective. Storytellers tend to make
good listeners.
(Alyson Widen 6:56pm November 11, 2013)
I loved reading your post about you and your grandfather! My mom
instilled a passion for books in me when I was a child. She would take me
to the library for reading time. I couldn't wait to be able to read the books
myself! Thanks for the chance to win!!!
(Linda Brennan 7:52pm November 11, 2013)
I also come from a storytelling culture, and story has been a
lifelong passion for me.
(Mary Ann Dimand 7:55pm November 11, 2013)
What a great memory! My parents instilled in me a love of reading, but one of my other passions is baking and that's from my grandmother. I remember perching on a stool to reach the counter while she let me help her by overenthusiastically kneading dough or accidentally covering the entire kitchen with flour. Now I think of her love and her endless patience whenever I bake.
(Mary Verner 9:52pm November 11, 2013)
I grew up in a family filled with teachers, so there were always a lot of books around. Reading, romances in particular, is my favorite passion.
(Marcy Shuler 10:57pm November 11, 2013)
I started reading when I was young. I like to read all kinds of books. Your book sounds fun. Thanks for a chance to win.
(Linda Hall 12:26pm November 12, 2013)
Trying to learn to read in school and just not getting it then I got hold of a comic book and somehow I just had to be able to read it and the stuff I just could not get in class came back to me and all of a sudden I could read. I'm almost 70 and I have loved to read since that first comic book.
(Bonnie Gonzales 2:58am November 12, 2013)
People are my passion. Everyone has a story......some have funny stories,
some have sad. It doesn't take long or cost anything to give a smile or a
listening ear. You never know when you just might make someone's day
(Melanie Backus 5:10am November 12, 2013)
I love to read...period. It is my "secret place" where I can read, use my imagination and reading has always been my way of getting away from things that stress me, cause me worry, or just plain relaxing my mind. For book readers, I love to give books that match the reader as they have a finer appreciation of the gift.
(C Culp 5:15am November 12, 2013)
My joy of reading started when I was really young. I use to read to my friends, because they were not very good readers. I always excelled at reading. I am so glad I have that gift. Reading to me is such a pleasant experience.
(Cheryl English 7:20am November 12, 2013)
I was raised on a farm .we would have to ride a school bus 2 hours in the morning and 2 hours in the evening to get to and from school. I starting read on the bus to past the time and been reading ever since.
(Ron Frampton 8:09am November 12, 2013)
I have always read...It is hard to find me without a book in my possession. I love all kinds of books. I have 4 huge bookcases filled with books. I'd love to add this one to my collection!
(Bonnie Capuano 8:33am November 12, 2013)
My favorite passion is reading. As a kid I would hide under my covers at bedtime with my Girl Scout flashlight and stay up reading. Now as an adult I read just about every day. What can I say, I'm a sucker for a happy ending!
(Sue Galuska 8:33am November 12, 2013)
When I was 3 years old, my Sister taught me how to read. I have no idea how I picked it up, but I was actually reading Physics books, and my Dad was so impressed, he would have me read for company!! I would always take out stacks of books from the library, on every subject, and have them all read in the alloted time. I still love to read, but also have another passion. When I got to Junior High, a teacher there taught me how to crochet. I loved it so much, that I've continued with it, and also picked up knitting. I now teach a knitting class one day a week, so others can learn my passion, and I make things for friends, family, and charities.
(Peggy Roberson 10:00am November 12, 2013)
Knitting - from the very first time I felt yarn in my fingers and it simply flowed onto needles and crochet hooks - just like it did for my grandmother. I even finished one of her projects after her death, a gift for a soon-to-be-born great grand daughter, and our gauges matched. I've since taught knitting in afterschool programs and community projects; given away thousands of things; crocheted my own wedding dress; have a yarn stash to exceed my own life expectancy - I dream of yarn and stitches and projects!
(Beth Fuller 10:14am November 12, 2013)
My sister got me interested in reading when I was in my early 20's. I started reading regency historical romances and contemporary romances and I never stopped reading.
(Carol Woodruff 11:07am November 12, 2013)
I would have to say my grandmother for getting me hooked on reading. I
took part in a reading program at the local library. I was not really into
reading, but after that i was hooked. Your book sounds great! Hope i win
a copy.
(Sarah Bauman 12:13pm November 12, 2013)
My mother started me on my path to reading and my love of books, was forever found with my nose in a book and still am today.
(Jean Patton 12:13pm November 12, 2013)
My passion is entering contests. I love the excitement of winning. Thanks for the great contest.
(Margaret Branca 12:19pm November 12, 2013)
Don't you wish you had a recording of him telling the stories? What a
lovely memory to have, I wish I had one. We did not have a TV growing
up(I'm 58 now), but we had access to the town and school libraries. We
were all readers, and a day NEVER goes by without reading, even if it's a
couple of chapters before going to bed. I actually feel sorry for people who
don't like to read, they're missing so much.
(Susan Falkler 12:33pm November 12, 2013)
I love reading, especially when I can win free books.
(Tina Lechuga 1:25pm November 12, 2013)
My passion is reading, I always loved to read since I can remember. I would go to
the library with my mom and check out the maximum allowed books every week.
Then I got hooked in romance books when I had to do a book report for school
and since then I can't get enough. :)
(Yazmin Rangel 3:04pm November 12, 2013)
My kids first. I also have a passion for reading and creating. Whether it's
writing, crafting or baking.
(Michelle Schafer 3:15pm November 12, 2013)
I can honestly say that reading is truly a passion for me! If I don't have at least 4 books lined up to read I get a bit nervous. I think what hoked me on this passion was my educators and my sister. I went to a private girls school and the nuns wanted book reports every 2 weeks. My older sister would buy me a new book for birthdays and Christmas. I couldn't get through a day without a book or 4 to read. :)
(Vennie Martinisi 3:38pm November 12, 2013)
This book looks really good, love the cover too. I love to
read and pass on my books to other family or friends after
I'm done, we all share and winning this would be a great add
to our library thanks for doing this contest.
(Joyce Plassche 8:01pm November 12, 2013)
I love to read i read a book every night i recieved a library
card when i was little
(Denise Smith 8:45pm November 12, 2013)
My passion is teaching CPR and First Aid, It became my passion
when I had to help a child who was choking. I realized then
how important it is for people to learn these skills to help
save a life. I have been a CPR and First Aid instructor for
over 20 years now.
(Laura Collins 9:03pm November 12, 2013)
When I was a little girl, I had a very hard time learning
things, like reading, due to dyslexia. Luckily I had an
amazing mother. Even though my mother was a single mother,
she still found creative ways to teach me how to read and
write. Once I got the hang of it, I was hooked. Reading is
very important in our home. My children read for an hour
every night, and my husband and I also read for an hour
together. He always laughs at me when we buy a new book
because I jump up and down like a child in a candy store. I
respect, love, and cherish books. I hope to write my own one
day. My inspiration was my mother.
(Jeri Daniel 9:33pm November 12, 2013)
Oh, and did I mention that my husband and I are bikers? lol We
are the owners of a Harley Davidson Springer Softail. Very
excited about this book!
(Jeri Daniel 9:41pm November 12, 2013)
I love to cook and try new recipes. I'm always looking for cookbooks.
(Kai Wong 11:25pm November 12, 2013)
I grew up in a house full of books, with parents that read.
(Mary Preston 5:13am November 13, 2013)
Registered users may leave comments.
Log in or register now!