Carla Caruso | Nineties-spiration

March 31, 2013
AVAILABLE

February 2013
On Sale: February 10, 2013
Featuring: Flora Brunelli; Lance Devic
ISBN: 1743480741
EAN: 9781743480748
Kindle: B00BJDL876
e-Book
Add to Wish List

Also by Carla Caruso:
Second Chance, February 2013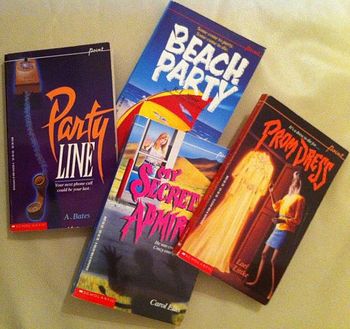 I had my "coming of age" right when chick-lit and chick flicks were at the fore. I went from a teen to a twenty-something during the late nineties to early noughties.
I've just written a book, SECOND CHANCE, involving time-travel to the summer of 1998, and I've realised that year (and the surrounding ones) defined me – and my writing. So here's a list of some of my favourite reads from "way back when". Hope you spot a few of your faves in there too!...
· BRIDGET JONES. London writer Helen Fielding's fictionalised newspaper columns about a thirty-something single woman were turned into a novel in '96 (and later another book and two films). They centred on a lass trying to make sense of life and love with the help of a surrogate "urban family" of pals – very much a theme of the nineties (think Friends and Sex and the City).
· SEX AND THE CITY. Before Sarah Jessica Parker became "Carrie" was the anthology of New York newspaper columns by Candace Bushnell, based on her and her friends' lives, published in '97. The phenomenon spawned a TV series and movies – plus, the current Carrie Diaries prequel novels and TV series. (I've watched my SATC DVD box set, oh, about a gazillion times!)
· SOPHIE KINSELLA. Before she became well-known by her pseudonym of "Sophie Kinsella", Madeleine Wickham wrote under her real name, with books such as Cocktails for Three and Sleeping Arrangements under her belt. In 2000, she released The Secret Dreamworld of a Shopaholic tome, which turned into an ultra-popular book series and later a movie. (Aussie author Maggie Alderson, who writes similar chick-lit, is another favourite of mine, published fiction-wise from 2000.)
· JANET EVANOVICH. After penning category romances, Evanovich realised she was more interested in writing the action sequences than the sizzling sex. And in 1994, her romantic adventure series, starring bounty hunter Stephanie Plum, was born (since inspiring a movie starring Katherine Heigl). The latest book in the series, Notorious Nineteen, has just been released. (I have to admit, though, in my younger days, I was more a fan of a similar series by Sarah Strohmeyer, revolving around crime-solving hairdresser Bubbles Yablonsky. Worth a read!)
· SWEET VALLEY HIGH. This book series, chronicling the lives of Californian twins Jessica and Elizabeth Wakefield and their school mates, began in 1983, ceasing publication 20 years later with 152+ tomes to its name. Later, the novels, Sweet Valley Confidential and The Sweet Life, following the characters as adults, were released in 2011 and 2012 - much to the delight of nostalgic SVH fans!
· POINT HORROR. This teen horror series, launched in '91, had a similar feel to gory flicks like I Know What You Did Last Summer. Blind Date was one of R.L. Stine's first works and helped launch his career. Other titles in the series included The Lifeguard, April Fools and Funhouse. Definitely not ones to read alone at night by torchlight!
Want more nineties-spiration? My book, SECOND CHANCE, features a feisty heroine who time-travels back to the summer of 1998 and hopes to reunite with a past love! Check it out here
Connect with me online:
Website |Author Page | Twitter
I will be giving away one eCopy of SECOND CHANCE to one commenter today.
Comments
27 comments posted.
Re: Carla Caruso | Nineties-spiration

It is easier to those pivotal moments in hindsight..
(Cate Sparks 12:10pm March 31, 2013)
I never thought of getting a second chance through time travel---interesting concept.
(Sue Farrell 12:20pm March 31, 2013)
I loved taking a step back in time with you, and knowing that you listed one of my favorite Authors, I KNOW I'm going to love your book!! I hope that you have a very nice Easter, and I'll make sure your book is on my TBR list!! The story line is great, and is a book I can picture myself curled up with, along with my kittens, with the phone turned off, and no interruptions!!
(Peggy Roberson 12:39pm March 31, 2013)
Sounds interesting. Too bad you can't do that in real life
(Sandy Giden 12:53pm March 31, 2013)
I love reading about second chances. I agree with Sandy too bad we can't
go back to correct what went wrong. Blessings and Happy Easter!
(Christine Dunham 1:03pm March 31, 2013)
Congratulations on the publication of your new book! Second Chance seems like a very interesting read. I would love to be able to travel back in time for a second chance.
(Bonnie H 3:19pm March 31, 2013)
Sad to think of time travel to 1998 when it seems like
yesterday to me. However it was a good time in my life and
sure a lot of memories would be brought back. Interesting
concept!
(Vicki Hancock 3:50pm March 31, 2013)
i love the same books you do! i haven't read point horror though...
(May Pau 3:52pm March 31, 2013)
Who doesn't love the 90s, great books, great music, great movies. Love the 90s.
(Carla Carlson 4:09pm March 31, 2013)
Sounds really interesting ....
(Liesl Lane 4:31pm March 31, 2013)
If I were to go back in time, it would be further back than 1998. That wasn't that great a time for me.
(Carol Woodruff 4:31pm March 31, 2013)
Second chances to me are a way of redemption. If I didn't succeed the first time. I know I can the next time.
(Kai Wong 4:46pm March 31, 2013)
Book sounds very interesting. Thanks for a chance to win. Happy Easter!
(Linda Hall 4:52pm March 31, 2013)
would love to have a second change on many things.
(Robbie Bauldree 5:14pm March 31, 2013)
I'm trying to remember what I did in 1998, especially during the summer. I remember we went to the beach
(Dwight Younger 5:50pm March 31, 2013)
I don't think that I want a do over on my life. It didn't
always go the way I thought it would but I've spent 47 years
with the man I love and raised 5 wonderful children. Now I
have 6 grandchildren that I wouldn't give up for anything.
(Mary Hay 5:59pm March 31, 2013)
Easter Sunday great contest
(Kent Cook 6:01pm March 31, 2013)
Thanks for all the lovely comments! Glad others feel nostalgic for the 90s too and like the idea of the chance for a step back in time. Peggy, curling up with a book with your kittens sounds blissful! Love your name, Carla Carlson - wink! Sad to hear 98 wasn't your year, Carol. And Mary - fabulous, thought-provoking comments!!
(Carla Caruso 7:33pm March 31, 2013)
i love the sounds of your book
(Debbi Shaw 8:00pm March 31, 2013)
I think your book sounds great. I know that there are times when all of us wish that we could go back in time --- but would we really want to?
(Renee Grandinetti 9:07pm March 31, 2013)
i think of what it would be like to go back but know what you do today.....then I like today and keep the past as fond memories.
(Lisa Fitzgibbons 9:38pm March 31, 2013)
I think we should all get one do-over in life!
Good luck and happy writing!
(Tracie Travis 10:26pm March 31, 2013)
I was on line in 1996 but most people weren't, similarly there were mobile phones but the size of bricks, and they didn't text... quite a lot of change! I think the TV was better though.
(Clare O'Beara 11:12am April 1, 2013)
Everyone gets an "oops"... but some of us need a few backups to get us through the years.
(Donna Holmberg 10:58pm April 1, 2013)
Thanks again for the lovely comments! I agree, Renee - sometimes the past looks better through rose-tinted glasses. And good comment, Lis,a re 'I like today and keep the past as fond memories'!! I've had a few oopses too, Donna! I agree re the TV shows in the 90s, Clare - they seemed more heartfelt somehow. And wouldn't it be nice, Tracie, to all get at least ONE do-over in life!
(Carla Caruso 5:14am April 2, 2013)
I do love a feisty heroine. SECOND CHANCE sounds fabulous.
(Mary Preston 6:26am April 3, 2013)
I am new to your books, but what I have read are great!
(C Culp 2:44pm April 3, 2013)
Registered users may leave comments.
Log in or register now!