Kate Kingsbury | A Christmas Memory

November 25, 2012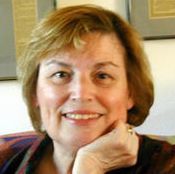 One of the things I love most about the Holiday Season is the memories it brings with it. Standing with my sister on the steps of St. Paul's cathedral, listening to the church bells ring out all over London to celebrate England's first Christmas of peace after six long years of war. The first Christmas I spent here in the U.S., aching with home-sickness for the family and friends I'd left behind, unaware of the many happy holidays that would follow with new friends and family. My son's first Christmas, his eyes wide with wonder at the lights on the Christmas tree. The first Christmas I spent with my husband in snowy Philadelphia. So many memories, and some of them stand out more than others.
When my mother decided to open a seaside hotel, she uprooted the family from London to the southeast coast. We opened for business the following spring. The previous owners, knowing they were selling the place, hadn't bothered to take any bookings for the summer season, so our first year wasn't a roaring success. Just a handful of regulars were booked in, which was just as well, since none of us knew much about running a hotel. My sister and I cleaned rooms, waited on tables, supplied room service, and booked visitors in and out of the hotel, while my mother cooked and my father washed dishes. We learned a lot that first year, with the help of some very patient and understanding guests who eventually became lifelong friends.
When it became obvious we would barely break even, my mother decided to open for Christmas. Only one family responded to our ad - a couple from London with two teenage sons. Since my sister and I were also in our teens, we became a lot more enthusiastic about the prospect of working over Christmas. We cheerfully decorated the entire five floors, and made sure to hang mistletoe on every available doorway.
The family arrived amid much excitement and speculation, until we got a good look at the sons. My sister and I exchanged one dismayed glance, and spent the next half hour hastily taking down all those bunches of mistletoe. We had planned a sumptuous and eventful Christmas for our guests with all the usual trimmings and fanfare, including entertainment from yours truly on the piano. It wasn't until we were halfway through the first evening of Christmas carols and songs, that we learned our guest family was actually Jewish, didn't celebrate Christmas and had left London for the holidays to escape the whole shebang.
After a very long, awkward moment of silence, one of the sons giggled, endearing us immediately. More laughter followed and everyone joined in. The ice was broken. From then on we had a fabulous time. We learned Jewish songs and customs, and shared some of ours. The family thoroughly enjoyed the traditional Christmas dinner and by the time they left we were all fast friends. It was the only time we opened for Christmas. We treated everyone who stayed with us like family, and word of mouth spread like wildfire. The following summer we were booked solid, and every year after that had to turn people away.
The Pennyfoot Hotel is based on that little seaside hotel, and some of the eccentric characters in the Pennyfoot Hotel Mysteries are composites of people I met while working for my mother.
THE CLUE IS IN THE PUDDING, on the shelves now, is the eighth Christmas at the Pennyfoot, and the twentieth book in the series. Try it. I think you'll like it. And, just in case you're dying to know how the whole thing started, the first three books in the series are available at Amazon for the Kindle. You can learn more about the books at Happy Holidays!
Comments
13 comments posted.
Re: Kate Kingsbury | A Christmas Memory

Your series sounds lovely! I am going to check out on Amazon!! Thanks for the story of your family's hotel adventures!
(Cate Sparks 12:41pm November 25, 2012)
what good sports you all were! weren't your parents brave to take on something so bold and new to you all? thank you for this lovely little essay.
(Beth Fuller 1:05pm November 25, 2012)
Since you understand the seaside hotel setting so well, this book should really be wonderful.
(Sue Farrell 1:27pm November 25, 2012)
wow i can't imagine what 5 floors of a house decorated looks like. thanks for the chance,
Julie
(Julie Barett 1:30pm November 25, 2012)
It would be interesting to know how people spend their time in England. There are not much books about this topics. I hear about the Hampton and the Jerseyshore on the East Coast a lot.

This is my only way of learning the cultural and social highlights of the foreign countries.
(Kai Wong 1:48pm November 25, 2012)
Mysteries and food make the mysterious comfort food for the spirit and soul. I love when recipes are included in books and ones that revolve around food, cooking and eating. It makes them tastier. Looks like another winner indeed.
(Alyson Widen 1:52pm November 25, 2012)
It sounds like a wonderful series, and I wish that I could afford to purchase a Kindle!! Your series would be the first purchase!! I believe that you should really branch out and start a new series of books. The second series should be just stories about the guests who stayed at your Parents' hotel. I'm sure you could do plenty of funny, heartwarming, and heartbreaking stories regarding things that went on there!! Of course you would have to change their names. Personal stories always sell, and these people wouldn't know it was about them. It's just a thought. I do envy you, having the chance to meet all of these people, and bringing some joy into their lives throughout the year!! Congratulations on your latest book!! I'll be on the lookout for it!!
(Peggy Roberson 3:13pm November 25, 2012)
Sounds good. I'd love to read it.
(Penny Mettert 8:58pm November 25, 2012)
Your great tale of the hotel reminded me of a book called Skinny Lizzie, about a girl who works as a clippie on the buses during the War because all the men were away. She and her husband buy a hotel after the war and improve it, go from one hotel to the next doing that.
I am sure you have enough material in your head for several books like yours and would enjoy reading them.
(Clare O'Beara 8:45am November 26, 2012)
Sounds like a wonderful series I will definitely be checking it out !!
(Danielle McDonald 9:27am November 26, 2012)
Amazing how your past influenced your writing - thehotel and your memories sound amazing
(Carla Carlson 9:32am November 26, 2012)
Your series sounds fantastic, I will be checking it out!
(Christine Mead 6:00am November 27, 2012)
Thank you for your "Christmas" tale. When I think about cooking for the holidays
I will think I have it easy from now on. Your mother must be a very strong lady
to take all of that on and feel confident all of you would cooperate (especially as
teenagers). Wow!
(Sandra Spilecki 11:32am November 27, 2012)
Registered users may leave comments.
Log in or register now!