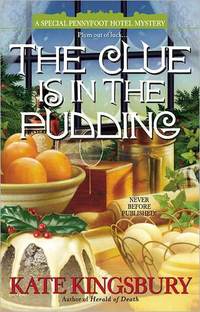 Purchase
Pennyfoot Hotel #20
Berkley
November 2012
On Sale: November 6, 2012
304 pages
ISBN: 0425253279
EAN: 9780425253274
Kindle: B008EXK9GU
Paperback / e-Book
Add to Wish List

The kitchen staff of the Pennyfoot Hotel is toiling away to prepare the finest meal for the guests on Christmas. And the plum pudding may very well be to die for…
Cecily Sinclair Baxter could use a Christmas miracle. Mrs. Chubb, the Pennyfoot's housekeeper, must travel up north for a family emergency, and Cecily needs a temporary replacement. The agency doesn't have much to offer on short notice during this busy time of year. But they have someone—Beatrice Tucker—who turns out to be more of a curse. She fights with just about everyone, including Archibald Armitage.
Star of the London stage, Armitage is staying at the Pennyfoot this holiday season. His presence turns out to be a blessing after he rescues the stable manager's dog from drowning in the icy duck pond. But not everyone in Badgers End is a fan of the actor…
When Armitage drops dead after Beatrice serves him some plum pudding, everyone assumes the huffy housekeeper is the culprit. But as Cecily begins to investigate, the list of suspects grows, and solving this case may not be as easy as pie…or pudding.
Comments
16 comments posted.
Re: The Clue Is In The Pudding

Your series sounds lovely! I am going to check out on Amazon!! Thanks for the story of your family's hotel adventures!
(Cate Sparks 12:41pm November 25, 2012)
what good sports you all were! weren't your parents brave to take on something so bold and new to you all? thank you for this lovely little essay.
(Beth Fuller 1:05pm November 25, 2012)
Since you understand the seaside hotel setting so well, this book should really be wonderful.
(Sue Farrell 1:27pm November 25, 2012)
wow i can't imagine what 5 floors of a house decorated looks like. thanks for the chance,
Julie
(Julie Barett 1:30pm November 25, 2012)
It would be interesting to know how people spend their time in England. There are not much books about this topics. I hear about the Hampton and the Jerseyshore on the East Coast a lot.

This is my only way of learning the cultural and social highlights of the foreign countries.
(Kai Wong 1:48pm November 25, 2012)
Mysteries and food make the mysterious comfort food for the spirit and soul. I love when recipes are included in books and ones that revolve around food, cooking and eating. It makes them tastier. Looks like another winner indeed.
(Alyson Widen 1:52pm November 25, 2012)
It sounds like a wonderful series, and I wish that I could afford to purchase a Kindle!! Your series would be the first purchase!! I believe that you should really branch out and start a new series of books. The second series should be just stories about the guests who stayed at your Parents' hotel. I'm sure you could do plenty of funny, heartwarming, and heartbreaking stories regarding things that went on there!! Of course you would have to change their names. Personal stories always sell, and these people wouldn't know it was about them. It's just a thought. I do envy you, having the chance to meet all of these people, and bringing some joy into their lives throughout the year!! Congratulations on your latest book!! I'll be on the lookout for it!!
(Peggy Roberson 3:13pm November 25, 2012)
Sounds good. I'd love to read it.
(Penny Mettert 8:58pm November 25, 2012)
Your great tale of the hotel reminded me of a book called Skinny Lizzie, about a girl who works as a clippie on the buses during the War because all the men were away. She and her husband buy a hotel after the war and improve it, go from one hotel to the next doing that.
I am sure you have enough material in your head for several books like yours and would enjoy reading them.
(Clare O'Beara 8:45am November 26, 2012)
Sounds like a wonderful series I will definitely be checking it out !!
(Danielle McDonald 9:27am November 26, 2012)
Amazing how your past influenced your writing - thehotel and your memories sound amazing
(Carla Carlson 9:32am November 26, 2012)
Your series sounds fantastic, I will be checking it out!
(Christine Mead 6:00am November 27, 2012)
Thank you for your "Christmas" tale. When I think about cooking for the holidays
I will think I have it easy from now on. Your mother must be a very strong lady
to take all of that on and feel confident all of you would cooperate (especially as
teenagers). Wow!
(Sandra Spilecki 11:32am November 27, 2012)
This series is nice and cozy, great for the holiday season. I just finished reading Decked with Folly and have every intention of making my way through the rest.
(Karen Carter 8:24am December 5, 2012)
Thank you all so much for your wonderful comments. I might
just take up Peggy's idea! Sounds like a good one. Happy
Holidays, everyone! (Kate Kingsbury)
(Doreen Hight 12:49pm December 5, 2012)
This sounds wonderful.
(Victoria Sloboda 12:59pm December 5, 2012)
Registered users may leave comments.
Log in or register now!