Ann Purser | Who is Ivy Beasley...Really?

June 14, 2012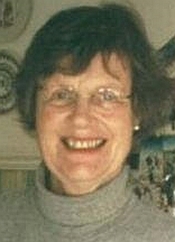 Ivy Beasley has appeared in all three series of my novels. In the Round Ringford six books she was a miserable old tab, dominating her two friends, Ethel and Doris, and much of the traditions of village life in general. Then, in the first of the murder stories, she pops up in an old folks home in Suffolk in the East of England. This residential home, Springfields, is not to Ivy`s liking! She did, however, agree to move to be near her much younger cousin, Deirdre Bloxham and at first bitterly regrets it. But Ivy is not easily daunted, and sets about reorganising her new home to suit her requirements.
Bored, and determined to fill her time usefully, she sets up an enquiry agency, Enquire Within, in company with an attractive fellow resident, Roy Goodman, her cousin Deirdre, and Augustus Halfhide, almost certainly an ex-spy. This unlikely foursome, including a blossoming romance for Ivy and Roy, has now solved several crimes of murder, in spite of considerable scepticism from the local police detective department.
I have been asked frequently if there was any one person I used as a model for Ivy, and I`ve always managed to avoid answering! However, talking one day to a women`s group, a voice from the back of the hall said, "I know who Ivy Beasley is." A little put out, I asked who she had identified. "It.s Mildred Butler, that`s who," she said. As she had guessed right, I began to stutter, and she continued, "Oh, you needn`t worry, dear. Mildred`s dead." I escaped this time, but It must be a common pitfall amongst writers, One good thing: people seldom see themselves in characters in books!
Can you answer this question? One person who gets it right will win THE WILD WOOD ENQUIRY, the latest in the Ivy Beasley enquiries.
What was the reason, or reasons, for the name of the Midlands village, Round Ringford. This village is the backdrop for the first series of Ann Purser novels - not crime, but just village life with all its dramas and problems - and rewards. Answer in the comments to be considered.
Comments
20 comments posted.
Re: Ann Purser | Who is Ivy Beasley...Really?

I've read Murder on Monday but none of the Ivy series, must look out for them.
I am guessing that Round Ringford could come from one of two sources: either a stone circle near the village, or there is a connection to the Great Death like a plague burial pit. My reasoning comes from the nursery rhyme 'Ring around the rosy, A pocket full of posy, Atishoo, atishoo, We all fall down.' This evokes the Great Death, as it was called at the time, with bubonic and pneumonic plague, later called the Black Death.
I'm hoping it's the stone circle.
(Clare O'Beara 6:11am June 14, 2012)
I'm thinking that the village is laid out around a ring road. Perhaps around a village 'square'. It could also have come from the locals cutting "Around Ringford Way" down to Round Ringford. I did consider the children's rhyme RING AROUND THE ROSY as well.
(Mary Preston 7:50am June 14, 2012)
Looking forward to this 3rd book in the Ivy series!!!
(Stephanie Strausberger 8:47am June 14, 2012)
Haven't read any of the Ivy series but it sure does sound good. Thanks Ann
(Bonnie Capuano 9:48am June 14, 2012)
really love to read this book
(Denise Smith 9:51am June 14, 2012)
Love the Mildred story!
(Lisa Elwood 10:35am June 14, 2012)
This book sounds delightful - and even if I don't win a copy of it, I am excited. Because I feel I've "discovered a new author" - and have all your earlier books to read before I've even caught up. Yippee. Best of luck with all you do!
(Nancy Reynolds 10:52am June 14, 2012)
I think it is a village circle in the center of town.
(Kathleen Bianchi 12:08pm June 14, 2012)
This book sounds great, and I would love to enter this contest, my answer is maybe the village square or round
circle of a road in the middle of the village!
(Ann Thaxton 3:55pm June 14, 2012)
Round tower?
(Gladys Paradowski 5:31pm June 14, 2012)
I think the village center of town is laid out in a circle at the top of a hill for the origin of the name, Round Ringford -or- and old grist mill(the stones are round) is in the village may be the origin.
Hope you will be giving us the answer later...this is very interesting!
(Linda Luinstra 6:00pm June 14, 2012)
I'm at a disadvantage, since I haven't had the pleasure of reading any of your books yet. I hope to be able to get that chance. Here is my guess. Would it have anything to do with the nursery rhyme "Ring Around the Rosy?" The book sounds refreshing, since it's unlike anything I've seen in a while, and I truly am looking forward to reading the series. Congratulations on your latest book!!
(Peggy Roberson 7:59pm June 14, 2012)
Is it named for the way the town is laid out.love these books! !
(Rhonda Lomazow 9:01pm June 14, 2012)
This would be a great addition to my books.

I think it is the way the center of town is laid out, but I have only read Murder on Monday and Terror on Tuesday. I am still hunting out the rest.
(Kelly Knapp 9:11pm June 14, 2012)
I haven't read the books but I would guess that it's named for
the town circle, not square.
(Mary Hay 9:24pm June 14, 2012)
The Round Ringford looks over fields and sometimes horses wait at the fence for fallen apples or an occasional Polo mint. I had fun finding the answer on Amazon skim-reading chapters in the book. Looks like a delightful cozy mystery and I want to see the setting.
(Alyson Widen 9:44pm June 14, 2012)
I would have to say it is named that way because of the lay out of the town....The give away looks great and I like the cover!
(Holly Sines 10:44pm June 14, 2012)
I'm new to this, always looking for a new story to fall in love with!
(Darci Paice 11:40pm June 14, 2012)
I've searched your sites looking for the answer. I didn't find it but did find other interesting info which will send me looking for your books. Do tell us the answer. Ohio's Circleville might be a clue ... a town laid out in a circular pattern.
(Shirley Nienkark 4:58pm June 15, 2012)
I haven't gotten to read the books so I don't know, but I am thinking the majority is probably right, the layout of the town with a circle in the center.
(Penny Mettert 4:01am June 16, 2012)
Registered users may leave comments.
Log in or register now!