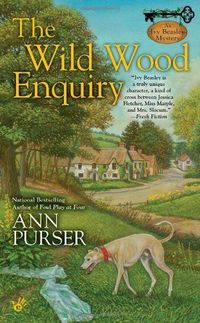 Purchase
The Wild Wood Enquiry
Ann Purser
Ivy Beasley #3
Berkley Prime Crime
May 2012
On Sale: May 1, 2012
Featuring: Ivy Beasley
304 pages
ISBN: 0425248046
EAN: 9780425248041
Kindle: B0074VTH5M
Paperback / e-Book
Add to Wish List

In a brand-new mystery from the author of The Measby Murder Enquiry, the cantankerous golden years gumshoe Ivy Beasley keeps her mental faculties sharp with a strict regimen of crime detection.
Apart from the unwelcome noise made by the morning cleaning crew, life has been quiet at Springfields Home for the Elderly. Too quiet, in fact. Ivy and her team of sleuths, Enquire Within, have resorted to finding lost cats, and Gus is even threatening to return to his memoirs. But no sooner does he attempt to put a winning phrase together than he receives a call from his ex-wife, Katherine, who is in desperate needs of a place to hide.
Though Gus has a difficult time getting a straight answer from Kath—just as it was in their many years of marriage—something is most certainly afoot, and soon Enquire Within is back in business. This time they have their hands full, not only with missing pets, but missing jewels, and evidence of foul play uncomfortably close to their too quiet home…
Ivy Beasley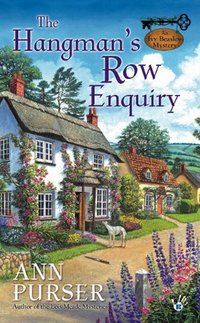 The Hangman's Row Enquiry
#1.0
Amazon.com | BN.com | | |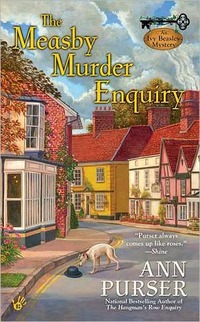 The Measby Murder Enquiry
#2.0
Amazon.com | BN.com | | |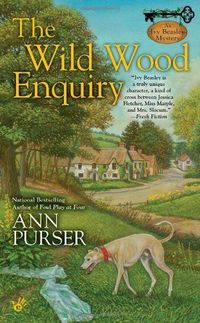 The Wild Wood Enquiry
#3.0
Amazon.com | BN.com | | |
Comments
20 comments posted.
I've read Murder on Monday but none of the Ivy series, must look out for them.
I am guessing that Round Ringford could come from one of two sources: either a stone circle near the village, or there is a connection to the Great Death like a plague burial pit. My reasoning comes from the nursery rhyme 'Ring around the rosy, A pocket full of posy, Atishoo, atishoo, We all fall down.' This evokes the Great Death, as it was called at the time, with bubonic and pneumonic plague, later called the Black Death.
I'm hoping it's the stone circle.
(Clare O'Beara 6:11am June 14, 2012)
I'm thinking that the village is laid out around a ring road. Perhaps around a village 'square'. It could also have come from the locals cutting "Around Ringford Way" down to Round Ringford. I did consider the children's rhyme RING AROUND THE ROSY as well.
(Mary Preston 7:50am June 14, 2012)
Looking forward to this 3rd book in the Ivy series!!!
(Stephanie Strausberger 8:47am June 14, 2012)
Haven't read any of the Ivy series but it sure does sound good. Thanks Ann
(Bonnie Capuano 9:48am June 14, 2012)
really love to read this book
(Denise Smith 9:51am June 14, 2012)
Love the Mildred story!
(Lisa Elwood 10:35am June 14, 2012)
This book sounds delightful - and even if I don't win a copy of it, I am excited. Because I feel I've "discovered a new author" - and have all your earlier books to read before I've even caught up. Yippee. Best of luck with all you do!
(Nancy Reynolds 10:52am June 14, 2012)
I think it is a village circle in the center of town.
(Kathleen Bianchi 12:08pm June 14, 2012)
This book sounds great, and I would love to enter this contest, my answer is maybe the village square or round
circle of a road in the middle of the village!
(Ann Thaxton 3:55pm June 14, 2012)
Round tower?
(Gladys Paradowski 5:31pm June 14, 2012)
I think the village center of town is laid out in a circle at the top of a hill for the origin of the name, Round Ringford -or- and old grist mill(the stones are round) is in the village may be the origin.
Hope you will be giving us the answer later...this is very interesting!
(Linda Luinstra 6:00pm June 14, 2012)
I'm at a disadvantage, since I haven't had the pleasure of reading any of your books yet. I hope to be able to get that chance. Here is my guess. Would it have anything to do with the nursery rhyme "Ring Around the Rosy?" The book sounds refreshing, since it's unlike anything I've seen in a while, and I truly am looking forward to reading the series. Congratulations on your latest book!!
(Peggy Roberson 7:59pm June 14, 2012)
Is it named for the way the town is laid out.love these books! !
(Rhonda Lomazow 9:01pm June 14, 2012)
This would be a great addition to my books.

I think it is the way the center of town is laid out, but I have only read Murder on Monday and Terror on Tuesday. I am still hunting out the rest.
(Kelly Knapp 9:11pm June 14, 2012)
I haven't read the books but I would guess that it's named for
the town circle, not square.
(Mary Hay 9:24pm June 14, 2012)
The Round Ringford looks over fields and sometimes horses wait at the fence for fallen apples or an occasional Polo mint. I had fun finding the answer on Amazon skim-reading chapters in the book. Looks like a delightful cozy mystery and I want to see the setting.
(Alyson Widen 9:44pm June 14, 2012)
I would have to say it is named that way because of the lay out of the town....The give away looks great and I like the cover!
(Holly Sines 10:44pm June 14, 2012)
I'm new to this, always looking for a new story to fall in love with!
(Darci Paice 11:40pm June 14, 2012)
I've searched your sites looking for the answer. I didn't find it but did find other interesting info which will send me looking for your books. Do tell us the answer. Ohio's Circleville might be a clue ... a town laid out in a circular pattern.
(Shirley Nienkark 4:58pm June 15, 2012)
I haven't gotten to read the books so I don't know, but I am thinking the majority is probably right, the layout of the town with a circle in the center.
(Penny Mettert 4:01am June 16, 2012)
Registered users may leave comments.
Log in or register now!