Jenn Bennett | Five Fine Moments in Urban Fantasy

September 10, 2011
Kindling The Moon
Jenn Bennett
AVAILABLE
Arcadia Bell #1

July 2011
On Sale: June 28, 2011
Featuring: Arcadia Bell (Cady)
352 pages
ISBN: 1451620527
EAN: 9781451620528
Kindle: B004G8QSEE
Paperback / e-Book
Add to Wish List

Also by Jenn Bennett:
Hate to Love You, July 2021
Serious Moonlight, January 2021
Chasing Lucky, November 2020
The Lady Rogue, August 2020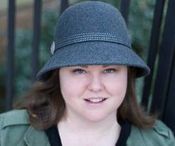 Most writers are readers (I hope), and avid ones, at that. But I think we often read from a slightly different perspective than the general public. Sometimes it's hard for me to turn off The Writer, even when I'm reading for pleasure, and I often find myself lingering on certain phrases or character choices. Sometimes it's the small things that make the writer in me smile and nod my head when I'm reading. Just wee bits of genius–things that are deceptively simple, or fractions of world-building that dazzle me. I love finding these treasures in other people's books.
The following is a short list of five of those small moments in urban fantasy that moved me to raise a proverbial glass of champagne and say, "Well played!"
1) Charlaine Harris, Southern Vampire series: Sookie's Word-a-Day Calendar
It really bothers me when an author's voice overrides the character's voice in first person. Sookie is a small-town waitress, not very smart (but not dumb either), and her voice is fairly consistent throughout the series. But what does a writer do when she wants to use words that her character shouldn't know? In Harris's case, she gives Sookie access to a Word-a-Day calendar. Critics of the popular series often complain of the overuse of this particular crutch, but the first time I read it, I thought it was quite funny and sly.
2) Carolyn Crane, Disillusionists Trilogy: using magazines to stimulate hypochondria
Crane's brilliant protagonist, Justine, needs to get worked up before she can poke a hole into someone's aura and zing them with her hypochondriac fear. So she does what any red-blooded person would: reads health articles about horrible diseases to get herself . . . properly stimulated. Just one of the many delightfully witty and genius moments in these stories.
3) Karen Chance, Cassie Palmer series: body-swapping with Pritkin
Ms. Chance has written many a fine scene featuring Cassie and Pritkin (my absolute favorite war mage–okay, the only war mage I really know, but I adore him, nonetheless). One of my favorites was in Curse the Dawn, when the couple swaps bodies. What a brilliant little twist! I laughed out loud when Cassie wakes up the next morning and is desperately trying to get Pritkin out of the room so she–err, he?–can take a cold shower. And the manscaping was the icing on the cake.
4) Stacia Kane, Downside series: Downspeech
Original, daring, and sheer genius. Love it when her characters say, "You dig?" It's one thing to correctly write an accent into dialogue without coming off as broad and offensive, but it's a whole other kettle of fish to create a brand-new dialect and make it believable. Kane does a brilliant job of it.
5) Kim Harrison, Rachel Morgan/Hollows series: Splat Gun
UF heroes wield guns, swords, whips, daggers–you name it, it's been used. But what's a witch to do when a shotgun seems out of character, and a knife is too messy? In Rachel's case, she uses a splat gun filled with spells. So simple, so fun . . . so true to Rachel's character.
Jenn Bennett is an award-winning artist-turned-author. Born in Germany, she's lived and traveled extensively throughout Europe, the U.S., and the Far East. She believes rebellion is an under-appreciated art form, has conjured more demons than you've had hot lunches, and likes her fairy tales like she likes her coffee: dark. She currently lives near Atlanta with her film-geek husband and two very bad pugs. Visit her website at www.jennbennett.net, "like" her on facebook (http://www.facebook.com/JennBennettauthor), or follow her on twitter (www.twitter.com/jenn_benn).
Tell us your favorite 'urban fantasy' device and you'll be eligible to win your own copy of KINDLING THE MOON (US / Canada only please)
Comments
18 comments posted.
Re: Jenn Bennett | Five Fine Moments in Urban Fantasy

I loved in the girl with the dragon tatoo how she has a photographic memory.
(Pam Howell 10:21am September 10, 2011)
Agree with the photographic memory of the girl with teh dragon tatoo.
(Christine Arcidiacono 11:13am September 10, 2011)
So far I have read one urban fantacy book---Silver Borne by
Patricia Briggs and enjoyed it. Looking forward to reading
Kindling the Moon. Hope I win
(Shirley Younger 11:16am September 10, 2011)
You listed some of my favorites. I did like the way Victoria Gardella (Colleen Gleason) used her hair decorations and Riley Jenson (Keri Arthur) used high-heeled shoes to kill vampires. Fun post. Thanks.
(G S Moch 12:47pm September 10, 2011)
I'm not quite sure what you mean by urban fantasy device, but just recently I started to read books by Gregory Maguire, and I love his spin on the way he changed the characters around a bit on the Wizard of Oz. These aren't for everyone, but it takes a bit of imagination to change the story line a bit, as well as the way characters have certain powers. As soon as a new book comes out, I'm right there, waiting patiently to get my hands on a copy of it! I'm sorry to say that I'm not familiar with your books, but I will be putting yours on my TBR list, since I am familiar with a couple of examples that you had on your list. I'm sure it will make for good reading. I loved the cover as well.
(Peggy Roberson 1:18pm September 10, 2011)
Hmmm... it has been some time since I last read an urban fantasy... I can not really recall a device at this moment... I going to go visit your site and look into your books, they sound like something I want to get my hands on!
(Colleen Conklin 1:51pm September 10, 2011)
Not really urban fantasy. But, my favorite thing ever, was in Dean Koontz's Seize the Night. Instead of a human that seemed to know everything, we got a genius dog. Gotta love that.
(Tanja Haack 2:05pm September 10, 2011)
I'm just starting to explore fantasy. I had always preferred the explainable until recently. I am looking for new paths to explore.
Good luck and happy writing!
(Tracie Travis 3:02pm September 10, 2011)
The reference to Word-A-Day got me giggling and the rest really bends the mind. You have twists I never thought of.
Funny.
(Alyson Widen 4:08pm September 10, 2011)
I AM A "FANTASY NEWBIE," AND HOPE TO WIN YOUR BOOK!
(Silvana Moscato 4:12pm September 10, 2011)
Yeah... I love the Charlaine Harris Word-A-Day thingy too. :) I love how she explains Sookie's ability in the latest book... It sure explains a LOT.
(May Pau 6:54pm September 10, 2011)
I love that in Zoe Archer's Blades of the Rose series the
titles of the books (Warrior, Scoundrel, Rebel, Stranger)
seem to apply to the male leads at first, but then clearly
describe the female leads as well.

In Nicole Peeler's Jane True series, I like that Jane has
conversations with her libido, they let the readers know
what is going on and why she is choosing to act, or not to
act on her impulses.

In your book, I loved the descriptions of the scenery
outside. I didn't realize that was something I was missing
in much of the urban fantasy I'd read recently. Your
descriptions of the ocean, cliffs, etc really anchored the
scenes and gave me more sensory information about the story.
When I finished the book the feeling of visiting a different
place lingered.
(Yveva T 8:19pm September 10, 2011)
I thought it was ingenious the way that Comic books were used in the chronicling of the War between the Shadow and the Light in Vicki Pettersson's Zodiac Series.
(G. Bisbjerg 8:35pm September 10, 2011)
Great blog Jenn and so true, I was just thinking about something in the same lines today! Urban Fantasy device? Well, it's not exactly a device but in Jim Butcher's Dresden Files, the skull Bob.
(Annie Quinty 9:04pm September 10, 2011)
I haven't read fantasy since I was young but recently read Witchsong by Amber Argyle. I really enjoyed it and am looking forward to reading yours. Always open to a new reading experience!
(Constance Biller 10:59pm September 10, 2011)
charlaine harris,keri arthur,patrica briggs and c.e.murphy
your books sounds great and would love to read it!!!
(Jennifer Beck 11:02pm September 10, 2011)
Hello, wondering if your travel experience has played a role
in your writing? Thanks Diana
(Diana Eaves 11:28pm September 10, 2011)
Thanks for all the comments, everyone!

@G S Moch: Hair decorations as weapon? I'm liking the sound of that!

@Peggy I've read Wicked, but need to check out the others.

@Tanya: I haven't read much Koontz, but you had me at genius dog!

@Yveva: I've been wanting to read that Zoe Archer series. I need to bump that up the TBR pile! Also, thanks for the kind words about scenery in my book. :)

@Annie: I love Harry's skull, Bob.

@G. Bisbjerg: I've only read the first Zodiac book, but thought the comic book angle was really great.

@Diana: Yes, my travel experience has definitely played a role in my writing, in both the settings (I used to live in California, the setting for my Arcadia Bell series) and the characters (Kar Yee, Arcadia's best friend, is a Hong Kong ex-pat, Arcadia's family is French, and Jupe is biracial).
(Jenn Bennett 1:32am September 11, 2011)
Registered users may leave comments.
Log in or register now!