D. B. Reynolds | Writing A Dark Hero

December 6, 2010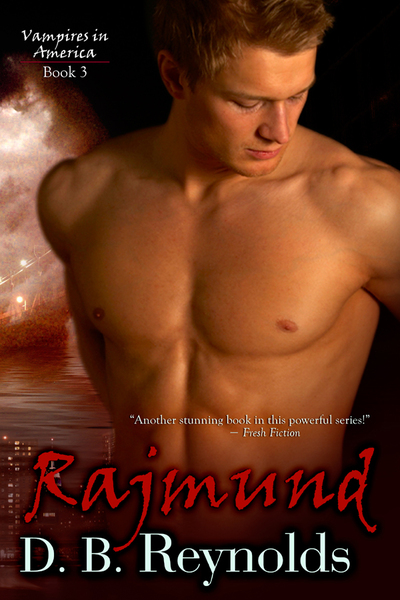 AVAILABLE
He?s a vampire, a threat to her very life, so why does she want him?need him?so badly?
Vampires in America #3

August 2010
On Sale: June 30, 2010
Featuring: Sarah Stratton; Rajmund Gregor; Krystof Sapieha
260 pages
ISBN: 1933417072
EAN: 9781933417073
Kindle: B004FPYXO0
Trade Size / e-Book
Add to Wish List

Also by D.B. Reynolds:
Nicodemus, June 2021
Xavier, October 2020
Add to review list
Detour, March 2020
Dragan, February 2020

I liked complicated men. They tend to be a bit (okay, a lot) more high maintenance, but they're also a lot more intense, which means life with them is more passionate. And I like that. When it comes to writing my heroes, of course, I tend to go with what I like in real life. Not always. But usually. One of the first full-length manuscripts I ever wrote was an epic fantasy. This story had its origins in the idea that even a villain can have someone who loves him. My evil sorcerer started out life as a truly good guy who was corrupted by magic and turned evil almost against his will. I hoped to build empathy for him as a young man, so that when the magic twisted him, the reader would see the tragedy of his transformation and continue to view him sympathetically. While writing this story, I had the great good fortune to have the input of a very experienced Science Fiction/Fantasy editor who had spent twenty years at some of the biggest houses in the genre. She read the first draft of the manuscript and said of my villain's trauma... I don't care. Which meant I hadn't succeeded in making him enough of a sympathetic character that readers would care about him despite his ultimate evil. I'll get back to that manuscript someday. I haven't given up yet. But I learned my lesson.
In the meantime, I began writing my Vampires in America series, which focuses on eight very powerful vampires who rule all of North American vampire society. My idea going in was to create a different sort of vampire than what we were seeing in most popular fiction today. I didn't want vampires who hated what they were, who drank blood only because they were forced to, and who were really just nice guys in a bad situation. I wanted the vampires of old, vampires who were violent and bloodthirsty, who reveled in the power their vampire natures gave them and who considered themselves a cut above ordinary humans—the top of the food chain, the most dangerous thing on the planet and proud of it.
But how to make my vampire heroes unapologetically vampire, and at the same time appealing to readers? How to avoid an editor saying, I don't care? First, I gave each of them the qualities of all great heroes. They're loyal, courageous, smart and charming. And they're devastatingly handsome, because this is fiction, after all. They are also completely devoted to their respective mates, unyielding in defense of her and viciously possessive when it comes to her affections. And, yes, they are violent, but only when betrayed by those they trusted, when those they are sworn to defend are endangered, or when someone dares to threaten the woman they love. They are bloodthirsty, but they control that thirst. Instead of roaming the streets, killing at random, they have clubs and parties where willing donors line up to donate blood from the vein, in exchange for the sexual high of having a vamp tap in. They are adamantly territorial, but they deal with that by having a rigid political structure which deals with their more violent urges and generally maintains the peace. They are vampire, but they are smart enough to take advantage of modern society instead of fighting against it. And when it comes to vampire affairs, they don't give a damn what humans think.
In the final analysis, my vampire lords are the ultimate bad boys. They are powerful, rebellious and beautiful. And the love of a good woman brings out the best in them. To read more about my vampires, please visit my website where I post free short stories and the latest news on forthcoming books.
Comments
43 comments posted.
Re: D. B. Reynolds | Writing A Dark Hero

these books sound tasty . I love it when you can sympathize with the evil character. There is just that hint of hope that the right women can bring out ;) Can't wait to try your books!
(Sharon Stogner 10:16am December 6, 2010)
This would be great to read!!
(Joanne Mckeareany 10:28am December 6, 2010)
Sounds good, I love bad boys made good!
(Barbara Hanson 10:33am December 6, 2010)
I love reading it helps to get out of reality at least for a little while.
(Jane Thompson 10:57am December 6, 2010)
Finally. I can't wait to start reading your work. It sounds... REFRESHING (in a 'that's bad but oh so good' way)!!
(Michele Powell 11:04am December 6, 2010)
Your vampires have all the qualities that we love, but they also have a wild side that we want to tame. Your books will make a good read on a cold winter night.
(Rosemary Krejsa 11:16am December 6, 2010)
This sounds like a great read...something about the bad boy/vampire combination.
(Liz Mellett 11:21am December 6, 2010)
Looks like an intensive read...just what I like!!!

Bring on those broody, dark heroes!!!

Valerie
in Germany
(Valerie Bongards 11:27am December 6, 2010)
It is interesting to see a have a villain made more sympathetic. Hope you do continue to work on that manuscript.

Love the dark brooding style of hero.
(G. Bisbjerg 12:07pm December 6, 2010)
Love those bad boys - like many women, I secretly want to save them!
(Karen Krack 12:08pm December 6, 2010)
Vampires are always a must, plus they are all together great charaters in books. I know i am going to love this book. It's got a dark side, passion, domination, determonation, heart, sympathy, allure, flare, untamable characters.
(Anthonia Sharp 12:24pm December 6, 2010)
Men, Love 'em!!1
Blessings1
Marjorie
(Marjorie Carmony 12:29pm December 6, 2010)
Looks like an interesting read!
(Minna Puustinen 1:18pm December 6, 2010)
Sounds like the some really wonderful and wicked heroes to get to know! ;)
Always enjoy reading about bad boys and the women that get to them!
(Colleen Conklin 1:27pm December 6, 2010)
I can't wait to read this book. I think most women wish for men who are completely devoted and would do anything in their defense. This is the kind of book I don't want to put down until I've read to the very last page.
(Tabitha Monroe 1:32pm December 6, 2010)
The new series Vampires In America sounds like it's really going to be good. I'm looking forward to reading about vampires the way they used to be written about. Those vampires were down right scary. Thank you for going back to the older style of vampires.
(Lucy Pinto 1:54pm December 6, 2010)
I do enjoy when a character has an epiphany and then can go on to a happier life.
(Diane Sallans 2:04pm December 6, 2010)
Sounds intriguing!
(Nancy Swern 2:08pm December 6, 2010)
Souds like a fabulous read!
(Brenda Rupp 2:10pm December 6, 2010)
Suspense, passion, vampires, love, will, and thrilling. What's there not to love in this series. Can not wait to read, and it will be one hell of an conclusion. Plus the story all together leads the characters to thier destiny, you have got to love that.
(Anthonia Sharp 2:11pm December 6, 2010)
Love to read read!!
(Angela k 2:16pm December 6, 2010)
Thank you for writing about the true vampires of old!
(Cathie Veres 2:23pm December 6, 2010)
I definately have to give your books a look over!! Your characters sound so different from the "cookie cutter" vampires that are out there now. Those types really don't interest me. They seem to be more the type for teenagers. The vampires that you write about seem to be more the adult version, and I'm anxious to get my hands on one of your books, to see for myself. I love your train of thought, and the way your storyline works. This is a book you can curl up with.
(Peggy Roberson 3:16pm December 6, 2010)
A totally good guy can't be a hero ... not in a good book, at least. Who wants to read a boring book, i.e. a book about a boring man (or vampire)? Seems to be you're definitely on the right track!
(Mary Lou Loyanich 3:16pm December 6, 2010)
I would love to read this book.. Vampires are so interesting...
(Danielle Pontow 3:32pm December 6, 2010)
Love, LOVE the cover of your book!! Congrats!!
(Clio Teixeira 3:36pm December 6, 2010)
Oh, would love to win the book too....
(Clio Teixeira 3:37pm December 6, 2010)
Strong,Sexy vampires...You just can't go wrong!!!!
(Jenn Gaffney 3:43pm December 6, 2010)
Nothing better than hot, sexy vampire.
(Pam Hager 4:26pm December 6, 2010)
Vampire Lords SHOULD be the ultimate bad boys. Thank you for that.
(Mary Preston 4:40pm December 6, 2010)
Your Vampires in America about 8 strong and loyal men sounds wonderful. I love that they are bad boys yet gentle to their mates.
(Cathy Phillips 4:55pm December 6, 2010)
I love bad boy hero's and you create some of the best!!
Can't wait to read this new one.
(Vickie Hightower 5:10pm December 6, 2010)
Thank you for writing about the vampires of old. This sounds like it will be an awesome book to read. I hope I win.
(Mary Christian 6:48pm December 6, 2010)
Your series sounds like something I would really love to read!
(Nicole Caroen 8:02pm December 6, 2010)
I've never heard of your series so will look it up! I'm a paranormal lover!
(Diane Sadler 8:02pm December 6, 2010)
I used to not like reading or watching anything to do with vampires or werewolves. I don't remember what changed that, but now I like stuff like that. I haven't heard of the series before now, but it sounds really interesting and something that I'm pretty sure I'd like to read.
(Amy Christian 8:25pm December 6, 2010)
Wow - vamps and bad boys. the perfect combo.
(Vikki Parman 9:17pm December 6, 2010)
I love reading books about vampires.
(Ginger Hinson 11:58pm December 6, 2010)
yum yum love the cover and sounds great thanks for the great contest
(April Strength 8:35am December 7, 2010)
I look forward to reading your books, Thank you
(Barbara Ryan 2:13pm December 7, 2010)
mrs reynolds u are a great writer please tell whats going on with raphael ur killing me any hints??which one next
(Johnny King 12:02pm December 8, 2010)
The book sounds appealing with the appearance of the territorial Lord Vampire along with the clashes with opinions which can not possibly match his. It's the struggle between power and the softening of views of the heart. I agree that complicated men are more fascinating.
(Alyson Widen 2:44pm December 8, 2010)
This sounds like a fun read. Always fun to read about bad boys.
(Diane Castiglione 3:25pm December 10, 2010)
Registered users may leave comments.
Log in or register now!