D.B. Reynolds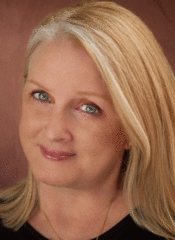 There's nothing to writing. All you do is sit down at a typewriter and open a vein.
Contests
Released from his stone prison, KATO is ready for vengeance. Win an Amazon Gift Card from D.B. Reynolds

Social Media:
YOUTUBE
TWITTER
FACEBOOK
BOOKBUB

E-mail me when D.B. Reynolds releases a new book.
Blogging at Fresh Fiction
D. B. Reynolds | Writing A Dark Hero
December 6, 2010
I liked complicated men. They tend to be a bit (okay, a lot) more high maintenance, but they're also a lot more intense, which Read More...
D. B. Reynolds is the RT and EPIC Award-Winning author of the popular Vampires in America series of Paranormal Romance/Urban Fantasy, and an Emmy-nominated television sound editor.
She lives in a flammable canyon near Los Angeles, and when she's not writing her own books, she can usually be found reading someone else's. Visit her website for details on all of her books, for free stories and more.
Log In to see more information about D.B. Reynolds
Log in or register now!
Series
Vampires in America | Stone Warriors | Shifter Planet | Vampires in Europe
Books:
Xavier, October 2020
Vampire in Europe #3
e-Book
Detour, March 2020
Vampires in America #13.5
e-Book
Dragan, February 2020
The Stone Warriors #4
e-Book
Shifter Planet: The Return, October 2019
Shifter Planet #2
e-Book
Lachlan, May 2019
Vampires in America #13
Paperback / e-Book
Gabriel, November 2018
Stone Warriors #3
Paperback / e-Book
Quinn, May 2018
Vampires in America #12
Paperback / e-Book
Vampires in America: The Vignettes Volume 2, December 2017
Paperback / e-Book
Relentless, November 2017
Vampires in America #11.5
e-Book
Kato, July 2017
Stone Warriors #2
e-Book
Lucifer, November 2016
Vampires in America #11
Paperback / e-Book
The Cyn and Raphael Novellas, September 2016
Vampires in America
Paperback / e-Book
Damian, June 2016
Stone Warriors #1
Paperback / e-Book
Compelled, April 2016
Vampires in America #10.5
e-Book
Shifter Planet, November 2015
Shifter Planet
e-Book
Christian, November 2015
Vampires in America #10
e-Book
Deception, April 2015
Vampires in America #9
e-Book
Vincent, November 2014
Vampires in America #8
e-Book
Unforgiven, October 2014
Vampires 7.5
e-Book
Hunted, December 2013
Vampires 6.5
e-Book
Aden, December 2013
Vampires In America #7
Paperback / e-Book
Betrayed, August 2013
Vampires 5.5
e-Book
Lucas, November 2012
Vampires in America
Paperback / e-Book
Duncan, November 2011
Vampires in America #5
Trade Size / e-Book
Sophia, April 2011
Vampires in America #4
Trade Size / e-Book
Rajmund, August 2010
Vampires in America #3
Trade Size / e-Book
Jabril, August 2009
Vampires in America #2
Trade Size / e-Book
Raphael, April 2009
Vampires in America #1
Trade Size / e-Book

Videos
Click Title to Play
Gabriel