This month, I'm thrilled to welcome the debut author of TRESSED TO KILL: The Southern Beauty Shop Mysteries, Lila Dare.
Tapping into the sassy and brassy attributes of the southern belles of St. Elizabeth, Georgia, Dare introduces readers to a lively cast of gals who don't let a little thing like murder keep them from looking good!
Life in a small Southern town like St. Elizabeth, Georgia can be slow and lazy as a summer breeze, but it can also be as hot and exciting as a summer storm when a murderer is on the loose!
Grace Tenhune has returned home to work in her mother's beauty shop, just when the town diva Constance Dubois is threatening to close Violetta's down. All over a tiny little thing like bright orange highlights. But when Constance is found stabbed to death, the police seem to think Grace's momma is the culprit.
Well, Grace ain't having none of that, and with the help of her co-workers at the salon, and handsome Georgia Bureau of Investigation detective John Dillon, she soon begins to trim the list of suspects like a good shag haircut.
Lila Dare's TRESSED TO KILL is a full of Southern charm and spunk, and will be a delight for cozy mystery fans to enjoy.
I was pleased to have Lila sit down for a few questions in the midst of the excitement of releasing a new book!
Sharon: At what age did you know that you wanted to be a writer?

Lila: I have always written, from the time I was old enough to make up stories about Viking princesses and horses. I completed my first novel-length manuscript (a romance) for a college creative writing course and actually got some encouraging rejections from Silhouette and Harlequin, only I was too ignorant about the business to recognize them as positive. (It may sound like an oxymoron, but there are such things as a "positive rejection.") I wrote three more books before getting married—a Regency romance and two mysteries—and then let my writing take a back seat to career, marriage and children until about five years ago.
Sharon: How did you get interested in writing "cozy" mysteries? What appealed to you about the genre of cozy mysteries as opposed to hardcore mysteries or suspense stories?
Lila: After I had my two daughters (now 10 and 12), I found I couldn't stomach serial killer mysteries or suspense novels/thrillers with a high level of violence anymore. I don't know why becoming a mother made me more uneasy about violence, but it did. (It also made me more nervous about flying, but that's a different interview.) I found myself more drawn to traditional mysteries where the puzzle of whodunit and the relationships between the series characters were paramount. I also enjoy a lot of humor in my mysteries, so cozies/traditional seemed like a perfect fit when I began writing full time.
Sharon: What inspired the Southern Beauty Shop theme of your series?
Lila: I was born in Georgia and have lived in Alabama , Mississippi , and Virginia . The pace of life in the Deep South —not the big cities, so much, but in the towns and rural areas—seems slower somehow, with family and friends having a high priority. I wanted that kind of atmosphere for my series. Also, there's something about the climate and the geography of the South, not to mention the historical context of antebellum plantations, the Civil War, and southern belles, that makes a rich and appealing backdrop for a series. As an added bonus, I like re-connecting with my childhood and relatives when I return to Georgia for research trips.
Sharon: Your main character Grace is a beautician along with her mother - where did you gather your inspiration for these characters?
Lila: I've never been a hair stylist, but I've spent plenty of time in a salon chair! My inspiration came from all the talented and talkative stylists who have kept my hair looking good through the years and have happily helped me re-invent my look when I wanted to try something new. The mother-daughter relationship between Violetta Terhune and her daughter Grace is more timeless, I think, and transcends the beauty parlor. Most of us mothers and daughters have struggled with the relationship from time to time but still find great joy in it. I'm hoping that's what readers see in this series.
Sharon: With more and more series coming out in the cozy genre, do you see the competition for readership becoming more fierce? What do you do to keep your readers coming back for more?
Lila: Cozy lovers, luckily, are voracious readers, so I don't see more series as a problem. The ones that hit a chord with readers will survive and the others will fade away. I think having a well-plotted mystery is key to retaining readers, as is creating characters that readers relate to. I read some mystery series not so much for the plot-du-jour as to find out what's going on in the lives of characters I've grown attached to. Characters that people relate to, who have real problems and career issues and relationship ups and downs are so important. That's what I like to read and that's what I try to write.
Sharon: The cover art on your books is just gorgeous - very eye- catching! Who does the artwork for each book, and are you consulted as to how it will look?
Lila: Annette Fiore DeFex designed the cover and Brandon Dorman was the artist. Berkley coordinates all that with their in-house and contract artists. They very graciously asked my opinion before designing the cover and I sent some suggestions, but relied on them to get it right since they're the experts. I agree with you that they did a fabulous job.
Sharon: Who are some of your favorite authors? Who inspires you?
Lila: I hate this question because I have so many authors I enjoy and admire that naming just a few is impossible. Here are some (in no particular order): Elizabeth George, Carolyn Hart, Rick Riordan, Jayne Anne Phillips, Chris Grabenstein, Cornelia Read, Georgette Heyer, Dick Francis, John Sandford, Margaret Maron, Marilynne Robinson, S.J. Rozan, David Liss, Sue Grafton, Louise Penny. The list could go on and on. I read 2-3 books a week and try to mix it up, reading a variety of mystery, suspense, thriller, mainstream and women's fiction. Anyone who tries to lead an ethical life, who perseveres in the face of rejection and difficulty, inspires me, but I'll name Stephen King as a writing role model. His book On Writing not only helped me improve my craft, it made me laugh out loud and provided me the 2,000 words per day framework that I use when writing a book.
Sharon: What do you have coming up in the future?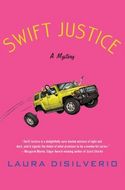 Lila: The next two books in the Southern Beauty Shop series, POLISHED OFF and A DEADLY SHADE are written and awaiting my editor's tender ministrations. My first book as Laura DiSilverio, SWIFT JUSTICE, comes out from St. Martin's Minotaur this October. It's the start of a humorous PI series. I'm currently working on the first book in my Mall Cop series for Berkley, DIE BUYING, and will start the first in my Ballroom Dance mysteries, QUICKSTEP TO MURDER, this summer. Sometimes it feels like I'm surgically joined to my computer keyboard, but I love every minute I spend writing and feel blessed to be able to make my living doing something I'm passionate about.
Sharon: What advice would you have for anyone wanting to break into the "cozy mystery" genre?
Lila: I have the same advice for writers who want to write traditional mysteries as I do for other writers: Write what you want to write and worry about categorizing it later. Don't take up roof thatching or puppet making just because you think they're good "hooks" for cozy series and haven't been done to death. Write what's in your heart, what you're passionate about, and tinker with the language and levels of sex/violence when you're done, if you want to target the traditional market. Read and analyze lots and lots of cozies (especially mine). :-)
Many thanks to Lila Dare for stopping by the Cozy Corner and sharing her love of writing with us! Check out her website at www.liladare.com for more information on her books and appearances.
Be sure to come back next month for my interview with Sara Rosett, author of the "Ellie Avery Mystery" series. Until then, happy reading ya'll!
1 comment posted.
Thank you for our introduction to Lila Dare this month. I enjoy how these southern belles can speak so gentel yet be sharp as a tack with their observations.
(Susan Lathen 3:00am May 31, 2010)