The Daily Dose
Smattering of Romance, Paranormal, and General Observations
Daily Dose Holiday Giveaway: Angels We Have Heard on High

December 6, 2009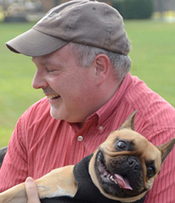 Thomas E. Sniegoski is one of my favorite authors. I had the pleasure of interviewing him in September. The multi-published author has titles that range from young adult to urban fantasy to comic books and graphic novels. He's even turned his pen to an Angel novel or two.
In honor of the holidays, he's giving away autographed copies of his Remy Chandler novels and his Owlboy novels for the kids. The series follows Billy Hooten who dreams of being a superhero. It's a fantastic set of books for parents and kids alike. Sniegoski is one of those rare authors that creates rich, vibrant characters that you imagine could walk off the page and have a conversation with you – when they aren't smiting the bad guys.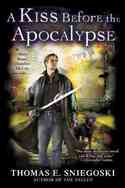 Boston P.I. Remy Chandler has many talents. He can will himself invisible, he can speak and understand any foreign language (including the language of animals), and if he listens carefully, he can hear thoughts. Unusual, to say the least - for an ordinary man. But Remy is no ordinary man - he's an angel. Generations ago, he chose to renounce heaven and live on Earth. He's found a place among us ordinary humans; friendship, a job he's good at - and love.
Now he is being drawn into a case with strong ties to his angelic past. The Angel of Death has gone missing - and Remy's former colleagues have come to him for help. But what at first seems to be about tracing a missing person turns out to involve much more - a conspiracy that has as its goal the destruction of the human race.
And only Remy Chandler, formerly known as the angel Remiel, can stop it.
Still mourning the loss of his wife, fallen angel Remy Chandler has immersed himself in investigating dangerous supernatural cases. His latest: the theft of a cache of ancient weaponry stolen from a collector who deals in antiquities of a dark and dubious nature. The weapons, Remy knows, were forged eons ago and imbued with unimaginable power. And if they fall into the wrong hands, they could be used to destroy not only Heaven but also Earth. Sniegoski is currently working on the third Remy Chandler novel, Where Angels Fear to Tread, and plotting a fourth. Stay tuned to this website for more information.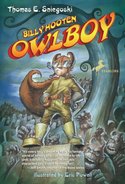 Billy Hooten is a weird kid. He gets beaten up a lot, and spends the rest of his time doggedly trying to build a robot. One day, Billy Hooten hears a cry for help coming from the cemetery that borders his backyard. Against his better judgment, he runs toward it. And after that, everything changes for Billy Hooten. Because Billy Hooten, you see, is Owlboy. A quickthinking, goggle-and- feather-wearing superhero who protects the bizarre and monstrous citizens of Monstros City, a city that exists under Billy's hometown of Bradbury, Massachusetts. But is Billy truly worthy of the moniker Owlboy?
The Rules
1. You comment on the blog in order to be entered into the drawing.
2. You must include whom you want to give the gift. You do not have to name names or post their email information, just a short blurb about what they mean to you or why it's important they receive it. You can be a real secret Santa as well.
3. Each drawing will last 24 hours unless otherwise noted. (7 a.m. to 7 a.m. CST)
4. Winners will be notified by email so make sure I have that or access to it via your profile. Upon notification, you let me know whom the gift is going to.
5. You may only win one giveaway, once you win one you cannot enter into anymore.
6. Spread the holiday cheer for everyone celebrating Hannukah, Kwanzaa, Yule, Christmas and more.
Let Tom Sniegoski and the Daily Dose be a part of your holiday plans. Enter to win these fantastic books for someone you love! Entries close at 7 a.m. Central on Monday, December 7.
---
A lifelong writer turned author, Heather Long's first book Remembering Ashby is available for purchase at Sapphire Blue Publishing. Coming soon is the urban fantasy: Prime Evil. The Daily Dose explores books, television, writing and more -- all topics that Heather enjoys.
NOTE: all comments here will be included in the Daily Dose giveaways so you can leave your nomination below or on the Daily Dose blog. If you comment and nominate someone on the Fresh Fiction page for the Daily Dose you'll also be entered in our special Secret Elf sweepstakes, the winner will receive a $25 Amazon Gift Certificate and the person they nominate will also receive a $25 Amazon Gift Certificate on December 20th.
Comments
14 comments posted.
Re: Daily Dose Holiday Giveaway: Angels We Have Heard on High

I would like this gift for daughter. Thanks, Sue

[email protected]
(Susan Hussein 12:40pm December 6, 2009)
My daughter would love this series and would give her something to read over the holiday. She has read the Ranger's Apprentice series, so I know she'll love this.
(Susan Dase 12:47pm December 6, 2009)
My grandson would enjoy 'Owlboy', the adventures of Billy Hooten. He is a great reader.
(Rosemary Krejsa 12:52pm December 6, 2009)
I would like to give this gift to a friend of my that's really had it rough this past year, with jobs and such! We share a great interest in reading and I thing she would really enjoy these books.
(Gail Hurt 12:57pm December 6, 2009)
I'd love to win these for my sister's son!!
[email protected]
(Penny Tuttle 12:58pm December 6, 2009)
Yhis would be a great gift for my grand-daughters!
(JoAnn White 2:02pm December 6, 2009)
I would like to pass this one to my
brother!
(Sue Ahn 2:07pm December 6, 2009)
I'd give the gift to my sister. She takes care of our parents, she adopts pets who turn out to have problems and she is always there when we need her.
(Sharon Knight 3:16pm December 6, 2009)
I would Like to give this to my son, Kane who loves a true adventure.
(Lisa Glidewell 8:35pm December 6, 2009)
I'd give this gift to my niece - she loves to read books like these.
(Cheryl Snyder 11:31pm December 6, 2009)
These books sound like they
are right up my mom's alley!
So I would choose her to get
them. She is having a hip
replacement right after the
1st of the year, so these
would be great for her while
she's laid up for a while :)
(Erin Thompson 11:38pm December 6, 2009)
Dancing On The Head Of A Pin looks very interesting. I'd love to "gift" them to myself to read.
(Joelle Beebe 12:29pm December 7, 2009)
I would love to give the young adult books to my "little guy". He's really getting into reading and this sounds right up his alley. The Remy's would be for me. I LOVE the series & have gotten several people hooked on it w/ my recommendation.
(Ivy Truitt 1:22pm December 7, 2009)
I would love to gift this to myself!
(Brenda Rupp 10:59pm December 11, 2009)
Registered users may leave comments.
Log in or register now!