1--What is the title of your latest release?
ARCA, the second book in the Five Queendoms series.
2--What's the "elevator pitch" for your new book?
Arca returns readers to the Five Queendoms, a matriarchal world thrown into chaos when more than a decade passed without a single girl being born. As Arca begins, the Drought of Girls has ended, but the rift it broke open between the queendoms isn't so easily healed. And powerful women across the queendoms are using every tool at their disposal—including threats, schemes, armies and spells—to end up on top.
3--How did you decide where your book was going to take place?
I'd created the world of the Five Queendoms for the first book in the series, Scorpica, and because this one picks up where that one left off, I knew the queendom of Arca would be where a lot of the key action took place. There were other key plotlines I wanted to follow, so a lot happens in the other queendoms as well—it's all about following the most exciting stories in this moment.
4--Would you hang out with your protagonist in real life?
My book has several protagonists, but the one I'd most like to hang out with in real life is Eminel. She's this incredibly powerful young magician who's unexpectedly named queen of a country she barely even remembers, and surrounded by all these other powerful magicians who don't want her around. She's got a lot going on!
5--What are three words that describe your protagonist?
Let's go with Eminel again. She has this odd mix of seemingly contradictory qualities, but they're all a part of her journey. She's terrified, she's confident, and she's unready.
6--What's something you learned while writing this book?
I learned how to write series fiction! Before the Five Queendoms series I had four published works of historical fiction, all standalones. This is my first time picking up a story in progress, weaving in new characters with the ones we already know, and deciding where and how to tie off certain threads for a satisfying ending while setting up what the third book requires. It's a serious challenge, but it's also been really enjoyable on a lot of levels.
7--Do you edit as you draft or wait until you are totally done?
I'm constantly editing. I write a really fast, really terrible first draft, but even as I'm throwing down that sloppy prose I'll still poke around and refine a bit as I go. Then, once I have a full draft, I have to print the whole thing out and edit on paper at least once through before I go back to Microsoft Word. I'm sure there are more efficient ways to do it, but this one seems to be the one that works for me.
8--What's your favorite foodie indulgence?
Ooh, great question. A good carrot cake is pure joy, and the best way to find a good one is to try everyone I can find.
9--Describe your writing space/office!
We moved into a new house a few months ago, and I've taken over the couch in our small library as my writing space. I have a desk upstairs, but I use that for more business-y stuff. The library, surrounded by books, is where I create.
10--Who is an author you admire?
I just love Kate Quinn—both for her books, which are wonderful, and for her generous spirit as a tireless supporter and cheerleader for so many authors in the historical fiction community.
11--Is there a book that changed your life?
In fifth grade, our teacher read A Wrinkle In Time out loud to our class. I'd written before that, mostly poems and short stories, but that book showed me how novelists could create an entire fictional world that completely sweeps you away. I wanted to do that immediately. (It took a little while for my skills to catch up with my aspirations.)
12--Tell us about when you got "the call." (when you found out your book was going to be published)/Or, for indie authors, when you decided to self-publish.
For the Five Queendoms series, it was especially satisfying to have multiple publishers vying for the rights. I'd gone out on a limb to veer off in this new direction—epic fantasy—after establishing a career in historical fiction. I hadn't gone on the open market with publishers since 2014. So to have so much enthusiasm—absolutely amazing. And we made the deal in March of 2020, which was such a crazy time. I felt incredibly lucky.
13--What's your favorite genre to read?
I read pretty much everything, but since the pandemic began, I've really been diving into romance. Such great stuff being published in that world right now.
14--What's your favorite movie?
If I could only watch one movie for the rest of my life, it would be The Princess Bride. Grosse Point Blank is a close runner-up.
15--What is your favorite season?
Summer, summer, summer.
16--How do you like to celebrate your birthday?
I like to cook for other people! I pick out a bunch of recipes, make way too much food, and host a free-for-all. It's great.
17--What's a recent tv show/movie/book/podcast you highly recommend?
The TV show "Yellowjackets" isn't for everybody, since it's got some pretty dark and gory parts. But it's absolutely riveting. And I can't think of a single role that isn't perfectly cast, either in the past or present timelines. Can't wait for the second season.
18--What's your favorite type of cuisine?
I have a soft spot for tapas. Probably because, if my family didn't insist on actual meals, I would just survive on snacks.
19--What do you do when you have free time?
I'm trying to get better about self-care. On the occasional evening when I don't have family plans and I'm not under deadline, my favorite thing to do is settle in for a long bubble bath.
20--What can readers expect from you next?
Book three in the Five Queendoms series is coming next April! And after that… who knows?
The Five Queendoms #2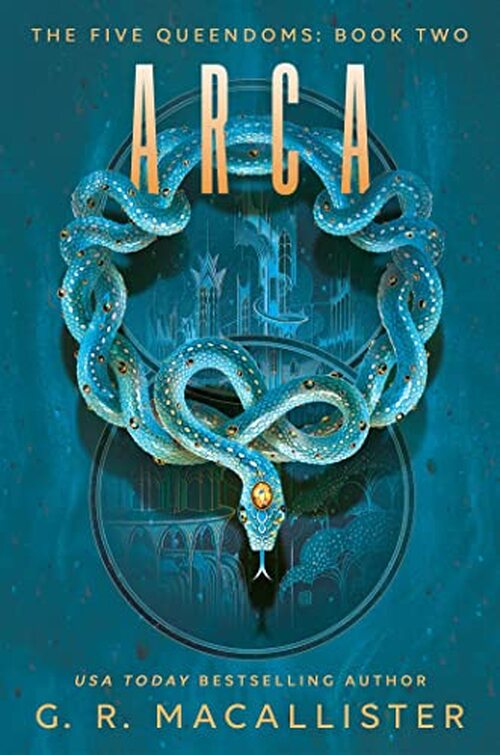 Return to the Five Queendoms in the sequel to Scorpica, a sweeping epic fantasy that Rebecca Roanhorse called "ambitious and engaging," in which a centuries-long peace is shattered in a matriarchal society when a decade passes without a single girl being born.
The Drought of Girls has ended, but the rift it broke open between the Queendoms is not so easily healed. Political tensions roil the senate of Paxim, where Queen Heliane vows to make her son Paulus the nation's first ruling King or die trying. Scorpican troops amass on the border of Arca, ready to attack. And within Arca itself, its young, unready queen finds her court a nest of vipers and her dreams besieged by a mysterious figure with unknown intentions.
As iron and magic clash on the battlefield and powerful women scheme behind the scenes, danger and violence abound. Can anyone stop chaos from ripping the Queendoms apart?
Action | Fiction Adventure | Fantasy [Gallery, On Sale: March 7, 2023, Hardcover / e-Book, ISBN: 9781982167929 / eISBN: 9781982167943]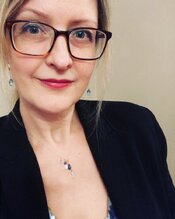 G.R. Macallister, author of the Five Queendoms series, also writes bestselling historical fiction under the name Greer Macallister. Her novels have been named Indie Next, LibraryReads, and Amazon Best Book of the Month picks and optioned for film and television. A regular contributor to Writer Unboxed and the Chicago Review of Books, she lives with her family in Washington, DC. Scorpica is her epic fantasy debut.
No comments posted.