Kari Lee Townsend | Author-Reader Match: MURDER IN THE MEDITATION
Comment to win a $15 Amazon Gift Card!

December 6, 2021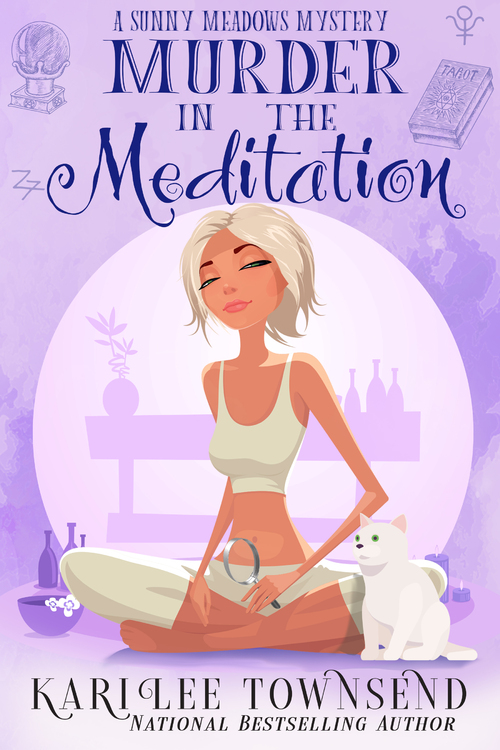 Murder in the Meditation
Kari Lee Townsend
AVAILABLE
Fortune Teller Mystery #7

December 2021
On Sale: December 28, 2021
ISBN: 0005275393
EAN: 1230005275397
Kindle: B095V867XN
e-Book
Add to Wish List
Add to review list

Also by Kari Lee Townsend:
Two Cents of Doom, April 2022
Add to review list
Murder in the Meditation, December 2021
Add to review list
Chaos and Cold Feet, October 2021
Hazard in the Horoscope, June 2021

Instead of trying to find your perfect match in a dating app, we bring you the "Author-Reader Match" where we introduce you to authors you may fall in love with. It's our great pleasure to present Kari Lee Townsend!
Writes:
National Bestselling Author Kari Lee Townsend writes fun paranormal cozy mysteries. She also writes romantic comedies, emotional women's fiction, and dark women's fiction as Kari Lee Harmon. Her newest book MURDER IN THE MEDITATION is book 8 in Sunny Meadows Mystery series and comes out December 28th! Her books always have a bit of humor, a bit of romance, and depending on the genre, a bit of mystery or emotion. WWW.KARILEETOWNSEND.COM
About:
If you're looking for an author who will lead you through a maze of clues with twists and turns you won't see coming and a satisfying ending that will leave you wanting more, then I'm the author for you. I love to go on adventures, play with my two big fluffy Samoyeds, drink a great glass of wine, pretend I'm a professional photographer, and curl up with a good book. I used to love a hot bubble bath, but now I'm all about a hot tub. I love spending time with my family and traveling the world with my husband.
What I'm looking for in my ideal reader match:
A great sense of humor
Someone who loves a good puzzle
An adventurous spirit
An open mind regarding fortune telling
Someone who embraces their inner detective
A animal lover
What to expect if we're compatible:
Laugh out loud moments
Fun, witty dialogue
Small towns with familiar characters you feel like you know
Relationships that progress throughout the series
A complex mystery not easily figured out
A surprising ending you didn't see coming
--
COMMENT TO WIN: Leave a comment about anything to do with meditation for a chance to win a $15 Amazon gift card. Good lucky, happy holidays, and happy reading!
--
Fortune Teller Mystery #7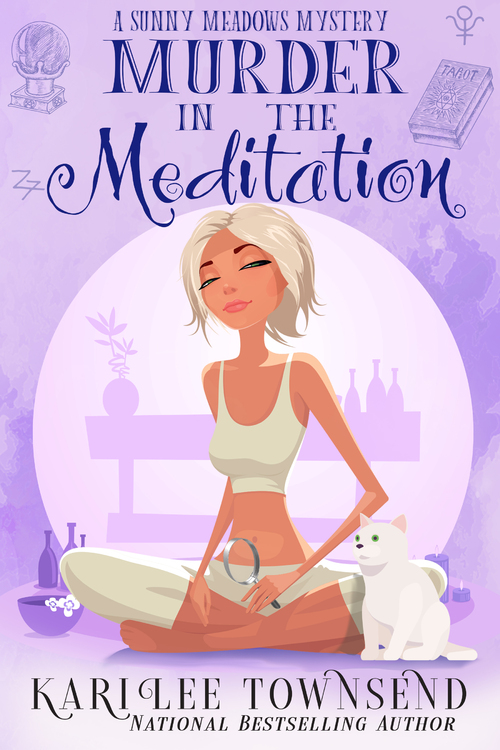 Meditation leads to peace and tranquility—or deadly visions if you're psychic Sunshine Meadows…
Sunny's parents and Granny couldn't be happier—or more overbearing—with the news of their first grandchild on the way, and Sunny's new husband Detective Mitch Stone couldn't be more terrified—or overprotective. Even her biggest ally Morty the cat has turned against her and partnered up with her husband, which is something she never thought she'd see in this lifetime. All because trouble has a way of seeking her out. When Sunny becomes over stressed, her doctor orders her to meditate. Not an easy task with a psychic convention in town. Sunny's visions are not of pink and blue; she's seeing red as meditation leads to murder and the head psychic winds up dead. With no prime suspects, Sunny has no choice but to seek out trouble and use her clairvoyant abilities to solve this case if she is ever going to be free to focus on being a mother. That is if the real killer doesn't make her lose her mind first…
Mystery Cozy [Oliver-Heber Books, On Sale: December 28, 2021, e-Book, ISBN: 1230005275397 / ]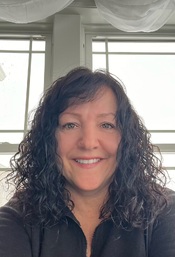 Kari Lee Townsend is a National Bestselling Author of mysteries & a tween superhero series. She also writes romance and women's fiction as Kari Lee Harmon. With a background in English education, she's now a full-time writer, wife to her own superhero, mom of 3 sons, 1 darling diva, 1 daughter-in-law & 2 lovable fur babies. These days you'll find her walking her dogs or hard at work on her next story, living a blessed life.
Comments
24 comments posted.
Re: Kari Lee Townsend | Author-Reader Match: MURDER IN THE MEDITATION

Meditation , it helps me when I'm under stress.
(Deb Pelletier 12:38pm December 6)
I like small town romances
(Joanne Pezzuti 4:57am December 6)
I like to meditate when I walk in the afternoon, and focus only on the beauty of
nature surrounding me, at my local park. Thank you for the opportunity to enter a
contest. Have a wonderful day and take care!
(Tracey Boehm 7:14am December 6)
I like meditation early in the morning when everything is
quiet and everyone is asleep.
(Tanja Dancy 8:35am December 6)
I meditate when I'm under stress.
(Sherry Haut 8:53am December 6)
I love to meditate,,helps me with my stress
(Vickie Couturier 10:31am December 6)
I have heard there is phone app tat you can use to guide your meditation.
(Linda Gawthrop 11:15am December 6)
I enjoy meditation - both when it works and when it doesn't. at least I'm
trying. Thanks for the chance to win. Happy holidays.
(Nancy Reynolds 3:02pm December 6)
Despite all the benefits to meditating, I have yet to try it yet....
(Tracy Urschler 4:41pm December 6)
It took me quite a few tries before I learned how to shut
down my brain to meditate.
(Tina Rucci 7:33pm December 6)
I don't meditate formally that much, but I pray a lot! I have also found a lot of
breathing techniques, visualization and progressive relaxation helpful,
especially when in pain, as I am frequently. When I could work, I was an
obstetrical nurse and certified to teach childbirth classes.
(Kara Marks 10:42pm December 6)
I went on a retreat to Canada where we made life plaster face
masks, yoga, yoga breathing (it looked more like panting) and
meditation. It was relaxing except for the yoga breathing
which I had trouble getting the hang of. Meditation can be
mind clearing if you practice the art of meditation enough.
(Alyson Widen 11:36pm December 6)
I tried meditation and had no real luck. I was doing it following a DVD. The first
part is to clear your mind. Couldn't 't do it. All I had to do and plan kept intruding.
We did take yoga classes and I found I could clear my mind and meditate in that
type of a setting. Sadly, with COVID the classes were suspended. I can't wait until
they start them up again.
(Patricia Barraclough 1:26am December 7)
hiiiiii
(Isika Patel 2:48am December 7)
After my husband passed away I found that just sitting still
and remember all that we had shared helped me relax
(L Folstad 7:21pm December 7)
Hi Kari! It's an absolute MUST to have laugh out loud moments
in my ideal story as well as being set in a small town.
Thanks for sharing! Happy Holidays!
(Elizabeth Haney 9:59pm December 7)
I don't meditate as often as I want to. I really like the process and wish I had the
time to do it more. It seriously helps! Lessens stress, loosens your muscles, and
helps you breathe better. I read a lot so that relaxing, but I do want to meditate
more!
(Andrea Drake 10:33pm December 7)
I need to meditate. A little quiet time would help relax me
(Phyllis Lamken 11:09pm December 7)
I meditate every morning since COVID started.
(Rebecca Shields 7:14am December 8)
I don't formally mediate, but after my son's death, I looked
at photos of him that dated back to his birth and thought
about the wonderful times we had together. Also, if I feel
stressful, I pick up an interesting book and start reading. It
takes me away from any problems I think I have.
(Anna Speed 2:45pm December 8)
Loved the description of your book. Looking forward to reading it. Thanks.
(Sharon Extine 5:41pm December 8)
I enjoy some quiet time to calm down and focus on things...
(Colleen Conklin 6:26pm December 8)
I've tried meditation before and it was very relaxing. I
stopped doing it but maybe I'll try it again.
(Meredith Winn 1:09pm December 9)
silence is pure bliss....
(Martin Bodnar 9:58pm December 9)
Registered users may leave comments.
Log in or register now!