Another day, another awesome author to feature in the Summer BBQ Recipe Roundup! Today, historical fiction author Jennifer L. Wright is here with more info about her new book, a tasty and easy recipe to share, and a chance to win a copy of IF IT RAINS (details below)!
Have you checked out our recipes from Days 1 and 2? Please do!
Day 1 with Minerva Spencer
Day 2 with Sera Taíno
***
In my novel IF IT RAINS, fourteen-year-old Kathryn is forced from her Oklahoma farm by the Dust Bowl. Her trip is interrupted, however, when she becomes separated from her father and is forced to continue the journey on her own. Crippled, frightened, and alone in a strange land, Kathryn longs for familiarity. She longs for comfort. She longs for home.
As a military spouse, I am deeply familiar with this ache. In the past fourteen years, I've lived in three different countries and four different states. Just as soon as some place starts to feel like home, the Air Force sends my family and me packing again. It's a hard life, but it's also full of beauty. Because I don't just have one home; I have several.
Besides Indiana, where I grew up, New Mexico is the state in which I've lived the longest, and the Land of Enchantment has secured a very special place in my heart. The desert sunsets, the eclectic people, and—most of all—the amazing local cuisine!
New Mexican food is in a class all its own; before moving here, I had no idea that "Christmas" wasn't just a holiday or how many different recipes could be enhanced by the addition of green chiles (hint: almost all of them). Summer barbecues here simply aren't complete without some kind of chile dish. While rellenos (green chiles stuffed with cheese) are my favorite, they are a bit tricky to make; the solution is this easy, no-fuss relleno casserole, which gives you all the spice with none of the mess.
For the best flavor, use fresh green chiles. If not possible, canned or frozen will work—but make sure they're certified New Mexico True!
Easy Relleno Bake
1 cup (approximately 10 oz.) green chiles
1½ cups Monterey Jack cheese, shredded
1½ cups Pepper Jack cheese, shredded
4 eggs, separated
¾ teaspoon baking powder
3 tablespoons flour
3 tablespoons cornmeal
¼ teaspoon salt
Preheat oven to 325 degrees. Grease bottom of 10-by-10-inch pan with butter or spray.
If using whole chiles, remove skins, split, and remove seeds. If using canned or frozen, drain excess water.
Mix the cheeses together and reserve ¼ cup. If using whole green chiles, place cheese inside chiles. If using canned or frozen, spread chiles in bottom of pan and sprinkle cheese over until covered.
Beat the egg whites until stiff and set aside; in a separate bowl, beat egg yolks. In another bowl, blend dry ingredients and add to yolks, mixing well. Fold in egg whites.
Pour batter over chiles and sprinkle with remaining ¼ cup of cheese. Bake 15 to 20 minutes or until lightly browned on top. Serve with guacamole, pico de gallo, salsa, sour cream, or other desired toppings.
Serves 3 to 4.
***
COMMENT TO WIN: Thank you to Jennifer and Tyndale for today's lovely post. To enter for a chance to win a copy of IF IT RAINS, tell us in the comments your ideal summer vacation--the beach? mountains? Anywhere at all! 1 winner, US & Canada only, good luck!! (PS-We have more recipes and giveaways all WEEK! See you tomorrow.)
***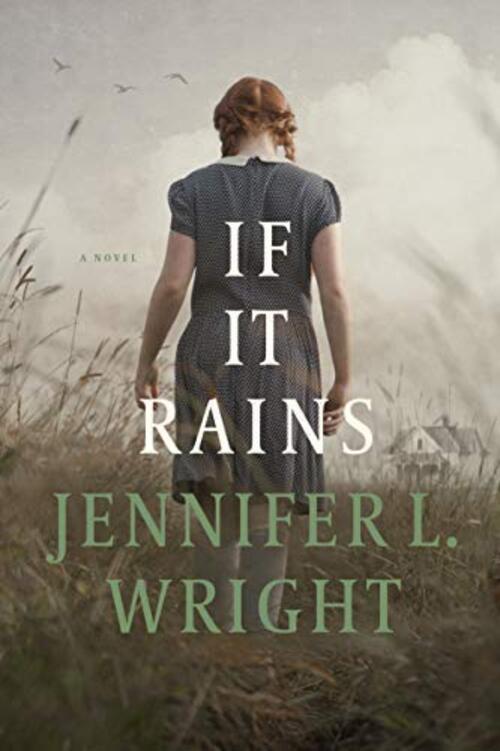 A story of resilience and redemption set against one of America's defining moments--the Dust Bowl.
It's 1935 in Oklahoma, and lives are determined by the dust. Fourteen-year-old Kathryn Baile, a spitfire born with a severe clubfoot, is coming of age in desperate times. Once her beloved older sister marries, Kathryn's only comfort comes in the well-worn pages of her favorite book, The Wonderful Wizard of Oz. Then Kathryn's father decides to relocate to Indianapolis, and only the promise of a surgery to finally make her "normal" convinces Kathryn to leave Oklahoma behind. But disaster strikes along the way, and Kathryn must rely on her grit and the ragged companions she meets on the road if she is to complete her journey.
Back in Boise City, Melissa Baile Mayfield is the newest member of the wealthiest family in all of Cimarron County. In spite of her poor, rural upbringing, Melissa has just married the town's most eligible bachelor and is determined to be everything her husband--and her new social class--expects her to be. But as the drought tightens its grip, Henry's true colors are revealed. Melissa covers her bruises with expensive new makeup and struggles to reconcile her affluent life with that of her starving neighbors. Haunted by the injustice and broken by Henry's refusal to help, Melissa secretly defies her husband, risking her life to follow God's leading.
Two sisters, struggling against unspeakable hardship, discover that even in their darkest times, they are still united in spirit, and God is still with them, drawing them home.
Inspirational Historical | Christian [Tyndale House Publishers, On Sale: July 6, 2021, Paperback / e-Book, ISBN: 9781496449306 / eISBN: 9781496449320]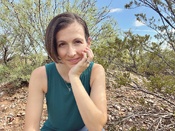 Jennifer L. Wright has been writing since middle school, eventually earning a master's degree in journalism at Indiana University. However, it took only a few short months of covering the local news for her to realize that writing fiction is much better for the soul and definitely way more fun. A born and bred Hoosier, she was plucked from the Heartland after being swept off her feet by an Air Force pilot and has spent the past decade traveling the world and, every few years, attempting to make old curtains fit in the windows of a new home. She currently resides in New Mexico with her husband, two children, and one rambunctious dachshund.
21 comments posted.
Waterloo, Belgium! We have 2 very good friends that live there, and we miss them so much!
(Karen Webster 3:47pm July 21)
I'll go anywhere to be with family - and have time to read some, too. If they
all want to sit on the beach, I'll stay indoors during the heat of the day and
read or do a jigsaw puzzle until everyone comes back in. But love to walk
the beach early in the morning or after dinner.
(Nancy Reynolds 9:18pm July 24)
My ideal vacation is the mountains where it is cool! I need relief from this 100+
weather!
(LeAnn Abernathy 7:42pm Tuesday)