Summer BBQ Recipe Roundup: OUTRAGEOUS by Minerva Spencer + Giveaway!
"Two-Filling" Pecan Brittle

July 19, 2021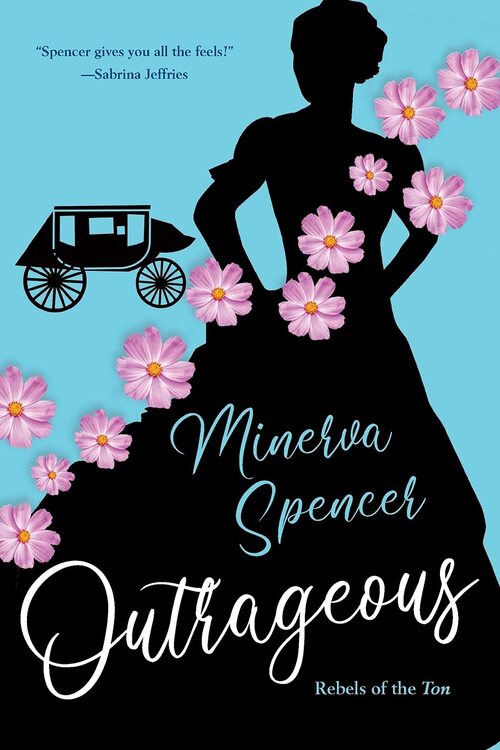 AVAILABLE
Rebels of the Ton #2

July 2021
On Sale: June 29, 2021
Featuring: Godric Fleming; Eva de Courtney
304 pages
ISBN: 1496732855
EAN: 9781496732859
Kindle: B08KLCTLKL
Trade Size / e-Book / audiobook
Add to Wish List

Also by Minerva Spencer:
Infamous, October 2021
The Arrangement, September 2021
Outrageous, July 2021
Notorious, November 2020

Welcome to the 2021 Summer BBQ Recipe Roundup! We have a fabulous lineup of authors with new books, delicious recipes perfect for summer parties, and BOOK GIVEAWAYS. Follow along all week to see who is joining us. You'll learn about new books and find your next great recipes. Plus, there are chances to win books, too!
To kick things off, historical romance author Minvera Spencer shares a sweet treat, perfect to nibble on while chatting with friends on a deck or patio. Her new book, OUTRAGEOUS, the second in the Rebels of the Ton series, is a high stakes battle of wits that pits two people against each other initially... until pesky attraction starts to come into play!
***
"TWO-FILLING" PECAN BRITTLE
My mom calls this pecan brittle "Two-Filling Pecan Brittle" because she broke not one, but TWO dental fillings one Christmas. But that didn't make her stop eating it....
(Image from Food Network)
Ingredients
1 1/2 cups toasted chopped pecans (the toasting is up to you and you can substitute other nuts if you don't have pecans)
1 heaping tablespoon salt
1 cup water
1 1/4 cups light corn syrup (you could use dark but you'd get a different flavor)
2 1/2 cups sugar
4 tablespoons margarine or ultra-processed coconut oil (the one that doesn't smell or taste like coconuts)
1 tablespoon baking soda
Optional: You can put chocolate chips on top of the hot mix after you've poured it into the pan and then top it with more chopped nuts. This will give you a sort of Pecan Roca product.
Directions
1 Heat and stir sugar, corn syrup, water and salt over medium heat until sugar has dissolved. Once it has dissolved, raise the heat all the way up. Use a candy thermometer (clip it to the pot) and cook the mixture to the hard crack stage (290 °F). (see note 1 below)
2 Add nuts and margarine and keep cooking until you reach 300 °F stirring all the time to keep the nuts from burning. Pull off heat at 300 °F and stir in baking soda while beating to froth for 30 seconds (a wire whisk works best).
3 Pour onto a well-greased cookie sheet (use something big with a lip on it).
Spread it as thin as you want it. I sometimes leave it thick as it has a honeycomb texture that is really nice.
Don't give in to temptation and put any of this into your mouth (does that sound like I speak from experience?) since it's the temperature of volcanic lava.
**NOTES**
Note 1: I stop stirring after the mixture starts to boil and I've never had it stick to the pot. But don't take your eyes off it!
This process will really vary depending on altitude. I'm at 8,000 feet and this takes a long time and I have to use different temperatures since water boils at 194 degrees up here rather than 212.
Make sure you adjust for altitude or your brittle won't harden or might be overcooked and too grainy.
If you're near sea level, this recipe will be a snap.
You can keep the brittle for months if you put it in an airtight container. It never lasts more than a few days around here...
***
COMMENT TO WIN: Thanks to Minerva Spencer and Kensington Books for starting off our Summer BBQ Recipe Roundup!
To enter to win a print copy of OUTRAGEOUS, leave a comment with your favorite summer activity! Hanging out by the pool, camping under the stars, or staying inside and reading (LOL)... the options are endless. And don't forget to come back tomorrow for more Summer FUN! US & Canada only; GOOD LUCK!
***
Rebels of the Ton #2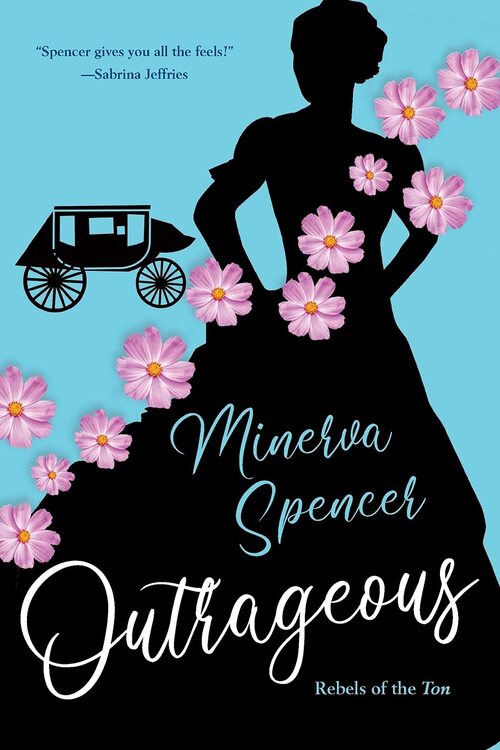 Bridgerton fans and readers of Grace Burrowes, Sophie Jordan, and Alexa Aston won't want to miss this clever and exciting new love story from the acclaimed author of Notorious.

"This daring, emotional page-turner is a delight." —Publishers Weekly

When Eva de Courtney kidnaps Godric Fleming, her only plan is to stop the irritating earl from persecuting her beloved brother. But once she has the intriguing rogue in the confines of her carriage, she longs to taste the passion she senses simmering beneath his rugged exterior. Her forbidden plan is foiled, however, when Godric turns the tables, taking her hostage instead—and demanding they marry at once…

The last thing Godric wants to do is make the fiery, impulsive Eva his wife, despite her delectable mouth and alluring innocence. He knows from experience that nothing is forever, not even love. But honor demands he do right by the lady, no matter how stubbornly Eva tries to hold on to her independence. And while the road to the Scottish border is beset with danger, Godric's greatest challenge is to keep his hands—and his heart—from his captivating bride-to-be…

Praise for Minerva Spencer's Outcasts series

"Fans of Amanda Quick's early historicals will find much to savor."
—Booklist (Starred Review)

"A standout. . . . brilliant and original."
—Publishers Weekly (Starred Review)

"Sexy and wildly entertaining."
—Kirkus Reviews (Starred Review)
Women's Fiction Historical [Kensington, On Sale: June 29, 2021, Trade Size / e-Book, ISBN: 9781496732859 / eISBN: 9781496732866]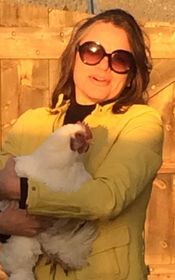 Minerva Spencer is the pen name of S.M. LaViolette.
S.M. is a Canadian transplant who now lives in the mountains of New Mexico. She began writing in 2013 after closing her 8-room bed and breakfast (a subject she will never write about. . . )
She's been a criminal prosecutor, college history professor, and bartender, among many other things.
She currently writes smart and sexy historical romance full-time and operates a small poultry rescue on her four-acre hobby farm, where she lives with her wonderful, tolerant husband and many animals.
When she isn't writing or editing she's playing with birds and dogs or doing a little DIY.
Comments
29 comments posted.
Re: Summer BBQ Recipe Roundup: OUTRAGEOUS by Minerva Spencer + Giveaway!

Reading in the garden with my 3 cats.
(Patricia Wong 12:36pm July 19)
going to the creek and watching my grandkids play in the
water and just having fun outdoors
(Vickie Couturier 10:24am July 19)
Favorite summertime activity is playing um I mean working in my garden.
(Linda Gawthrop 11:21am July 19)
Reading, reading, and reading some more. Thanks for the chance to win!
(Nancy Reynolds 3:39pm July 19)
I love walking/running on local nature trails!
(Tracy Urschler 4:25pm July 19)
spending time with family. ...
(Martin Bodnar 10:27pm July 19)
My favorite summertime activity is being outdoors on the
boardwalk at the Nature Center and watching the water in the
creek with a resident gray heron.
(Alyson Widen 11:45pm July 19)
My favorite summertime activity is dining outdoors with
friends.
(Jeana Keller 12:40pm July 20)
Watching a play in an outdoor theatre.
(Susan Jang 1:35am July 20)
Favorite summer activity is hanging out with
grandkids.
(Jane Squires 4:26am July 20)
Your book sounds amazing! Thank you for the opportunity to
enter a contest. Have a wonderful day!
(Tracey Boehm 9:36am July 20)
My favorite summer activity is enjoying the beach with friends and family.
(Mackenzie Baranski 4:51pm July 20)
My favorite summer activity is swimming with my daughter.
(Wendy Flynn 6:20pm July 20)
I like to work in my gardens, go hiking and canoeing, and read.
(Patricia Barraclough 2:11am July 21)
Swimming is my favorite Summer activity.
(Caryl Kane 11:54am July 21)
Spending time with my family and reading
(Anna Speed 12:54pm July 21)
Favorite summertime is either yoga outside or reading on my porch!
(Julie Goldberg 9:27pm July 21)
A cup of coffee and reading on the deck.
(Rebecca Shields 8:21am July 22)
I love walking on the boardwalk!
(Sharlene Wegner 9:13am July 22)
I love going to the lake with my family. So much fun!
(Morgan Jones 1:22pm July 22)
My favorite summer activity outside is swimming. Inside, I love to read.
(Joy Isley 2:37pm July 23)
Walking around the city lakes and going to outdoor concerts
(Margie Takala 8:16pm July 23)
I love going camping!
(B.J. Bernal 11:32am July 26)
Lately I have been doing more staying in and reading or
cleaning house than anything else. We like to travel,
camp out, and visit places we either haven't been before
or return to those we like. We actually prefer to travel
in the Fall because it isn't as hot and crowded. We
therefore spend more summer time at home working our
gardens and cooking out.
(Patricia Barraclough 4:19pm July 26)
Reading on my back porch.
(Cheryl Castings 4:34pm July 26)
I love swimming in the Summer
(Barbara Ryan 7:25am July 27)
Going to the mountains where it is cool!
(LeAnn Abernathy 7:38pm July 27)
Hiking, gardening, and walking my 3 dogs
(Meredith Winn 5:37pm July 30)
Going swimming with my family
(Joanne Mckeareany 9:03pm July 31)
Registered users may leave comments.
Log in or register now!