Kari Lee Townsend | Sunny's Sanctuary + Book Giveaway!

June 14, 2021
Hazard in the Horoscope
Kari Lee Townsend
AVAILABLE
A Sunny Meadows Mystery # 6

June 2021
On Sale: June 22, 2021
Featuring: Sunny Meadows
ISBN: 1648391044
EAN: 9781648391040
Kindle: B08ZM4WFT3
Paperback / e-Book
Add to Wish List

Also by Kari Lee Townsend:
Murder in the Meditation, December 2021
Add to review list
Chaos and Cold Feet, October 2021
Naughty or Nice, June 2021
Naughty of Nice, June 2021

My name is Sunshine Meadows, but everyone calls me Sunny. I'm the heroine of Kari Lee Townsend's Sunny Meadows Mystery series. I used to live in the Big Apple with my well-meaning parents who just don't get me. So, I moved to the small town of Divinity, NY to start over. Something about the town spoke to my soul. You see, I'm psychic. I have visions, but they're not always clear, so I use fortune-telling tools to help me figure out what my visions mean. I bought an ancient Victorian house I call Vicky, and a large white cat appeared on day one. He came with the house and decided to let me live with him. I never see him eat or sleep, and he moves at lightning speed, appearing from out of nowhere in random places. I'm thinking he's immortal, so I named him Morty. After I settled in, I opened my own business and started giving readings in a special room I call my sanctuary. When a person comes to me for help, I get a vibe on what fortune-telling tool to use for that particular person, and then everything becomes clear.
In TEMPEST IN THE TEA LEAVES, I use tea leaves to give a reading for a frazzled librarian, but what I find at the bottom of the cup is anything but helpful. It's harmful, and when the librarian winds up dead, I become the number one suspect. That's when I meet Detective Mitch Stone. He calls me Tink because he says I look like Tinker Bell. I call him Grumpy Pants because we don't exactly see eye-to-eye, and he thinks I'm fake. Let's just say he and the other man in my life, Morty, don't get along.
In CORPSE IN THE CRYSTAL BALL, Detective Stone's ex-girlfriend winds up dead, and this time he is the prime suspect. Morty helps me with clues, and thank goodness for my Granny Gert. Her amazing cookies solve any problem. I'm closer to her than anyone and she moves in with me to help out. Just when Mitch and I are getting along and sparks are starting to fly, I have to put our relationship on hold and use my crystal ball for clues, but this time my clairvoyant abilities might not save me as what I see can actually hurt me.
In TROUBLE IN THE TAROT, I give tarot card readings at the Summer Solstice Carnival, but life can deal out bad cards along with the good. Granny Gert and her arch-nemesis get into a fight over the bakeoff. When the local baker winds up dead, clues point to the Dynamic Duo. Detective Stone has finally asked me on a date, but once again our relationship is put on hold. The police department uses me as a consultant because my psychic visions have come true and helped solved cases before, but Detective Grumpy Pants is not a fan, putting us at odds once more.
SHENANIGANS IN THE SHADOWS is a short story where my naughty cat Morty and my new boyfriend, Detective Stone, cause all sorts of mischief and mayhem when my best friend and her fiancé's antique wedding rings go missing. Mitch and I are finally dating, but we won't be for long if my two favorite men can't behave and learn to get along.
In PERISH IN THE PALM, my boyfriend, Mitch, and cat Morty are more at odds than ever when he moves in with me. With Granny Gert under foot and my parents coming to town for my best friend's wedding, my life derails. After giving palm readings at the rehearsal dinner, the innkeeper winds up dead at the wedding the next day with my mother the number one suspect and me questioning everything.
My latest adventure takes place in HAZARD IN THE HOROSCOPE. I'm engaged! Morty and Mitch have called a truce, so I check our horoscopes to pick the perfect wedding date. When my parents retire and move to Divinity to run the inn, my granny moves in with them. Life is good. My best friend is pregnant with twins, and I suddenly realize I want children but Mitch might not, which could be a deal breaker. Her new husband is charged with murder after his old biker gang rival winds up dead. My happiness will have to wait once more as the calendar calls for a little clairvoyant intervention, but will my fiancé wait for our timing to ever be right?
--
COMMENT TO WIN: To win an autographed copy of HAZARD IN THE HOROSCOPE as well as a mysterious box of goodies, comment on what your favorite fortune-telling tool is. Have you ever had a reading done or want to have one done? If so, what kind?
--
For Psychic Sunshine Meadows, reading a person's sign can lead to disastrous consequences…
Sunny's parents have returned and taken over Divine Inspiration, the idyllic inn on the outskirts of the small town of Divinity, New York. Sunny can live with that since Granny has decided to move in with them, leaving her blessedly alone with her new fiancé, Detective Mitch Stone. Okay, not completely alone since her cat Morty still lives there, but Morty and Mitch have come to a truce of sorts, and life is finally good. If only she could pick the perfect month to get married in. But when she checks the horoscope, the hazard she sees is not a good sign. Shortly after Sunny's vision, her best friend's new husband Cole West is framed for murder when an old biker gang rival winds up dead. Sunny's happiness will have to wait once more as the calendar calls for a little clairvoyant intervention, and saving the date has never been more important.
Mystery Cozy | Mystery Paranormal [Oliver-Heber Books, On Sale: June 22, 2021, Paperback / e-Book, ISBN: 9781648391040 / eISBN: 9781393715177]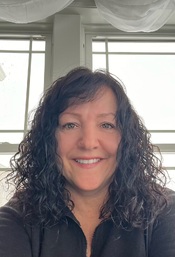 Kari Lee Townsend is a National Bestselling Author of mysteries & a tween superhero series. She also writes romance and women's fiction as Kari Lee Harmon. With a background in English education, she's now a full-time writer, wife to her own superhero, mom of 3 sons, 1 darling diva, 1 daughter-in-law & 2 lovable fur babies. These days you'll find her walking her dogs or hard at work on her next story, living a blessed life.
Comments
31 comments posted.
Re: Kari Lee Townsend | Sunny's Sanctuary + Book Giveaway!

This sounds like a fun series. I have not had any readings done, exactly. It
turned out that two people I know rad auras. They do not know each other and
one is a close friend. Because of that, she hesitated to read mine because she
knew me and figured it might influence her reading. The other gal, who was
just a casual acquaintance rad everyone at the table at one of our
organization's meetings. I mentioned it to my other friend and she said they
were the same results she got. They were pretty accurate. I won't have my
fortune told because I don't want bad news. I do believe since I have
premonitions about things happening and they are frighteningly accurate. I saw
my uncle killed during the Korean War in a dream on my 5th birthday. I was
punished severely for upsetting the family when I told them. My grandparents
got the telegram later that afternoon informing them of his death right when
and hw I saw it. I learned not to tell anyone after that.
(Patricia Barraclough 12:32pm June 14)
I had a palm reading done once at a community fundraiser and I found it fascinating and amazingly accurate. I follow horoscopes for fun and also think Tarot card readings are intriguing.
(Linda Gawthrop 8:05am June 14)
Wow, that is fascinating, Patricia! I have found readings
I've had done to be pretty accurate as well. Good luck to
you.
(Kari Townsend 9:00am June 14)
I love following horoscopes. Good luck to you, Linda ;)
(Kari Townsend 9:01am June 14)
those books sound like fun to read
(Vickie Couturier 10:58am June 14)
I read my horoscope but that's all!
(Linda Herold 11:28am June 14)
I had a blast writing them, Vickie ;)
(Kari Townsend 11:36am June 14)
You should try a reading sometime, Linda. They're fun!
(Kari Townsend 11:37am June 14)
I like palm readers. I have had my palm read and it was amazingly
accurate!
(Linda Langford 1:27pm June 14)
I went to palm reader many years ago once, but I do read my
horoscope sometimes.
(Lynn Brown 2:17pm June 14)
I have never had a reading done
before but I think it would be
interesting. And I have always loved
the colorful tablecloths that are
used underneath the crystal balls you
see in tv. This sounds like a really
neat series.
(Sarah Woodhouse 2:36pm June 14)
I had a Tarot card reading once and despite trying to keep my reaction as flat and
non descriptive as possible it still touched on some truths.
(Tracy Urschler 5:39pm June 14)
I've never had a reading done. I wouldn't mind meeting with a medium.
(Kara Marks 6:03pm June 14)
Yes, I've had my hand read. I believe it's called palm
reading.
(Alyson Widen 7:20pm June 14)
I guess reading tea leaves sounds interesting. But no, I've
never had a reading done and do not want one. I don't want
to know the future.
(Tanja Dancy 8:37pm June 14)
tarot cards...
(Martin Bodnar 8:51pm June 14)
Drop me a line and let me know if any of you have another
reading done. I would love to hear all about it. Happy
reading ;)
(Kari Townsend 9:50am June 15)
I've had several readings. One used tarot cards but
nothing she said was ever clear. The other reading was by
a very talented medium and we spoke over the phone.
Everything she told me was spot on. I hope to have another
reading with her soon.
(Brenda Ellis 10:47am June 15)
I love this series! I've had tarot card readings and
readings with psychics who read energy and interpret
what they're seeing/reading...if I'm describing that
accurately. Some readings have been spot on and others
not so much. I enjoy them though!
(Dawn Halverson 6:53pm June 15)
I've never had a reading, but it's always been intriguing.
(Naghma Husain 8:51pm June 15)
Fortune cookies but just laugh about them. Would love to win
and review
(Jane Squires 9:32pm June 15)
I have never had a reading done. Would be interested in
having palm reading done someday. I do like to check my
horoscape occasionally.
(Cherie Japp 12:42pm June 16)
I've never had a reading, but it might be fun. Thanks for
the giveaway.
(Anna Speed 11:23am June 16)
Hi Kari. I grew up in Greenwich Village, and I love cozy
mysteries, so thanks for the chance at a giveaway.
(Emily Shemin 4:17am June 17)
Whoops, when I was answering the question on the entry page,
it totally did not register that you were talking about palm
readings, and I thought you were asking about reading aloud
from a book. I feel silly.
(Emily Shemin 4:19am June 17)
I have had a psychic reading. Looks like a great series.
(Rebecca Shields 6:20am June 18)
I have never had a reading done, but I do follow my horoscope in the newspaper.
(Bonnie H 8:27pm June 18)
I've had a psychic reading and the use of tarot carrds a
couple of times and like both.
(Tina Rucci 11:38pm June 18)
YEs! I have had a reading done with cards....i guess they
are called tarot cards. I'd love another one from her.
(Sabrina Templin 2:35pm June 20)
Your books sound like fun. Can I find them in the public
library?
(Patricia Hawes 10:36pm June 20)
Palm reading is my choice.
The books have been added to my TBR list, they sound like fun reads.
(Joy Isley 1:10pm June 22)
Registered users may leave comments.
Log in or register now!