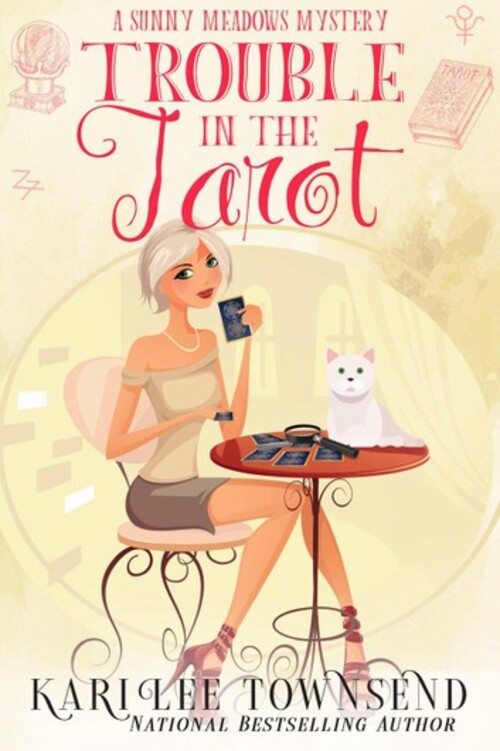 Purchase
Fortune Teller Mystery #3
Oliver-Heber Books
March 2013
On Sale: March 5, 2013
304 pages
ISBN: 0425251977
EAN: 9780425251973
Kindle: B0099CWK0I
Paperback / e-Book
Add to Wish List

Mystery Cozy | Mystery Paranormal
For psychic Sunshine Meadows, sometimes fortunes can be deceiving…
Lately Sunny has been experiencing a period of big opportunity: her business in Divinity, New York, is thriving, and Detective Mitch Stone has finally agreed to take Sunny on a date. But thanks to her clairvoyant abilities, Sunny knows better than anyone that life deals out bad cards along with the good. When Sunny agrees to read tarot cards at the annual Summer Solstice Carnival, she meets her Granny Gert's "arch nemesis" Fiona Atwater, and is overcome by a vision of Fiona in a violent argument. Sunny knows trouble is brewing when Granny and Fiona start having squabbles all over town. But the fighting comes to a head when a local baker gets run over by a big white Cadillac--and Granny and Fiona are found at the crime scene. Sunny knows she should step aside and let Mitch handle the investigating, but she's not about to ignore her visions and leave her granny's life in fate's hands...
Fortune Teller Mystery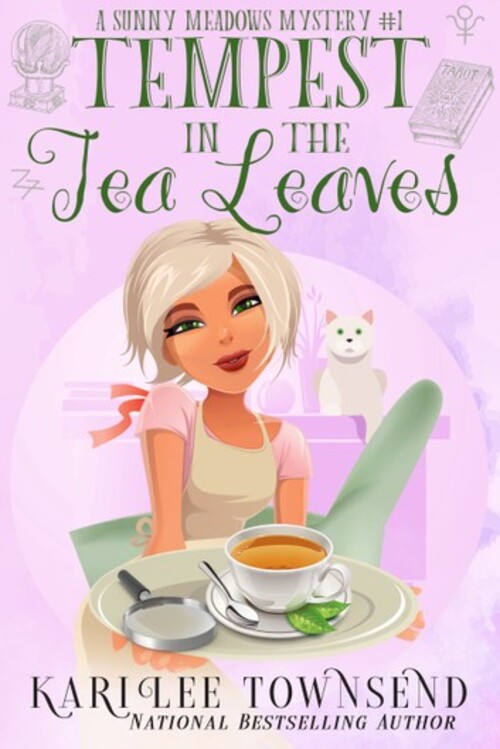 Tempest in the Tea Leaves
#1.0
Amazon.com | BN.com | | |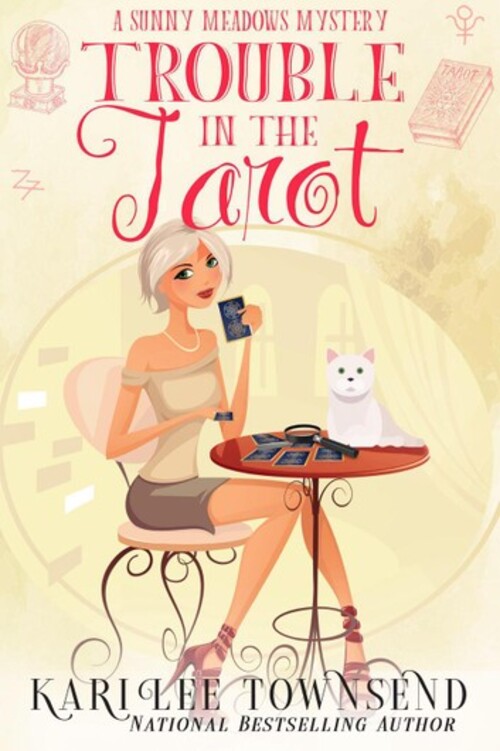 Trouble In The Tarot
#3.0
Amazon.com | BN.com | | |
Comments
39 comments posted.
I like it all and an author that can put it all together and keep my attention gets a permanent spot on my book shelf!
Good luck and happy writing!
(Tracie Travis 12:43pm March 16, 2013)
I totally like the cover that you used.Its so different from the usual. :)
Good Luck and Happy St.Patrick's Day to you.
Sydney W
Bookaddict100(AT)gmail(DOT)com
(Sydney W 2:20am March 16, 2013)
I love humor and romance in mysteries, it adds a certain
lightness to a genre that can be too "hardcore", at times.
Quirky characters are always a plus because they are easy to
relate to.
(Courtney DeJesus 3:38am March 16, 2013)
I like cozies with the village characters or town people. Makes for great secondary characters.
(Lisa Fitzgibbons 5:49am March 16, 2013)
Characters that are memorable, romance that is lasting and a
great locale.
(Sharon Berger 10:04am March 16, 2013)
I definitely like humor in my cozies! I also like a little
paranormal element as well.
(Rebecca Whitehead-Schwarz 10:39am March 16, 2013)
this sounds like it has everything i cannot wait to read it!
(Debbi Shaw 11:09am March 16, 2013)
I like the humor in romance and also mysteries. I like to laught out loud.
(Leona Olson 11:18am March 16, 2013)
I really like romance with a mystery thrown in. It gives the characters something to do to get to know each other.
(Pam Howell 12:28pm March 16, 2013)
NICE cover! would LOVE to win & read! PICK ME!!
(Pamela Faye Howell 2:12pm March 16, 2013)
I like them with humor, ghosts, a mystery, and romance. I
especially like them when they have cats or dogs.
(Susan Clickner 3:31pm March 16, 2013)
Yest to humor (in any type of book), and yes to romance in mystery novels.... it gives you a dual track to follow so you never get bored.
(Donna Holmberg 7:14pm March 16, 2013)
i love any cozy.love the cover.thanks for the chance
(Jennifer Beck 7:49pm March 16, 2013)
I like characters with a dry sense of humor which can be very handing when dealing with a murder, so yes to humor in mysteries!
(Janis Milford 8:45pm March 16, 2013)
I like humor in my books. I hope you pick me!

Charlene
[email protected]
(Charlene Fraley 9:18pm March 16, 2013)
all life is better with a little humor..would really love to read one of your books..love cats and love your cover...thanks
(Kimberly Hoefs 9:24pm March 16, 2013)
Congratulations on your new book! Love the cover. I enjoy my mysteries with a little humor and romance.
(Bonnie H 9:34pm March 16, 2013)
I must confess that I'm not familiar with your books, but after reading your posting, I'm in complete agreement with your outlook on adding a bit of humor. I adore the cover to your latest book, as well as the covers to your other books!! They are definately going on my TBR list - not just due to the covers, since I have 2 kittens of my own, but because I love the way you think!! I know that I'm going to love your books!! Adding a little bit of humor breaks the mystery just a bit, and moves the story along, so that the book isn't so droll!! Congratulations on your latest book!!
(Peggy Roberson 9:55pm March 16, 2013)
I love humor in books, especially in cozy mysteries. I read to escape my every
day life, so without humor why read them?
(MaryAnne Banks 9:58pm March 16, 2013)
I would love to read this book! I love the cover art as well complete with a white cat.
(Callie Stuck 11:04pm March 16, 2013)
I like the way you think. Your thoughts remind me of Christie Craig's,
Rachel Gibson's and Susan Elizabeth Phillips books, which I adore. I like
when a little humor or mystery is in a romance book that I read. And as you
said it doesn't take over. I've not read any if your books but I do look
forward to checking them out.
(Ginger Robertson 11:26pm March 16, 2013)
Why not....just look at Joan Rivers who at almost 70 has humor yet is seeking romance?
(Susan Coster 11:26pm March 16, 2013)
I do like finding characters to cheer on - characters you feel something for - and I do like a series with characters who develop over time. I do enjoy recipes, knitting patterns, some sense of place - it's always fun to read about places I've been and can picture the action happening on that street, in that park, at that City Hall. I want to hear accents, laugh a little, see their faces in my mind.
(Beth Fuller 11:27pm March 16, 2013)
I like humor in my books I read. Would love to win.
(Amy Milne 11:49pm March 16, 2013)
Book sounds great. Love the cover. Thanks for a chance to win.
(Linda Hall 11:56pm March 16, 2013)
Yes to both!
(Mary C 11:57pm March 16, 2013)
I love the humor in the cozy mysteries. Sometime the story gets a little too serious that there has to be some humor just to break the ice. I love having animals on the covers of the cozy (especially cats). Thanks for the giveaway.
(Kai Wong 12:58pm March 17, 2013)
I always love a touch of humor.
(Mary Preston 4:40am March 17, 2013)
I am a huge fan of cozies and really enjoy them to be spiced with humor.
(Rebecca C Wright 7:57am March 17, 2013)
There is absolutely nothing wrong with humor and romance in a mystery. The characters have to be able to laugh and love to be well rounded. Sometimes a cozy mystery is just the ticket to escape the reall world. Something everyone needs once in awhile.
(Annetta Sweetko 9:12am March 17, 2013)
Humor is always welcome, it adds to the story.
(Rita Wray 9:32am March 17, 2013)
I love interesting characters, witty conversation, I enjoy the eccentric (especially when they don't even know it), humor is a plus.
(Carla Carlson 9:40am March 17, 2013)
I enjoy a little romance and humor in my cozies---I read them for pure escapism and need them to be happy and upbeat with lots of quirky characters.
(Sue Farrell 11:35am March 17, 2013)
I love humor in all things. And I see no reason why romance can't be
included in mystery. As long as the mystery remains the focus and doesn't
get lost.
(Penny Mettert 11:45am March 17, 2013)
I like to read mystery's, but it is always great when there is
a little humor and some romance in them. As long as it
doesn't take away from the original story line.
(Sharon Salituro 4:34pm March 17, 2013)
I read several cosy series and am always willing to try another. I do not like to read quirky characters who are added just for the sake of being quirky. The town or neighbourhood has to function and it can't do that if every doctor goes fly-fishing instead of working and every receptionist gossips constantly instead of working, or whatever. But an interesting character, who contributes to the story, yes.
(Clare O'Beara 11:56am March 18, 2013)
I love humor and romance in my cozies!!
(Susan Dyer 10:28am March 19, 2013)
I love humor.
(Kathy Sullivan 11:40am March 19, 2013)
Having a bit of humor in everything just adds more to
it,whether romance or mystery etc.
(Joan Bogorae 10:22pm March 19, 2013)
Registered users may leave comments.
Log in or register now!