Adriana Anders | Exclusive Interview: WHITEOUT + Giveaway!

January 28, 2020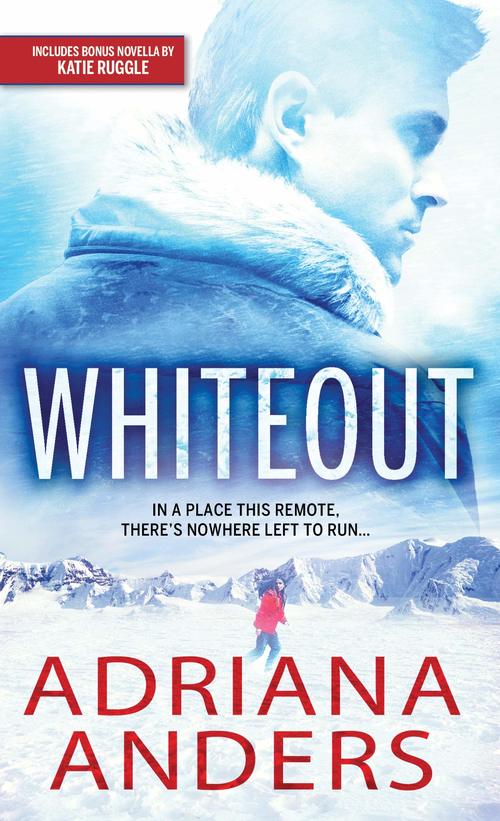 AVAILABLE
Survival Instincts #1

February 2020
On Sale: January 28, 2020
Featuring: Angel Smith; Ford Cooper
448 pages
ISBN: 1492698709
EAN: 9781492698708
Kindle: B07NVSGP8F
Mass Market Paperback / e-Book
Add to Wish List

Also by Adriana Anders:
Whiteout, February 2020
In His Hands, August 2017
By Her Touch, April 2017
Under Her Skin, February 2017

Welcome back to Fresh Fiction, Adriana! Please tell us about your new series, Survival Instincts, and the first book, WHITEOUT.
Thank you so much for having me! It's a pleasure, as always!
My new Romantic Suspense series, Survival Instincts, pits my heroines and heroes against nature and a group of big baddies who want to change the face of the planet. I'm calling the subgenre Survival Romance, because each book follows a specific couple into extreme run or die situations. WHITEOUT, the first in the series takes us to Antarctica, at the cusp of the long, dark winter.
Angel Smith is a chef at a research facility in Antarctica – and she has her own reasons for finding a job at the edge of the world – but aside from dealing with the cold temps, she doesn't think her job will be all that difficult. . . until she finds herself on the run across the frozen landscape from a killer. Tell us more about Angel's character development, and how she deals with this intense situation!
From the start, Angel is a strong person, both mentally and physically--she's a woman who climbed the ladder and held her own as a chef in a male-dominated field. Of course, even that couldn't prepare her for an unplanned trek across the world's coldest continent--and all the dangers therein. While the trip saps her strength and circumstances make survival virtually impossible, her true self emerges. She delves deep and taps into a tenacity, a strength of character that she'd never known. That's when we see the real Angel.
Lori Foster, who was kind enough to read the book, tweeted: "Such a strong female lead, who had to fight so hard, and yet still feminine. Absolutely fabulous balance!!" I ADORE this quote. Link: https://twitter.com/LoriLFoster/status/1215221129763266561
Ford Cooper is a grumpy glaciologist who prefers the quiet expanse of Antarctica to interacting with people. Even under extreme stress, Angel can't deny there's just something about him. . . What do you love the most about Ford?
Oh, I love that Ford is a sweetie, despite his icy exterior. Antarctica is his safe place. Until the Research Station's blown to hell. After that, a big part of Ford's journey is about finding his inner strength, against all odds--much like Angel. Although maybe it's more about finding inner peace. And accepting who he is. When he finally gets there, what emerges is beautiful.
Angel and Ford spend most of this book fighting to survive in harsh wilderness and unbelievably cold temps – what sort of research did you do into how people actually survive in such crazy conditions?
I spent a ridiculous amount of time researching this book and, in the process, fell in love with Antarctica--its natural mysteries and treasures, along with the social aspects of life there. It's an unforgiving environment, which creates very close ties between its inhabitants.
I was lucky enough to interview a couple who had spent a few seasons there. And even cooler, one of them was a cook at the South Pole facility, which offered great insight not only into the workings of the place, but what standing out on the ice actually felt like.
I have a secret weapon when it comes to survival research, though, which is that my brother is a climbing guide. He spends his working days (and nights) in some of the world's most dangerous places--hiking, rock- and ice-climbing, skiing. . . As someone who has guided expeditions to places like the summit of Mount Denali and been a Climbing Park Ranger on Mount Rainier, he is a fount of information.
This novel is set Antarctica, naturally one of the most beautiful and treacherous parts of the world. What compelled you to set a novel there?
It originated with a tweet! I had proposed the Antarctica idea as part of a different series and, my editor, Mary Altman, liked it, but it wasn't until I tweeted about The Mountain Between Us that it really clicked into place. What's interesting is that, in the end, I think this book is a lot less about the steamy times and a lot more about man vs. nature and inner strength.
Link: https://twitter.com/AdrianasBoudoir/status/916007704694525952
2020 is here! The start of a new year of course, but also a new decade! What are some of your hopes for the next ten years?
Oh, wow. That's a big one. I've got lots of answers. I mean, my 9-year-old and a 7-year-old will be adults! My ideal decade would involve my babies growing up happy and healthy and kind.
But you're probably talking publishing, so I'll focus on that. I've got an absurdly long list of stories in my head, clamoring to get out. A women's fiction book or two, a Rom Com, more thrillers and adventures, some super-steamy shorts. What I'd like for the next decade is to tell these stories, while staying true to my core message and beliefs—that everyone deserves love and hope, even in very dark times.
What can readers expect from you next?
I'm working on book 2 in the Survival Instincts series--Evergreen Grave, in which Leo (whom we meet in WHITEOUT) crash-lands in the wilds of Alaska and has to team up with a stranger in order to survive. More to come soon!
Rapid Fire Random Questions
Favorite Romance Trope: Forced proximity… Surprise!
Go to mani/pedi nail polish color: Gold
Do you dog-ear or use a bookmark in your books?: I'm a terrible person and I dog-ear. Honestly, don't tell anyone or I'll become a pariah.
Pancakes or waffles?: Waffles
Favorite book from childhood: I can't possibly choose one. As an early reader, I devoured books like From the Mixed-Up Files of Mrs. Basil E. Frankweiler and A Wrinkle in Time. The Boxcar Children was one that I haven't revisited with my kids, but my memories of it are so vivid.
Morning person or night owl: Either/or, as needed!
First thing you'd splurge on if you won the lottery: Travels. Maybe a trip to Antarctica!?
A song that will always cheer you up: I Can See Clearly Now
Favorite season: Autumn
You have a totally free afternoon - no deadlines, no obligations, no Twitter notifications! What do you do?: Read!!!!!
--
COMMENT TO WIN: Tell us how you'd cope with being stranded in the Antarctic wilderness for a chance to win a copy of WHITEOUT! US and Canada only - GOOD LUCK!
--
Survival Instincts #1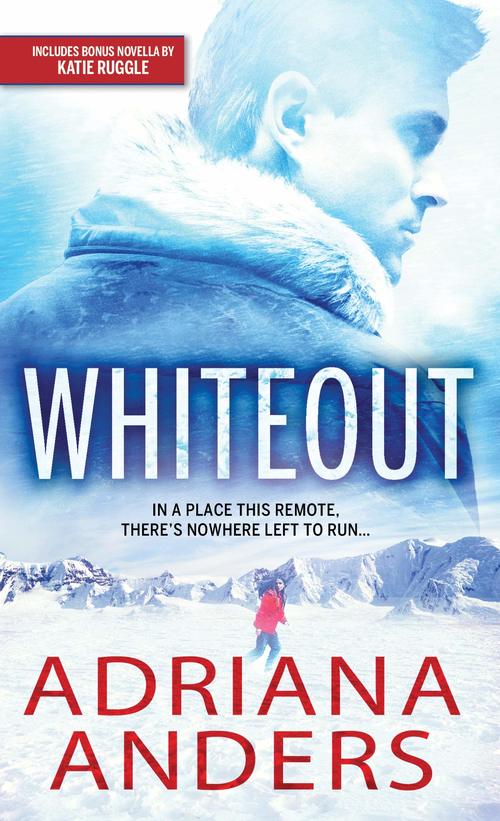 Angel Smith is ready to leave Antarctica for a second chance at life. But on what was meant to be her final day, the research station is attacked. Hunted and scared, she and glaciologist Ford Cooper barely make it out with their lives. . . only to realize that in a place this remote, there's nowhere left to run.

Isolated in the middle of a long, frozen winter with a madman at their heels, they must fight to survive in the most inhospitable--and beautiful--place on earth. But the outside world depends on what Ford and Angel know and, as their pursuers close in and their new partnership burns bright and hot, they will stop at nothing to make it out of the cold alive.
Romance Contemporary | Romance Suspense [Sourcebooks Casablanca, On Sale: January 28, 2020, Mass Market Paperback / e-Book, ISBN: 9781492698708 / eISBN: 9781492698708]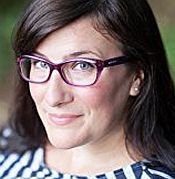 Adriana Anders has acted and sung, slung cocktails and corrected copy. She's worked for start-ups, multinationals and small nonprofits, but it wasn't until she returned to her first love--writing romance--that she finally felt like she'd come home. Today, she resides with her tall French husband, two small children and fat French cat in the foothills of the Blue Ridge Mountains, where she writes the dark, gritty, emotional love stories of her heart.
Comments
49 comments posted.
Re: Adriana Anders | Exclusive Interview: WHITEOUT + Giveaway!

I cannot even imagine how I would survive. I love to read
these types of stories for inspiration and ideas.
(Nancy Reynolds 9:31am January 28)
love these kind of stories
(Margo Beredjiklian 1:48pm January 28)
one of my favorite types of books to read
(Vickie Couturier 6:02pm January 28)
I can't imagine but in such cold conditions.
(Cynthia St. Germain 9:09pm January 28)
I would not be able to survive.
(Melanie Rosen 1:49am January 29)
Need to find a spot that is blocking some of the snow. Build a snow wall around in. small opening for air. Rake out the snow from ground inside. Most likely have a Backpack and some supplies. Main thing stay out of weather and warm as possible.
(Vera Wilson 3:48am January 29)
I would die. No survival skills.
(Anna Budziak 7:36am January 29)
Have no idea how I would cope. Just try to fine a way to stay warm and dry.
(Blanche Nixon 9:53am January 29)
I don't know what I'd do if I found myself stranded in the
cold wilderness, but I'd definitely find any way possible
to survive.
(Tina Rucci 3:25pm January 29)
Hopefully would have a firestarter, some really warm
clothes, and some type of hatchet or axe
(Jean Patton 7:54pm January 29)
If I were to be stranded in Antarctica, I'd get out my Girl
Scout common sense and figure out how to create a shelter.
It would be difficult if food, water and shelter were not
easily accessible. I would probably have a thick book and
keep rereading it.
(Alyson Widen 12:53pm January 30)
I'm used to snow and cold temps after growing up in Wisconsin but that nowhere
near would prepare me for the Antarctic.
(Tracy Urschler 8:27pm January 30)
I grew up on the Canadian border, so am used to snow and cold. I have been stranded in blizzards several times and have no desire to repeat the experience any time soon. If by being stranded, you mean inside, I would make sure there was a sufficient fuel supply for heat, food, and a well stocked library. If outside, I would be desperately be trying to make a snow shelter and would hopefully have some means to keep warm - sleeping bag, warm clothing, a heat source of some type (even a candle). A supply of food and some hope of being rescued would certainly be desirable. If none of the above were possible, I would expect to be found as a popsicle some time in the future.
(Patricia Barraclough 3:06am January 31)
Thank you for the chance to win!
(Jamie Rincker 11:45pm January 31)
I can't imagine being stranded there. Of course, the first thing I would do is
search for shelter or a way to make a shelter. After that, I have no idea. Lol
(Amanda Wimer 8:23am February 1)
I'm from the deep south, so I have no idea how I would be able to live in a place that cold, but I do want some good books to read to pass the time.
(Anna Speed 1:35pm February 1)
I could not survive that barren land.
(Sharon Good 2:35pm February 1)
I hope someone is stranded with me, so we could help each other.
(Jana B 7:16pm February 1)
I would find a way to THRIVE!
(Martin Bodnar 7:57am February 3)
Looks like New York during thanksgiving. Im from the south and nobody
mentioned how cold it gets up here. I would probably not thrive
(Audra Spencer 10:17am February 3)
Love to read this type of story but would not like to
experience it myself!Thanks for the contest!!
(Teresa Ward 6:51pm February 3)
I would hope that someone that knows how to survive in that
would be with me!
(Sherry Haut 10:49pm February 3)
I guess the best thing to do would be not to get stranded
in the first place? But be prepared in case you do!
(Lyssa H 11:08pm February 4)
looking forward to reading this book
(Kim Hansen 4:54pm February 5)
I would probably dig myself a snow cave and hope to be
rescued! Thank you for the giveaway.
(Margie Takala 5:02pm February 5)
Love these kind of stories. This book sounds like a
fantastic read. Reading and analyzing and rating books is
what I like to do. Would love to read and review the
paperback version of this book. Wow very suspenseful.
Usually don't care for book covers like this but you made
the book cover look interesting and intriguing. Book
blurb and excerpt is interesting and intriguing too.
How would I cope in the Antarctic being stranded? I would
walk and walk until found the closest building to stay in
temporarily or until rescued and stayed warm by chopping
wood for the wood stove or fireplace to keep warm. If I
had a snow dog with me or made friends with one while
trying to find a place to stay warm, I would snuggle up
to the animal to stay warm. Staying warm under blankets
and snuggling with an animal to stay warm while stranded
would help anyone and I would do this until rescued. I
would not use a kerosene heater because it could burn the
place down.
Hope I win.
Crystal
(Crystal Stewart 5:12pm February 5)
I was lucky enough to read an e-ARC of this book. It was
very good. I'm looking forward to the next book.

I'm from the South...I would never survive the Antarctic.
LOL
(Ann Ivey 5:26pm February 5)
I don't think I could cope!
(Lindsey Andronak 5:55pm February 5)
Since I'm 77 and hate cold weather & wouldn't have my 2 dogs to keep me warm, I don't think I would make it.
(Pat Wilson 6:34pm February 5)
I am past the age where I would or could survive stranded in that kind of cold environment. My only saving grace is that I very likely wouldn't even be there.
(Susan Beamon 7:47pm February 5)

(David Fredendall 8:21pm February 5)
I would TRY to remember all of the survival tactics my
husband has told me...he is big on being prepared. If I was
totally alone, I am just not sure if I WOULD survive. I
absolutely LOVE reading/reviewing books like this one. I
love reading about Antarctica and snow!
(Jamie Gillespie 8:25pm February 5)
I wouldn't. I can't imagine a way I'd survive.
(Linda Townsend 8:27pm February 5)
Although, I live in Canada, I live closer to the US border. I do not think I would be able to cope in the Antarctic wilderness.
(Susan Jang 10:07pm February 5)
I love survival movies (especially in the snow) but I don't
think I've actually read a book on the subject but it
definitely sounds awesome. I live in the south and don't
have much experience with snow and freezing temps....lol. I
hope that I would be able to bring forth any survival
techniques that I would have learned from movies or tv and
apply that to the best of my ability or hopefully I wouldn't
be alone and would have someone like Ford/hero to help me.
Thanks for the chance and congrats on your book.
(Tina Alicea 10:37pm February 5)
Not well at all. Just bury me now. LOL
(Linda Poindexter 10:31am February 6)
I am afraid I wouldn't survive. I dislike cold weather
(Patty Wright 1:53pm February 6)
I don't mind the cold and if I had a hot guy to help me stay
warm...even better!
(Rosie Hoskins 8:36pm February 6)
Going to the Antarctic would be horrible way to get a second
chance at life. Like my grandpa always said, "When Hell
freezes over."
(Thomas Gibson 1:40am February 7)
Find somewhere warm and read books.
(Susan Clickner 12:27pm February 7)
While I like to think I'd build an igloo or something
resourceful like that, I'd probably freeze to death in
actuality
(Jill Miller 3:39pm February 7)
I don't think I would make it, I'd probably die pretty quickly.
(Jennifer Cecil 10:31am February 8)
Im not sure I would cope well. I hate being cold. Thank you!
(Beth Shepherd 7:41pm February 8)
I'm not sure how I would make it. I hate being cold. I guess I would try to find shelter and stay warm.
(Victoria Kondovski 7:43pm February 8)
Shelter and warmth makes or breaks it here obviously. If I had a parka
and could make a snow shelter I'd have a shot.
(Sandy Klocinski 6:35am February 9)
I wouldn't be able to cope in those conditions. I guess I'd die.
(Lori Byrd 5:20pm February 9)
I would try to survive with the skills I have learned from watching survival
shows, but I know they make it looks easier than it is.
(Angela Saver 7:51pm February 9)
I guess I'd stay warm and read. I wouldn't like it there though!
(Heather Amos 2:41pm February 10)
Does crying count ;) Thank you
(Candie Luster 8:52pm February 10)
Registered users may leave comments.
Log in or register now!