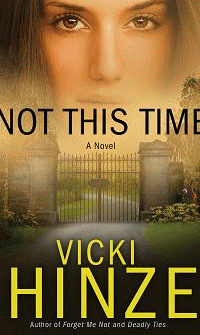 Enter to receive a copy of NOT THIS TIME, trade paperback and the 1/2 caret diamond necklace.
"Tense, breathless, multi-layered — and highly recommended." —Lee Child
"Vicki Hinze's new thriller, NOT THIS TIME, hones suspense to a razored edge. Riveting, relentless, and fraught with betrayals, here is a novel that cuts both to the bone and to the heart. Not This Time should be retitled Not to be Missed." James Rollins
"If you're not already hooked on Vicki Hinze's Crossroads Series, you will be this time. NOT THIS TIME is a tense and involving tale of crime and violence that takes the reader from the deepest darkness of the human heart to the light of redemption." —Susan Wiggs
"In NOT THIS TIME, Vicki Hinze has created a tense, suspenseful story, peopled with vivid characters and set against a backdrop of deadly danger. I know I can always count on Vicki for an absorbing story I'll remember long after I've closed the book, and NOT THIS TIME was no exception. Do yourself a favor and pick this book as your next read." —Kay Hooper
"Hinze paints her tale on a broad canvas, her writing expertly controlled, rich in imagination, deep in characterization. It's a race against time and shadowy instincts, the narrative loud with surprises, the premise all-too-believable." —Steve Berry
"Vicki Hinze has created a "Keeper!' Not This Time is engrossing, entertaining; the pages are filled with excellently drawn and very real people, and a story that keeps you turning the pages!" —Heather Graham
Not This Time
Order Today
Small town scandal. International terrorist attack. Who among them is the traitor?
Sara and Beth have built a multi-million dollar business together, but their once solid friendship is now strained. Beth is leery of Sara's husband, and when he is kidnapped, authorities consider Beth their prime suspect.
Then, their small town of Seagrove Village is rocked by an act of terrorism, and Beth doesn't know who to trust. Someone she knows is linked to the attack, but who? Is there a connection to Crossroads Crisis Center? In the midst of the confusion and fear, Beth finds herself attracted to a man from her past. She knows she shouldn't fall in love with him, but she can't resist or even explain their bond. As her world unravels around her, she wonders, is it possible to be beyond redemption?
Contest ends: March 31, 2012