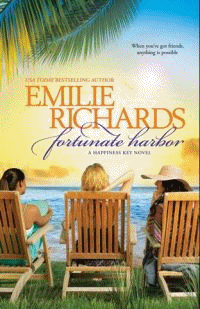 You'll almost feel the salt breeze as you indulge in a basket brimming with White Citrus gifts from Bath and Body Works. Enjoy shower gel, body lotion and more, along with a candle, rosette sponge and chalkboard mug–complete with chalk–in a basket you can enjoy for years. Enjoy, too, signed copies of Happiness Key and Fortunate Harbor, (Mira Books) the first two novels in Emilie's Happiness Key series. Two additional winners will receive signed copies of Happiness Key.
Fortunate Harbor
Order Today
Southern California socialite Tracy Deloche finally gets a chance to swap business for a romantic evening with down home environmentalist Marsh Egan, but dinner goes cold when she spots her ex-husband prowling outside her cottage. Janya Kapur, finally settling into an arranged marriage, envies every pregnant woman she sees, but Rishi, her husband, is suddenly reluctant to talk about children. After Waitress Wanda Gray loses her job, she starts her own business, as well as Pie War I with the local bakery.
When the empty cottage at Happiness Key is rented by single mother Dana Turner, all the neighbors believe this spit of Florida Gulf Coast land will be a fortunate harbor for a mother and daughter who have moved far too often. Until they discover Dana's shocking secret.
As the women of Happiness Key struggle to discover the whole truth in time to help their new neighbor, their only weapon is friendship. But will friendship be enough?
Read more about Fortunate Harbor and all Emilie's novels at her website, including recipes, excerpts and reader discussion questions.
Also visit her reader friendly Facebook page and her blog, Southern Exposure.
Contest ends: July 26, 2010