Monique Daoust: Kerrelyn Sparks's HOW TO MARRY A VAMPIRE MILLIONAIRE was my introduction to both contemporary and paranormal romance, and I have remained a fan all along. It is my pleasure to welcome Kerrelyn Sparks to Fresh Fiction today!
Kerrelyn Sparks: Thank you for inviting me!
Monique Daoust: You had been keeping secrets from us! How do you feel about kicking off a brand new series so different from anything you have written in the past?
Kerrelyn Sparks: I'm very excited! The Love at Stake series went on for sixteen books, so even though I love that gang of vamps and shifters, they eventually started to feel like family members who came for a visit and would never leave! I was ready for a change, and for the last several years, some interesting ideas for a new series had started to pester me. Some readers may not realize that I actually started my career by writing historical romance. So the historical aspect of the new Embraced series was not that strange for me. I also love world building. Creating a totally different world presented me with the ultimate challenge, and I was eager to give it a try!
Even though the Embraced series may seem very different, there are some similarities to the old one. My writing voice and sense of humor have remained about the same. In the Love at Stake series, the vamps and shifters were basically outcasts from society, who banded together to form their own family. In the Embraced series, you have the Embraced—those who were born on the night the twin moons embrace and have some sort of magical power. They are also a group of outcasts, and over the course of the series, they become a family.
Monique Daoust: How did you choose the world for your new series? Anything specific that inspired you? What type of research did it entail, if any?
Kerrelyn Sparks: I usually describe the new series as Game of Thrones meets The Princess Bride, because even though I planned to have action, adventure, and suspense, I knew there would also be humor. The world was mostly inspired by medieval Europe and consists of five kingdoms that are constantly at war, within their own borders and with each other. I wanted a world full of castles, swordfights, chase scenes, and even parkouring. And I wanted to populate this new world with ruthless kings, dragons, witches, ghosts, shifters, and the Embraced, who all have some sort of magical power.
Monique Daoust: Had writing fantasy romance been on your mind for a while, or was it a recent decision? What sparked the idea?
Kerrelyn Sparks: I've been wanting to write fantasy ever since the Lord of the Rings movies came out. With fantasy, everything seems bigger to me. Bigger sets, more majestic scenery, larger-than-life characters, and more danger with bigger stakes. Even the romance seems bigger when there are these huge fantastical and magical elements to overcome before the hero and heroine can have their happy ending.
Monique Daoust: What else do you read?
Kerrelyn Sparks: I love fantasy! I'm a big fan of Lord of the Rings, the Chronicles of Narnia, and Harry Potter. I grew up devouring Mary Stewart, Jude Deveraux, Julie Garwood, Amanda Quick, Anya Seton, Daphne Du Maurier, Dorothy Dunnett, Jane Austen, and Charles Dickens. I read fantasy, historical fiction, suspense, and several sub-genres of romance (historical, paranormal, urban fantasy, futuristic, contemporary, and suspense).
Monique Daoust: HOW TO TAME A BEAST IN SEVEN DAYS defines this fabulous new world, and we will be looking forward to the stories of the five "sisters". Can we also look forward to Brody's story? I think I won't be the only one to ask that question!
Kerrelyn Sparks: Brody will continue to appear in each book, and yes, he will eventually be the hero in his own book!
Monique Daoust: After you wrote HOW TO TAME A BEAST IN SEVEN DAYS, had you already thought of the outlines for the subsequent stories?
Kerrelyn Sparks: I'm too much of a pantser to do anything practical like planning ahead. At times that feels a bit scary, but unfortunately, that is the way I am. My subconscious knows much more than I realize, and I've had to learn to trust in it, that it will reveal the right path. That's when the magic happens! Besides, if I knew everything ahead of time, it wouldn't be an adventure! It would be more like writing a book report. Ugh!
Monique Daoust: You write both paranormal and historical romance. I loved your historical romance as much as your vampires, do you plan to write any more historical romances?
Kerrelyn Sparks: I'm so happy you enjoyed the historical romances! I don't really see myself doing another one, unless it includes paranormal or fantasy elements. I've been out-of-the-box for too long now. I don't think I can go back in!
Monique Daoust: The Embraced series has all the makings of fairytales for grown-ups, and it was wonderful to see that you have lost none of your sense of humour: I will never forget Luciana and the pea! Kerrelyn Sparks, thank you so much for visiting us at Fresh Fiction and all the best for your wonderful new series!
Kerrelyn Sparks: Thank you so much!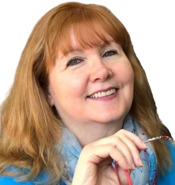 Kerrelyn Sparks is the New York Times bestselling author of the Love at Stake series. Her next series, The Embraced, is best described as Game of Thrones meets The Princess Bride. It will begin March 7, 2017 with the release of How to Tame a Beast in Seven Days. Although Kerrelyn is best known (so far) for the Love at Stake series, which has hit as high as number 5 on the New York Times list and 22 on the USA Today list, she hopes her readers will love The Embraced as much as they did her merry band of vamps and shifters.
3 comments posted.
Very nice interview Monique. The book sounds like one I would love to read. Thanks for the heads up.
(Annetta Sweetko 8:04pm March 11, 2017)