Samantha Chase | Top Five Activities for Your Inner Daredevil

April 13, 2016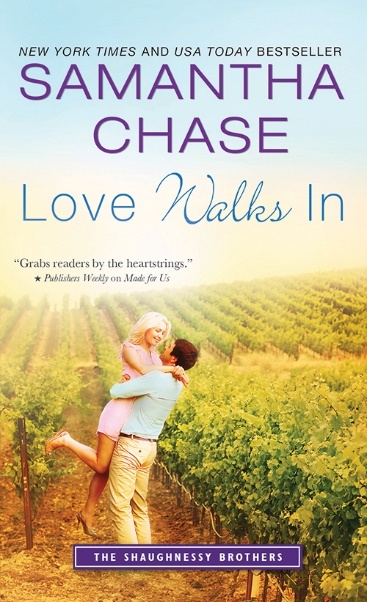 AVAILABLE
Shaughnessy Brothers #2

April 2016
On Sale: April 5, 2016
Featuring: Hugh Shaughnessy; Aubrey Burke
384 pages
ISBN: 1492616257
EAN: 9781492616252
Kindle: B018IRSLCU
Paperback / e-Book
Add to Wish List

Also by Samantha Chase:
One More Moment, September 2018
Until There Was Us, May 2018
In the Eye of the Storm / Catering to the CEO, April 2018
One More Promise, February 2018

It's all about baby steps! Aubrey led a very sheltered life and is just now starting to go out and experience all the things she was always too scared to try. I have to admit, I am not a daredevil either, but these are all on my 2016 list of things to do!
Zip-line. There are zip line parks all over the place and have lines for beginners as well as true thrill seekers. You don't have to zip over the Grand Canyon to get your feet wet here!
Indoor sky diving. This one looks like so much fun! Indoor Skydiving can give you the experience of flying without the fear of jumping from a plane or falling out of the sky. By stepping into a vertical wind tunnel, you can break the bonds of gravity and body fly. And you're only maybe eight feet off the ground!
Join the circus! No, not literally, but sign up for aerial trapeze or yoga classes! Who hasn't watched a trapeze artist and thought…wow! Now you can learn how to do it (with the added benefit of safety harnesses!) and in no time you'll be flying through the air with the greatest of ease…
Parasailing. This one can be a little wild, but it is a recreational kiting activity where a person is towed behind a vehicle (usually a boat) while attached to a specially designed canopy wing that reminds one of a parachute, known as a parasail wing. Sailing over the ocean. Who knew?
Go Kart Racing. It may not be very wild and you're on a fairly small course, but boy will you have fun! Capable of speeds over 45MPH, these karts are unquestionably the best adrenaline rush you can have without the high costs of pro-racing. You may not be ready for NASCAR, but it's still a thrill!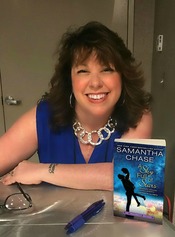 New York Times and USA Today Bestseller/contemporary romance writer Samantha Chase released her debut novel, Jordan's Return, in November 2011. Although she waited until she was in her 40's to publish for the first time, writing has been a lifelong passion. Her motivation to take that step was her students: teaching creative writing to elementary age students all the way up through high school and encouraging those students to follow their writing dreams gave Samantha the confidence to take that step as well.
When she's not working on a new story, she spends her time reading contemporary romances, playing way too many games of Scrabble or Solitaire on Facebook and spending time with her husband of 25 years and their two sons in North Carolina.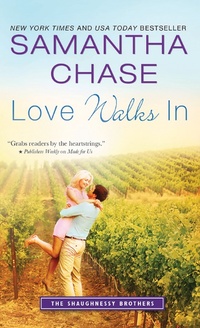 Book #2 in New York Times and USA Today bestselling author Samantha Chase's dazzling new series: The Shaughnessy Brothers are back
He lives by a schedule
Aubrey Burke is on the run from an about-to-be-disastrous mistake when resort owner Hugh Shaughnessy catches her climbing through his office window. Until Aubrey tumbled into his life, Hugh had relied on work and discipline to safeguard a heart damaged by family tragedy.
Now his careful world will never be the same.
She lives for the moment
Hugh's approach to life and love is the opposite of Aubrey's, but she soon finds herself falling hard for the handsome hotel mogul. There's a darker reason behind her "live for today" attitude than Hugh could possibly know, but for the first time Aubrey dares to hope this man's love might make it worth taking a chance on the future.
Win the first book in the series: Just tell us your daredevils ideas!
Comments
19 comments posted.
Re: Samantha Chase | Top Five Activities for Your Inner Daredevil

I am not a dare-devil, in any way, shape or form! I get a little nervous going up multiple levels in a skyscraper, and have no intention of stepping out on a glass floored observation, etc., whether in a building or over the Grand Canyon, despite how gorgeous the view might be!
(Carol Gowett 3:50pm April 14, 2016)
Sometimes, just trying a new cuisine is exciting too.
(Florence Tera 4:32pm April 14, 2016)
I am too old to do crazy stuff
(Jeri Dickinson 6:08pm April 14, 2016)
I've wanted to try riding one of those water motor-scooters -
Skidoo's(?) - looks like fun!
(Diane Sallans 6:37pm April 14, 2016)
I'm no dare devil, and I'm very shy. My biggest scary thing was to
get up in front of people and sing. It was easier in choir but
when you are a song leader, it's a bigger deal.
(Nancy Luebke 1:42pm April 16, 2016)
I'd like to try hot air ballooning. It seems pretty scary but I'll bet it's great.
(Nancy Marcho 1:57pm April 16, 2016)
I might like to try something like a hot air balloon, but not if I have recently seen one of the things that can go wrong on the news!
(Cathy Burkhead 3:58pm April 16, 2016)
I'm definitely not a dare devil. I prefer the "safe" way! I
cannot imagine not having fear in doing these things you
mention. I'll stay safely on the ground with my book!
(Leanna Morris 10:16pm April 16, 2016)
No dare devil here either , I keep my two feet on the ground. I get on a step-stool and I get dizzy . I like to read my books and do whatever around the house .
(Joan Thrasher 4:01pm April 17, 2016)
I would love to try going upin a hot air balloon. I can be daredevil.
(Alison Mckearney 8:06pm April 17, 2016)
Hmmm...daredevil. I think I'm being pretty daring when I
sneak off and eat out when I go grocery shopping without
the husband and six children. Not spot cleaning the
laundry and just tossing it in the washer? I'm thinking
these aren't what you are looking for...guess I'm just
not a daredevil at heart.
(Amy Morgan 3:47pm April 18, 2016)
Hot air balloon ride. I don't know that i can think of
anything else right now.

I have these on my TBR list -- can't wait to read them!
(Sandy Haber 5:34pm April 18, 2016)
I'm too old and have a bad neck so everything leaves me out.
Penney
(Penney Wilfort 7:46pm April 18, 2016)
Hope you accomplish your to do list. My body says no, even
if my mind would say yes.
(Judy Weaver 9:54pm April 18, 2016)
My daredevil idea is to parasail on my next beach vacation!
Looks scary!
(Jamie Stein 10:23am April 19, 2016)
If I was much, much younger, I would like to ride a horse.
(Anna Speed 12:05pm April 20, 2016)
I like the zip lining - seems safe but thrilling!
(Beth Elder 1:10pm April 20, 2016)
Scuba diving would be it for me: Deep water
(Kathleen Bylsma 7:54pm April 20, 2016)
I prefer to stay safe & in one piece! I am definitely NOT
a daredevil!
(Richard Proctor 9:15pm April 20, 2016)
Registered users may leave comments.
Log in or register now!