Laura O'Connell | Lies: Do They Save Or Destroy?

December 12, 2012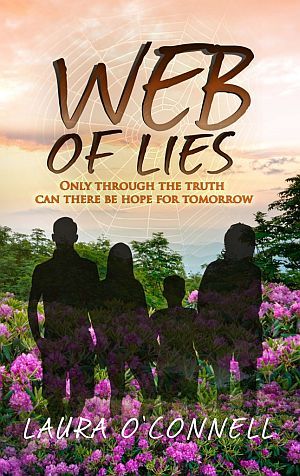 When I wrote WEB OF LIES, I intended to take my reader back to her teenage years to think about the risks she took as she learned about her world and where she fitted into it.
While she cared for her seriously ill aunt, Stephanie's world was full of pressure. She dated Lachlan and found the love she so desperately needed. After saving the stranded whale, their emotions ran high, feeling superhuman and bringing them closer than either of them could have thought possible. With Lachlan's imminent departure for the United States the next day, tension between them was high and the only way they could make sense of their situation was to turn to each other. Making love seemed to be the logical way of showing what the other one meant to them. A child was conceived and because they were only 16 and 17, Aunt Sonia and Lachlan's parents believed the best outcome for the child's future would be to adopt the child out and tell some 'harmless' lies that wouldn't tie the young people down.
Eight years later, Lachlan is a changed man and Stephanie is the victim of an abusive relationship. They reconnect and learn lies have been told about their son's whereabouts. These young people no longer know whom to trust. They also wondered if they had the chance to take up their responsibilities how different their lives may have been. They have to make a choice on where their eight year old son should live. Will it be the right one?
My question to my readers—is it a good idea for parents to take control of their children's lives even though their motivations are admirable?
Throughout the various stages of your life, have you made decisions that could have been handled differently?
Leave a comment and Fresh Fiction will choose one commenter who will receive a free copy of WEB OF LIES.
About Laura O'Connell
Laura enjoys writing stories about second chances in love and life. She calls the Gold Coast home, however, her curious nature leads her on adventures to locations that surprise and inspire her. Laura has a passion for telling a good story set in places where she has lived and travelled.
Laura around the web:
Website | Facebook | Twitter | Author Page
WEB OF LIES
High school sweethearts, Stephanie and Lachlan are torn apart by circumstance, bad decisions and a web of lies, leaving an unknown future for their son, Ryan.
Eight years later they reconnect, but the time apart has changed them. The family had made decisions based on lies and deceit and now must find a way to either reveal the truth or find another option. On the surface, their arrangements seemed flawless, but dig deeper, and the people they thought they knew aren't as they appear.
Lachlan and Stephanie are forced to confront the consequences of their actions and the entire family is compelled to reveal the truth, find forgiveness, and renew loving one another. But the hardest decision is still to come ... where does Ryan live?
Buy Links:
Comments
58 comments posted.
Re: Laura O'Connell | Lies: Do They Save Or Destroy?

Lies can hurt alot and you lose friends
(Patricia Kasner 12:12pm December 12, 2012)
I am sure the fictional parents thought they were doing what was best - it would be hard for the girl to go through college, say, and get a first job, with a baby to care for. So your story makes sense. Luckily my parents didn't have that kind of choice to make.
Lies are not going to help in many situations and the liar will be caught out eventually - look at all the scandals now emerging.
I chose to study history in school intead of geography purely because my mother told me to, and the reason she wanted me to was because she wished she could have studied history herself. I did not know that my next two year course would be entirely wars and politics, the two most boring subjects in the world for me. Had I taken Geography it would have fitted in much better with my love of nature all aroud the world.
(Clare O'Beara 5:32am December 12, 2012)
OMG the "WHAT IFS" I could share with you! I was an unmarried, catholic, pregnant with twins, teen in 1978, can you imagine what I went through? I have those days when I wonder "what if", because I did have several opitions I could have chosen, but I decided to keep my boys and pray, a lot. Sometimes it feels like reguardless of which option I would could have made, I would be where I am today, married for 28 years to the same man, and other days I can see each opition leading me down a much darker path. Today, and most days I am happy for the choices I made. Have every day, week, month, year been happy and wonderful? HA! Far from it, but worth it? YES! I don't believe in lying to any child, reguardless of age of where they came from. Family is very important to me, ALL of my family, even my nephew I've never met because he was put up for adoption. Do I wish I could have had the opition to adopt him myself? Yeah, I wish I would have been asked, but I wasn't. So I prayed he was taken care of every day. And now I know he was. As far as lies go, they always catch up with you, and the explaining of them can cause a rift which the hardest truth can never repair.
(Amy Conley 6:04am December 12, 2012)
Telling lies will always catch up to you. Its easier in the end to tell the truth no matter how hard then to remember what lies you have told to who
(Julie Parrish 10:26am December 12, 2012)
I know as a parent of both a boy (who just turned 18) and a 14 year old girl, the mother bear is strong. I have always treated my children and others with respect and almost adult like in communicating with them. I don't use "control" I use communication and at times the trump card has to come out of my pocket to protect them, even from themselves. I am not their best friend I am their mother. We as a family make decisions together. In the end I think more harm can be done if children are not respected to make decisions, be held accountable and responsible for their actions and behavior.
I could have made a thousand different decisions in my life (and as I try to spare my children, sometimes you need to learn them strictly from experience) - but I wouldn't be who I am, I wouldn't have had the greatest moments in my life. Sometimes the road less traveled is the only way to see the sights, and without pain how would one know joy- I have felt it all and wouldn't look back to change anything.
(Carla Carlson 10:51am December 12, 2012)
Instilling our children with values and principles that they
were taught is important and this leads to a strong foundation
in life. Treating them as adults and showing them the right
way.
(Sharon Berger 11:15am December 12, 2012)
oh what a tangles web we weave .........
(Pamela Faye Howell 11:17am December 12, 2012)
I fully believe in the truth. Not only do lies catch up to you--they change you. If
the lie is serious enough you are constantly look over your shoulder waiting--
just waiting--for the truth to catch up to you. You begin to distrust what others
tell you. Personally I wouldn't want to live that way.
(Sandra Spilecki 11:55am December 12, 2012)
It hurts when you discover a person has lied to you.
(Anna Speed 1:11pm December 12, 2012)
lies forced us to move over 1800 miles away from family. We basically had to cut ourselves off to lie a less stressful life!
(Michelle Schafer 1:50pm December 12, 2012)
Lies are so hard to overcome. Once a lie is uncovered, everything that is said from then on comes under suspicion...is he/she lying again? Are they telling the truth? How do you know?
(Robin McKay 2:28pm December 12, 2012)
I am looking forward to reading this book...thanks
(Bonnie Capuano 5:22pm December 12, 2012)
Lies always catch up to you and only continue to hurt friends and loved ones. Trust is lost and may never be regained.
(Beth Charette 5:36pm December 12, 2012)
Lisa can destroy so much!! A relationship, your reputation and almost every
good thing in anyone's life. As I say....the truth always comes out:)
(Nicole Nobles 6:24pm December 12, 2012)
They DO destroy so much - yes, it can be tough to tell the truth but it is so worth it!
(Felicia Ciaudelli 6:30pm December 12, 2012)
Parents don't always have the correct answers to the situation of their children.
(Gladys Paradowski 6:45pm December 12, 2012)
I remember the anst of teen years (so long ago). I, too, was
pregnant in a time when it wasn't done. Luckily I married my
baby's daddy and we raised 5 children, but it wasn't easy.
(Mary Hay 7:11pm December 12, 2012)
I think that's a decision that the kids and the parents should all come
together to make - to work through all possibilities and decide what's right
for everyone - especially the unborn child. My mom was only 16 when she
had me, but that was a group decision - her, her mom, and her dad -
possibly even my great grandparents helped make that decision to keep
me. But lies are rarely ever the right way to go!
(Kelli Jo Calvert 7:13pm December 12, 2012)
I think the parental control issue depends on the age of the
child. As parents, it is our responsibility to maintain
some control until the age of 18, at least. After that we
should be very involved in being supportive & giving loving
advice.
As to the second part of the question...I don't image there
is anyone alive that doesn't wish they'd handled several
situations in their lives differently. Merry Christmas!
(Robin Weiss 7:38pm December 12, 2012)
If you tell the truth you don't have to try to remember what you said. Lies only catch up with you. Lies can only destroy
(Shirley Younger 7:39pm December 12, 2012)
Hi Patricia, Yes, lies can hurt and the repercussions can run deep, and loss of friendship is a sad result of those lies. Thanks so much for dropping by.
(Laura O\'Connell 7:48pm December 12, 2012)
Hi Clare,Most parents have their hearts in the right place and want what's best for their children, but sometimes their actions can come undone. You've had a tough job learning history. It isn't my favourite subject either. I prefer geography for the same reasons, to learn about today's world and where I fit into it. You might like to read my debut novel, African Hearts, where Gina also respected her parent's wishes and worked in their imports business after they died. It wasn't until she went to Africa to find her dying brother that she was able to understand her life's purpose. I hope you reach your goals and find peace and happiness in your life's journey.
(Laura O\'Connell 7:53pm December 12, 2012)
Hello Amy, I am humbled by your life experiences. You gave birth to twins in 1978. Life would have held many challenges for you as you raised your boys, and being married to the same man for twenty-eight years is telling of your honour and resilience. Life is full of peaks and valleys and sometimes we wish we didn't have to be in the darkness of the valleys, but it is through those phases of our life journey that we become stronger for the next hurdle and on it goes, so that soon we know all those struggles have been worth it. Well done, Amy, you've had to make some difficult choices and I admire your positive attitude to keep looking forward. Prayer is helpful when life is proving to be tough, but it is also good to rejoice on sunny days, too. Bless you.
(Laura O\'Connell 8:00pm December 12, 2012)
Thanks for dropping by, Julie. Yes, great advice, thank you. Sometimes we can forget what we said when we told the lie. It is better to tell the truth and weather the storm then rather than years down the track when we may not be so resilient. Blessings.
(Laura O\'Connell 8:02pm December 12, 2012)
Hello, Carla. Respecting our children and their ideas is important for their welfare and for your relationship with them. If first you give respect, then respect will be returned to you. You are a woman after my own heart.
'I am not their best friend I am their mother.' Well said, sometimes I think as mothers we forget that we are there to nurture and pass on our wisdom to them. I believe it is better to be a mother than a friend. I lost both my parents at a very young age and many times I wished I had a mother just to hold me and tell me the trouble will soon pass and everything will be fine. Keep doing that for your children. They will honour you for many years to come. And I agree with you that if we have a life without pain, how can we know joy? I'm glad I have lived the life I have because it has made me a stronger person and given me skills to face the tough times whenever they come. Keep moving forward in truth. Bless you.
(Laura O\'Connell 8:10pm December 12, 2012)
Hello Sharon, our children are adults for much longer than they are children, so it is important to build responsbility in them so they can face the hurdles in their lives. Thanks for sharing. Blessings.
(Laura O\'Connell 8:12pm December 12, 2012)
As I've aged I definitely make my decisions differently. When I was young I would act with little consideration to the outcome now that I am older and realize that my actions touch everyone around me, I tend to over-think things.
Good luck and happy wrting!
(Tracie Travis 8:15pm December 12, 2012)
Hi Pamela, oh what a tangles web we weave .........
Yes, this is exactly what Web of Lies is about. Sir Walter Scott certainly knew the effect of lies in his poem, Marmion. Web of Lies is attibuted to this quote. Thanks for recognising this poem. Blessings.
(Laura O\'Connell 8:16pm December 12, 2012)
Hello Sandra, I admire your strength of character. Looking over our shoulder all the time to cover up our flaws takes a lot of energy that could be used more productively in our lives. Well said. Blessings.
(Laura O\'Connell 8:18pm December 12, 2012)
HI Anna, the hurt when someone lies to us can stay with us for a long time and sometimes it's really hard to find forgiveness. I hope you haven't had too many times in your life when you've been the recipient of lies. Bless you.
(Laura O\'Connell 8:25pm December 12, 2012)
Dear Michelle, I'm so sorry to hear that you had to move 1800 miles away from family. In the beginning this must have been quite traumatic for you and no doubt still is as time goes on. I'm hoping that by reading Web Of Lies, you may find hope and forgiveness to reconnect with your family in a new and positive way, and I hope your family, too, will be able to reach out to you like they never have before seeking forgiveness and love. I'm praying 2013 will be the year for you to come together and be embraced under an umbrella of love ready to move forward into a new and exciting future for you and your family. Blessings.
(Laura O\'Connell 8:30pm December 12, 2012)
The role of the parents is to teach their children rights and trust that their children has been taught well by them. I have controlling parents who decide which school I should attend and what subjects I should study since grade school. They did not trust me that I will do right by them.

When I look back, I don't believe they have the confidence that whatever they have taught me, I will make the right decisions. Their intention is good and because they love me, they try to protect me from harms. But I believe if they have trusted me, I could accomplished a lot more without them holding me back in life.
(Kai Wong 8:33pm December 12, 2012)
Hi Robin, How true! Can we ever trust again once lies have been told. They sting our hearts for so long, but by the power of forgiveness and the promise to tell the truth, we can leave the past behind and look forward. I hope you've been able to do this in your life's journey. Blessings.
(Laura O\'Connell 8:34pm December 12, 2012)
Hello, Bonnie, thanks so much for sharing you are looking forward to this book. I hope you will see the many levels and the consequences of our lies, but also that there is nothing that can't be overcome in this life if we continue to look forward. Blessings.
(Laura O\'Connell 8:36pm December 12, 2012)
Hello Beth. You wrote "Lies always catch up to you and only continue to hurt friends and loved ones." True statement! I like to think future generations may think about the consequences of their lies and build more harmonious relationships than we have today. It takes courage to be truthful, but in the long run, relationships are stronger. Blessings.
(Laura O\'Connell 8:39pm December 12, 2012)
Hello Nicole. Yes, reputation is at stake when we tell lies. It's the aspect of our lives that seems to be forgotten when we tell the untruths. Thanks for reminding us about that. Blessings.
(Laura O\'Connell 8:43pm December 12, 2012)
Hello, Felicia. Yes, I agree with you. It is so worth it when we tell the truth, and less stressful in the end. Blessings.
(Laura O\'Connell 8:44pm December 12, 2012)
Hi Gladys, I agree. Parents are usually well-meaning, but sometimes can come unstuck when they don't listen to their children and hear what they're saying. Listening and hearing are the best gifts we can give our children. It's what I aim for every day with my son. I don't always like or agree with what I hear him say or do, but being an adult he is master of his own life, and I have to respect that. He is on his own journey, now, and I'm in the background being there for him when and if he falls. Bless you.
(Laura O\'Connell 8:49pm December 12, 2012)
Hello, Mary, I'm glad you had a happy ending to your angst. Even though you married your baby's father, I'm sure you endured a lot of stares and comments that you didn't deserve. Well done for sticking through the hard times and continuing to rear another four children. You undoubtedly, have come out of your experiences stronger and well prepared for the future. Blessings.
(Laura O\'Connell 8:52pm December 12, 2012)
Hi Kelli Jo, what a wonderful family! You all came together to make the decision on your future. That is so heartwarming for me to hear. This is a fine example of family love. I'm sure there was much discussion around the table for many days and nights to come to the decision. You're right, lies aren't the way to go. You all faced the truth and in the process of making a decision you all became stronger and moved to a more positive future. Lovely! Blessings.
(Laura O\'Connell 8:57pm December 12, 2012)
As much as a parent would love to take control of their children's lives, they still have to learn from "the school of hard knocks." As long as their mistake isn't going to kill them or hurt them physically, it's fine to guide them and give them some gentle advice, but you can't rule their life!! They'll never learn to get along once they get out in the real world. As for different stages of my life, there are decisions that I've made that I wish I could hit a magic "do over" button, and change things. I think that everyone has at least one thing, although they won't admit it to anyone, and carry that guilt deep inside. I've gotten over what I can't change, and made my life better on account of it. I decided to change myself, and therefore change future mistakes. Your book sounded so interesting to me, and now I can't wait to read it!! I hope that you have a wonderful Christmas, and a great New Year!!
(Peggy Roberson 9:01pm December 12, 2012)
Hello, Robin, great words of wisdom. It does depend on the age of the children and their mental wellnes. In Web Of Lies, Stephanie was in depression which influenced the caregivers decisions. There is no easy answer, but it's the telling of lies that breaks the family relationships down. Yes, I agree, every one on this planet has lied to save themselves at some stage. Trying to rebuild the burnt bridges that the lies have caused is the challenge we face in reconnecting with our loved ones and friends. Merry Christmas to you, too. I hope this festive season will be a blessed time for you. Blessings.
(Laura O\'Connell 9:05pm December 12, 2012)
Hello Shirley. You said, "If you tell the truth you don't have to try to remember what you said." Great advice!! And you'll have less stress trying to remember the lies. The truth sets you free and telling the truth strengthens all relationships. Thanks for commenting. Blessings.
(Laura O\'Connell 9:09pm December 12, 2012)
Hello Tracie, You commented, "As I've aged I definitely make my decisions differently." Isn't it amazing how the passage of time and the lessons we learn on the journey of life change our view of how life should be lived. You sound like a person with wisdom. Continue to make your decisions differently and you will be rewarded in ways that will surprise and inspire you. Blessings.
(Laura O\'Connell 9:15pm December 12, 2012)
As in so many things, I believe that a balance is necessary in the guidance of parents, or anyone for that matter. Total control of another person is never the solution.
Blessings,
Marjorie
(Marjorie Carmony 9:17pm December 12, 2012)
Hello Kai,I agree, the role of parents are to teach their children right from wrong and trust them they will do the right thing in everything they do. But sometimes parents have so much love to give their children and want so much for them they do find it hard to let go. However, when we become adults we are no longer under our parents' guidance. We can move forward using the positive things we learned as children and put them into practise into our adult lives as we follow our dreams. We can't change the past, but we can change the future and that means understanding yourself and what you want from life and going for it with all that you've got. Make the most of every moment today, because you'll never get it back. Your future is in your hands now, focus on your dreams and they will become reality with hard work, commitment and perseverance. Blessings.
(Laura O\'Connell 9:31pm December 12, 2012)
Hello Peggy, you commented, "As much as a parent would love to take control of their children's lives, they still have to learn from "the school of hard knocks." So true! Protecting our children from the 'hard knock's' creates children without a resource of skills they can call on in the future. It is through experience that our subconscious returns to to recall the skills to face a new challenge. Without those skills, an individual will continue to call out to others for support instead of trusting their own abilities. Yes, I also agree that we carry guilt from past actions. In Web Of Lies, my character, Ellen Hunt, carries the guilt of the decisions they made eight years ago, and she carries hurt as well. All the characters in Web Of Lies are on a journey and sometimes the hard decision has to be made to change ourselves so that we don't make the same mistakes. You have obviously come to a point of acceptance in your life and made your life better. Well done! You are well-equipped to move forward to achieving great things for your life if that is the road you wish to travel. Bless you.
(Laura O\'Connell 9:44pm December 12, 2012)
Hello Marjorie, I agree. Balance is necessary in so many areas of our lives and nothing more so in the way we guide our children. Total control of any person damages that person and stunts their personal growth in ways we will never understand. Thanks for reminding us that balance is the key to a happy life. Blessings.
(Laura O\'Connell 9:56pm December 12, 2012)
Having been there done that, I look back and see that some of my advice was not always the best and some of her decisions did work out for the best. Enjoyed reading your blog.
(Sheila True 10:20pm December 12, 2012)
I believe that the Truth will set you free and is always
best. Lies always hurt and harm others in their lives and
their feelings too. I believe that parents should always be
involved in their children's lives and help them out when
they can. They should not be demanding and controlling but
being helpful with others is always the best way. Thanks for
your contest and this sounds like a fantastic book too.
Happy Holidays! Cecilia CECE
(Cecilia Dunbar Hernandez 11:22pm December 12, 2012)
I went through a rebellious teenager for 3 years. It was hard. She taught me to love her unconditional but let her make her own mistakes and learn from them. I loved her - not always what she did. But we have a great relationship today because of it.
(Jane Squires 1:28am December 13, 2012)
Sometimes it seems like a lie might be easier for some people. But my
friend is always teasing me that I confess anything to anyone. She wonders
how I can write fiction because that is basically telling a big whopper every
time. :)
(Penny Mettert 3:36am December 13, 2012)
Hello Sheila, yes when we look back to where we've been with the passing of time, it is interesting to see how we might have done it differently. Thanks for dropping by and commenting. Blessings.
(Laura O\'Connell 2:17pm December 13, 2012)
Hello Cecilia, thanks for dropping by. I agree, being helpful to our children and with others is the way to go. Helpfulness encourages people to take a step forward in helping themselves. Happy holidays to you, too. Blessings.
(Laura O\'Connell 2:20pm December 13, 2012)
Hello Jane, you seemed to have had a nice balance in raising your daughter. The teenage yearrs are difficult and also a time for parents to grow as well. We do love our children but not their behavior. How true is that, too? It seems you've weathered the storm and come through the other end. Well done! Blessings.
(Laura O\'Connell 2:24pm December 13, 2012)
Hi Penny, Yes, as fiction writers a lot of our work is made up, but the interesting thing is that it is based on fact, and we are putting that into a form that not only entertains but can encourage readers at a deep level to overcome some problems that may be holding them captive. Telling a lie is easier for some people and they continue in this way all their lives. It's their choice to make and they are the ones living with the consequences. Thanks for dropping by. Blessings.
(Laura O\'Connell 2:31pm December 13, 2012)
The truth will always come out eventually.
(Mary Preston 7:51am December 14, 2012)
Hi Mary, Very true, that's why we have to think twice before we act in everything we do. Thanks for dropping by. Blessings.
(Laura O\'Connell 6:39pm December 14, 2012)
Registered users may leave comments.
Log in or register now!