Check out these new and exciting titles this April representing some of the best and exciting authors in paranormal romance.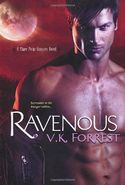 RAVENOUS: BOOK 4, V.K. Forrest (Kensington, 3/29/2011, $15.00)
Welcome to the quiet coastal town of Clare Point, Delaware, where the Kahill vampire clan has made its home for centuries, and where one vampire's love for a human woman could put their entire world at risk. As a member of his clan's kill team, Liam McCathal helps rid the world of undesirables. It's the perfect job for a vampire of his talents- except that lately, Liam is getting a little too good at it. Which is why he's back home to "cool off," when Mai walks into his antique store and changes everything. Something about Mai ignites a spark he hasn't felt in over a century. When Mai's uncle is killed and her father threatened, Liam takes on a ruthless crime boss and puts every vampire in Clare Point in danger of discovery. Because Mai's father has secrets too, and Liam is edging ever closer to losing his reputation, his clan, and the woman he would do anything to protect.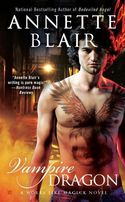 VAMPIRE DRAGON, Annette Blair (Berkley Sensation, 4/5/2011, $7.99, Works Like Magick)
On the run from the mob, Bronte McBride needs the kind of protection that only the mysterious and handsome bodyguard Darkwyn- a former Roman warrior turned dragon- can give her. But Bronte's secrets could endanger both of them.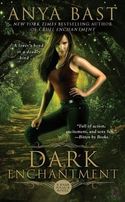 DARK ENCHANTMENT, Anya Bast (Berkley Sensation, 4/5/2011, $7.99, Dark Magick)
Seduced in a dream by a handsome, rugged man, Charlotte Bennett decides to let pleasure and desire lead the way- only to discover her "safe" night of passion has dangerous repercussions.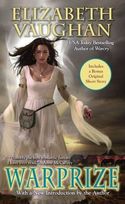 WARPRIZE: CHRONICLES OF THE WARLARDS, Elizabeth Vaughan (Berkley Sensation (Re-print), 4/5/2011, $7.99)
The daughter of a Warrior King, Lara was trained as a healer, helping both friend and foe. And when the enemy warlord agrees to cease hostilities in exchange for Lara, she agrees to become the Warprize.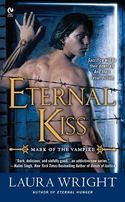 ETERNAL KISS: MARK OF THE VAMPIRE, Laura Wright (Signet Eclipse, 4/5/2011, $7.99)
Raised by the Breed, Nicholas Roman wants to stop the Eternal Order of Vampires from controlling his life, and using other males from his bloodline- including possibly his son- for their vicious reign. Only a beautiful vampire stranger can help him. But what are her true motives?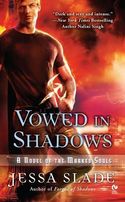 VOWED IN SHADOWS, Jessa Slade (Signet Eclipse, 4/5/2011, $7.99, Marked Souls)
Once a righteous missionary man, Jonah Walker now endures immortality with nothing but a body built for battle and a heart set on retribution. But his last devastating fight left him wounded beyond healing- and his only chance for redemption lies with a fallen woman whose passion burns through the shadows.


RED MORTAL, Deidre Knight (Signet Eclipse, 4/5/2011, $7.99, Gods of Midnight Novel)
Leonidas has long led his fellow immortal warriors in battle with quiet, unyielding strength. When Daphne, Oracle of Delphi, confesses to having loved him from afar, Leo finds his stoic shell breaking away. Just as their love ignites, Daphne's half-brother Ares strips Leonidas of his immortality. Now, it's just a matter of time before Leonidas is taken from her- unless they can find a way to challenge Ares together.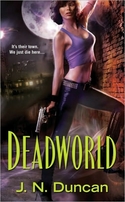 DEADWORLD, J. N. Duncan (Kensington, 4/5/2011, $7.99)
Jackie Rutledge is as tough as anything haunting Chicago's streets. To deal with an inhuman power that won't stay buried, she needs help that comes at an immortal price. Jackie's latest murder case is what recurring nightmares are made of. Jackie is fine with any help rugged P.I. Nick Anderson can give- even if that includes the impish ghost and sexy vampire who make up his team. But Nick is hiding secrets of his own, and Jackie's investigation has plunged them both into a vengeful game reaching back centuries.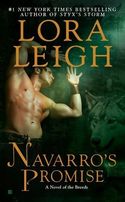 NAVARRO'S PROMISE, Lora Leigh (Berkley, 4/5/2011, $7.99, Breeds)
The Breed guaranteed Micah no harm would come to her, but they never allowed for her sensual fascination with Navarro, or his unstoppable need to claim her as his mate, in both body and soul.
No comments posted.