I love to write fiction, and because of my law enforcement background, I write mystery/suspense and deal with cops, crimes, and criminals. Sometimes, when researching for a novel, the articles and websites tell tragic stories, emotionally draining. The darkness can be overwhelming. My upcoming release, Cold Aim, deals with human trafficking. Talk about dark. Modern-day slavery is far more prevalent than people want to believe.
And it's not only the crimes. Lately, a lot has been going on in law enforcement that is tragic and sad. It seems like every day an officer is shot—on the whole, the world is just going crazy. I'm not complaining, because with my fiction I control the outcome, so nothing goes unpunished as far as my novels are concerned. Often, however, I do need a little recharging, a reminder that God is in control and evil never wins.
A few months ago, I moved to paradise. At least it's paradise to me. I moved to the Big Island of Hawaii, looking for a more temperate climate, something that would be easier on my back and my knees. So far, so good. Usually, the temp runs about eighty-five, but nice, gentle trade winds make it feel like seventy- five. Skies are blue, plants are colorful, and the water at the beach is a pleasant temperature. So now my go-to recharge outlet is the beach.
I take my chair, my umbrella, and stake out a spot of sand. After a dip in the ocean, I face the sun, dry off, and relax. While the Bible doesn't say that heaven is beach-like and temperate, when I'm recharging in my beach chair, this is what I picture in my mind. From my vantage point, I'm reminded that not everyone is bad, not every situation is dangerous, and that there is beauty and pleasantness in this world to enjoy.
It's a resort atmosphere, so people are on vacation and for the most part, everyone is in a good mood. (As fictional a location you'll ever find in real life.) As I sit and enjoy the sun and the sand, I can feel the lights on my battery change from red to green. It makes it easy to return to home and computer. I can pick up where I left off on my novel recharged, plot the story, create the characters, and do my best to craft a story to intrigue people and inspire them, without them ever being bogged down by darkness. I'll work at full capacity until reality and life drain the battery down. Then it's back to the outlet, back to the beach, let's do this all over again.
The Line of Duty #3
Police Chief Tess O'Rourke's small town is still reeling from a devastating fire when the FBI asks for help: Could she shelter a witness in a high-profile human trafficking case? Initially reluctant to put the townspeople of Rogue's Hollow at risk, Tess is swayed after she sees Pastor Oliver Macpherson's genuine conviction to rescue those in need, a trait in him she's coming to love more each day.
Tess's fledgling faith is tested when crews of workmen from out of town come in to assist with the fire cleanup and she worries that one of these strangers might shine a light on things best kept hidden. Neither she nor Oliver knows that Rogue's Hollow is already home to a suspect from a twenty-five-year-old murder case . . . and someone is taking cold aim at those Tess is sworn to protect.
Mystery Police Procedural | Inspirational Mystery [Tyndale House Publishers, On Sale: July 9, 2019, Trade Size / e-Book, ISBN: 9781496423788 / eISBN: 9781496423801]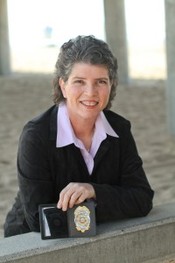 Janice Cantore is a retired Long Beach police officer who now writes suspense novels to keep readers engrossed and leave them inspired. Her twenty-two years of experience on the force lend authenticity to her stories. She has penned eleven romantic suspense novels: the Cold Case Justice series, the Pacific Coast Justice series, Critical Pursuit, and Visible Threat. Crisis Shot and Lethal Target are the first two books in the Line of Duty series. Cold Aim finishes out the series.
Win an e-book copy, tell us how you recharge!
Comments
13 comments posted.
Re: Janice Cantore | On Writing and Recharging

sounds so interesting,my family is in law enforcement as
well and i love reading books like these,my Uncle was
Sheriff,and my son in law is a Deputy
(Vickie Couturier 7:57am June 30)
Human trafficking is one of the scariest things. I think about my nieces and
nephews and pray for them.
(Sonnetta Jones 4:19pm June 30)
I have family in law enforcement, as well. I live mystery/crime novels. I'm anxious to read your work.
(Kathleen Gardiner 10:21am July 1)
Sounds like a great story. I recharge by ... reading.
(Nancy Reynolds 10:35am July 1)
Sounds like a good book
(Mary Branham 11:15am July 1)
Among the products listed on the site, which one is the
best?
https://buywirelessrouternow.com/best-netgear-routers/
(Garry Jones 4:39am July 2)
How can you tell which is the best product from the list on
this site?
https://buywirelessrouternow.com/best-netgear-
routers/
(Garry Jones 4:39am July 2)
I recharge by reading. Thanks for the chance!
(Tammy Steele 2:57pm July 3)
I recharge by reading and chocolate helps too!
(Maryann Skaritka 5:54pm July 3)
Entered the contest. Can't wait to read this book.
(Robin Davis 4:27pm July 4)
Your paradise is everyone's dream, well, at least mine. I'm not sure I would want to live permanently in Hawaii, but I would enjoy a nice long visit. Thanks for the giveaway. It's appreciated.
(Anna Speed 11:47am July 5)
I do love a good police procedural since it shows how the
hard work is done and sometimes solves the crime.
(Alyson Widen 5:31pm July 5)
situs game qq main https://mdomino9.net
(Game QQ Main 2:27am July 29)
Registered users may leave comments.
Log in or register now!