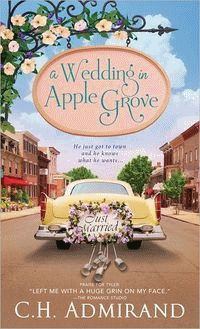 Don't you just love small town heroes? They're smart and sexy hunks with hearts! I'm giving away three sets of the first two books in my Contemporary Small Town Series set in Apple Grove, Ohio: A WEDDING IN APPLE GROVE and ONE DAY IN APPLE GROVE. Good Luck! Three Winners!!!

One Day in Apple Grove
Order Today
Caitlin Mulcahy loves her family. She really does. But sometimes they can drive her to her last shred of sanity— from her dad ("I'm not meddling, I just want what's best for you") to her eight–months–pregnant older sister to her younger sister, who will do just about anything to avoid real work. Cait just needs to get away, even if for only an hour.
When she sees someone in need of help on the side of the road, of course she's going to pull over. She might even be able to fix his engine—after all, the Mulcahy family is a handy bunch. She's not expecting that former Marine Dr. Jack Gannon and a little black puppy named Jameson will be the ones who end up rescuing her...
US / Canada Addresses only
Contest ends: June 30, 2013