Being an author means making things up: what irritates a character or brings her joy; how a murder is carried out; and even something as basic as a pen name (my real name is Angela M. Sanders). For BLOWN AWAY, I invented a whole town.
And it was great! BLOWN AWAY features Strings Attached kite shop owner Emmy Adler in Rock Point, Oregon. I knew Rock Point would be on the coast. Thanks to ocean wind and the general lack of powerlines and trees, the beach is prime kite flying country. Since the Oregon coast is rugged, with steep cliffs and forest a stone's throw away, I gave the town a small bay and a rocky outcropping that the town was named after.
Next, I had to populate it with buildings. Naturally, I needed a lighthouse. I put it on a cliff, right above the treacherous Devil's Playpen (also invented, and a key locale in the second book in the series, LIVE FREE OR FLY, out December 2017). I gave the town some fishermen's shacks, a sprinkling of high-end beach houses, and a B&B in a Queen Anne house. Befitting an old town struggling to adapt to its new role as a tourist destination, I needed an antiques mall, the Brew House coffee shop (run by Emmy's best friend, Avery), and a pizza parlor notable for the stinkiness of its pies. Add a closet-sized post office with a postmistress who knows everyone's business; a sheriff's storefront office; and a sprinkling of cabins in the woods, and Rock Point is nearly complete.
I had the most fun with two locales: Avery's house (also Emmy's home), and Strings Attached, Emmy's kite shop.
I adore the romance of old houses, so right away I knew I wanted Avery to live in her family's hundred-year-old bungalow in a copse of fir trees above the ocean. I gave it a huge stone fireplace and old-growth wooden joists that groan during storms. The leaky windows are charmingly fitted with wavy glass. The house has a deck with a killer sunset view and rickety stairs to the beach, where big rocks ring a firepit. The house's constant need for repair gives Avery's would-be boyfriend Dave a reason to hang around with his toolbox.
Finally, I put Strings Attached in the ground floor of a modest Victorian house a block from the ocean. No mini-mall location for Emmy. The sales area is in the house's former living room and features stained glass windows, hardwood floors, beautiful moldings, and a fireplace. Emmy's kite workshop—where she fulfills her real passion, designing and making kites—is in the roomy, sun-filled, eat-in kitchen. I imagine the smell of old wood and tang of ocean air mixing with the scent of Lapsang Souchong tea and a hint of fabric glue.
I can only hope you enjoy reading about Rock Point as much as I loved inventing it! If you were to invent your own town, where would it be? What would it look like?
GIVEAWAY
One commenter will receive a copy of
BLOWN AWAY
, so do tell us what your town would look like!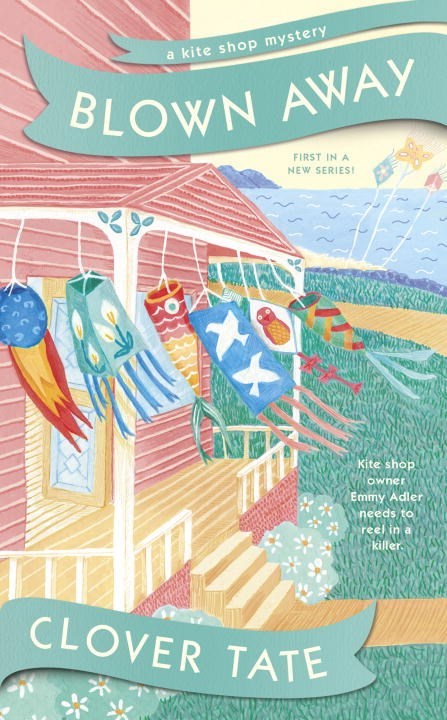 In the all-new Kite Shop Mystery series set in the beachside community of Rock Point, Oregon, kite shop owner Emmy Adler gets swept up in a murder investigation.
Emmy is finally living her dream. She's moved to the coastal town of Rock Point, Oregon, and is starting a kite business. Strings Attached features her own unique designs, inspired by everything from Picasso to Matisse's colorful cutouts. Her spirits are soaring sky-high the morning of the grand opening—until she stumbles upon a dead man washed up on the beach.
The body belongs to local chef Miles Logan, and the gash across his chest indicates he's been murdered. The sheriff suspects Emmy's best friend, Avery, who used to date the chef. Emmy is sure Avery would never hurt anyone, but her pal doesn't have an alibi for the night of the murder. With Avery's freedom and the fate of her kite shop up in the air, Emmy takes it upon herself to follow the string of clues and solve the murder before the real killer takes flight.
Mystery Cozy [Berkley Prime Crime, On Sale: February 7, 2017, Mass Market Paperback / e-Book, ISBN: 9780425283547 / eISBN: 9780698410275]
Comments
24 comments posted.
Re: Clover Tate | Inventing Rock Point

I did invent my own town inhabited by strange creatures and even
stranger people on California's wild coast.
(Rena Leith 1:34pm February 6, 2017)
I have never read any of your books before but this book
sounds good!
(Jennifer Heacox 3:06pm February 6, 2017)
My town would also be coastal and fairly touristy, with cozy tea shops
amidst boutiques, delis, a perfume shop, a confectionary and restaurants.
People are friendly and mostly tolerant, the weather is often dramatic and
it's quite pet friendly. Settled by Basque farmers, there is still a vocal
contingent of Native Americans and a seasonal conclave of Roma who
never reveal their reasons for visiting the area.
(Maureen Pattarelli 3:23pm February 6, 2017)
An old school beach town from the 1950's.
(Sharon Berger 9:44am February 7, 2017)
I would love to read this! I love mystery books!
(Kaye Newman 12:45pm February 7, 2017)
I live in a land-locked state, so I would set my town near the ocean in the
South. It would have great seafood restaurants!!! It would also be near a
small college so there would a artsy culture available. There would be great
bakeries, art galleries and odd qurky museums. Also there would be a
surfer culture among the small town vibe. Oh yeah also a really cool library
and second hand book and clothing stores and small artisan grocery
stores!! Oh my!! Does it sound like a live 2 hours from absolutely
everything?!? Oh yeah I'm in the middle of reading your Vintage Clothing
Mysteries and I really love them. So thanks for your creative work
(Karen Morris 1:01pm February 7, 2017)
bookstores, coffeeshopos and bakeries.
(MaryEllen Hanneman 2:27pm February 7, 2017)
Since I miss Alaska so much I'd set my book in a coastal town in southeastern Alaska.
(Sue Farrell 10:11am February 8, 2017)
this looks like a good read. Can't wait to read it.
(Joann Lord 11:50am February 8, 2017)
didn't read the question but my perfect setting would be in the Blue Ridge mountains. It would have of course at least 1 bookstore, a grocery store, some restaurants or a diner.
(Joann Lord 11:55am February 8, 2017)
I would also go coastal, either New England or Pacific Northwest, whichever has the best seafood at the time of writing. Populated with the usual type of characters one finds in that type of town, it would definitely be somewhere I'd like to live!
(Lynn Rettig 12:28pm February 8, 2017)
I would like a coastal town with lots of cute shops &
eateries.
(Jana B 7:09pm February 8, 2017)
My town would be small and in the mid-west. Lot's of book stores, coffee and tea shops, and antiques. I think a few gift shops would be great as well.
(Kathleen Gardiner 8:42pm February 8, 2017)
East coast of Maine. Rocky shoreline. Very small quaint town
where everyone knows everyone. It would have a small general
store, a church, a small school and a cafe.
(Dawn Staniszeski 10:49am February 9, 2017)
I have many favorite places. It would likely be a small town on the shore of a
lake in the Adirondacks in Northern New York. It is prime country for hiking,
rock climbing, fishing, canoeing, camping, hunting, and in the winter, skiing
and snowmobiling. Also a great spot for wildlife and photography and even
painting. All these things can dovetail into a small town focused on the
outdoors. There are some lovely old lodges in the area built by wealthy
families. It gives a lot of plot possibilities. Where ever I put my town, it would
have to have mountainsand water.
(Patricia Barraclough 12:49pm February 9, 2017)
i'd make my town in a warm, beach area, with good chocolate
and a BIG library! and lots of free wi-fi so i can get all
the fantastic ebooks for those times that a hard copy book
isn't practical.
(Sandy Haber 5:53pm February 9, 2017)
My town would be small like the one I grew up in. It would be
set in the mountains where everyone thought they knew
everyone. Great bakeries, coffee shops and one huge library
were you could spend the day happily.
(L Green 12:21pm February 10, 2017)
If I could invent my own town, it would be picturesque... Lots of trees and quaint shops... real small town America.
(Jamie Stein 1:19pm February 10, 2017)
I would like it to be like my small West Texas town where
people are friendly. Lots of history and open areas.
(Leona Olson 5:13pm February 10, 2017)
My town would be in the Midwest similar to where I am living now. Historic
brick buildings, trees everywhere, perfect views of the sunsetting each
night :)
(Nikki Ratledge 3:09am February 11, 2017)
Haven't read any of your books. Would love to start with this one.
(Patricia Wagner 11:43am February 11, 2017)
My town would be near a mountain, have nearby sparkling water in creeks, and quaint but friendly people.
(Anna Speed 1:19pm February 11, 2017)
A medium-sized historic town on a lake with plenty of
farmland around.
(Irene Menge 8:03pm February 11, 2017)
Great! I have a thing for businesses and I love that she has a kite shop!
It's really a dream to have your own place, doing your own thing..I think
you are onto something here. Sounds like a great read!
(Tracey Concannon 9:40am April 12, 2017)
Registered users may leave comments.
Log in or register now!