Hi, everyone! I'm Katherine Fleet, and I'm so excited to be here on Fresh Fiction today. I'm the debut author of THE SECRET TO LETTING GO from Entangled Teen. It's a YA contemporary set in a fictional town on the Gulf Coast of Florida during that magical summer after high school graduation where the whole world is out there waiting for you. It's the story of two teens – Clover, a mysterious girl who shows up in town steeped in secrets and fears, and Daniel, a boy who's drawn into her troubled world despite his better judgment. Life keeps throwing them together, but their secrets keep them apart. Ultimately, it's a story about living through tragedy and learning to forgive your self.
As it's "Suspense Day" here on Fresh Fiction, I was asked to write about suspense. My first thoughts were about thrillers and murder mysteries and how these possibly applied to my writing, but then I looked up the definition of suspense. It's "a state or feeling of excited or anxious uncertainty about what may happen." Hmmm…I've felt this frequently when watching shows like Downton Abbey or reading books like THE HELP. Yet, neither of these has any serial killers or car-chase scenes.
So this got me thinking – what makes something suspenseful for me?
There is one main prerequisite. I have to be emotionally invested in the characters. If I don't care about a character, I don't really care what happens to them. Therefore, I don't feel any anxious uncertainty, even if they are about to be kidnapped, blackmailed or dumped by their one true love.
If you're a Walking Dead fan, you'll relate to what I'm about to say. If you aren't, you need to start binge watching on Netflix immediately after finishing this post (and after checking out my book!). The Walking Dead producers recently masterminded one of the largest global suspense frenzies ever. *Spoiler alert. They left millions of viewers believing that Glenn had been eaten by walkers. Twitter exploded! Fans wailed and curled into fetal positions. Then the rumors started – maybe he hadn't actually been eaten, maybe he crawled under a dumpster and survived. Hope surfaced and suspense raged. Two weeks later, the truth was revealed. Glenn survived!
I heard a producer talking about this episode. He said he wanted fans to feel the same uncertainty that characters in the show would be going through. In the post-zombie apocalypse world, communications are limited, so characters often go days without knowing what's happened to their loved ones.
But why did the fandom react so intensely? Because it was Glenn. Glenn is part of the original Atlanta Five. He was the young, brash, loyal and brave pizza delivery boy, and over the seasons, we've watched him grow into a strong, compassionate man. More importantly, Glenn has maintained his humanity. He's the quiet, moral compass of the group and his love for Maggie is a beacon of hope in a world that has lost all its meaning. We love Glenn because of who he is and because of that emotional investment, the suspense literally killed us!
So there you have it – my thoughts on what makes for great suspense. I'd love to hear your feedback. What makes you feel suspense? Any favorite suspenseful moments in recent books?
Originally from Newfoundland, Katherine Fleet gave up the cold winters of Eastern Canada for the year round warmth of the Caribbean. The slower pace of island life has given her time to pursue a long-time goal—becoming an author. When she's not writing, she spends her time baking, chauffeuring her three amazing, talented kids around, and having sun-filled adventures with her husband and wonderful friends in Curaçao. She is also a very thankful breast cancer survivor.
She is represented by Carrie Pestritto of Prospect Agency. The Secret to Letting Go is her debut novel. The YA Contemporary will be published by Entangled Teen on 2/2/2016.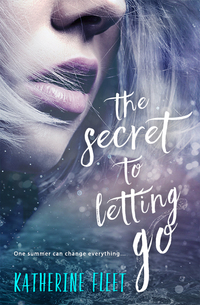 One summer can change everything...
Haunted with guilt after his girlfriend's death, Daniel Hudson has no interest in committing to anyone. At the end of the summer, he'll be leaving Florida for a new start in college. If only he could avoid the mysterious new girl in town, who seems every bit as naive and eccentric as she looks. Trouble is, she's hard to ignore, with her beautiful piercing eyes, pitiful-looking dog, and unsettling tendency of finding trouble.
Clover Scott lived her whole life off the grid and arrives on the Gulf coast in search of her grandparents. She never expected to nearly drown, or get caught in a hurricane, or fall in love with the boy who rescues her. Now, she has a chance to rewrite her life's story, to finally fit in somewhere, but Daniel wants answers about her past. When the police start asking questions about the disappearance of her parents, she must make a choice: go to jail or confess her secrets—even if they might destroy her chance at a happily-ever-after.
No comments posted.