Terri Reed | My Top Five Holiday Stress Busters

November 16, 2015
Murder Under the Mistletoe
Terri Reed
AVAILABLE
Northern Border Patrol: Keeping the US-Canadian border safe..
Northern Border Patrol #3

November 2015
On Sale: November 3, 2015
Featuring: Heather Larson-Randall; Tyler Griffin
ISBN: 0373447035
EAN: 9780373447039
Kindle: B00ZPSA5BG
Paperback / e-Book
Add to Wish List

Also by Terri Reed:
Deadly Christmas Memories, November 2022
Forced to Flee, October 2022
Deadly Alaskan Pursuit, September 2022
Detection Detail, April 2022

Christmas is a special time of year for me. I love all the decorations, the music and the giving. But it wasn't always fun for me. As a child of divorced parents the holiday was chaotic as I bounced between my mother's family and my father's. Don't get me wrong, I love all my family on both sides, but it was stressful. I was a neurotic kid with lots of anxiety and the chaos of Christmas added to my neurosis. I found myself dreading the season. As an adult I've learned to take a deep breath and approach Christmas with a heart of gratitude instead of anxiousness.
My top five holiday stress busters:
1. A massage. I tend to hold all of my tension in my shoulders and back that makes writing hard but also makes me crabby. A double whammy at this time of year. A good deep tissue massage relieves all that tension and puts me in a much better mood.
2. A pedicure. Even though its winter and my feet are snug inside slippers, boots and rain shoes, I feel prettier when I have pretty toes. Not to mention the stress relief of having a foot and calf massage. Did you know that there are trigger points in your calves and feet that are connected to your nervous system?
3. A hot bath before bed, or when I awake, or pretty much anytime. A good soak in hot water and Epsom salts does wonders for my whole body and my outlook. Also it allows me time to catch up on some reading or prayer.
4. Lunch with friends. There is nothing like friendship to chase away stress and tension and provide encouragement and support. I admit it can be challenging to find time in busy schedules but I'm always so thankful when I can connect with my friends.
5. Family. Okay, sometimes family can be the cause of the stress and tension at this time of year but taking time to play a game, go for a walk, or eat dinner together without the distractions of electronics can bring the joy back into the season.
Giveaway
Please share with us some of your stress busters! Leave a comment below an be entered for a chance to win two backlist books, a Moonstruck chocolate bar and a Tule Books bag!
Award winning multi-published author Terri Reed discovered the wonderful world of fiction at an early age and declared she would one day write a book. Now she is fulfilling that dream writing full-time. Her romance and romantic suspense novels have appeared on Publisher's Weekly top 25, Nielsen's Bookscan top 100 and featured in USA Today, Christian Fiction Magazine and Romantic Times Magazine. Her books have finaled in Romance Writers of America's RITA contest, National Reader's Choice Award contest and the American Christian Fiction Writers The Carol Award contest.
She resides in the Pacific Northwest with her college-sweetheart husband, two wonderful children, and two dogs. When not writing, she enjoys spending time with her family and friends, gardening and playing tennis.
Website | Facebook | Goodreads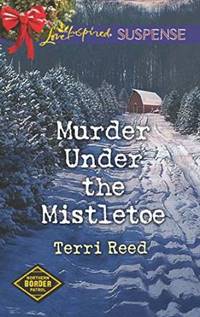 AGENT UNDERCOVER
DEA agent Tyler Griffin must stop a drug cartel that's using an Idaho Christmas tree farm to smuggle narcotics across the Canadian border. But to do his job, Tyler needs the cooperation of farm owner and widowed mother Heather Larson- Randall—whose informant brother died on Tyler's watch. Tyler knows a crucial piece of evidence is hidden somewhere on the property. But getting the protective mother to trust him is the hardest part of his mission. As threats against Heather mount, he vows to keep her and her child safe…and clear the farm of danger before Christmas.
Northern Border Patrol: Keeping the US-Canadian border safe..
Comments
38 comments posted.
Re: Terri Reed | My Top Five Holiday Stress Busters

My stress releaser is to sit and read with a nice cup to tea. Reading always takes me into another world and away from my stress. I LOVE it!!!
(Bonnie Capuano 9:22am November 16, 2015)
Some of my stress busters are reading, drinking hot chocolate, and listening to music. I really like listening to Christmas music during this time of year.
(Kathy Morrison 9:55am November 16, 2015)
Reading. listening to music, chocolate.
(Marissa Yip-Young 10:04am November 16, 2015)
A nice hot bath, a light, engrossing book, and a glass of
wine.
(Deb Philippon 10:30am November 16, 2015)
A lovely walk in the sunshine soothes me.
(Sharon Berger 10:54am November 16, 2015)
Reading, listening to soothing music, playing with my dog and looking out my backyard window are stress busters for me.
(Colleen Conklin 11:42am November 16, 2015)
Pedicure, Christmas music, watching lit Christmas tree, Reading anytime of course.
(Sandra Stipins 1:04pm November 16, 2015)
Reading is my #1 stress buster. I can just forget about
everything and relax. I also love to go for long walks in the
park by my house.
(Denise Austin 2:07pm November 16, 2015)
Watching my soap opera helps me to forget and relax
(Jeri Dickinson 3:11pm November 16, 2015)
Snuggling with my kitties calms me down
(Donna Antonio 3:45pm November 16, 2015)
K-dramas, reading, and listening to music
(Lisa L. 6:52pm November 16, 2015)
I like to read, crochet, and play games on the computer.
I also find baking to be a stress buster!
(Kathleen Gardiner 10:12pm November 16, 2015)
Reading a good book and spending time with my grandkids
(Ava Curtis 1:16am November 17, 2015)
My best stress buster is sitting in my favorite chair, and
pulling out my knitting. If I don't do my knitting,
crocheting is a close 2nd. I have music that I like playing
in the background, and to get a few rows done on either one,
is like Heaven to me!! I also enjoy curling up with a good
book, and a nice cup of hot chocolate when the weather
warrants it, or else a nice glass of coke, and my favorite
chair, along with a kitty or two. I get the urge to put
jigsaw puzzles together when the snow starts to fly, and I
have a table set up for my Husband and I to sit by our
sliding door, so we can watch the snow and work the puzzle at
the same time. There are also other needlecrafts that I like
to get involved with for a change of pace when knitting or
crocheting tend to bog me down, and I'll pull those out.
Needlepoint is quite relaxing, as is crewel embroidery, and
beading is fun to do, too!! I'm never bored, and always have
something to keep me occupied and stress-free!!
Congratulations on your latest book, and I'll be looking
forward to reading it!! I've already put it on my TBR list
for my Fall/Winter list. It sounds like a page-turner!!
(Peggy Roberson 6:37am November 17, 2015)
Wow you all have some fabulous ways to destress. I like that so many of you
said reading! I agree that music can reduce tension. Especially if I get up and
dance to it! :-)
I'm not a cat person (I'm horribly allergic) but snuggling with my dogs is
really calming too.
(Terri Reed 12:28pm November 17, 2015)
Going to a casino puts me in another world , I forget about what is going on ,on the outside. Dancing is another stress release for me .
(Joan Thrasher 2:04pm November 17, 2015)
Reading is my stress buster.
(Deb Diem 11:50pm November 17, 2015)
bubble bath and a drink and a great romance book
(Emily Stemp 8:13am November 18, 2015)
Playing with my dog is the best stress reliever I can think of.
(Nancy Marcho 1:12pm November 18, 2015)
Have a nice drink and enjoying a good book.
(Ron Frampton 1:13pm November 18, 2015)
I have two stress relievers: reading a good book or watching
favorite TV shows.
(Joan Crothers 1:54pm November 18, 2015)
Reading and listening to music are my stress busters.
(Janice Santillo 3:17pm November 18, 2015)
Watching my soap opera, reading, and doing nothing
(Jeri Dickinson 3:31pm November 18, 2015)
I'll chill out on the sofa and watch a favorite movie.
(Richard Brandt 5:03pm November 18, 2015)
I put a few CD's on, sit in my recliner and maybe take a nap.
(Nancy Luebke 9:17pm November 18, 2015)
Reading getting lost in a book is a great way to get rid of
stress.
(Stacie Williams 12:03pm November 19, 2015)
Reading and puzzles are my favorite stress busters.
(Carrie Edmunds 12:52pm November 19, 2015)
a hot bubble bath and a good book are my favorite stress busters.
(Pam Howell 9:46am November 19, 2015)
Talking and seeing my adult children and my grandchildren.
(Leona Olson 10:30am November 19, 2015)
Hot bubble bath and Celine Dion music in the background.
(Emily Stemp 10:51am November 19, 2015)
Being with my grandchildren lights up my life and are my stress busters!
(Susan Patterson 11:51am November 19, 2015)
Reading on my kindle cuddled up under my blankets!
(Denise Austin 11:57am November 19, 2015)
I crawl into bed and read a good book to relieve my stress. This takes me into other places and situations and away from whatever was bothering me.
(Anna Speed 12:58pm November 19, 2015)
Chocolate, bubble baths, cheesy romance books, hot cocoa, shopping...lol
(Lily Shah 2:13pm November 19, 2015)
Having my cat come up and lay with me when I am on the
couch seems like she knows when I need something
(Jeri Dickinson 7:36pm November 19, 2015)
Sitting down with a good book and a Pepsi are a good stress reliever for me.
(Mary Holshouser 12:05pm November 26, 2015)
Reading and listening to music are two if my stress
busters. Anything to tune out the world around me for a
little bit.
(Brittney White 12:20pm November 29, 2015)
Wow, thanks for all the wonderful suggestions and sharing of ways you
destress! I love it.
(Terri Reed 11:51am December 17, 2015)
Registered users may leave comments.
Log in or register now!