Paige Tyler | What Characters from the SWAT Series Are Most Like You?

August 20, 2015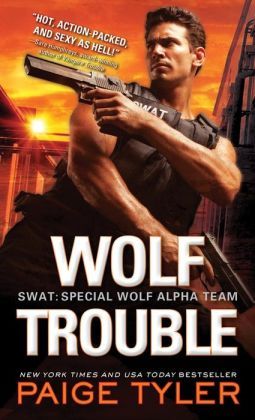 AVAILABLE
SWAT #2

August 2015
On Sale: August 1, 2015
Featuring: Khaki Blake; Xander Riggs
352 pages
ISBN: 1492608505
EAN: 9781492608509
Kindle: B00UTWFVBM
Paperback / e-Book
Add to Wish List

Also by Paige Tyler:
Wolf Untamed, December 2020
Add to review list
SEAL on a Mission, August 2020
Wolf Under Fire, June 2020
Add to review list
Wolf Rebel, December 2019

If I had to pick characters that have a lot of "me" in them, it would have to be Officer Landry Cooper and his mate Everly Danu from TO LOVE A WOLF, Book 4 of the SWAT series. It releases in 2016, so readers haven't gotten a chance to read Cooper and Everly's story yet, but take my word for it when I say a lot of me showed up in Everly, and equally interesting, a lot of my husband (who is my writing partner) showed up in Cooper. Even though Cooper doesn't get his story until Book 4, a lot of readers already know him pretty well through the other books they've read up to now. He's the Dallas SWAT team's demolition expert (he was in the Army Bomb Squad) and also tends to be the person that people come to for advice. He's sort of the team's Doctor Phil. Cooper can be a bit snarky now and then, but everyone on the team knows he's the one they can come to when they're in trouble. What a lot of people probably don't realize is that Cooper is modeled after my hubby. He's former Army EOD (Explosive Ordnance Disposal) for 20 years, and has a lot of the same personality quirks as Cooper. He can be a bit snarky, seems to have a somewhat laisse fair attitude toward explosives, is steady when things get stressful, and is usually a calm sounding board for people who want to talk about their problems. So I guess it makes sense that when I started thinking about Cooper's love interest, I patterned Everly after me. I can be very possessive, even in a book, so if Cooper is getting a girl, it's going to be me! Everly is certainly in line with the kick-butt heroines I've portrayed in my other books. When those she loves are in danger, she can be fierce. But Everly also has a soft side. She's an artist, so she draws, paints, and does graphic design, all things I do as well. She also loves doing nude figure studies of Cooper—who wouldn't? That was my favorite class in art school, by the way. Everly's boho, emotional, and quick to give her heart, which means she can fall for a guy really fast (like I did with hubby!), but it also means she can be easily crushed. In addition to all that, she's somewhat of a free spirit, sometimes heading in certain directions simply because people tell her not to. As you can imagine, that can get her into trouble sometimes, so it's a good thing she has an alpha werewolf there to watch out for her when things go really bad. When people read TO LOVE A WOLF, I think the ones who know us well will see hubby and me in the characters of Cooper and Everly!
GIVEAWAY
What romance couple is most like you and your significant other or you wish were like you and your significant other? Leave a comment below and be entered for a chance to win a copy of WOLF TROUBLE.
Paige Tyler is the USA Today bestselling author of sexy, romantic fiction. She and her very own military hero (also known as her husband) live on the beautiful Florida coast with their adorable fur baby (also known as their dog). Paige graduated with a degree in education, but decided to pursue her passion and write books about hunky alpha males and the kickbutt heroines who fall in love with them. She is represented by Bob Mecoy. Website | Blog | Google+ | Goodreads | Twitter | Facebook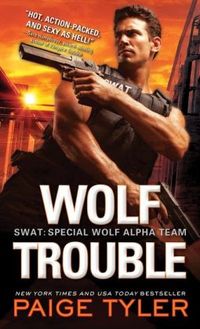 He's in trouble with a capital T There's never been a female on the Dallas SWAT team and Senior Corporal Xander Riggs prefers it that way. The elite pack of alpha male wolfshifters is no place for a woman. But Khaki Blake is no ordinary woman. When Khaki walks through the door attractive as hell and smelling like heaven, Xander doesn't know what the heck to do. Worse, she's put under his command and Xander's protective instincts go on high alert. When things start heating up both on and off the clock, it's almost impossible to keep their heads in the game and their hands off each other…
Comments
21 comments posted.
Re: Paige Tyler | What Characters from the SWAT Series Are Most Like You?

Hard to say since I have no significant other.
(Marissa Yip-Young 6:06am August 20, 2015)
My husband and I have six children. We are that smile on the way out kinda couple! I'd like to be a more "date night with romantic elements" couple. However, even without six children, he's just not that romantic anymore!
(Amy Morgan 9:41am August 20, 2015)
I don't have one.
(Pam Howell 10:27am August 20, 2015)
No significant other... so I can not compare...
(Colleen Conklin 12:59pm August 20, 2015)
It is only me so I don't know
(Tamara Lawson 9:55pm August 20, 2015)
Gosh...since we're both 70 I can't imagine us as any special character from a SWAT series. I could be one of their grandmothers though!!! I love to bake chocolate chip pecan cookies! How about that??
(Bonnie Capuano 10:56pm August 20, 2015)
no significant other but want to win
(Jean Benedict 3:01pm August 21, 2015)
no significant other but want to win
(Emily Stemp 7:17pm August 21, 2015)
I do not have a significant other.
(Jackie Wisherd 11:46pm August 21, 2015)
I started dating my husband when I was 15 and he was 17 . He has never been the romantic type . We are in our 70's now and still happy with 2 daughters and 6 grandchildren .So the fact is you don't have to have a lot of romance in your life , although I did wish that he would send me flowers when I was younger , I was so jealous when others at work would get flowers are candy on special days. I can't imagine what romantic couple I'd wish to be . Thanks for this giveaway .
(Joan Thrasher 10:29am August 22, 2015)
don't have one got rid of a bad one and now I am very happy!!
(Jennifer Beck 11:55am August 22, 2015)
That is a hard question since every book I read of yours I
wish that was me and my soul mate. Your book takes me from
our boring life to an exciting adventure.
(Sharon Sommer 1:05pm August 22, 2015)
Oh my what a tough question. My husband and I have been
together for 23 years. We have 2 gorgeous girls but I have yet
yet to read a book that is anything close to us. But that's
what I like about fiction...it's not reality.
(Maria Smith 3:58pm August 22, 2015)
Sorry I don't have a significant other - but I can dream can't I?
(Lesley Walsh 5:13pm August 22, 2015)
I do not have a significant other.
(Emily Stemp 9:24pm August 22, 2015)
I don't have a significant other.
(Linda Harrison 10:22am August 23, 2015)
I see my hubby and I in Eve Langlais' shifter books. Her
books are funny with sarcasm which is totally my hubby.
He would also do anything for me, like a male lion
protecting his lioness yet I can do for myself, which
sometimes frustrates him when all he wants to do is take
care of me. LOL
(Barrie MacLauchlin 1:20pm August 23, 2015)
I have really enjoyed reading all of yur other books. This one sounds equally as
good
(Joy Isley 1:44pm August 23, 2015)
I am single and have been for over 10 years!
(Denise Austin 4:21pm August 23, 2015)
Wouldn't Bridget Jones and Mark Darcy be nice?
(Samantha Tennant 11:55pm August 23, 2015)
No current significant other but some day I will find my dream
man. Your book sounds very intriguing, it's been added to my
TBR list. Thanks for the opportunity!
(Jennifer Lessard 1:03am August 26, 2015)
Registered users may leave comments.
Log in or register now!