Leslie Budewitz | Collecting Can Be Murder

July 7, 2015
Butter Off Dead
Leslie Budewitz
AVAILABLE
Food Lovers' Village #3

July 2015
On Sale: July 7, 2015
304 pages
ISBN: 0425259560
EAN: 9780425259566
Kindle: B00Q5DLWYY
Paperback / e-Book
Add to Wish List

Also by Leslie Budewitz:
Peppermint Barked, July 2022
The Solace of Bay Leaves, November 2020
Chai Another Day, June 2019
As the Christmas Cookie Crumbles, June 2018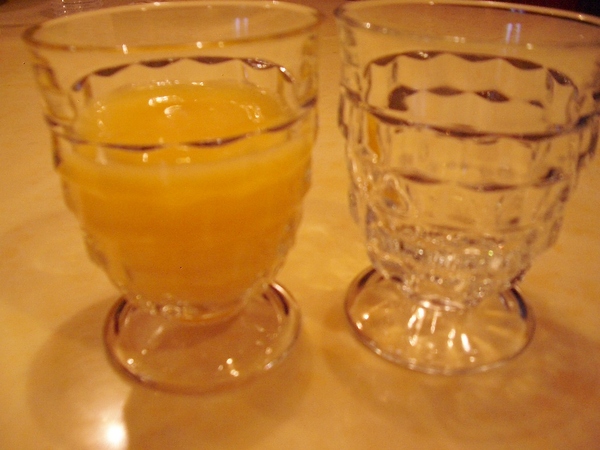 I thought I'd escaped the collector gene. My father's baseball cards and memorabilia, his stamps and first-day covers, his postcards, the cameras and carved wooden boxes he brought back from his captivity in Switzerland during the war—all intrigued me, but I'd never felt a need to follow suit. One Barbie doll was enough, and even that had been a gift. The trolls? Fun, until I was done with them. My brother got the gene— and the collections, and he's added to them. My sister-in-law has her fabrics and her cat figurines and her pottery, my mother her angels, my husband his swords and Huichol Indian beadwork.
When I wrote the third in my Food Lovers' Village Mysteries, BUTTER OFF DEAD (July 7), I found myself musing about when a collection becomes an obsession, and when an obsession becomes deadly. Even then, I didn't think of myself as a collector. I don't stop at garage sales and rarely scrounge through antique or junk shops. The umpteen glass candlesticks? An accident that began with two Fostoria Americana singles I found at an antiques show in Seattle. I'd always loved the pattern and snatched them up, inspired by my mother's doubles. I bought other shapes and styles; she searched out a few more, and a friend joined in the fun.
Then I visited that friend in San Jose and carried home two Fostoria goblets. (The TSA guard was initially troubled by all the packing material, until I rattled off exactly what was in the package. As in fiction, details are persuasive.) When my mother sold the family home, she gave me her pieces, all wedding presents. Then she added another two or three, and the friend in California has a long memory ...
The first antique bottle surfaced when I was digging a hole for a yew at a farmhouse I once owned. A second hole yielded a second bottle—I'd probably found the homesteader's garbage heap. Now gardener friends share their finds, and a few others have come to me as well—bottles that once held ink, cream, patent medicines, and who knows what else.
The hearts? Okay, you got me: that's a collection, though the only heart I've ever bought to add to it is a rusty, elongated metal cut-out, found while browsing in Spokane. Many are found objects---copper wire, shells, rocks, and this whitetail hoof print. I gave the collection to my girl Erin, the main character in the Food Lovers' Village mysteries, and in BUTTER OFF DEAD, and a certain someone adds to it...
What about the notes readers have sent me and the bookmarks from stores where I've given talks or readings? Collection, or inspiration? Both.
My first brass doorknob came from that same rural Montana farmhouse. They're hard to reuse in modern doors, so I kept my treasured few in an old cigar box (and no, that's not another collection!) until we planned a major remodel. A friend who'd salvaged a few knobs in his days as a builder rounded out the collection, and we created this coat rack inside our back door.
One more: Since my unpublished days, I've bought myself a piece by a local Montana artist as a prize for finishing a book. (Still haven't bought the prize for BUTTER OFF DEAD; must go shopping!) Here are a few faves: an iridescent cattail grove by Christine Vandeberg (you'll meet her namesake in BUTTER OFF DEAD); a woodblock print called Three Chickadees by Sarah Angst; and a tree spirit by Lana O'Myer.
In late May, I asked other authors and readers to tell me about their collections, It became clear that readers and writers simply must have our books. One reader said books aren't collections, because collections are luxuries and books are necessities. Mine, like most of yours, I suspect, were bought to be read, not to complete a set or fulfill a search. Maybe that makes me less a collector and more a reader. I can live with that!
Another reader called our collections part of our identity, and there's a lot of truth to that. Even the authors who initially told me they didn't collect anything quickly realized otherwise.
Some collections, it turns out, are accidental. Others are inherited. Some are nurtured; some the owners wish had never gotten started! They are, ultimately, symbols of connection—to a time or a person long gone. To a place we loved, to a feeling they bring. To friends, to lovers, to family. To pieces of ourselves.
What better symbols of all that than hearts and candlelight?
GIVEAWAY
Do you have a favorite collection? How did it get started? Leave a comment below and be entered for a chance to win a copy of BUTTER OFF DEAD!
Leslie Budewitzis the author of the Food Lovers' Village Mysteries and the Spice Shop Mysteries—and the first author to win Agatha Awards for both fiction and nonfiction. She lives in northwest Montana with her husband, a musician and doctor of natural medicine, and their cat Ruff, a cover model and avid bird-watcher.
For more tales of life in the wilds of northwest Montana, and bonus recipes, visit her website and subscribe to her newsletter.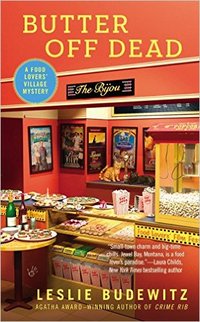 As the national bestselling Food Lovers' Village Mysteries continue, the merchants of Jewel Bay, Montana, try to heat up chilly winter business with a new film festival. But their plans are sent reeling when a dangerous killer dims the lights on a local vendor
In an attempt to woo tourists to Jewel Bay and cheer up the townies, Erin Murphy, manager of the specialty local foods market known as the Merc, is organizing the First Annual Food Lovers' Film Festival, filled with classic foodie flicks and local twists on favorite movie treats. But when her partner in planning, painter Christine Vandeberg, is found dead only days before the curtain rises, Erin suspects someone is attempting to stop the films from rolling.
To make matters worse, Nick—Erin's brother and Christine's beau—has top billing on the suspect list. Convinced her brother is innocent and determined that the show must go on, Erin has to find who's really to blame before Nick gets arrested or the festival gets shut down. But the closer she gets to the killer, the more likely it becomes that she'll be the next person cut from the program...
Comments
34 comments posted.
Re: Leslie Budewitz | Collecting Can Be Murder

Postcards started as a child
(Marissa Yip-Young 6:02am July 7, 2015)
Books. I especially collect graphic novels from people
whose artwork I love.
(Deb Philippon 9:29am July 7, 2015)
My favorite are glass Japanese figures called Hakata dolls,
if I have the spelling correct. They're bisque, and have a
light touch of paint on them. I have a few under glass, and
the others are on a black lacquer stand. The other item is
books, and although I enjoy all kinds, I especially like the
larger ones with photos that you can look through and learn
something from - such as animals around the world. I
enjoyed reading your posting, and can totally relate to it.
I'm looking forward to reading your latest book, and have
put it on my TBR list. It will make great reading to round
out my Summer. The cover is well-done, and your book should
do very well!! Congratulations!!
(Peggy Roberson 10:34am July 7, 2015)
I love antiques and have a whole collection of pink depression glass. I also love to read cozy mysteries. Keep up the writing for all the mystery readers.
(Ann Thaxton 10:56am July 7, 2015)
I have a collection of angels, it started when my
daughter first got sick with a brain tumor and has
continued since her passing. They are from all different
people and from all over the world. I have so many that I
am needing to get a new curio cabinet again :) Thanks
for the chance to win a copy of this book!
(Darlene Carroll 11:01am July 7, 2015)
I have a large collection of cozy mysteries ...love them
too much to give up but do lend to my daughters as long as
they return them ..Also love Elizabeth Peters books on her
archeology adventures and agatha christie stories.
(Jane Chizmar 11:07am July 7, 2015)
Love hearing about your collections. Peggy, I looked up
those dolls -- how cool! Ann, love pink Depression glass.
And oh, Darlene, the story of your daughter and your angels
hits me in the heart. xoxo
(Leslie Budewitz 11:40am July 7, 2015)
I have a collection of swan statues started when I was in Middle school when my favorite aunt gave me one for the birthday we both shared. I have over 100 now.
(Patricia Reed 12:16pm July 7, 2015)
I have a lot of cat figurines---I've collected them for
years because I love cats.
(Sue Farrell 12:32pm July 7, 2015)
I think I have read al dente by you, it was marvelous! I would love to win another book by you. I hope you continue to write. You are now one of my favorite authors. Keep writing. Thanks. Cindy
(Cindy Davenport 1:24pm July 7, 2015)
Your post was delightful and very special. I never did collect
anything since finances were regarded as important and I could
not indulge my whims. But later on I enjoyed finding the odd
watch which fit me since my wrist is small and this started
being my treasures.
(Sharon Berger 3:14pm July 7, 2015)
Sea shells is the only thing I collect now. Downsized and had to chose what
to keep. I use them as soap dishes, vase fillers, door stops, candle holders,
and so much more. And I seem to have a beautiful collection of dust
bunnies that have magically appeared now that the cat and two dogs are
shedding. 😼
(Heidi Burri 4:25pm July 7, 2015)
I used to collect salt and pepper shakers and now owls.
(Leona Olson 6:46pm July 7, 2015)
Storage and display space -- and dust -- are the
collectors' bane, aren't they? Sharon, your watches are
the perfect collection -- just the right fit!

Patricia, 100 swan statues? You could open a small
gallery here in Montana's Swan Valley!

Thanks to all of you for chiming in!
(Leslie Budewitz 7:03pm July 7, 2015)
I collect teddy bears. The first NEW toy I received from my
parents as a child was a teddy bear. My most precious one
has a ceramic necklace that says tied to my heart by
adoption and love. I received that as a gift when our first
child, our son Joshua, was placed in my arms.
(Joanne Kocourek 7:34pm July 7, 2015)
I collect numerous things,too many to mention! I am a pack
rat.
Marilyn
(Marilyn Collins 7:34pm July 7, 2015)
Ah, Joanne, that makes me smile!

Marilyn, not many admit that -- you're brave!
(Leslie Budewitz 7:55pm July 7, 2015)
I collect coffee cups or mugs of special places I have been .I have over 2oo that are hanging on a wall on pegs in my computer room and lots in a cabinet . Most are of states but some are with pictures of my kids and grandkids on them and some are comical. When people see them for the first time , well that starts a very long conversation. I have had to slow down now that I have no more room for them.LOL But if it is very special to me I'll probably get another mug .Ha
(Joan Thrasher 10:46am July 8, 2015)
Joan, you're spot on: Collections remind us of people and
places we've loved. They are the repository of our
memories.
(Leslie Budewitz 11:32am July 8, 2015)
I have been collecting precious moments since I was a kid. And I collect flute figurines.
(Pam Howell 1:58pm July 8, 2015)
Pam, I'm curious -- figurines of people playing flutes, or
of the flutes themselves? Either way, quite unusual. How
did it start -- do you play?
(Leslie Budewitz 3:16pm July 8, 2015)
I collect things with apples on them:) I started doing this as a child when my
grandmother gave me my first hand carved apple out of wood. Then a few
months ago my hubby found the same dishes my grandparents had and
bought them for me, of course they are an apple pattern:)
(Penny Marks 7:16pm July 8, 2015)
well my biggest collection is bears i moved in new house and did not realize how many i had in home they literally took over the house every room except the kitchen i hae over 10 thousand in house they are the more expensive one princess di and then 911 bears avon bear etc i have over 30 thosuand in stoarge so they are going on and on i started this colledtion when my other got burn up in fire and amish girl made me one and then every one came buy with up to 3 so iget them every were and then when poeple find out i have them they say take this put it in your collection
(Desiree Reilly 7:48pm July 8, 2015)
I collect bells like my grandma on my Dad's side of the
family. One from the bicentennial year is cherished along
with a cowbell from Switzerland which has the edelweiss
flower painted on.
(Alyson Widen 8:09pm July 8, 2015)
As the wife of a packrat, I do not collect anything! However, I am sure some would say my Carolyn Brown books are a collection--I do have all she has ever written. (One of the perks of being her daughter.) IF I did collect, I would collect antique pieces of crystal.
(Amy Morgan 8:55pm July 8, 2015)
My first collection was my Nancy Drew series...and then Trixie Belden...Dana Girls...Cherry Ames....and then my stamps...and romance books....LOL
(Felicia Ciaudelli 8:12am July 9, 2015)
I collect eggs- china, painted, real decorated eggs all kinds of eggs. Have no clue why, just like eggs.
(Roseann Moss 9:47am July 9, 2015)
I collect anything available. I keep thinking I will find
something worth a ton of money but so far no luck
(Gloria Burke 1:03am July 10, 2015)
I would be thrilled to win one of your books. I collect books. Reading is a passion. Cindy
(Cindy Davenport 12:45pm July 10, 2015)
Other than books, I collect candles! I just love them!
(Maria Proctor 2:24pm July 10, 2015)
I have two "collections" that I regularly add to. The first is my collection of
teapots and teacups. I am a big tea drinker and I just really enjoy the way
they look. My other collection is a bit more unusual: t-shirts. Anytime family,
myself, or anyone else goes on vacation, they/I always pick up at least one t-
shirt to remind me of the trip. I would say that is the more practical collection
of the two.
(Alice Hunter 4:22pm July 10, 2015)
I collect jewelry boxes. My grandma gave me one as a child and
I have been adding to them over the years. I just won one a
handmade wooden one yesterday that is absolutely gorgeous.
(Denise Austin 4:50pm July 10, 2015)
I enjoy reading, so it logical that I collect books. Also, I collect family pictures, past and present generations. It's fun.
(Anna Speed 7:00pm July 10, 2015)
Penny, the Franciscan apple pattern dishes? Love them!

Bells and eggs and jewelry boxes -- all delightful ideas!
Teacups, t-shirts, and candles -- what a great variety.

And yes, I think books are a given with this crowd!
(Leslie Budewitz 5:25pm July 13, 2015)
Registered users may leave comments.
Log in or register now!