If you're a regular fair-goer, you probably know about this phenomenon. But I've had so many people give me puzzled looks when I mention it, that I think there must be quite a few who haven't heard of it. And I'll bet not very many people know the origins.
Tibet. Yes, Tibet. It's an ancient Buddhist tradition to carve yak butter for the Tibetan New Year. They're very elaborate shapes and the butter is dyed different colors to make intricate patterns.
Molding food into shapes has been a thing for a long time. It was a feature of dinners in Babylon and Roman Britain. They got very fancy! In 1536, the Pope's cook did nine scenes including an elephant with the riding chair on his back, Hercules wrestling a lion, and a Moor on a camel.
On to modern times. A dairy maid, Caroline Shaw Brooks, created an elaborate piece she called Dreaming Iolanthe to help sell her butter. She redid it many times and was invited places, like the Centennial Exhibition in 1876, to display her butter art. She went on to study in Paris and sculpt in marble, but kept making butter art, too. As you can imagine, this became a much easier art to practice when refrigeration became the norm!*
The most common place for butter sculptures now are farm or agricultural fairs, like the Bunyon County Harvest Fair in FAT CAT SPREADS OUT. And most contests are for making Butter Cows. The real Minnesota State Fair doesn't do Butter Cows. In fact, they commission well-known butter sculptors (there ARE such people!) to recreate beauty contest finalists.
Chase Oliver and her business partner cum surrogate grandmother are talked into renting a booth at the fair where they will sell their wildly popular dessert bars. The Bar None, their shop, is kept running by the new hire while they're at the fair, but some problems crop up with that. Also, Quincy smuggles himself to the fair and has a go at the dessert bars before he's discovered.
There is a butter sculpture contest, of course. But Butter Cows and beauty queens won't do for Bunyon County, a place I made up for the book. The contest there is for state symbols, and some of the sculptures are almost as elaborate as those of the Pope's cook. However, one of the best of the sculptors is found dead on the floor beside his unfinished masterpiece. Quincy, who has sneaked into the building, is found enjoying the butter. What's much worse is that Quincy's vet, Dr. Mike Ramos, is found with him and the body.
Chase knows that Mike didn't murder anyone! He's suspect Number One, though, so she keeps her ears and eyes open—and tries to keep Quincy contained.
* source (what else?): http://en.wikipedia.org/wiki/Butter_sculpture
Janet Cantrell is a pen name for Kaye George, Agatha nominated novelist and short story writer. She belongs to Sisters in Crime, Guppies, and Austin Mystery Writers. Her cozy Fat Cat mystery series debuts in September of 2014 with FAT CAT AT LARGE, featuring Quincy, a pudgy, adorable cat who is an accomplished escape artist. Especially when he's on a diet and hungry. Leave it to Quincy to lead his human, Chase, co-owner of a Minneapolis dessert bar shop, into trouble.
Janet lives in Knoxville TN with her husband. Her recently departed feline, Agamemnon, is a source for some of Quincy's antics.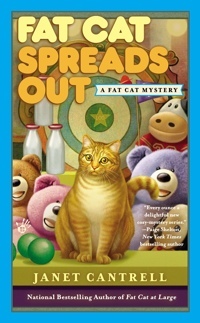 Butterscotch tabby Quincy is back and hungrier than ever in this frisky follow- up to FAT CAT AT LARGE…
A booth at the Bunyan County Harvest Fair seems like the perfect opportunity for Charity "Chase" Oliver and Anna Larson to promote their Bar None bakery business. Unfortunately, plus- sized pussycat Quincy has plans for their delicious dessert bars other than selling them to customers. After tearing through their inventory, Quincy goes roaming the fairgrounds in search of more delights.
But what he finds is murder. One of the top contenders in a butter-sculpting contest has been killed, and Chase is churning on the inside when she sees Quincy's handsome veterinarian, Dr. Mike Ramos, being led away by the police. With a little help from a kitty with butter on his whiskers, Chase needs to find the real killer and clear the doctor's good name…
Includes recipes for people and cats!
No comments posted.