Ann Lawrence | Time Travel and Your Imagination

May 4, 2013
AVAILABLE

May 2013
On Sale: April 25, 2013
391 pages
ISBN: 1419946102
EAN: 9781419946103
Kindle: B00CJFY794
e-Book (reprint)
Add to Wish List

Also by Ann Lawrence:
Christmas in Savage Bay, December 2013
Lord of Swords, October 2013
Virtual Warrior, October 2013
Virtual Desire, August 2013

Would you like to really time-travel? Or are you content, as I am, to visit other times in your imagination? When I'm writing historical romance, it feels like I'm taking a mini-vacation to another time and place. I especially love visiting a great castle in medieval times. With the rerelease in digital form of my medieval romances, I find I'm getting email again about the castles I create in my books. Are they real? Sadly, no, but they are created from real castles with my imagination woven in.
"Castling" is my word for creating the environment of my castles (not to be confused with the chess meaning). "Castling" is very important to me. It sets the stage for first encounters, love scenes, battles, and those highly emotional moments when the characters finally come together for a happy ending. When Emma and Gilles of LORD OF THE KEEP meet on the castle ramparts for their first hot moment, I want you to feel the cold winds that contrast so sharply with their passions. In LORD OF THE MIST, I want you to smell herbs and flowers and be as drawn into Cristina's chamber as Lord Durand was. When Adam Quintin (LORD OF THE HUNT) vies for the hand of the fairest lady in England (with Plain Joan looking on and suffering inside), I want you to see the great hall in which he makes his play.
The castling process for my tales really began when I was born near Rochester Castle (built circa 1127), and I swear it cast a spell over me, and it remains one of my favorites to this day. There's a little Rochester Castle in all of my creations.
My dad grew up in Portsmouth, England, and when I visit family there, I always stop by Portchester Castle ruins. I used Portchester Castle in LORD OF THE MIST. When I stand by the wall of Portchester, I see the same view I imagine Lord Durand saw and imagine his emotions as he experiences the varied moods of the wind and the water. I can feel the presence of Lord Durand's men and imagine the stink of the garderobe outlets (clearly marked for us tourists).
If I really want to appreciate the smell of medieval times, and the truly massive magnificence of a castle, I go to Warwick. They have a lovely "smelly" place in Warwick Castle that will help you understand just how lovely medieval times really were! On one visit to Warwick there was a mounted knight on the grounds and my son, who did not appreciate the stinky part of the tour, was awed by the man, his armor, and his caparisoned mount. I try to capture those moments, both stinky and awe-inspiring, when writing in medieval times.
Since I live near Philadelphia, I need to take lots of pictures to help me go back in time to medieval England. Here are an exterior and an interior shot of Rochester Castle. The woman way up high is my sister. I'm afraid of heights and depended on her to take a few shots for me that I just couldn't get, coward that I am.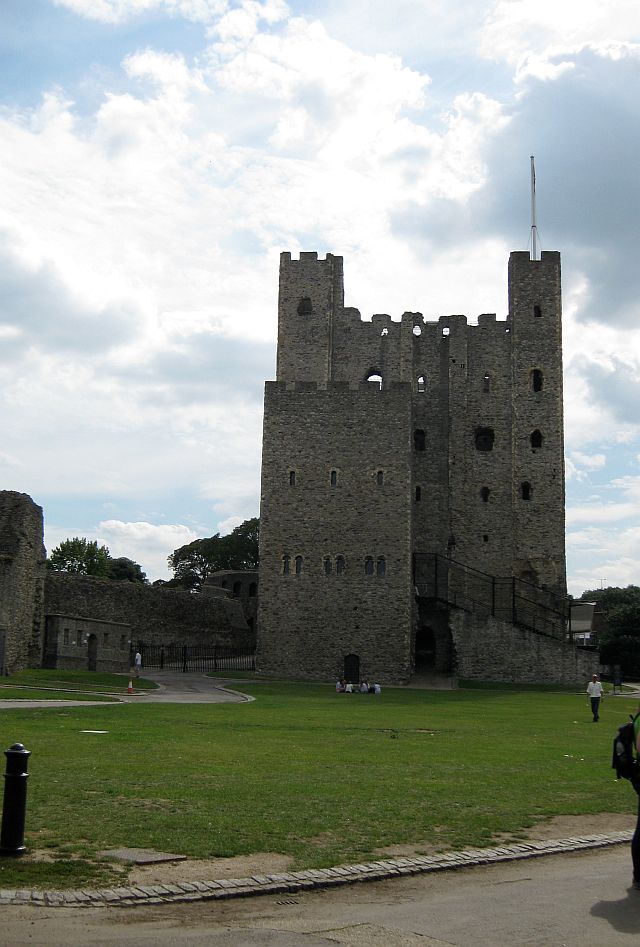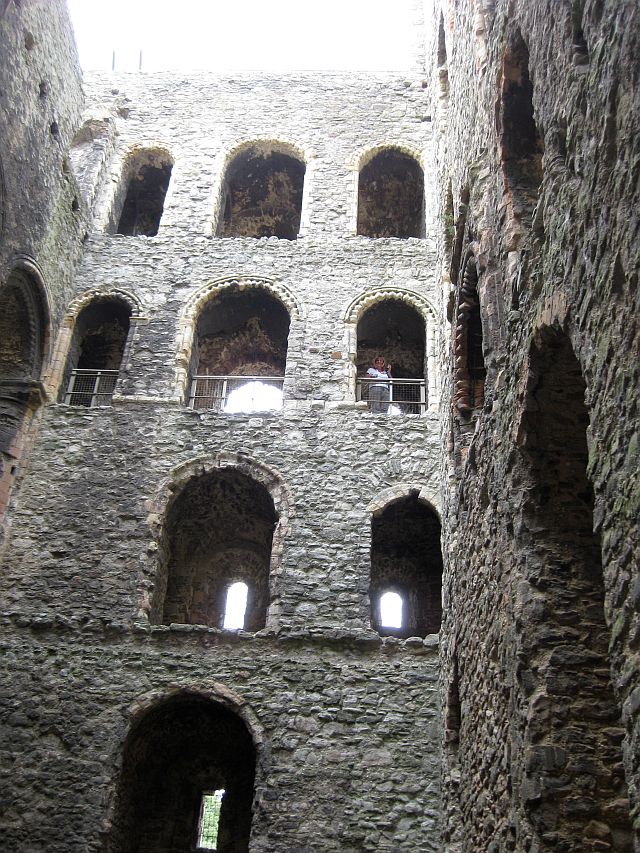 And here's a peek along one of Portchester's castle walls. With this and other photos I can mentally subtract the tourists and the moored yachts and see Lord Durand of LORD OF THE MIST looking with anger and foreboding on King John's galley!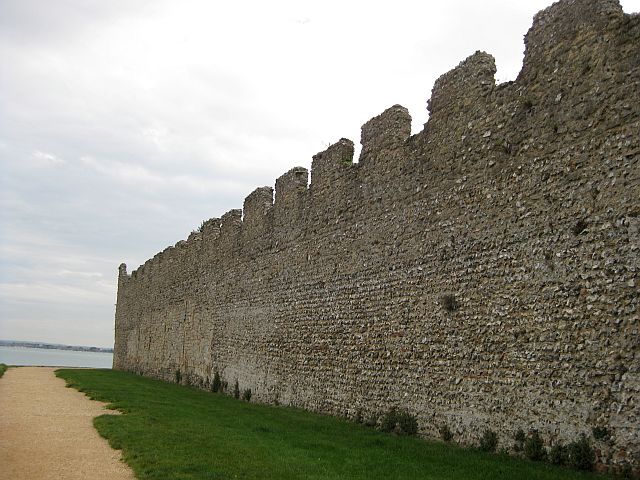 Would you like to time-travel? Or are you content, as I am, to visit in your imagination?
I hope you'll read my "lords" and enjoy the "castling" as much as I did!
I'm giving away an ebook copy of LORD OF THE MIST to two lucky people who comment on my blog.
Happy Reading!
Ann
Available now for the first time as an ebook:
LORD OF THE MIST at Ellora's Cave, Amazon
LORD OF THE HUNT available on May 30th
Comments
33 comments posted.
Re: Ann Lawrence | Time Travel and Your Imagination

LOVE to time travel...I got hooked on outlander and have loved that type of book and scenario ever since :) Would enjoy your read and love these images of castles sigh!
(Darci Paice 1:56am May 4, 2013)
I would love to time travel to see how the world was. I would love to see ancient Egypt and Greece in their height of glory. I would even love to meet FDR, George Washington, Edgar Allan Poe, and all those famous people I read and learn about. However, I would love to return to current time. I don't think I could live without plumbing and today's technologies.

What would be better is traveling into the future to see if what accomplishments have been achieved. Time traveling is definitely fun if I could travel back and forth.
(Kai Wong 1:58am May 4, 2013)
I would love to time travel if I could control it but it IS hard to predict. I will be content to travel in books like yours and other authors that have a better imagination than mine.
(Kathleen Yohanna 3:15am May 4, 2013)
i would love to time travel i love Dr Who and Quantum leap
(if anyone remembers that tv show)
(Denise Smith 4:04am May 4, 2013)
I have always pondered the possibility of time travel, either within my own timeline or through history and/or the future. Which leads to tons of questions, would I be able to take what I learn back and forth to influence events or just be in the moment? Either way, it would be quite an experience!
(Tracie Travis 4:44am May 4, 2013)
I'd like to time travel so long as I could control it somehow.
(Mary Preston 6:48am May 4, 2013)
I would love to time travel back to the early days of the USA. Somewhere around the 1800's would be nice, I think.
(Betty Hamilton 9:55am May 4, 2013)
I would like to time travel---as long as I could return to the present when I wanted.
(Sue Farrell 10:04am May 4, 2013)
AS long as I knew I could go back home any time I wanted, I would love to time travel.
(Pam Howell 10:23am May 4, 2013)
It's always a fun concept--until one needs antibiotics and fresh fruit. Love time travel fiction!
(Janet Martin 10:52am May 4, 2013)
I'll stick with my imagination. My imagination leaves out things like lack of sanitation and disease.
(Sandy Giden 10:53am May 4, 2013)
I like my comforts available now, so I prefer to just read about time travel.
(Carol Woodruff 10:53am May 4, 2013)
The Meeting on The Turret Stairs won a vote to become the most popular painting in Ireland. This beautiful depiction of a doomed love affair shows a man in chainmail and a woman in a long robe. There must be an image of it online and it would inspire any number of historical romances! We all love a castle.
I wouldn't mind time travel if I could go back and forth. Who would want to be stuck in the time of plague and cholera?
(Clare O'Beara 11:15am May 4, 2013)
Some how we missed the 'smelly' tour at Warwick...but it is an amazing place to visit!!! I'd love to see more castle pictures!!
(Cate Sparks 11:19am May 4, 2013)
Time travel has always be a fave of mine; I would love to travel back in time and visit so many places in history. Books can transport me there without actually having to go, but I would still like to go!
(Nancy Wolfe 1:11pm May 4, 2013)
Time travel would be great if I had no problems getting home when I wanted... would love to see some things, but would not want to be stuck in the past..
(Colleen Conklin 1:34pm May 4, 2013)
Not sure that time travel is for me; I would however love to know of future medical cures and so going into the future would hold a big lure for me. I enjoyed all the books about time travel that I have read so far too.
(Cynthia Blain 1:35pm May 4, 2013)
This looks really good. I just love period novels.
(Callie Stuck 2:32pm May 4, 2013)
I would like to time travel...go back and see my grandparents and my sister. (never marry my second husband OH did I just say that?)
(Bonnie Capuano 3:39pm May 4, 2013)
As much as I would like to time travel, I really think I like the IDEA of it more. Thanks for the giveaway!
(Sally Hannoush 4:23pm May 4, 2013)
I'm content to just time-travel in my imagination.
(Cheryl McEwen 4:36pm May 4, 2013)
i vote for the imagination, too. I love to read about it
though.
(Mary Hay 5:06pm May 4, 2013)
i dont want to time travel i will read about it though, thanks
(Debbi Shaw 5:52pm May 4, 2013)
I used to really want to time travel to the future. Nowadays, however, I prefer the past, and I'm perfectly content to keep to time travel in my imagination.
(Janie McGaugh 7:20pm May 4, 2013)
I'll stick to armchair time travelling, thank you.
(Mary C 8:37pm May 4, 2013)
Wow, I love your Castle pictures and would love to time
travel in a great machine or in my imagination too. I have
never seen any castles in person but was adopted and found
out few years back that my Mom's side of family is Irish. I
would love to see Ireland and Scotland and England Castles
one day for sure. I could really dig the Castling and Yes I
am afraid of heights but I did climb the Aztec Sun Pyramid
in my senior year in high school. So, I think I could go for
the great challenge. I would love to win and read all of
your interesting books. God Bless You with success. Thanks,
Cecilia CECE
(Cecilia Dunbar Hernandez 8:37pm May 4, 2013)
I would Love to Time Travel ~ especially to Medieval England and Scotland ~ I Love reading Time Travels in any genre and yours are always "Keepers" ~ Thank you for the giveaway~ Happy Reading and Writing~ Cheers~ Elizabeth
(Elizabeth MacGregor 8:52pm May 4, 2013)
I would love to time travel. Thanks for a chance to win your book.
(Linda Hall 10:04pm May 4, 2013)
Oh Ann ~ What a fabulous post! Personally, I would rather time-travel than live back in time...I like my nice, clean and easy living environment. lol But I do adore looking at and visiting old castles and you do indeed do a fabulous job with your 'Castling'. Thank you for sharing your talents with all of us!
(Liberty Ann Ireland 11:19pm May 4, 2013)
I think my imagination and books are good enough. :) I can't even take modern day travelling!
(May Pau 8:45am May 5, 2013)
I love time traveling in books very much, but if it came to actually doing it, I don't
think I'd go to the past. Maybe I'd visit the future - I have to admit to an
insatiable curiosity as to what it will be like 100 years from now. :D
(Barbara Elness 5:06pm May 5, 2013)
I LIKE TIME TRAVEL BUT WOULD NOT LIKE TO REALLY TIME TRAVEL.
(Shelley Summers 8:00pm May 5, 2013)
Thank you to all of you who took the time to comment on my blog. I loved
the comments! I will definitely post some more of my castle pix on my
Facebook page. And I hope those of you who do love historical romance
will pick up my books. Thanks again for reading and commenting. Please
come back for my next blog on June 7th!
(Ann Lawrence 12:22pm May 6, 2013)
Registered users may leave comments.
Log in or register now!