Amanda Ashley | The Times, They are A'Changin'

August 19, 2012
Desire The Night
Amanda Ashley
AVAILABLE

September 2012
On Sale: September 1, 2012
Featuring: Kay Alissano; Gideon
320 pages
ISBN: 1420121340
EAN: 9781420121346
Kindle: B007T9WOL8
Paperback / e-Book
Add to Wish List

Also by Amanda Ashley:
Enchant the Dawn, September 2022
Night's Illusion, September 2021
Enchant the Night, September 2020
Hold Back the Dawn, September 2019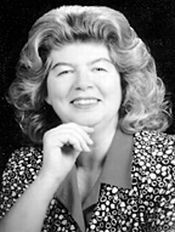 It's amazing to think that I've been a published author for just over 25 years. Unlike many authors, I didn't grow up dreaming of being a writer, or ever even thought about it. The first thing I remember writing was a poem to my first crush. I think I used bit of that poetry in one of the Silhouette Romances I wrote some years ago.
It was boredom that drove me to write. I had been reading a lot of romances and one night I sat down and starting writing my own. I lived that book 24/7. I was totally caught up in the story. I was the hero. I was the heroine. I was the villain. I wrote every chance I got, mostly in the bathroom, which was the only place where I could get any privacy during the day. I also wrote late at night, while my husband was at work and my three sons were asleep.
I wrote about the things I loved - the Old West, horses, cowboys and Indians, until I discovered vampire novels and a whole new world opened up for me. Historicals have to be accurate depictions of the time period, but with paranormal romances you can let your imagination run wild. I was hooked, and I fell in love with dark, tortured, sexy vampires. Gideon, the hero in my upcoming book, Desire the Night, is a perfect example.
Like everything else, publishing has changed a lot in 25 years. When I first started writing, there were things you could not do, words you could not say, topics you could not address. These days, anything goes. There are no taboos, no words so vile that you can't use them, no subject off-limits. Personally, I find it unsettling that there are no longer any boundaries for romance novels, especially these days, when eBooks can be downloaded to Kindles and iPhones, not only by adults, but adolescents..
Being somewhat of a prude, I find it unsettling that so many romances today are peppered with the F-word (whatever happened to damn and hell?) I guess it sounds strange, coming from a romance writer, but I don't care to read long, drawn out graphic sex scenes, either. I'm obviously in the minority in that area, given the overwhelming popularity of FIFTY SHADES OF GREY.
But that's the wonderful thing about books and bookstores - there's something for everyone.
My latest book, BENEATH A MIDNIGHT MOON, is available as an eBook from Zebra.
My next book, DESIRE THE NIGHT, will be available September 4th, also from Zebra
Comments
19 comments posted.
Re: Amanda Ashley | The Times, They are A'Changin'

My first bit of poetry was on love and when i tried writing, it was a mystery.
(Alyson Widen 4:47pm August 19, 2012)
LOL, Alyson!!!
(Amanda Ashley 5:57pm August 19, 2012)
I like the story about the love, more so than about the act.
You know - the romance.
(Margay Roberge 6:33pm August 19, 2012)
i AM IN TOTAL AGREEMENT!!! there have been times when I have skipped a page or so, especially if the author has written the same type of scene over and over!!
(Barbara Studer 6:33pm August 19, 2012)
I'm glad to hear that there's an Author out there who thinks that there's a way to write a love scene without using graphic language!! I'm all for the old-fashioned romances. I'll read the other books, but they actually make me laugh. I find it funny that an Author has to wrack her brain, having to come up with different ways to come up with something so beautiful, and make it sound so trashy. To each his own, I suppose, but I won't take anything away from the other Authors. They all have to make a living. The cover of your book is so well done, and I'll be looking forward to reading it. Keep on doing the right thing, and I'll be passing the word!!
(Peggy Roberson 8:54pm August 19, 2012)
WEll, if you are old fashioned, then I'm with you!! I don't mind sex scenes but my god, do they have to go on and on forever?? Have not read 50 shades and have no desire to. My husband and both LOVED your Westerns, maybe one day you can write more of them. I do love your vampires tho!!
(Martha Lawson 10:45pm August 19, 2012)
Ladies, I'm so glad to know I'm not the only one who'd rather read the emotion of the moment without a vivid description of the act! I was sort of afraid to say anything...for fear I was the only one who preferred subtle to overkill I haven't read 50 Shades of Gray, either. From what I've heard from those who have read it, it isn't my cup of tea. I hope you all have a great week.
(Amanda Ashley 11:38pm August 19, 2012)
Hi Martha ~ Long time since I heard from you!!! Hope you're doing well.
(Amanda Ashley 11:39pm August 19, 2012)
I'm in the minority in that I have no desire to read the Fifty Shades series.
(Leah Weller 12:21pm August 20, 2012)
That's ok, Leah, you're not alone!!!!
(Amanda Ashley 12:40pm August 20, 2012)
I completely agree that the lack of boundaries now is cheapening books. Those who have read the erotic tome referred to above describe it as pure smut. I don't want to read smut. I want to read something well written and intelligent. If every little action is described in a sex scene, where does that leave room for the readers's imagination? And if swear words pepper the story I don't bother keeping reading. I can understand them used in dialogue to convey a sense of a particular character. But if all the characters and indeed the narrator, are speaking like people I would not invite into my living room, why would I read about them? I occasionally read a 'chick-lit' book and if the narrator is using foul language it just makes her sound so cheap. That tells me something about the author too.
(Clare O'Beara 6:33am August 20, 2012)
Oh, I am in such agreement with you and the others who have commented - I first started reading romances (Harlequins of course!) back in later grade school (around 8th grade - MORE than 25 years ago) - the whole story is much more interesting when SOMETHING is left to the imagination - I DO read the "other" books from time to time, and think "Wow! Things are different." Also, I have not read 50 Shades, either and don't think I will - I guess that I just have to be contrary since so many others ARE reading it! LOL
(Felicia Ciaudelli 7:10am August 20, 2012)
I agree with you. The only thing that I've never understood is how people can happily read (or watch on TV) the most horrific crimes with pain and suffering, but get upset over (swear) words. My mother-in-law was like that, and I never got it. But everyone has different buttons, I guess.
(Kathleen Conner 10:56am August 20, 2012)
Hi Clare ~ I'm with you! Hope you have a wonderful day!
(Amanda Ashley 1:09pm August 20, 2012)
Felicia ~ nothing wrong with being contrary from time to time
(Amanda Ashley 1:12pm August 20, 2012)
I agree with you completely--I guess I'm old fashioned, too---the F word doesn't really need to be used in a romance novel and too much graphic sex ruins a book, I think.
(Sue Farrell 4:09pm August 20, 2012)
I'm definitely old fashioned, as well. A lot of authors feel that they have to keep up with the current on-street vocabulary. Well, I get enough of that outside my home. I don't want to have to read it. I also stay away from vampires, demons and witches. The only paranormal books I read at all are about shape-shifters and that's because a local writer started this series and I want to support her. If I think one of her books might be too gruesome, I just don't read it. I guess I'm just getting too old for the modern books and movies. I used to watch a lot of movies, especially classics from all over the world. What's being offered now leaves me cold.

And I definitely agree with Clare, as well. For me, novels are not supposed to be how-to manuals. Good writers don't have to write detailed sex scenes in order to make the reader feel the love between characters. When I see paralyzed couples, I wonder if sex matters to them. I think there's so much else to sex and beauty to real love.
(Sigrun Schulz 5:42pm August 20, 2012)
I agree with you, Amanda. Too much foul language and graphic sex does not make a good book (even if authors think by doing this they're keeping their books updated, alive and with the times, and with what's being aired on TV and in movies). This isn't appealing to most, perhaps, younger readers. I'd rather get into a good story that doesn't include any of this. I fall into the old-fashioned category also.
(Linda Luinstra 6:14pm August 20, 2012)
Ladies, I've enjoyed your comments. Again, it's nice to know I'm not the only one who feels that less is more. As Linda mentioned, movies and tv are also becoming more crude. These days, I only watch about 9 relatively new tv shows a week. The rest of the time, I watch old reruns of Andy Griffith and Frasier and Dick Van Dyke.
(Amanda Ashley 3:34am August 21, 2012)
Registered users may leave comments.
Log in or register now!