Book Title: THE LOVE PLOT
Character Name: Star Shine Meadows
How would you describe your family or your childhood?
It was kind of lonely. I grew up the only child of hippie parents who moved us around the US a lot and forgot I existed half the time, so I pretty much raised myself. They did instill me with a laidback and free-spirited attitude toward life. Plus, I was thankful they never pressured me to be anything but who I wanted to be as a kid.
What was your greatest talent?
I'm a people person and I think that's my greatest talent. I have a way of bringing people out of themselves and making them feel seen for who they really are.
Significant other?
Only one? Ha! No, seriously, as much as I believe two people can fall in love and stay committed to one another, I'm just not that girl. I watched my parents' love consume them and, well, yeah, no thank you. Though, I will admit to being skin-tinglingly hyperaware of Rafe Whitman. The man is a mountain of sexy contradictions and totally my opposite. He's also technically my employer since he's paying me to pretend to be his girlfriend for months, so talk about forced proximity to forbidden fruit. And I was always a sucker for forbidden fruit.
Biggest challenge in relationships?
Um… probably those aforementioned commitment issues. The guys I date always end up wanting to turn casual into something serious and I always end up feeling guilty for not feeling the same way.
Where do you live?
The greenest borough! Staten Island, NY.
Do you have any enemies?
I hope not. I try to be kind to everyone. Though, Rafe's family are well-to-do and his brother seems to loathe the sight of me, my boho clothes, my lack of ambition and, what was that other thing he said? Oh, yeah pedigree. Like I'm one of Rafe's furry patients or something. Rafe's brother is kind of a snob. That's putting it politely.
How do you feel about the place where you are now? Is there something you are particularly attached to, or particularly repelled by, in this place?
Staten Island is cool. My apartment is tiny but the neighborhood is great and my best friends live nearby. Commuting into the city is kind of a pain though.
Do you have children, pets, both, or neither?
Neither. I love kids and animals, but you definitely need to commit to them (I would not do to my child what my parents did to me) and I like to know I can pick up and leave whenever I want.
What do you do for a living?
I'm a professional line sitter and costume character actor. So if you need the new iPhone with a quiet desperation but can't get time off to wait in line for it, you can pay me to do it. I get a ton of reading done and I meet a lot of different kinds of people in line. My other job involves dressing up as characters from pop culture and entertaining people at birthday parties and events. I met Rafe while I was dressed as Merida from BRAVE at his niece's birthday party. He mocked my excellent Scottish accent and I vowed to needle him for the rest of his sexy life.
Greatest disappointment?
I don't like to admit it out loud but… my parents.
Greatest source of joy?
Getting to know strangers. I love people. They're fascinating and weird and complex and so much fun to get to know. Sometimes they're scary and creepy but you gotta take the bad with good. Look at Rafe. He's turning into one of the best guys I know and he started out as a very grumpy stranger with a smart mouth.
What do you do to entertain yourself or have fun?
I love books! I read all the time. Music too. But mostly I love hanging out with my friends and going dancing.
What is your greatest personal failing, in your view?
Maybe I let my childhood, my parents, influence my present and future too much. Sometimes I think I should try harder to find a true passion in life instead of flitting from job to job.
What keeps you awake at night?
Currently? Fantasies about Rafe Whitman.
What is the most pressing problem you have at the moment?
Wanting to climb Rafe Whitman (a.k.a my boss) like a tree.
Is there something that you need or want that you don't have? For yourself or for someone important to you?
My parents time, love, and attention.
Why don't you have it? What is in the way?
My parents are self-involved. I haven't heard from my mother in months. She ignores my calls and texts. And my dad only calls me when he needs something. So I guess, they're in the way. And I'm in the way because I've never told them how I really feel. We're all in my way.
There's a magnetic attraction when a happy-go-lucky gig worker agrees to a fake relationship with a rich, uptight New Yorker in this steamy romantic comedy from New York Times bestselling author Samantha Young.
Star Shine Meadows is all about freedom, thanks to the hippie parents who raised her. Juggling her jobs as a professional costume character actor and a line sitter, she believes in no expectations, no stressful ambitions, and no-strings-attached relationships. So when she meets a birthday girl's grumpy uncle while working a princess party, she can't help but needle him. She'll never see him again, and honestly, he's pretty hot.
Rafe Whitman may be a veterinarian with a great bedside manner, but that doesn't mean his patience extends to anyone with opposable thumbs. His family will not stop nagging him about finding "the one," so when he runs into obnoxiously cheery Star again, he makes her an offer: He'll pay her more than she would make doing her odd jobs if she'll pretend to be his girlfriend at family gatherings. She can stop sitting in line waiting for someone else's new phone, and he'll get his family off his back.
When the tension between them heats to a breaking point, Star's desire for "no strings" is tested against Rafe's staunch stability. They say opposites attract, after all....
Romance Contemporary [Berkley, On Sale: August 29, 2023, Trade Paperback / e-Book, ISBN: 9780593438633 / ]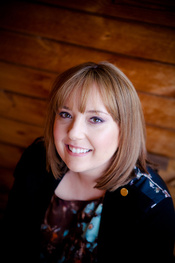 New York Times and USA Today bestselling author Samantha Young is a from Stirlingshire, Scotland. After graduating from the University of Edinburgh, Samantha returned to Stirlingshire where she happily spends her days writing about people she's keen for others to meet, and worlds she's dying for them to visit. Having written over ten young adult urban fantasy novels, Samantha took the big plunge into adult contemporary romance with her novel On Dublin Street. On Dublin Street is a US #1 National Bestseller and has been re-published by NAL(Penguin US).
No comments posted.