For me, the spice of life is good food and trying new things. The author I'm interviewing today brings both of those experiences to the table—and it's a table loaded with good recipes and fantastic writing. Yum!
Like many mystery readers, Lucy Burdette caught my eye with her hit Key West Food Critic Mystery series. Her character's growth is fully developed and insightful, not to mention she's got a drop-dead gorgeous setting and recipes! (Did I already say yum?)
To top that off, she's willing to step off the ledge and go for something new—dark even and utterly fantastic. As a book critic, I know what I like, and I love her new endeavor into the thriller category. Take a chance, enjoy another great Key West Food Critic cozy mystery with A DISH TO DIE FOR- and then go for not an edge of your seat suspense, but a narrow escape from the edge of the dock spine chiller in her UNSAFE HAVEN crime thriller. It's a leap you will love!
Kym: Hi Lucy, welcome to the Cozy Corner!
Lucy: Thanks so much for the invitation!
Kym: You have two books releasing within a couple weeks of each other, Unsafe Haven and A Dish to Die For. What was your writing schedule during their creation to accomplish such an incredible treat for your readers?
Lucy: You are so kind to ask! The release of Unsafe Haven is in trade paperback, so I didn't actually write that one this year. A Dish to Die For, however, is brand new. It takes me about nine months to write one of the series books, and I was able to take a little break after The Key Lime Crime to finish up Unsafe Haven. This was a book I've been working on for literally years! I thought it was destined to languish in my drawer, but my clever agent was able to sell it to Severn House. There I was assigned an excellent editor, so it's better than the book I sent in.
Kym: Your thriller, Unsafe Haven, is so much different than your genre of cozy mysteries. What drove you to write this book?
Lucy: In the mystery world, I'm mostly known for my series featuring a food critic living in quirky Key West. Over the years, darker ideas have come to me that would not have fit in that genre. I filed away snippets of characters and plots that seemed too gritty or dark for a cozy mystery even though I recognized them as elements of a good story. For example, what if a terrified young girl handed you a newborn—and then vanished?
Starting in 2009, I began to save headlines from the news that would lead to Unsafe Haven. These were stories about young women who abandoned hours-old infants in astonishing places. One newborn was left in a restroom in the Hilton Hotel in Key West. Another headline told the story about a teenager attending a dance who went to the ladies' room because of cramps. Not realizing that she was pregnant, she delivered her baby right there, left it in the trash, and returned to the dance. Another baby was stashed in a nativity scene outside a church. What kind of girl or woman would abandon a newborn this way? These stories haunted me—I wanted to understand how a new mother might make this seemingly impossible choice. The result was Unsafe Haven.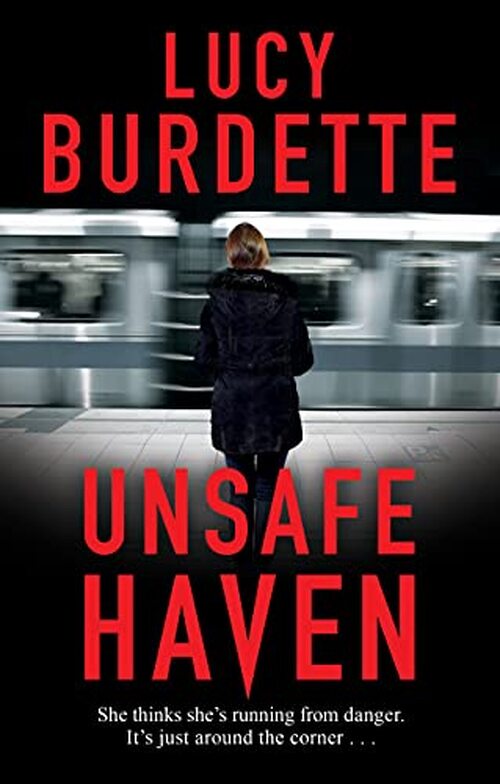 Kym: Life inspiring art;) On your website you blog about who you would love to play the characters in Unsafe Haven. Is there a chance it will become a movie/series? (Please say yes, please say yes! I vote for Netflix!)
Lucy: Can you hear me heaving a big sigh from across the Internet? Can you sense how tightly my fingers and toes are crossed? I would so love to see this book come to television as a short series. I'm thinking something like Mare of Easttown. In fact, I would love some of those characters to play the parts. (Wasn't Kate Winslet astonishing?) However, breaking into television or movies is just so hard. I think it would take the right person coming across the book and falling in love and being in the position to do something about it. I haven't given up, but so far as I know there is nothing in the works yet.
Kym: Fingers and toes crossed for the future;) I love that you cast Detective Jack Meigs, from your cozy Advice Column Mysteries in this new endeavor! What was the hardest part about joining these two genres with one character?
Lucy: Honestly, I feel like Detective Jack Meigs drew the short straw in the publishing business! After his role in the three advice column mystery series, I didn't feel like I was done with his character. That short series was a little darker than my current Key West books, and Meigs had a bit of a tragic backstory (as did psychologist Rebecca Butterman.) That doesn't exactly work with a cozy mystery, but it certainly works with a thriller. In the end, making the transition for him was not hard.
Kym: How difficult was it for you to switch to another genre, and can we expect more thrillers?
Lucy: It was hard! I know exactly how to write a cozy after so many books, but the thriller was a new challenge. There was no instigating murder victim, no real detective working the case. I also had never written a book from several points of view—that was a challenge too. I have several ideas floating in my brain—some cozy, some thrilling. Once I turn in Key West #13, I will focus on figuring out what I want to write most of all!
Kym: I'd say you now know how to write an exciting thriller as well! August 9th you release your 12th!! Key West Food Critic Mystery. Do you still enjoy it as much as your first?
Lucy: I really do love writing these books. When the time comes that I don't, I will know it's time to quit. But having been a psychologist doing longer term psychotherapy before becoming a writer, a series suits me perfectly. I love figuring out how the characters will grow and change, and especially, why a particular murder will pull Hayley Snow in, when she isn't a trained detective. The answer is usually relationships.
Kym: If you had to choose between being a golfer, food critic, or detective, which would you be and why? (You can't choose all three! —I'm being evil and making you put yourself in a creative box.)
Lucy: Easy choice, food critic! I love to eat, and to read and write and talk about food and cooking. Right now, it's my main passion. I can always read detective fiction and get my fix that way. Although wait, if your question means I could be thirty years younger and a very talented athlete, I might go for golf.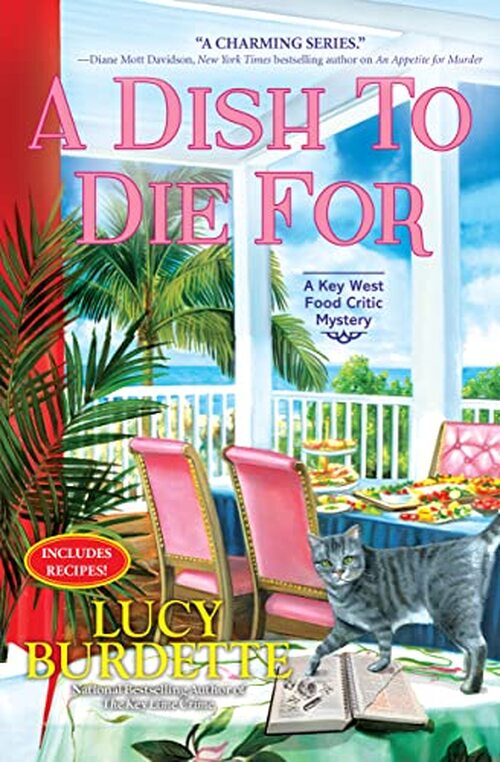 Kym: LOL, yeah, me too;) In your book A Dish to Die For, an irresponsible womanizing developer is killed. Let me just say you are a queen at making your murder victims bad people. Lol. I'm pretty sure we can all name a GG Garcia in our life, but someone has to love him—right? Right? What is the hardest part about making the reader want to bring a killer to justice with such an unlikeable victim?
Lucy: Oh yes that is hard, because if the bad guy is too bad, there's no one to care about solving his murder, or even care that he's gone. Often the answer lies in who's being accused of the death. If it's someone Hayley cares about, that's the solution. She's a tender-hearted person who is very loyal to her friends and relatives and would never abandon a friend in trouble.
Kym: Writing a lengthy series can be tough, keeping track of characters, places, dead bodies, modus operandi can be even harder. Do you plot out future storylines, keep a plot line chart, or do you write each one as it comes up?
Lucy: I wish I was better organized, and I wish I'd kept a series Bible, as I've heard other writers do. When I start a new book, I usually have an idea of what direction the characters are headed. I keep notes from Key West and other news sources about interesting crime stories. After that, it's a matter of writing some chapters, thinking more about what direction the book is taking, writing some more, and so on. It's an ugly messy process and I'm never quite sure I will be able to pull a book out of it! However, having written 21 at this point, I can be pretty sure I will be able to pull a book out of it! However, having written 21 at this point, I can be pretty sure somehow it will happen. And if I lose faith, my two writing group buddies and my blog sisters at Jungle Red Writers are very good at reminding me it will all work out.
Kym: In the series, there is a vintage Key West cookbook. Is this a real thing? Do you actually have a vintage cookbook to share with readers? Or just shared recipes in your books?
Lucy: Yes, yes, it's a real thing! In fact, there are two versions, the original from 1949, and the revised from 1988. I have copies of both. When I was first working on this story, a good friend from my writers group saw the book on a history list that he belongs to and thought I might be interested. I found a copy of the old cookbook on eBay and ordered it instantly. In the story, I determined that Hayley would discover an old copy of the first Key West Woman's Club cookbook at the library. She becomes intrigued with the possibility that this bit of history might help her unravel the reason that the victim died on the beach. It surely does!
Kym: How scrumptious! (Readers can watch for a picture of the real cookbooks on my instagram page!) Can we safely assume you like cooking and golf? Or is there something else that captures your creativity and/or competitive drive?
Lucy: I particularly love eating lol. And that has drawn me into the world of food writing and cooking. I wouldn't say I'm competitive about cooking, but I do like to try new things and have an appreciative audience. I'm not playing a lot of golf right now, so I don't worry about being competitive. I try to enjoy the company and the day and not expect too much of myself. Writing, however, is another story. I really want to be the best writer I can be and make each book the best it can be. And get better! Hopefully that is happening, because if I'm trailing off, I hope I'll have the good sense to retire…
Kym: Not anytime soon, I hope! You have the prettiest website, and I don't say that lightly. I see a lot of author websites—yours is stunning. I absolutely love the color palate and your arrangement. Did you design it yourself? (Seriously people, check it out.)
Lucy: Thank you so much! The website was designed by Maddee James and her team at Xuni.com. She was a dream to work with. She asked me a lot of questions about colors and style and what I wanted people to have available when they visited. Then she put the website together. It helped to have a beautiful painting from Karen Beauprie, an artist in Key West, as the banner.
Kym: I love that you used a local artist's work, that's freaking awesome! Where can our readers find you on the web? (include your gorgeous website!)
Lucy: My Website, Facebook, Instgram, Bookbub, and Twitter.
Also, I blog regularly at: JungleRedWriters.com and MysteryLoversKitchen.com
Kym: What are you working on now?
Lucy: The thirteenth Key West Mystery, yet unnamed, is due September first. I have a good first draft, but a lot of work remains in cleaning up the loose ends: filling out the characters, making sure the motivations are clear and plausible, and buffing up the setting so it pops. Nothing to it LOL! I am excited about this book because it features the two Scottish sisters from A Scone of Contention who are visiting Key West and staying on Miss Gloria's houseboat. You can only imagine the kind of trouble three feisty seniors can get into.
Kym: Yay! A visit from the past—can't wait! Thank you for joining us at the Cozy Corner!
Lucy: I am honored to be here. Thank you so much, Kym, for your interest and your excellent questions!
Until next month when Deanna Raybourn joins us, get cozy and read on!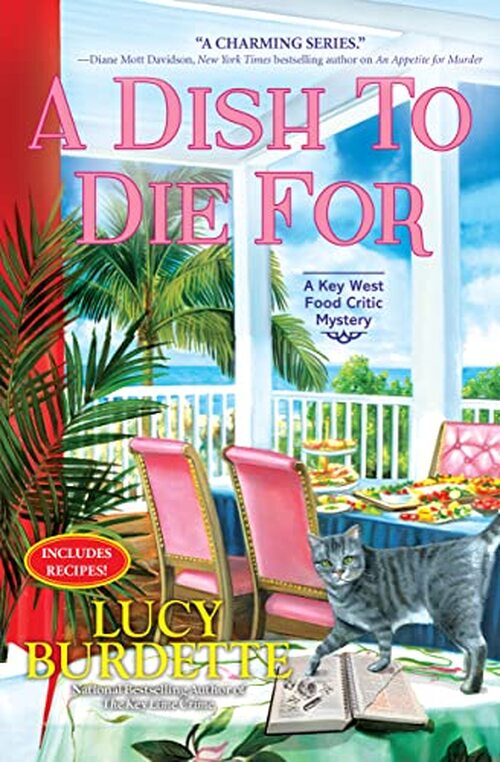 National bestselling author Lucy Burdette returns to Key West for another delectable dish of secrets, intrigue, and murder.
Peace and quiet are hard to find in bustling Key West, so Hayley Snow, food critic for Key Zest magazine, is taking the afternoon off for a tranquil lunch with a friend outside of town. As they are enjoying the wild beach and the lunch, she realizes that her husband Nathan's dog, Ziggy, has disappeared. She follows his barking, to find him furiously digging at a shallow grave with a man's body in it. Davis Jager, a local birdwatcher, identifies him as GG Garcia, a rabble-rousing Key West local and developer. Garcia was famous for over-development on the fragile Keys, womanizing, and refusing to follow city rules—so it's no wonder he had a few enemies.
When Davis is attacked in the parking lot of a local restaurant after talking to Hayley and her dear friend, the octogenarian Miss Gloria, Hayley is slowly but surely drawn into the case. Hayley's mother, Janet, has been hired to cater GG's memorial service reception at the local Woman's Club, using recipes from their vintage Key West cookbook—and Hayley and Miss Gloria sign on to work with her, hoping to cook up some clues by observing the mourners.
But the real clues appear when Hayley begins to study the old cookbook, as whispers of old secrets come to life, dragging the past into the present—with murderous results.
Mystery Cozy [Crooked Lane Books, On Sale: August 9, 2022, Hardcover / e-Book, ISBN: 9781639100729 / ]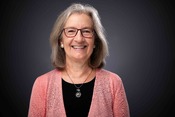 Lucy Burdette is the author of the Key West food critic mystery series, launching in January 2012 with AN APPETITE FOR MURDER (NAL.) Lucy's alter-ego, clinical psychologist Roberta Isleib, has published eight mysteries including the golf lover's mystery series and the advice column mysteries. Her books and stories have been short-listed for Agatha, Anthony, and Macavity awards. She's a member of Mystery Writers of America, Romance Writers of America, and Sisters in Crime, and a past-president of Sisters in Crime.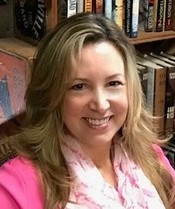 Kym Roberts writes by day and is a pro-surfer in her dreams by night. Her humor is often raunchy, her jokes are often bad, but her hunger for a story keeps the adventures coming fast. Experience the thrill & catch the wave of passion, mystery, and suspense with her on her website, Facebook, and on Twitter.
No comments posted.