When I decided to write a cozy mystery involving a chocolate maker, I knew that a lot of it would involve second chances. After all, I started writing the books after meeting real world chocolate makers while researching and publicizing my chocolate related science fiction. Not one of them had grown up wanting to be a chocolate maker. Craft chocolate wasn't even a thing most people knew about ten years ago. They'd all started out as engineers who liked to tinker with machines, or chefs who wanted a deeper understanding of ingredients, or people who'd gone to a chocolate tasting event and gotten hooked, turning a hobby into a passion into a career.
In addition to giving my character, Felicity, a second chance at a career, I wanted to give her a second chance at love. It really reinforces the theme of the books and forces her into deliberately choosing the life she wants, instead of just focusing on one aspect of it.
That's one thing I enjoy about cozy mysteries. Readers expect a continuing series surrounding a single sleuth, and the community she is a part of. They want to see her have a well-rounded life (even if parts of it are tattered, chipped by circumstance, maybe even broken in places by her own flaws). In some stories, that well-rounded life includes a romance for the protagonist. I've noticed that some readers are drawn towards mysteries with an ongoing romance, while others shy away from them, since that isn't what they picked up the mystery to read.
I stuck Felicity in the middle of a love triangle, and most seem to enjoy that. I've had people say in reviews and tell me directly that they are Team Logan or Team Arlo. Which is fun for the reader, and fun for me, since I'm a few books ahead on where I see it all going. Not so much fun for Felicity, though, who never expected the extraordinary circumstances that would put her in the position to have to choose between two attractive, good-hearted guys. Does she want to be with Logan, the guy with the mysterious past, who pulled her out of grief and helped her believe in herself again? Or should she go with Arlo, the suddenly single cop (due to circumstances of a case) whose heart Felicity broke a decade ago, over a misunderstanding she had caused – when they could have had something great together. Keep kissing one, and she's going to lose the other. But she has no idea how to make that all-important choice.
Writing something like this is a hard balance, though. I've spoken to cozy mystery readers who say they have little patience for love triangles, since they've gotten invested in series only to have the protagonist unable to decide for a large number of books – or never actually choose one of the love interests. Done poorly, a long-running love triangle can make the protagonist seem wishy washy, especially if it is clear to the reader which one she is in love with. It's also possible for a love triangle to make the character look cruel, dragging out the decision, leading someone on, without any intention of ever choosing them.
Because of that, I've made Felicity hyper-aware of what she's doing with her indecision. She's terrified of hurting either guy, and that's part of what has her paralyzed. And I have a plan to have her make her choice about two more books in. I signaled that in A Shot in the 80% Dark by having Felicity give herself the deadline of her friend's upcoming wedding to give these guys an answer. I think both of them will wind up still in the subsequent books, even though Felicity's biggest fear is losing her friendship with whichever guy she doesn't choose. Because that's the thing about cozies – sure there's a murder or two in each book, but the reader goes into it knowing that everything is going to be set right at the end, and that nothing bad enough is going to happen that will truly break the protagonist.
What about you? Do you like a little romance in your cozies? Tell me in the comments below.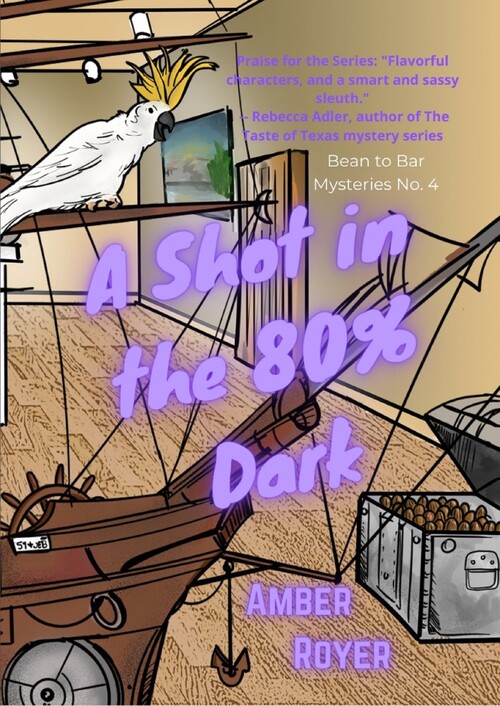 Felicity Koerber's bean to bar chocolate shop thriving. Despite everything she's been through with the murders she's helped solve, Felicity is ready to take on new challenges. So when a local museum offers her a contract to create a chocolate replica of a gigantic sailing ship sculpture for a gala celebrating Galveston's history, she jumps at the chance to combine chocolate-crafting with art.
The project is fun - right up until there's not just one but two dead artists on the scene, and Felicity has to change gears back to detective. Logan, Felicity's business partner and previous bodyguard, and Arlo, Felicity's ex who is now the cop investigating the case, are split on which victim they think was actually the intended one. Felicity may have to take some chances, both emotionally and in luring out a killer, to determine the truth.
Can she find out how Galveston's history relates to the murders, unmask a killer, and prepare 2,000 chocolate desserts for the gala all at the same time?
Mystery Cozy [1001 Dark Nights Press, On Sale: July 15, 2022, e-Book, ISBN: 9781952854149 / eISBN: 9781952854156]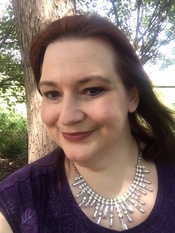 Amber Royer writes comic space opera set in the Chocoverse, where chocolate is the only thing Earth has that a hungry galaxy wants to get its hands, paws and tentacles on. She also teaches enrichment and continuing education creative writing classes for teens and adults. She spent five years as a youth librarian, where she organized teen writers' groups and teen writing contests. In addition to two cookbooks co-authored with her husband, Amber has published a number of articles on gardening, crafting and cooking for print and on-line publications. She's an avid reader, cook and language geek – and a fan of cheesy old science fiction films.
11 comments posted.
A little romance never hurt anything. A romantic interest, especially in a cozy, is
fine. It is part of life and adds more plot opportunities. Keeping the romance on
the cozy level would be necessary, but there is nothing wrong with that. If
someone wants something spicier, there are books for that.
(Patricia Barraclough 2:01am July 20)