Amber Royer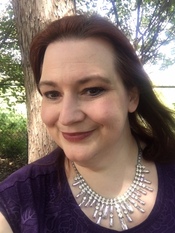 Blogging at Fresh Fiction
Pets in Cozy Mysteries by Amber Royer
January 23, 2023
People really get attached to animals in books. Some authors even get concerned e-mails from readers, asking if the animals are getting Read More...
Amber Royer | ROMANCE IN COZY MYSTERIES
July 19, 2022
When I decided to write a cozy mystery involving a chocolate maker, I knew that a lot of it would involve second chances.&nbsp Read More...
Amber Royer | Top Ten Things About Cruise Ships
February 4, 2022
I love the chance to get to explore fun settings in my fiction. That's one of the reasons Read More...
Amber Royer | People Change
July 29, 2021
People change. It's one of the oldest adages in the book. And yet, there's a deeper truth: people Read More...
Amber Royer | Eight People In My Protagonist's Life
January 28, 2021
You know one thing I like about writing cozy mysteries? They're series, centering around the life of the protagonist. Which Read More...
Amber Royer | Five Things I Love About Chocolate + Giveaway!
April 17, 2020
Somebody asked me the other day if I ever get tired of chocolate, since my funny, romantic Sci-Fi series revolves around it.&nbsp Read More...
Amber Royer | Developing the Chocoverse
April 18, 2019
When I started developing the Chocoverse, I wanted to tell a story without easy answers, where nobody was exactly in the right, and they are Read More...
Amber Royer writes comic space opera set in the Chocoverse, where chocolate is the only thing Earth has that a hungry galaxy wants to get its hands, paws and tentacles on. She also teaches enrichment and continuing education creative writing classes for teens and adults. She spent five years as a youth librarian, where she organized teen writers' groups and teen writing contests. In addition to two cookbooks co-authored with her husband, Amber has published a number of articles on gardening, crafting and cooking for print and on-line publications. She's an avid reader, cook and language geek – and a fan of cheesy old science fiction films.
Log In to see more information about Amber Royer
Log in or register now!
Series
Chocoverse | Bean to Bar
Books:
A Study in Chocolate, January 2023
Bean to Bar #5
Paperback / e-Book
A Shot in the 80% Dark, July 2022
Bean to Bar #4
e-Book
Out of Temper, February 2022
Bean to Bar #3
e-Book
70% Dark Intentions, August 2021
Bean to Bar #2
Paperback / e-Book
Grand Openings Can Be Murder, February 2021
Bean to Bar #1
Paperback / e-Book
Fake Chocolate, April 2020
Chocoverse #3
Paperback
Pure Chocolate, March 2019
Chocoverse #2
Trade Size / e-Book
Free Chocolate, June 2018
Chocoverse #1
Trade Size / e-Book