People really get attached to animals in books. Some authors even get concerned e-mails from readers, asking if the animals are getting fed enough between chapters or offering advice on how to model better care for the fictional animals, so that other readers have better examples to apply in real life.
In some areas of the bookstore, readers get attached to fictional animals, knowing that there is an element of risk. As Gordon Korman pointed out in his hilarious YA novel, No More Dead Dogs, if there's an award symbol on the cover of a book and a dog on it, chances are the pooch isn't going to make it to the end. That makes it difficult to completely attach to the canine character in question.
I think that's why so many animal companions wind up on the covers of cozy mysteries. Cozy readers know that the animals are going to be safe, because it's an un-written rule that you don't kill the dog – or the cat or the cockatoo – in a cozy. They can be put in danger, or even cat-napped (as happens in my current release, A Study in Chocolate) but these companions are always going to wind up safe. I was able to diffuse any real amount of worrying about the catnapping by starting with the police in possession of the cat, which they had found in the house where the book's murder had been committed, leaving the big questions being how and why the cat wound up at the crime scene.
I think this speaks a bit to why cozies are so popular. They're generally low-risk/high reward on an emotional level, while providing a challenging puzzle to solve, and often teaching the reader something about an occupation/craft/cuisine along the way. And there are relationships to explore – sometimes a romance, sometimes the character's relationship to others in their family or neighborhood. Cozies are usually series, and with the focus on community, readers get to feel like they are part of something, coming back to each book to visit old family and friends. And that includes pets.
Usually, the animals involved are quirky, and they may assist the detectives in some way. It can be subtle. (For example, how in the Cat Who mysteries, Koko – and to a lesser degree Yum Yum – would signal the fact that there had been a murder, or would inadvertently uncover clues.) Or it can be in-your-face. (As in the Sneak Pie Brown series, where Mrs. Murphy - the cat - and Tee Tucker – the corgi - discuss the case and engineer things so that their owner Harry – full name Mary Minor Haristeen – can't help but find the culprit.) Sometimes, of course, the animal is just a companion, there to give the sleuth someone to talk to while unraveling the threads of the mystery. (A play on this is the Chet and Bernie Mysteries, which aren't quite cozy but are still mysteries, where Chet is the narrator of the story – and it tells it in as dog-like a way as possible, talking about how great and smart his owner is. It basically makes him a canine Watson to Bernie's Holmes.) Of course Chet – like many animal companions in cozies – is there to physically protect the sleuth, should the occasion call for it.
In my Bean to Bar Mysteries, the main animal companion is Knightley, Felicity's lop-eared bunny. He's based on a real-life bun belonging to some friends of mine. He serves Felicity well as a sounding board – and he even saved her life once. But, not being content with one animal – especially one that likes to stay at home – I keep giving Felicity a chance to interact with different animals in each book. This has given me an opportunity to do much research – and live vicariously through her as she hangs out with most of my favorite animals. She's gotten to babysit an octopus, make art with a cockatoo, and sniff out clues with a retired police dog. And now, she's getting to see an emotional support cat in action.
My research has sometimes been hands on – as in our recent visit to Hawaii, where we stopped at the Kanaloa Octopus Farm for a chance to feed the octopuses. I love the fact that writing gives me reason to seek out opportunities like that! And to share facts and model care for some of my favorite animals with all of my readers.
Felicity Koerber's bean to bar chocolate shop on Galveston's historic Strand is expanding, as it has become a gathering spot for the community, despite having been the scene of multiple murders. Artists she met while doing a chocolate sculpture are now working out of the shop. So when Felicity is invited to tea by an eccentric art collector, she's intrigued, especially when she gets asked to pose for a portrait done with chocolate on chocolate. However, when a murder takes place the next day at the same historic house where the tea was held, one of Felicity's artist friends becomes the main suspect.
When the killer threatens that, unless Felicity unravels the murder, one of her two love interests will be the next victim, she finds herself unwittingly at the center of a puzzle, with a Sherlock Holmes obsessed murderer who wants to be the next Moriarty – and wants to cast Felicity as Sherlock.
Felicity starts finding unexpected connects between her friends and acquaintances, and has to deal with the idea that someone who knows her is a murderer. At the same time, she has to keep her business running, despite construction dust and unruly customers – and an unexpected order for thousands of truffles.
Satchmo the retired police dog turned therapy dog returns to help her sniff out a few clues, and the kidnapping of Ruffles, the quirky artist's cat, helps lead Felicity into the puzzle. Can Felicity solve it in time to protect the people she cares about from becoming additional victims?
Mystery Woman Sleuth | Mystery Cozy [Golden Tip Press, On Sale: January 17, 2023, Paperback / e-Book, ISBN: 9781952854163 / eISBN: 9781952854170]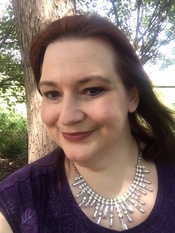 Amber Royer writes comic space opera set in the Chocoverse, where chocolate is the only thing Earth has that a hungry galaxy wants to get its hands, paws and tentacles on. She also teaches enrichment and continuing education creative writing classes for teens and adults. She spent five years as a youth librarian, where she organized teen writers' groups and teen writing contests. In addition to two cookbooks co-authored with her husband, Amber has published a number of articles on gardening, crafting and cooking for print and on-line publications. She's an avid reader, cook and language geek – and a fan of cheesy old science fiction films.
1 comment posted.